If your car/truck key is lost or the key fob is broken, getting a replacement can be a hassle – and depending on what kind of vehicle you drive, it can cost a pretty penny.
A car key programmer allows you to reprogram keys, program new keys, and adjust the IMMO system to get back on the road, saving you both time and money.
Some automotive scan tools have key programming features built-in. These models are often designed for experienced DIY-ers or professionals. A stand-alone key programmer is a more affordable option for drivers or locksmiths who don't need a scan tool's functions. 
I make sure that after reading this guide, you will find a suitable one for your car key.
Choose the type you want and go with me!!
TABLE OF CONTENTS:
Best Auto Key Programmers Comparison Chart
Note: These machines are all universal, which mean that you can work on any car or truck with OBD2 port.
Best OBD2 Scanners with Key Programming
Some key programmers do more than just what their names suggest.
This category of products has OBD2 diagnostic functions that can help you read your car's engine status and operating conditions.
You can also detect errors, clear error codes, and reset the data.  
Below comes the comparison chart of the 3 OBDII scan tools with key programming:
Top 3 OBD2 Scanners with Key Programming Comparison Chart
Autel MK808 vehicle diagnostic tool with key programming
Autel MK808 is one of the most versatile car diagnostic tool with key programming functions in the market. It has all the features you would expect of a product within this price range, making it ideal for every car owner or mechanic
If you are looking for more than just an auto key programmer, Autel MK808 is your best bet. The tool can perform complete system diagnoses. It is the best choice for testing the engine systems and troubleshooting any emission-related problems.
The Autel MK808 is a professional tool designed for ease of use, speed, and functionality. You don't have to be an experienced mechanic to diagnose your vehicle as one. With its 7-inch LCD screen and intuitive user interface, it is a breeze to operate. It is the most advanced scanner that supports US, European, and Asian brands with OBD2 systems. Autel MK808 supports most car brands manufactured after 1996.
Buy Autel MK808 to diagnose engine, transmission, SRS, EPB, chassis, steering, ABS, and other vehicle systems. It is also equipped with 25 service functions, making it a complete tool for an experienced mechanic.
The Autel MK808 is a very powerful key programmer. However, you need subscription fees after the first year of use to continue receiving the updates. That can potentially increase the price of the tool over long-term use. Also, the upfront cost is high.
The Autel MK808 uses an external battery. It's upon you to keep this battery charged. Otherwise, you'll not use the tool. Exotic vehicles are also not supported by the Autel MK808. And being a professional tool, beginners might find it challenging to use.
---
RELATED POST:
---
Launch CRP429C Auto Scan Tool with Key Programming
Launch CRP429C is a pocket-friendly scan tool you can use for performing the most crucial car diagnostic functions and key programming. You can choose this if you are low on budget.
The capability of this Launch CRP429C should never be understated. Apart from the IMMO capability, full OBD2 functions, and special functions, this tool can perform 4 system diagnoses. It is a more affordable choice for ABS, SRS, AT, and engine systems diagnosis. These diagnostic functions are supported for many car brands and models sold in the US, Europe, and Asian markets.
Launch CRP429C also has add-on functions that make it easier and more interactive to use. You can update the system software and APK in a single click if connected to the internet. It also has print functions for generating diagnosis reports and auto VIN detection for model and year of make.
Also, the Launch CRP429C diagnostic tool allows you to perform 11 reset functions, which include the following:
Oil Lamp Reset
Brake Pad Reset
TPMS Reset
Battery Matching
Injector Coding
Throttle Adaptation
DPF Reset
Gear Learning
Steering Angle Reset
ABS Brake Bleeding
Anti-Theft Matching
The Launch CRP429C is slower in some vehicle brands and models. The high-speed connection is not consistent and is sometimes dropped while streaming live data.
The tool also has loose connectors, meaning you have to carefully inspect connections before using the tools. You may also not be pleased with the redundancy of the keypad and touchscreen.
---
RELATED POST:
---
#3. Launch CRP909E OBD2 Scanner with Key Programming
Launch CRP909E Car Scan Tool with Key Programming
Launch CRP909E performs all the functions you can think of as a car diagnostic tool with key programmer. It is a complete product for all experienced car DIY-ers or mechanics.
The Launch CRP909E is an equally advanced auto diagnostic tool, an upgrade to the more cost-effective Launch CRP429C. This is an all-in-one tool that can perform a complete system diagnosis. It is also a full OBD2 scanner, equipped with 16 special service functions and IMMO capability.
Launch CRP909E diagnostic tool allows you to read live data for engine, transmission, chassis, and safety control system, body control system, and communication and entertainment system. It can perform all these functions on over 57 car brands and 1000+ models across the world. This Launch CRP909E also supports some of the newest cars manufactured in 2018, 2019, 2020, and 2021.
Performing vehicle diagnosis with Launch CRP909E is a breeze, thanks to the 7-inch LCD touchscreen and a high-speed quad-core processor. You will get all data in real-time and without lags. It is the best tool for a great visual experience. 
The Launch CRP909E is quite heavy, weighing up to 9.15 pounds. That can limit the one-hand operation and portability. The tool also doesn't have as many special service functions as other vehicle diagnostic tools within this price range.
Despite the one-year free update, paying for subsequent updates may be expensive. You may find it unreasonable to keep updating the firmware if you buy it just for home mechanics. 
---
RELATED POST:
---
Best Stand-alone Key Programmers for all Cars/Trucks
Below comes the comparison chart of the top 3 key programmers for all cars/trucks:
Top 3 Stand-alone Key Programmers Comparison Chart

VVDI - Editor's Pick



Autek Ikey820


CK-100

Customer Rating

Price
Transponder key programming
✔
✔
✔
Key fob chip programming
✔
✔
✔
Erasing key
✔
✔
✔
Programming a key
when all keys lost
✔
✔
✔
Connection
Wired
Wired
Bluetooth
Vehicle Coverage
Cars, SUVs, light trucks,
minivans, HD trucks
Cars, SUVs, light trucks,
minivans, HD trucks
Cars, SUVs, light trucks,
minivans, HD trucks
#1. VVDI Auto Key Programmer – Editor's Pick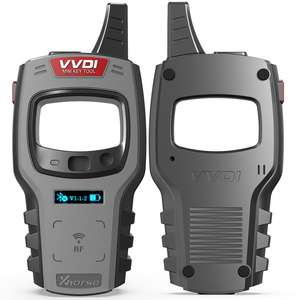 VVDI All-car Key Programmer
VVDI key programmer is equally versatile but is more affordable. If you are limited on the budget but still desire to buy a key maker with such functionalities, this is an appropriate choice.
The Xhorse VVDI key programmer is a professional tool that can perform multiple functions. It is equipped with Bluetooth and WIFI connectivity for communication to the Xhorse key cutting machine, mini OBD tool, and other subsidiary products needed for other purposes. The main strength of Xhorse VVDI is that it can perform remote key programming, making it ideal for roadside operations.
VVDI key programmer comes with a 3375mAh battery, HD LCD screen, and a camera to make its operation easy and interactive. The MINI OBD tool that it uses supports different vehicle models, including imported ones.
Its main functions include:
Generate remote and smart key
Program and IMMO transponder
Generate special transponder
Renew remote
Recognize and copy access card
Generate and copy garage remote
Frequency detection and copy remote
Connect to Xhorse key cutting machine
Special functions (VVDI Special TP, Unlock Toyota Smart Key, Special 4D to 4C, ID63 to ID83, VVDI smart key clone, VVDI remote repair calibration, etc.)
The VVDI key tool doesn't support many US cars and other vehicle models worldwide. Its use is limited to just a section of vehicle brands and supports only models manufactured in specific years. For example, it works on Ford explorer 2011 and not the 2010 model. It also doesn't work for most Honda keys and remotes. The Nissan OEM key clone is also not supported.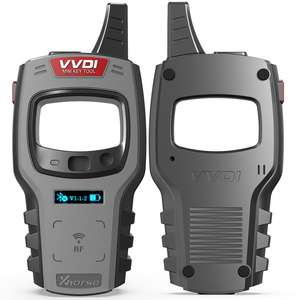 #2. AUTEK iKEY820 Car Key Programmer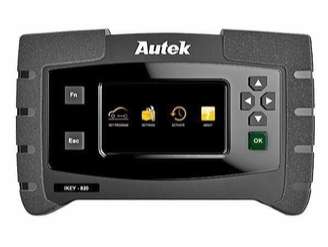 Autek Ikey820 Professional Auto Key Programmer
Given the versatility, Autek Ikey820 is recommended for locksmiths. However, nothing is stopping you from buying it for personal use.
AUTEK iKEY820 is a professional auto key programming tool with unrivaled IMMO capability. It can read mixed data from almost any car model, making it the best tool for locksmiths, garage, and car body repair centers. AUTEK iKEY820 has an interactive user interface that makes it easy to operate. Even beginners can find it easy to use in performing IMMO functions.
AUTEK iKEY820 is best known for key programming and does not have token limitations. The tool comes preloaded with 500 tokens, but you can always charge up to 200 for free.
This key programmer does not require an additional power source to operate. It is a plug-and-play tool that uses an OBD2 port to perform any required key programming functions, which include the following:
Provide Roadside key & Remote Programming for Drivers
Read & Clear Fault Codes
Clear key Memory
Program Proximity & Non-Proximity Keys
Program Smart Keys
Program Plip Keys
Program Aftermarket & OEM keys
Program Aftermarket & OEM Remote Key Fobs
Read Immobilizer Pin-Codes from Engine ECU or Body Control Module
Read Pre-Code data from engine ECU or Body Control Module
The Autek ikey820 cannot automatically read the pin information from all vehicle models. It supports quite a number, but you still need to source pin codes for some vehicles. A key programmer of this level should have been equipped with the full capability to handle all functions related to IMMO services.
The Autek ikey820 is also relatively heavy. It has a net weight of 1.5 Kg, which makes operation with one hand nearly impossible.
Autek Ikey820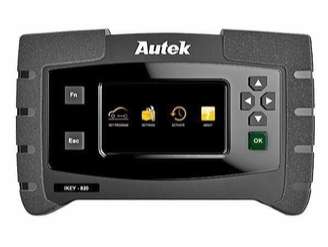 VVDI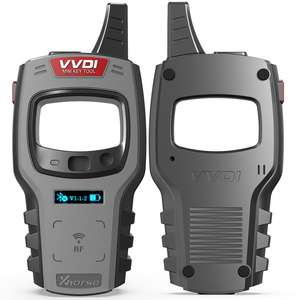 #3. Ck100 Car/Truck Key Programmer
CK-100 Cheap Universal Auto Key Programmer
CK100 auto key programmer is the most affordable product on this list. This does not mean it is less effective since it can perform all programming functions as other products here. It is compact and portable, appropriate for both car owners and locksmiths.
CK100 is a cost-effective key programmer for beginners. It has many IMMO functions and covers a wide range of vehicles worldwide. It is made of high-quality ABS material, making it suitable for use under different conditions.
The CK100 key programmer comes with a 1024 token, which can be updated for free once depleted. However, it has none for some cars. That can be viewed as a disadvantage if you handle different vehicle brands and models. It can also fail to adapt keys when in use. In such cases, users are supposed to disconnect the OBD16 adapter and reconnect after 10 seconds.
CK100 has the following features and functions:
Program a replacement button.
Read the key from the anti-theft lock memory
Disable the keys owned by the owner
Operate through menu-guided programming
Program a replacement remote
Complete database software containing all the major vehicle brands
The CK100 is not as durable as it's supposed to be. It will die after a few months of use. Also, it doesn't work on all vehicle brands and models. The advertised information on Amazon may be misleading as the CK100 cannot program the 2001 Honda Accord or Acura. Some Toyota models are also not supported.
Recommendation
Finding the most reliable car key programmers in the market is an overwhelming task. We presented all the features that you should be looking for and offered our recommendations. If looking for a vehicle diagnostic tool with OBD2 functions, we would recommend Launch CRP429C. It is compatible with many vehicle models manufactured between the years 1996 and 2022.
Locksmiths, however, need a key programmer that is not overly complicated. VVDI is the recommended choice because of its affordability yet can perform as many key programming functions as other devices.
Key Programmer Buying Guide
What can I do with a key programmer?
Most key programmers will offer various features, from merely programming new keys to replacing all the keys and resetting the vehicle's security systems. The most common features include:
Add a key/ new key programming. This function allows you to create a new key for the car from a blank, without deactivating the existing keys.
Reset/relearn keys. If your existing keys have malfunctioned, this function helps reset them back to their original operation. 
New remote control programming. Remote controls and key fobs can be programmed to work with your vehicle using this function. 
Key cloning. This feature makes a copy of an existing key by cloning its information into a blank. 
Read keys from IMMO memory. With this function, you can generate new keys straight from the vehicle memory. It allows you to make replacements even if you've lost the originals. 
All keys replaced. If you don't have any of the original keys, this function allows you to generate a whole new set. Doing so will also deactivate the old ones.
PIN code reading. The PIN associated with your IMMO system is stored in your vehicle's computer memory. With this feature, you can retrieve the PIN and use it to make new keys or remotes. 
Reset immobilizer. This function helps reset the vehicle's security system, troubleshoot problems, or get the system to recognize new keys. 
Program immobilizer. IMMO programming gives you more in-depth control over the vehicle's electronic security, allowing you to alter the parameters or even deactivate them.
What to Consider Before Buying a Key Programmer?
Types of Key Programmer
Car key programmers are broadly classified into Universal key programmers (for all cars) and Key programmers with OBD2 diagnostic functions (2in1). What do they offer, and how do they differ?
As the name suggests, a universal key programmer can program keys for all cars. It can allow you to duplicate your car key, reset keys, clone keys, replace keys, program and reset immobilizers, among others. Compared to a car key programmer with OBD2 diagnostic functions, universal key programmers are cheaper.
Apart from the features offered by the universal key programmer, they also provide OBD2 diagnostic functions. These key programmers can read and clear error codes and can also allow you to view freeze frames, live data, and other helpful information from your car engine. Due to these additional capabilities, these auto diagnostic tools are more expensive.
How much should I pay? – $100-$500
Generally, how much you pay for a car key programming tool will be dependent on which features you need to have included. You can break the tools down into three broad price ranges:
$100-$250: These tools will only program new keys from the vehicle's memory or deactivate old keys you no longer have. They're a budget-friendly option for both car owners and locksmiths and are typically simple and straightforward in their operation.
Recommendation: VVDI Cheap Key Programmer for All Cars/Trucks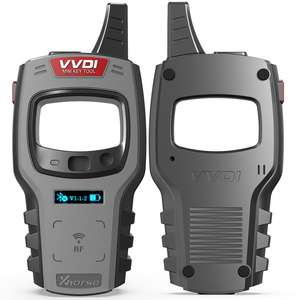 VVDI All-car Key Programmer
VVDI key programmer is equally versatile but is more affordable. If you are limited on the budget but still desire to buy a key maker with such functionalities, this is an appropriate choice.
$250-$500: Auto key programmers in this price range tend to combine the key/key fob programming abilities with an OBD2 scan tool's full diagnostic functions. Intermediate to advanced home mechanics may find them a good value if you plan to make other repairs. They don't usually go beyond the functions of less expensive ones when it comes to key/key fob programming abilities, so they don't offer any more significant value to locksmiths.
Recommendation: Launch CRP429C OBD2 Scan Tool with Key Programming
Launch CRP429C Auto Scan Tool with Key Programming
Launch CRP429C is a pocket-friendly scan tool you can use for performing the most crucial car diagnostic functions and key programming. You can choose this if you are low on budget.
Types of car key and their replacement cost
Traditional key
The traditional key is the manual metal key that cars have used since their invention. Since there are no electronic components, they don't require any coding. A copy can be made by cutting a blank to the correct shape to fit the lock and ignition. The blanks only cost about $3-$10. Some locksmiths will also charge for labor, but even so, it's the cheapest option to replace. 
Master key
You won't see master keys often in modern vehicles. They typically came with older cars that used traditional keys and were not designed to be used. Instead, they exist as a template off of which to make additional copies. 
Replacing a master key can cost hundreds of dollars. If you're buying an older used car, check the manual to see if it should have a master key. In some cases, the entire engine management system needs to be replaced if the master key has been lost, which can cost more than the vehicle is worth.
Transponder key
In use since the mid-'90s, transponder keys are metal but have a chip in the handle. The transponder is activated when the key is in the ignition, disabling the car's IMMO processes and allowing it to start. 
Copying a transponder key costs around $40 to $100. If it's lost, you'll pay about $150-$250 to replace it, depending on whether you go through a locksmith or a dealership. The most expensive transponder keys are rolling code keys. They're more secure and more challenging to reproduce and can cost $500 or more to replace. 
Switchblade key
These keys have a traditional metal component that folds into a plastic fob, similar to how a switchblade knife works. Replacements usually cost between $200 and $300, though it's less if you only need to replace the shank (usually around $75-$100).
Valet key
These keys will unlock the doors and start the car but won't open the trunk and limit functions in other ways. The style of the car key will determine how much it costs to copy or replace. 
Smart key
The most advanced keys in use, smart keys, let you turn the car on by pushing a button as long as they're within your vehicle's range. These keys can be some of the most expensive to replace because you can only get them through your dealership. If it's lost, expect to pay anywhere from $200 to $400 for a replacement. 
What is car key programming?
The chips in transponder keys and smart keys are programmed to interact with the specific vehicle they're associated with. The car key programming process is done at the factory when your car is first sent out or at the dealership when you go in to get a key replacement or copy.
Car key programming devices allow you to sync new keys with a vehicle rather than going to a dealership to have it done. Since it uses information taken directly from the vehicle's computer to create a unique key that will only operate that vehicle, it's just as secure as having a new one made by a professional.  
How to Use a Car Key Programmer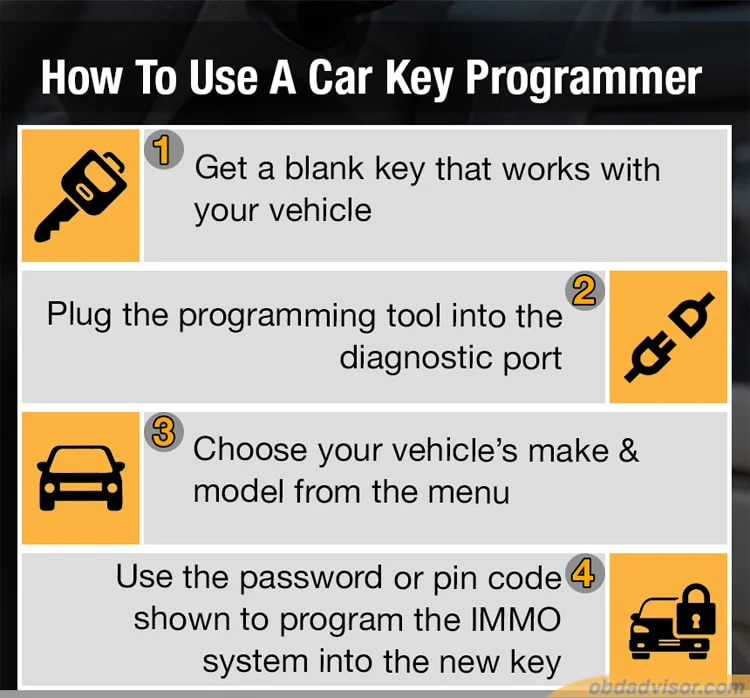 The first thing you'll need to do is get a blank key that works with your vehicle. You can order these online from your vehicle manufacturer for much less than you'll pay to have a key made. 
The exact process of using a key programmer varies depending on the tool and what kind of locking system your vehicle uses. Most tools you buy will walk you through the process, either with an on-screen wizard or in the repair manual.
Generally, you start by plugging the programming tool into the diagnostic port, then choosing your vehicle's make and model from the menu. It will show you the password or pin code for the vehicle's IMMO system to program this into the new key. Many of these tools can also remotely turn on the ignition, a beneficial feature for programming new smart keys for keyless ignition systems.
FAQs
1. Can I Program A Car Key Myself?
You absolutely can! You'll need to have the master key on-hand with some key makers to do so, but more sophisticated models can read keys from the vehicle itself. Expect to spend a bit more generally if you need this level of functionality. 
2. Can Bluedriver program keys?
No. Bluedriver can only perform OBD2 functions and main systems diagnotics.
3. What scan tool can program keys?
A lot of OBD2 scan tools can program auto key. Autel MK808 and DS808, Launch CRP Touch PRO Elite, LAUNCH Scanner CRP909X, Autel MS906BT, Launch X431 V PRO just to name a few.
4. What do locksmiths use to program keys?
Automotive locksmiths use an array of specialized equipment to program new keys for vehicles. These include transponder programming and cloning devices and code machines that allow them to read and duplicate pin codes and passwords for vehicle security systems. 
5. How much does it cost to program a key?
That depends on your vehicle and the locksmith you go with. Generally, rekeying a car costs somewhere between $50 and $300. 
6. How long does it take to program a key fob?
Not very long at all. Using an auto key programming tool, you can typically program a key fob in 15-30 minutes. 
7. What scan tool can program keys?
There are a few different options out there. The XTool X100 is one of the most affordable scan tools with IMMO programming and reset functions and new key and remote programming. If you need more professional features, the Xtool X100 PAD also supports a range of repair functions like EPB calibration and battery reset, in addition to basic diagnostics and key programming. 
You'll find some key/key fob programming abilities on the majority of professional-level scan tools. An excellent example of this is the Autel MaxiPRO MP808K, which includes advanced features like bi-directional control and new key programming.
Read More: Tim's Review of the Best TPMS Programmers