The best automotive oscilloscope will allow you to read voltage changes from automotive components. This tool is helpful for troubleshooting problems and a necessary tool for many vehicle repairs. 
You can find automotive oscilloscopes at every price point. The most significant difference between them will be the precision of their measurements and the range of data manipulation options.
Let's look at the ten best options on the market to better understand the features they offer.
9 Best Oscilloscopes for Automotive Use: Comparison Chart
[Mobile users: Swipe left for full table]
---
9 Best Oscilloscopes for Automotive Use: Detailed Review
#1. HANMATEK HO52: Best Handheld Oscilloscope for Automotive Use
HANMATEK HO52
Pros
Very stable meter and scope

Fast data reading

Accurate

Dual channels supported
The HANMATEK HO52 is a versatile 2-in-one device that combines the functionality of a digital multimeter and an oscilloscope. 
One standout feature of the HANMATEK HO52 is its 3.5-inch screen, which is larger than what you typically find in oscilloscopes within this price range. This display allows for clearer and more detailed waveform viewing, enhancing the overall user experience.
Speed is another area where the HANMATEK HO52 excels. With fast data readings at 250MSa/s for single-channel operation and 125MSam/s for dual-channel use, this oscilloscope ensures that you can capture and analyze signals with precision and accuracy.
This high data sampling rate enables you to capture fast-changing waveforms without missing crucial details.
In terms of accuracy, the HANMATEK HO52 shines as a reliable measurement tool. It provides precise and consistent readings, allowing users to confidently analyze waveforms and identify any abnormalities or fluctuations.
Furthermore, the HO52 enables you to save data as images or CSV waveforms, providing the flexibility to review and analyze the captured information at a later time.
Another notable advantage of the HANMATEK HO52 is its dual functionality as both an oscilloscope and a signal generator.
This means you can not only measure waveforms but also generate signals for testing purposes. Having these capabilities integrated into a single device adds convenience and versatility to your automotive diagnostic toolkit.
The HANMATEK HO52 comes equipped with rechargeable batteries, providing the convenience of cordless operation. While the battery capacity may not be exceptionally high, lasting approximately 5 hours, it can be quickly recharged using a USB Type-C cable. 
Overall, the HANMATEK HO52 oscilloscope is a valuable tool for anyone involved in automotive waveform analysis.
Today's best HANMATEK HO52 price:
#2. Hantek 1008C: Best USB Oscilloscope
Hantek 1008C
Pros
8 channels
Programmable wave generator
Automatic cursor tracking and measurements
Store, record, and playback dynamic waveforms
Software is easy to install and use
Cons
Needs PC to operate
Not usable for all automotive functions
For those who need the best automotive oscilloscope with many channels, the Hantek 1008C is a great option. It's a PC-based oscilloscope with a programmable waveform generator, ideal for most home automotive applications.
The functions of the Hantek 1008C are what set it apart from other automotive oscilloscopes. Along with the waveform generator, it has a built-in FFT function and basic mathematic functions, too. It also comes with 20 automatic measurements and auto cursor tracking functions.
Compatibility is the only major drawback of the Hantek 1008C. The included software can only be installed on Windows 8 or 10 PCs.
Since the product is discontinued, it's also no longer being updated. If this isn't an issue for you, however, it's undoubtedly the lowest per-channel cost you'll find in an automotive oscilloscope.
The Hantek 1008C is the best PC based automotive oscilloscope for buyers who need multiple channels, though its limited software compatibility may be an issue for some users.
Today's best Hantek 1008C price:
#3. Siglent SDS1202X-E: Best 2 Channels Oscilloscope
Siglent SDS1202X-E
Pros
Easy to zoom and change view
High sampling rate captures more signal information
History function records and plays latest triggered events
Color display with color temperature trace
Fast refresh rate shows frequency of traces
Can detect irregular and low-probability events
Cons
Higher cost
Menus are a bit confusing at first
Let's start with the best automotive oscilloscope for mechanics and professionals: the Siglet SDS1202X-E Digital Automotive Oscilloscope.
Its sophisticated display and broad functionality make it a versatile, thorough device capable of measuring any vehicle component.
The Siglent SDS1202X-E has both a high waveform capture rate and a high sampling rate. These two rates allow it to detect voltage fluctuations other oscilloscopes might miss and help see unusual events. A true measurement of all sample points gives the Siglent SDS1202X-E spot-on accuracy.
Interpreting data is easier with the Siglent SDS1202X-E, as well. The history function saves waveforms in multiple memory segments with timestamps so you can isolate and compare specific readings.
A full-color display with 256-intensity grading shows the frequency of trace readings, letting you see where readings happen most often at a glance.
The only issue some users have with the Siglent SDS1202X-E is that the interface isn't the most intuitively designed. Navigating the menus can take a bit of practice.
Once you've gotten the hang of it, though, the Siglent SDS1202X-E gives you more information than your average handheld automotive oscilloscope.
The Siglent SDS1202X-E has all the features you need for accurate automotive testing, with a full-color temperature graded display for easy data interpretation.
Today's best Siglent SDS1202X-E price:
#4. PicoScope 2204A: Best PC-Based Oscilloscope
PicoScope 2204A
Pros
Compact, streamlined design
High waveform capture rate
Includes serial decoding and mask limit testing
Free software upgrades
Allows importing and editing of waveforms
Cons
No built-in display
Limited software compatibility (requires Windows 7, 8, XP, or Vista)
Finally, here's another great PC-based automotive oscilloscope, and we've arguably saved the best for last. The PicoScope 2204A PC-based Automotive Oscilloscope connects to a computer via USB. By eliminating the screen, the PicoScope 2204A is both more compact than other options and very affordable for the features it offers.
The software you'll need for this Pico automotive oscilloscope comes included. While it's relatively easy to use, this extra step does make it less user-friendly. It also requires a Windows-based PC, so Apple users will need to look elsewhere. 
The PicoScope 2204A offers the same features as professional automotive oscilloscopes that cost twice as much or more. Those features include serial bus decoding and advanced digital triggering. It has a built-in arbitrary waveform generator, and you can import and edit waveforms for specific uses.
The PicoScope 2204A is a compact automotive oscilloscope that offers professional features at a great value for Windows PC owners.
Today's best PicoScope 2204A price:
#5. AUKUYEE Q15001: Cheapest Automotive Oscilloscope
AUKUYEE Q15001
Pros
Most affordable option
Easily portable
Straightforward design
Has 3 trigger modes
Reliable and durable construction
Cons
Low sample rate and memory depth
1 channel only
If your budget is limited, the AUKUYEE Q15001 Digital Automotive Oscilloscope has basic functionality for the lowest price. A low sample rate limits its accuracy, but it gets the job done for basic applications.
The streamlined design of the AUKUYEE Q15001 has an advantage from a usability standpoint, too. Operating this oscilloscope is quick and easy, and it's sized to fit into your pocket. The casing is well-built and durable, also.
While its functions and accuracy are limited, the AUKUYEE Q15001 is the best automotive oscilloscope you'll find for less than fifty bucks.
Today's best AUKUYEE Q15001 price:
#6. YEAPOOK ADS1013D: Best Budget Automotive Oscilloscope
YEAPOOK ADS1013D
Pros
7″ large touchscreen
Higher sample rate than comparably priced oscilloscopes
3 trigger modes
Long battery life
Easy to use
2 channels
Another option from YEAPOOK is that it has a bit more oomph in their 100MHz Handheld Digital Automotive Oscilloscope. Though it's a bit pricier, it's still comparatively affordable and has a similarly portable build. 
The YEAPOOK ADS1013D has a higher sample rate and larger memory than the 2050H above and for not much more money. It also has an improved display, with color temperature sensitivity for seeing traces. 
YEAPOOK ADS1013D is easy to use with an intuitive interface. Saving and viewing waveforms is as simple as taking readings. It's energy-efficient, too, with a long battery life (6000mAh) that can last for up to 4 hours of continuous use. 
While you can spend more for more features, the YEAPOOK ADS1013D can conduct basic automotive diagnosis without a problem. Its solid build and user-friendly design are the reason it's the best automotive oscilloscope for DIY-ers.
The YEAPOOK ADS1013D is the best automotive oscilloscope for home mechanics who want the best value for their money.
Today's best YEAPOOK ADS1013D price:
#7. Hantek 2D72: All-in-one Portable Oscilloscope for DIYers
Hantek 2D72
Pros
Clear color LCD screen

AWG can go to lower voltages

Power-off Time

Dual channels
Cons
Limited memory

No scope calibrate pin
The Hantek 2D72 oscilloscope is a fantastic do-it-all device that offers a portable solution for various electronic troubleshooting and diagnostic needs. 
One of the key advantages of the Hantek 2D72 is its portability. This compact device allows you to take your oscilloscope anywhere you go, making it convenient for on-the-go troubleshooting tasks. 
Despite its small size, Hantek the 2D72 offers a two-channel oscilloscope with a record function, allowing you to capture and analyze waveforms with ease.
Additionally, it provides:
waveform generator
a built-in digital multimeter (DMM)
AC/DC voltmeter, 
continuity tester, 
ohm meter
This all-in-one design eliminates the need for multiple devices and offers convenience and versatility in various troubleshooting scenarios. 
In terms of quality, the Hantek 2D72 oscilloscope delivers satisfactory performance. The core hardware meets the advertised specifications, ensuring accurate and reliable measurements. 
The interface of the device is relatively simple and intuitive, allowing for easy navigation and operation.
While the manual may be unnecessary as a reference for many users, it can still serve as a helpful resource for those who are new to oscilloscopes or want to explore advanced features.
One standout feature of the 2D72 is its built-in measurement capability. With this functionality, you can obtain precise measurements without having to manually analyze waveform divisions.
This saves time and enhances efficiency, particularly when working with complex signals or trying to determine the frequency of a specific component.
While the Hantek 2D72 has many impressive features, one minor drawback is the absence of a scope calibrated pin. However, given the built-in waveform generator and the overall functionality of the device, this omission is easily overlooked.
Overall, the Hantek 2D72 oscilloscope is an affordable and capable tool that meets the basic needs of waveform analysis and diagnostics.
Today's best Hantek 2D72 price:
#8. Rigol DS1054Z: Best 4-Channel Automotive Oscilloscope
Rigol DS1054Z
Pros
4 channels
Easy to read color display
Simultaneously view readings from all channels
User-friendly and intuitive
Display offers multi-level intensity grading
Deeper memory with UltraVision technology
Cons
More expensive option
Some functions require paid upgrade
The Rigol DS1054Z Digital Automotive Oscilloscope is the best digital automotive oscilloscope on the list for professional-level diagnostics. It has the wide waveform capture rate, deep memory, and full-color display you need for a thorough, accurate analysis.  
The Rigol DS1054Z is surprisingly easy to use, considering how many features it offers. A large 7" display with high pixel resolution lets it show readings from all four channels on the screen at once, speeding your diagnosis and makes it easier to find inconsistencies between circuits. 
The only disappointing thing about the Rigol DS1054Z is that the advertised price is a bit deceptive. Many of the features are only available on a 30-day trial basis without a paid upgrade.
Considering its price is already on the high side for an oscilloscope for automotive troubleshooting, this puts it out of many hobbyists' budget.
The feature-rich Rigol DS1054AZ is the best automotive oscilloscope for professionals, though the high cost and paid upgrades put it out of most DIY-ers' price range.
Today's best Rigol DS1054Z price:
#9. SainSmart DSO212: Portable Mini Oscilloscope
SainSmart DS212
Pros
Detailed color-sensitive screen
Compact enough to carry in your pocket
Connects to Windows computer to download data
2-channel operation
Quick, simple set-up and navigation
Cons
Low sample rate and bandwidth
We love the design of the SainSmart DS0212 Handheld Automotive Oscilloscope. The screen is relatively large and easy to read, considering its compact size. 
Unfortunately, the inner workings of the SainSmart DS0212 aren't as impressive. Its sample rate and bandwidth are among the lowest on the list. Though its display is color sensitive, this limits its use and accuracy. 
The SainSmart DS0212 does offer two channels, as well as easy connectivity to a PC to download waveform data. If you don't need high precision from your measurements, this SainSmart automotive oscilloscope is a convenient option, but it's not the best choice for everyone.
The SainSmart DS0212 is a super-portable automotive oscilloscope with an impressively detailed display, though the low sample rate is a concern for some buyers.
Today's best SainSmart DS212 price:
---
What Is An Automotive Oscilloscope?
An automotive oscilloscope is a tool for diagnosing sensors and circuits. The power from these components can often change too quickly for a digital multimeter to measure them effectively. An oscilloscope can detect issues with electronic components even before diagnostic trouble codes trigger.
When signals enter the oscilloscope through the probe, the device graphs the signal based on its rate of change over time, giving a more accurate picture of the components' performance than multimeters. It's also crucial for detecting intermittent issues other diagnostic tools miss.
There are many kinds of oscilloscopes out there for other applications, including manufacturing or scientific purposes. An automotive oscilloscope includes the pre-set data and capacity you need for auto components.
How To Use An Oscilloscope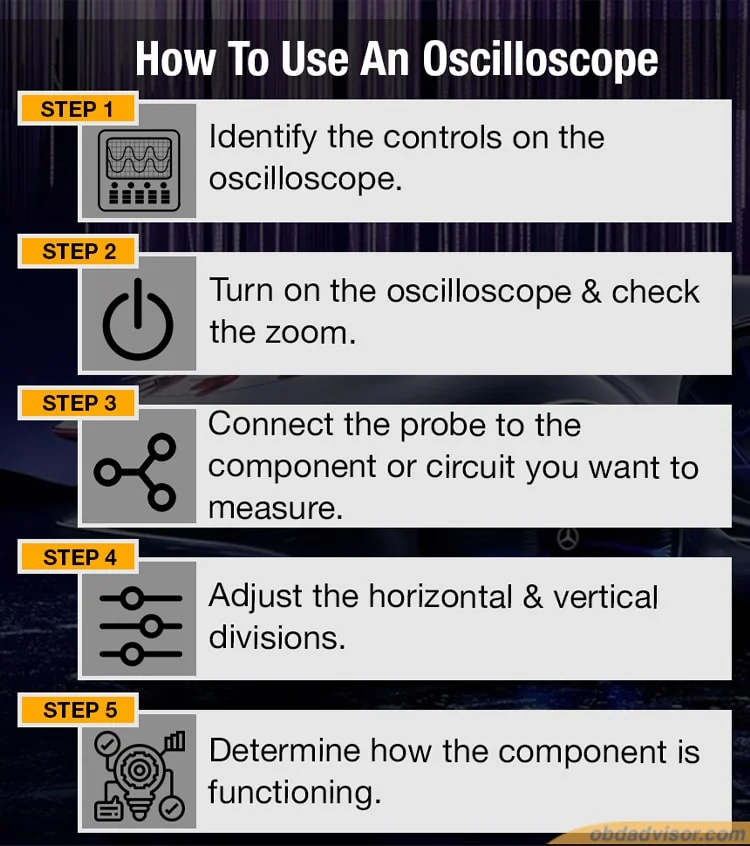 Identify the controls on the oscilloscope. Make sure you know how to change the horizontal and vertical increments of the grid and that it's set to the correct range for the component you're measuring.
Turn on the oscilloscope. When nothing is plugged in, you should see a flat line, indicating no voltage change. If there is input when nothing is connected to the probe, disconnect and reconnect it. If the screen is blank (no flat line), make sure you're on the correct input. Also, check the zoom; you may be tightly focused on a blank area of the screen.
Connect the probe to the component or circuit you want to measure. The flat line should turn into some kind of waveform.
Adjust the horizontal and vertical divisions until the waveform oscillates only within the screen's confines and is large enough to discern changes. If the waveform seems unstable and challenging to see, adjust the trigger level.
You should now be able to determine how the component is functioning. The trickiest part of using an automotive oscilloscope is learning how to set the controls for various situations and components. If you're having difficulty reading the circuit, connect the oscilloscope to a functioning circuit, which may be easier to graph and tell you what settings work best.
---
Final Thoughts
Generally, the more you pay, the more features and accuracy you'll get from an automotive oscilloscope. Consider your needs before you buy. Most home mechanics don't need the more extensive features offered by more expensive models.
All 10 of the automotive oscilloscopes above are reliable and convenient ways to test your engine components. We hope the reviews above have helped you find the right one for your garage!
Read More: Top 25 Auto Mechanic Schools In The US 2021