You need an advanced car diagnostic scan tool to diagnose the systems and perform the relearn function?
Autel MX808 Maxicheck is the best choice for you.
You will notice that it uses a quad-core processor allowing it to retrieve and analyze data fast. Also, the scanner can boot and be ready for use in less than 20 seconds.
Let's check out the chart below to find more about the scan tool and its competitors before buying one for you.
Note: You should take one that suits your needs, budget and is compatible with your vehicle.
Autel MX808 vs. Autel Maxicheck Pro vs. Autel MD808 Comparison Chart

Autel MaxiCheck MX808


Autel MaxiCheck Pro


Autel MaxiDiag MD808

Customer Rating

Price
Product Dimensions
14.9" x 11.3" x 4.8"
15.1" x 9.4" x 3.8"
8.3" x 1.4" x 3.6"
Item Weight
6.25lbs
3.95lbs
3.55lbs
Pros
Offers Full system diagnosis, full-service functions, and full OBDII Modes;
Can read and clear EPB/SBC DTCs;
Can Perform functions such as EPB ABS SRS SAS Airbag Oil Service Reset BMS DPF.
Offers 4 system diagnosis (Engine, Transmission, SRS and ABS);
Can performs enhanced service functions (oil reset, EPB, SAS, BMS and DPF);
Life-time free update.
Cons
Possible Compatibility Problems (check carefully before buying)
Only work with OBD2 vehicles made before 2013.
Possible Compatibility Issue.
Bottom Line
Autel MX808 is an excellent diagnostic tool for experienced DIYers and beginner mechanics.
Autel MaxiCheck Pro offers great value to DIYers and beginner mechanics.
Autel MD808 suits any DIYers and experienced enthusiasts.
Bonus: Honest Review of Autel Maxicheck Pro Car Diagnostic Tool
Stay put to find out more about Autel MaxiCheck MX808 in this review!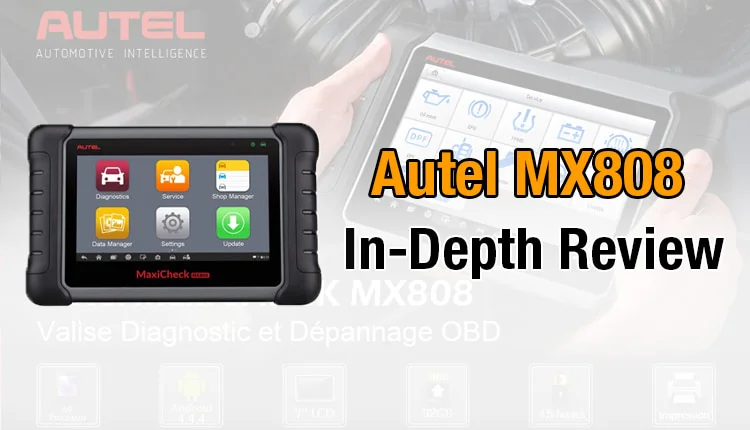 Autel MX808 Detailed Review
Autel MaxiCheck MX808 All Systems and Service Tablet
Autel MaxiCheck MX808 Diagnostic Scan Tool is an all system scanner that can effectively perform relearn function. You will be able to read and clear codes from all systems.
1. Perform relearn functions
Strength
If you are professional tech, you may have realized that relearns are not easy to perform. You need a scan tool that can effectively cope up with the relearn procedure.
The good news is that Autel MX808 can support a number of relearn functions. TPMS relearn is one of the functions supported by this scan tool. It is usually performed when a service has been performed to the TPMS system. For instance, when you adjust the air pressure, perform tire rotation, or replace sensors, you need to perform TPMS relearn.
The other relearn function supported by MaxiCheck MX808 includes parking brake relearn. You will notice that after replacing the parking brake, you need to perform relearn. The procedure will ensure that the onboard software recognizes new parts and they are effectively working.
Weakness
You will notice that this scan tool does not support relearn functions in most vehicles listed by the manufacturer.
2. Support Auto VIN recovery
Strength
Autel MX808 MaxiCheck can automatically retrieve the VIN of your vehicle. As a result, the scanner can quickly identify your car and make an accurate diagnosis, which will significantly reduce the time taken to retrieve the diagnostic codes or perform any other diagnostic functions.
Check Price at Amazon
Equally, you can use this scanner to retrieve the VIN of a used car. This is particularly important if you want to track the history and the performance of the used car. The records that match the retrieved VIN will help you to identify the true condition of the used car.
At the same time, you can retrieve the true millage using the retrieved VIN.
Autel MaxiCheck MX808 gets even better as it can reset the service mileage as well as service intervals.
Weakness
You need to update the software, which comes with a cost if your model is not yet supported. This is particularly true for most of the foreign models.
3. Perform Steering Angle Sensor (SAS) reset
Strength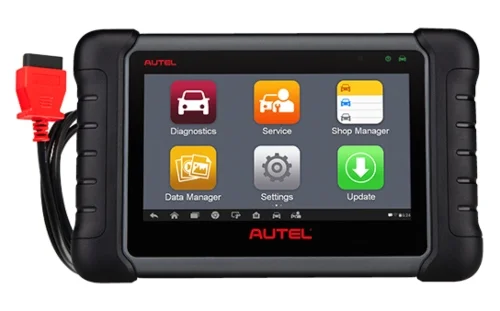 If you have just performed wheel alignment on an OBD II vehicle, you need to subsequently perform the SAS reset.
You may also need to perform SAS reset when you realize that your vehicle's steering wheel is rocking side to side or the vehicle drifts while you are driving.
SAS reset will help to calibrate the steering geometry to a vehicle onboard system sensor.
However, not all scanners can perform SAS reset functions.
But with Autel MaxiCheck MX808, you will be able to accurately reset the steering angle sensor.
Even better, this scan tool can complete this process in a matter of minutes, which is because it uses a quad-core processor that is amazingly fast.
Weakness
Always check if this function is enabled before buying this scan tool. You may find yourself speeding more by making an update to enable this feature.
4. Supports IMMO functions
Strength
Autel MaxiCheck MX808 can effectively support the IMMO functions in most models.
IMMO, also known as anti-theft, will help enhance the security level of your car.
It prevents your car from being "hot-wired" if someone gets an authorized entry into your vehicle.
You will realize that this feature only allows a car to start when the right key is used for ignition.
However, IMMO can malfunction, causing trouble as you try to start your car.
Check Price at Amazon
To reset and reprogram IMMO, you need an advanced diagnostic tool.
Luckily, Autel MaxiCheck MX808 can effectively reset IMMO functions.
You will be able to match the authentic key with IMMO using this scanner.
Weakness
You need to update IMMO to function. It means that you will incur an additional cost to perform this function.
Compatibility Of Autel MX808
Autel MaxiCheck MX808 has a wide coverage. The scan tool can diagnose up to 80 US, EU, and Asian models.
It is also multilingual, supporting many languages.This scanner is compatible with windows allowing you to connect to a PC.
Pros
It has a widescreen that makes reading and clearing codes easy
Can perform advanced functions such as TPMS relearn
It is really easy to use
Comparatively affordable
Stable wireless connectivity
Print reports via a PC.
Can sustain up to 4.5 hours when fully charged
Cons
Incur additional cost on updates
Only perform the relearn functions on some specific makes and models
You will have to wait for the scanner to charge in order to use
Requires a background on mechanics to perform advanced functions.
Who Is Autel MX808 Built For?
This tool is suitable for professional techs who own mechanic shops.
Equally, car enthusiasts involved in the regular diagnosis of vehicles may find this scan tool helpful.
Check Price at Amazon
The Bottom Line
Autel MaxiCheck MX808 is a great scanner that can accomplish much, yet it's relatively affordable.
If you are running a busy auto shop, this scan tool can come in so handy because you will perform advanced functions more quickly and accurately.
It is a suitable scanner for all professional tech and car enthusiasts who regularly perform car diagnosis.
Read more: