As a professional, you need the most ambitious diagnostics tool to help you repair a client's car in a cinch. Today's topic covers three such scanners; Autel MS909 vs. MS919 vs. MaxiSys Ultra.
These Autel professional tools have all the features you'd ever want in a diagnostics scanner, but they have a few differences.
Understanding what each tool brings will narrow your choice since these are high-end scanners. This way, you won't have fewer or more features than you want.
Let's find out which one meets your needs.
Autel MaxiSys Ultra vs. MS919 vs. MS909: Complete Comparison Table

Autel MaxiSys Ultra


Autel MS919


Autel MS909

Customer Rating

Price
OBD2 Functions
10/10
10/10
10/10*
System Diagnostics
10/10
10/10
10/10
Advanced Service Functions
36+
36+
36
Bi-directional Controls
✔
✔
✔
Coding/Programming
Component Adaptation
ECU Reprogramming
Component Adaptation
ECU Reprogramming
ECU programming for BMW and Benz
RAM
4GB
4GB
4GB
Storage
256GB
128GB
128GB
Battery Capacity
18,000mAh
15,000mAh
15,000mAh
Specialties
MaxiFlash VCMI
Includes docking station
MaxiFlash VCMI
MaxiFlash VCI
Supported Protocols
CAN-FD, KPW, CAN, DoIP, D-PDU, SAEJ234, and RP1210.
CAN-FD, KPW, CAN, DoIP, D-PDU, SAEJ234, and RP1210.
CAN-FD, KPW, CAN, DoIP, D-PDU, SAEJ234, and RP1210.
Vehicle Coverage
12V passenger, light-duty, and some medium-duty vehicles.
12V passenger, light-duty, and some medium-duty vehicles.
12V passenger, light-duty, and some medium-duty vehicles.
*Notes: Excellent: 9-10; Good: 7-8; Fair: 5-6; Poor: 3-4; Very poor: 1-2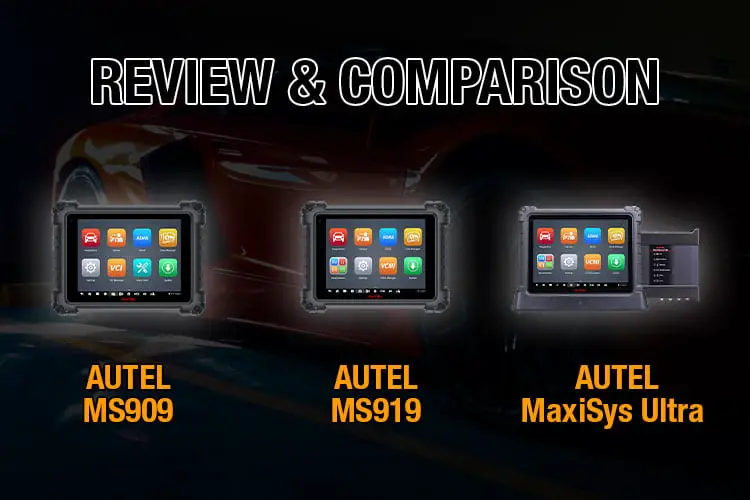 Autel MaxiSys Ultra vs. MS919 vs. MS909: The Similarities
OBD2 Functions
Autel MS909, MS919, and MaxiSys Ultra are advanced diagnostics scanners that offer full OBD2 functionality. They can read and clear trouble codes, show freeze frame and live data, and the enhanced mode 6.
These scanners come bundled with the MaxiFlash VCI for the MS909 and MaxiFlash VCMI for the MS919 and MaxiSys Ultra. These devices provide fast Wi-Fi and network communications between the vehicle and the scanner.
In addition, MS909, MS919, and MaxiSys Ultra automatically detect VIN and select the car automatically for quick diagnostics. All three scanners support DTC analysis with expert repair advice from experienced industry professionals. Also, they provide repair tips and relevant cases.
If you want a device solely for OBD2 functions and a little help with repairs, you'll like the MS909 since it's the cheapest option of the three. Nevertheless, the MaxiSys Ultra has DTC troubleshooting with a video library.
It means you can have better insight into a repair procedure, so it's more advanced than the other two. The added feature is not worth the extra hundreds of dollars. So, only if you want to have more ways to repair a vehicle is the MaxiSys Ultra ideal for OBD2 functions.
System Diagnostics
With these scanners, you can access all the available modules from all systems in supported cars. The devices have the topology module mapping feature, which color-codes the status of each system. As such, you'll know which ECU module is malfunctioning in seconds.
Again, MS909 is the winner since it is not as expensive as the other two, but it offers similar complete system diagnostics functionality.
Advanced Service Functions
All three scanners support 36+ advanced repair and maintenance features. To this end, these scanners have all the most commonly used maintenance functions.
These include: Oil reset, DPF service, ABS bleeding, EPB reset, SAS reset, BMS service, and battery registration and reset. Additionally, these gadgets are capable of suspension reset, gearbox reset, IMMO service, and airbag reset.
Still, I'd go with the MS909 for advanced service features since it has similar services as the other two.
Today's best Autel MS909 prices:
Bidirectional Control
Autel MS909, MS919, and MaxiSys Ultra offer enhanced component activations. These devices allow transmission of commands such that you can update the vehicle's software and receive adaptive data for particular components. Furthermore, you can perform active tests on various systems depending on the vehicle.
Supported Protocols
Autel MS909, MS919, and MaxiSys Ultra support the latest protocols thanks to the VCI and VCMI modules. Together, these scanners are compatible with seven types of advanced communication protocols. These are CAN-FD, KPW, CAN, DoIP, D-PDU, SAEJ234, and RP1210.
Complete List of Supported Protocols.
PLC J2497
ISO-15765
ISO14229 UDS
SAE-J1939
SAE J2411 Single Wire CAN (GMLAN)
ISO-11897-3
ISO-11897-2
TP16
ISO-9141
SAE J28819 (TP20)
ISO-14230
SAE-J2610 (Chrysler SCI)
SAE-J2809 (Honda Diag-H)
UART Echo Byte
SAE-J27940 (GM ALDL)
SAE-J1567 (CCD BUS)
BMW DS1
BMW DS2
Ford UBP
Nissan DDL UART with Clock
SAE J2819 (VAG KW81)
KW82
SAEJ1708
SAE-J1850 PWM (Ford SCP)
SAE-J1850 (GM Class 2)
Vehicle Coverage
The three scanners have expanded coverage for passenger and light-duty cars, and they also support some medium-duty vehicles as long as they have a 12V system. All scanners provide full diagnostics for 95% of post-2000 and 85% of post-2019 cars. Advanced system diagnostics, coding/programming, and bidirectional control are all vehicle-specific.
Autel MaxiSys Ultra vs. MS919 vs. MS909: The Differences
Specialties
The main difference between these scanners is the hardware and a few functions that the MaxiSys Ultra supports but the other two do not.
The MS909 device comes with the MaxiFlash VCI vehicle connector, while the MS919 and MaxiSys come with the MaxiFlash VCMI.
While the MaxiFlash VCI only provides a secure connection and support for the latest protocols, the MaxiFlash VCMI is a 5-in-1 device. This gadget carries a 4-channel oscilloscope, multimeter, OBD2 CAN Bus Check, and waveform generator functions.
The MaxiFlash VCMI also provides ECU programming for Benz, Volvo, VW, and BMW. The tool acts as an RP1210 and J2534 compliant, PassThru programming interface. Nevertheless, MaxiSys Ultra has a docking station, but the MS919 does not come with one. You can connect the MaxiSys Ultra to any peripheral device effortlessly, unlike the other two.
You'll like that MaxiSys Ultra provides split-screen functionality. You can see more features on a screen than on MS909 and MS919. This attribute is handy when comparing live data, as it makes it fast and easy to gauge vehicle performance.
Lastly, the MaxiSys Ultra has the largest memory at 256GB. This scanner has more space for storing more vehicle information, such that you don't need to have a separate device for a customer's vehicle history.
MaxiSys Ultra wins in special features since it provides well-rounded functionality. It offers professionals a long battery life and a superfast operating speed.
Autel MaxiSys Ultra
Coding/Programming
Autel MS909 is an advanced tool, but it does not have the same coding and programming attributes as the MS919 and MaxiSys Ultra. With the VCI and VCMI devices, you'll perform online ECU programming and component adaptations on some Benz and BMW models.
MaxiSys Ultra has similar coding and programming as MS909 and MS919. However, it adds a few more programmable vehicles, such as Volvo and VW. Still, you may want to check vehicle compatibility with Autel. Yet, the device does not support all cars from any particular brand.
Autel MaxiSys Ultra vs. MS919 vs. MS909 Pros and Cons
---
---
Autel MaxiSys Ultra
Pros
Advanced diagnostics guidance
Split-screen functionality
Dynamic topology module mapping
5-in-1 MaxiFlash VCMI
Cons
Tech support could be better
Does not support programming on all BMW and Benz vehicles
Autel MaxiSys Ultra
Autel MS919
Pros
Superfast navigation
SAE J2534, D-PDU, & RP1210 compliant PassThru programming
Bluetooth, Wi-Fi, and USB connectivity
Data manager for saving workshop data
Cons
Only a few differences with MS909 but costs considerably more
Locks, when used outside the USA
Autel Maxisys MS919
Autel MS909
Pros
J2534 ECU programming
MaxiFlash VCI
Intelligent bidirectional control
Supports English, Portuguese, and Spanish
36+ service functions
Cons
Key programming is not for all vehicles
Expensive yearly updates
Autel Maxisys MS909
Recommendation
Which of these scanners, MaxiSys Ultra, Autel MS909, or MS919, is good for a professional shop?
I hope you're better positioned to answer this question now than you were at the beginning of this post.
To me, Autel Maxisys Ultra is the best.
Then MS919 and MS909.
If you love the big size split screen, big memory, and docking station, Maxisys Ultra is the best for your shop.
If the docking station, big memory, and split screen are not a must for you, take Maxisys MS919 and save $1,000.
Take Maxisys MS909 if you don't need what the 5-in-1 VCMI offers.
Go on and pick a model that speaks to your skills, desired functions, and budget.
Frequently Asked Questions (FAQs)
Can you register MaxiSys Ultra outside the US?
No. Autel sells US models for use in the US only. You will need a foreign scanner if you need to register it for use outside the country.
How many years of free updates do you get with Autel MS909?
Autel offers only one year of free updates on the three scanners. The devices can work without updates. However, you'll need to pay for updates if you want to add vehicles or get more functions.
Can you scan the license directly with MS919?
This feature is supported on select vehicles. It's best to verify with Autel before buying it for this purpose.
Does MS909 perform TPMS programming?
No. Programming of TPMS sensors is only possible with Autel TPMS tools like the Autel MS906TS, TS508, or TS608.
Is topology mapping available for all vehicles?
Topology mapping is vehicle-specific. You'll find it in Benz, BMW, Volvo, VW, Ford, Audi, Honda, Nissan, Jaguar, Land Rover, and Kia brands. Please ensure that you verify with Autel about a particular vehicle.
Read more: Autel IM508 Vs. IM608 Vs. MaxiSys Ultra: Which Is The Best For Professionals?