Autel MK908P is a comprehensive diagnostic scanner that will be right at home in any professional garage. Since it's on the higher end of the price spectrum for OBD scanners, you'll want to make sure it's the right choice for you before you buy.
First,
Let's see how it competes against the Autel Maxisys Elite and Launch X431 V+.
Autel MK908P Vs. Autel Maxisys Elite Vs Launch X431 V+
| | | | |
| --- | --- | --- | --- |
| | Autel MK908P | Autel Maxisys Elite | LAUNCH X431 V+ |
| Customer Rating | | | |
| Price | | | |
| Product Dimensions | 25.7" x 17.2" x 7.4" | 25.6" x 7.5" x 16.9" | 13.8" x 5.9" x 9.8" |
| Item Weight | 22.7lbs | 2.2lbs | 13.23lbs |
| Full OBDII | ✔ | ✔ | ✔ |
| OBDI Compatible | ✔ | ✔ | -- |
| Full System Diagnosis (DTCs and data streams) | ✔ | ✔ | ✔ |
| ECU Coding | ✔ | ✔ | ✔ |
| J2534 ECU Programming | ✔ | ✔ | -- |
| Oil Reset | ✔ | ✔ | ✔ |
| TPMS Reset | ✔ | ✔ | ✔ |
| EPB and SAS Service | ✔ | ✔ | ✔ |
| ABS/SRS Reset | ✔ | ✔ | ✔ |
| DPF Regeneration | ✔ | ✔ | ✔ |
| Bi-directional Control | ✔ | ✔ | ✔ |
| Key Coding | ✔ | ✔ | ✔ |
| Auto-VIN | ✔ | ✔ | ✔ |
| Vehicle coverage | 80+ | 80+ | 80+ |
| Bottom Line | If you are a professional, Autel MK908P is the best choice for you | Autel Maxisys Elite is perfect for technicians and mechanics | Launch X431 V Plus is made with professionals in mind |
| | | | |
There are few scanners on the market that can out-perform the Autel MaxiCom MK908P. Want to find out what all it can do? Read on below to find out.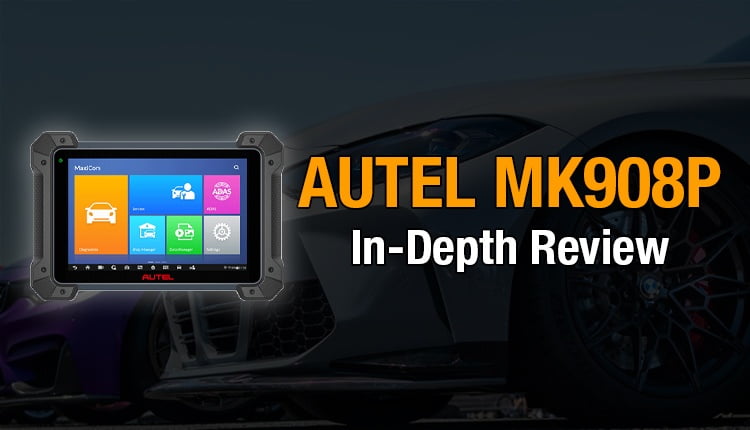 Autel MK908P: Perfect Companion For Professional Technicians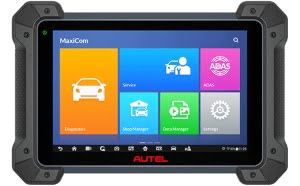 Autel MK908P Diagnostic Scanner
Autel MK908P, as a high-end vehicle diagnostic tool developed from Autel, featuring the complete diagnostic functions.
Starting off with the design, the Autel MK908P is an advanced OBD2 scanner that makes excellent use of the most recent technological developments. The full 10.1″ LED touchscreen is easy to read and navigate.
This is a bit bigger than your average car diagnostic tool, but it's not so large as to be unwieldy. It's relatively lightweight and very portable. The inclusion of Bluetooth and a rechargeable battery also means you can use it without wires, making it much more convenient.
The most groundbreaking thing about the Autel MK908P is its ability to stay up to date with modern vehicles. It can reprogram the computer systems of even hybrid and electric cars. Having a smart scanner on your side makes any mechanic's job easier.
OBDII Functions
This is a professional automotive diagnostic tool and is compatible with all 10 modes of the OBDII diagnostic. It can diagnose all symptoms of your vehicle, including reading and clearing DTC. You're also able to view a live data stream from every system. That real-time data means no delay in getting to work.
Special Functions And Services
Many cheaper OBDII scan tool models can be used to diagnose problems but not to fix them. With the MK908P, you get full control over vehicle ECUs thanks to the coding function. This includes updating the software and integrating new components.
There are also 25 other special features included with the Autel Maxicom, including:
Auto-VIN technology: The Autel MK908K has fast, precise Auto-VIN functionality to quickly and accurately identify vehicles.
OBDI: Most vehicles you encounter will be OBDII compliant, but for those that aren't, you won't need a separate scanner. The Autel Maxicom can scan OBDI with the right adapter.
Oil Reset: Resets the Oil Engine Life system for an accurate reading of the next oil change.
TPMS Service: Scans the sensor IDs from the vehicle ECU, along with programming and resetting codes after replacing the tires.
EPB Service: Multi-function service for maintaining every aspect of the electronic parking brake system, including fluid level control and setting after replacing pads or discs.
ABS/SRS: Bi-directional test to check the condition of anti-lock brakes and airbag system.
SAS Service: Calibrates the steering angle sensor to clear data and reset after repairs.
DPF Regeneration: This controls the Diesel Particulate Filter's cleaning operation and is a necessary function if you service diesel engines.
Software
As is fitting for a device with so many features and functions, the Autel MK908P uses a sophisticated Android-based operating system with a Samsung 1.4GHz Exynos Hexa-core processor. In addition, it has 64GB of on-board memory and 2GB RAM for fast operation.
The Autel Maxicom is one of the first smart OBDII scanners, as well. While it also offers manual diagnostic control, it can automatically perform many everyday tasks. This makes it a huge time-saver in the garage and improves your ability to reprogram ECUs.
Update
There are many features already included with the Autel Maxicom, and the online support expands these functions. You can quickly add features like the MaxiFix online troubleshooter or the Remote Desk for quick, live support.
You can also update the compatibility of the MK908P to include the newest vehicles. The new software is released quickly, so you can count on being able to scan all the most recent makes and models. These updates are included free for two years.
Coverage
If you're looking for an automotive scan tool that will work on basically any car, the Autel MK908P is an excellent choice. Its coverage includes more than 80 vehicles, including models made in Europe and Asia. It's compliant with the interface on BMW and Mercedes Benz vehicles, as well, so you can update their ECUs.
Marketed Users
This is definitely a unit aimed at professionals. The price point was probably your first indication, but the range of features is also more than any car owner will need. It's widely useful for all professional applications, too. The extensive vehicle coverage and range of features give you almost every diagnostic option a mechanic could need.
Pros
Easy to use and read
Programs and updates software in modern hybrids and EVs
Stores and prints data straight from the device
Reads, resets, and erases codes
Auto-scan option quickly checks every vehicle system
Bluetooth and battery operation make it wire-free
Comprehensive vehicle coverage with free lifetime updates
Comes with all the accessories you need to use it
Cons
High price point
Won't reprogram keys and fobs
Autel MK908P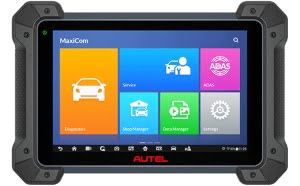 FAQs
What is the difference between the Autel MK908P and the Autel Maxisys Elite?
In terms of design, the Autel MK908P is lighter and more portable. It also has a slightly larger, updated touchscreen. A Hexa-core processor means the operation is a bit faster and smoother. The MK908P also has twice the memory of the Autel Maxisys.
Functionally, the main difference is that the Autel Maxisys includes key re-coding, a feature you won't find on the Autel MK908P.
Bonus: Autel Maxisys Elite: Professional Automotive Diagnostic Scanner Review 2021
What is the difference between the Autel MK908P and the Launch 431x V+?
The Autel MK908P is compatible with more vehicles, including hybrids, electric cars, and cars from BMW or Benz that the Launch won't cover. Conversely, the Launch 431x V+ includes key coding and programming, a feature not found on the Autel MK908P.
What accessories come with the Autel MK908P?
The MK908P comes with all the cables and connectors you need. This includes a main OBDII cable, a mini USB cable, a 2.0USB cable, an ethernet cable, and a variety of OBDI adapters. For power, there is a Li-Ion battery, as well as an AC adapter and a cigarette lighter charger.
Will this work on cars made before 2003?
It depends on the car, but generally, yes. The included OBDI adapters expand its usability to the majority of models that are pre-OBDII.
Will it work on diesel engines?
Yes, the Autel MK908P has full compatibility with diesel systems.
Autel MK908P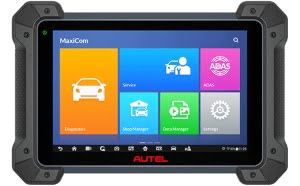 Read more: