Are you finding a professional scan tool with bi-directional control? You are in the right place. 
Autel MK808S is one of the worth-trying scanners under $500! In addition to active tests, MK808S covers many vehicles and brings you various enhanced functions to diagnose or repair cars.
If you are a skilled DIYer or home mechanic, this scan tool will meet most of your needs.
Keep reading to know the reasons why I say that.
Quick Review
Autel MK808S
Price: $383.20
Scanner type: Bi-directional scan tool
Made for: Home mechanics, Experienced enthusiasts
Vehicle covered: OBD2 cars/light trucks
Connection type: Corded
Buy this product if you want to:
Perform full-system diagnostics

Perform advanced service functions

Perform active tests
Pros
Full-system diagnostic

Good bi-directional control

Large touchscreen display

Supports over 150 car brands

28+ advanced service functions

Cons
No manual included

Menu is hard to navigate

Vehicle Coverage
Autel MK808S works well on 80+ car makes worldwide (1996 and newer), including 12V trucks.
I used this scan tool on 30 vehicles, including:
a 2001 330xi BMW,
a 2013 Honda Civic,
a Ford F-250,
a 2004 Ram 3500, etc.
But what surprised me the most was that it could detect a faulty purge valve on an old tow truck like Kodiak.
I also used the MK808S to bleed the ABS on a 2004 Ram 3500. It initially failed to complete the task.
I contacted AUTEL to ask for support.
And the scan tool did exactly what I needed after 2 new updates.
Although the Autel MK808S supports a lot of service functions, it depends on each vehicle's make and model.
For example, I couldn't program the key fob on a 2014 Acura RDX or program the rear window regulator on a 2007 VW EOS.
Make sure to contact [email protected] and inquire if the function is compatible with your vehicle before purchasing.
What Makes Me Like Autel MK808S?
1. I was absolutely impressed by MK808S's live data stream
When I selected this function, the screen showed the data list for modules like A/C system, oxygen sensor control, throttle module, etc.
It's convenient to transmit the parameters into a graph, which helps me check my car's real-time performance in color lines.
Recently, I worked on a 2011 Chevy HHR with an ABS and traction control light on. 
Typically it's due to the wheel speed sensors. 
But I checked those sensors first, and the live data showed me they were fine. 
It turned out it was the steering column positioning sensor.
It's so easy to pinpoint the trouble areas using the live data from Autel MK808S!
2. With Autel MK808S, you are armed with 28 powerful service functions.
You can:
Program keys, 
Bleed pressure-assisted brakes,
Code the injector, 
Calibrate tire sensors, etc. 
with this professional car diagnostic tool.
Below are some of the situations when I test the service functions on my clients' cars:
Situation #1: 
It was 2 weeks after I bought MK808S. 
My customer's key fob on the 2015 Honda Civic was no longer recognized after the car battery died and the battery was replaced. 
I was able to reprogram the key with the MK808S with no trouble.
Situation #2: 
Last month, I performed the "auto bleeding" procedure on the ABS module in a 1998 Chevy K1500. Then on a 2004 GMC Savana, a crankshaft sensor relearn is done perfectly.
3. Record everything about the cars you fixed
I also love this scanner because it has a "Shop manager" and "Data manager" for storing recorded historical problems.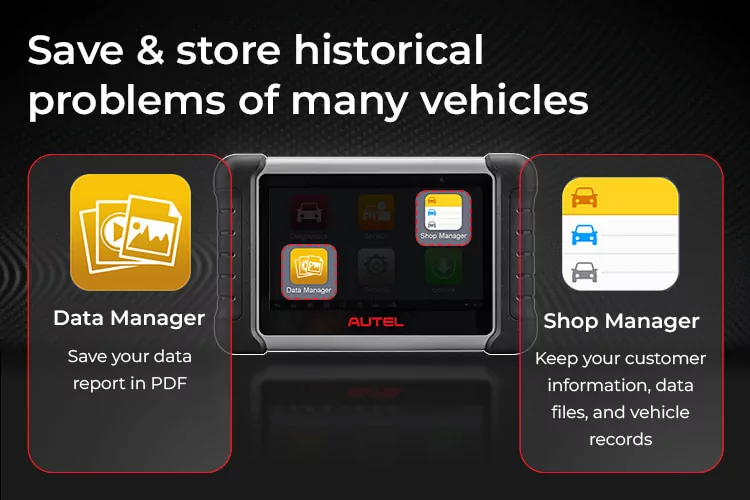 Thus I can take them as a reference when I encounter some hassles.
Shop Manager: keep your customer information, data files, and vehicle records.
Data Manager: save your data report in PDF.
If you're a backyard mechanic, these functions are so useful because you can save everything about the cars you fixed.
4. I love how easy it is when performing a full scan 
I can choose to receive the report in PDF form, which is very professional looking. 
It's neat and organized, making it easy-peasy to explain to your customers what's up with their cars. 
5. Supportive customer services
When I attempted to update the MK808S using wifi, I ran into a problem. 
I contacted AUTEL by dialing 1-855-288-3587, EXT 3. 
My call went unanswered at first, but they called me back immediately and answered all my questions.
More surprisingly, AUTEL could remotely operate the scan tool via wifi to ensure I didn't miss anything. 
I appreciate their attention to detail. It's the enthusiasm of the tech support specialist that helped my problem be solved easier.
AUTEL's customer service goes above and beyond my expectations.
What Do I Dislike?
1. The first time I used it, I was confused when locating its features
The way Autel MK808S organized some functions is kind of weird. 
For example, you would expect the injector buzz test to be in the service menu. 
But it's actually in the diagnostics menu.
So, it will take time to discover every corner of this scanner before becoming familiar with it.
2. I sometimes forget to charge it
Another gripe about the Autel MK808S is that it is operated by an internal battery instead of an OBD2 port. 
This may not be a big problem, but the scan tool can't read a code if you forget to charge it.
But what I love about the battery is that it keeps a stable connection between the scanner and the vehicle even if the car battery is low while cranking.
3. It doesn't use a Bluetooth connection
What a pity that Autel MK808S uses an OBD2 cable to connect your car and the scanner. But at this price, I wouldn't expect it to come with a Bluetooth VCI like other expensive scan tools.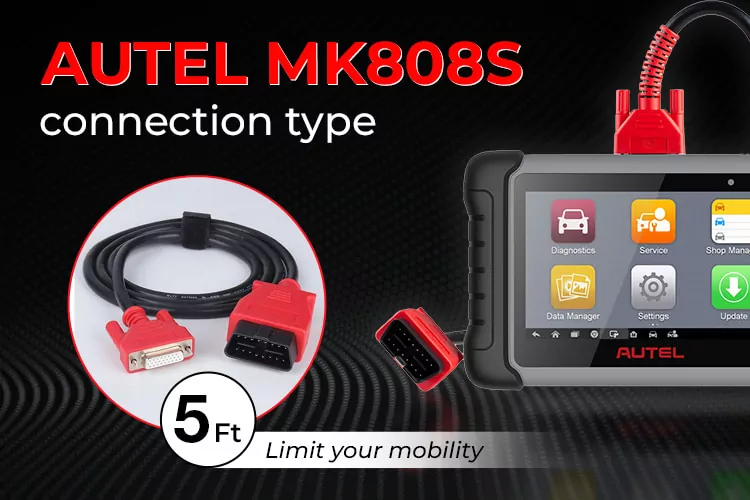 Yet, Autel also pleases customers by releasing another version of MK808S with Bluetooth VCI. That's the Autel MK808BT.
Pay another 100 bucks and you'll be able to perform wireless diagnosis.
Price And Update Fee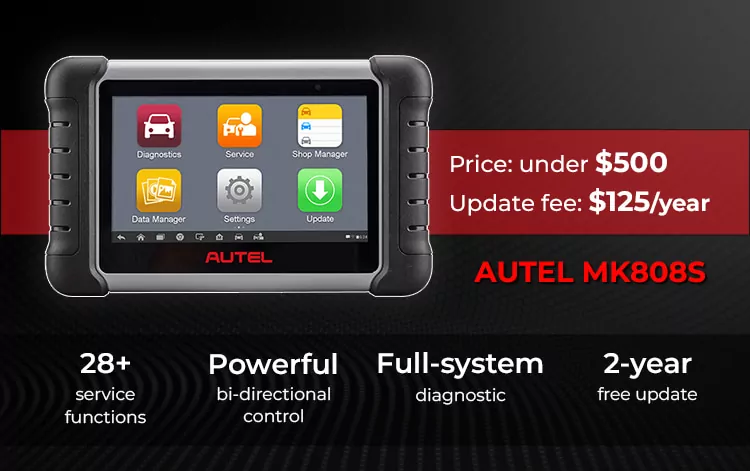 At the price of $479 and an annual update fee of $125, I think the Autel MK808S is worth the investment. 
Note that all the current functions are available for use whether you pay for the update or not. 
The only thing you can't do is update newer cars and bugfix. 
So why don't you give it a try?
How To Register & Update
Before using Autel MK808S, you'll need to register the scanner first.
It will take you 10-15 minutes to complete this task. And I'll write down the instruction here for anyone who needs them right now.
Step 1: Register your Autel ID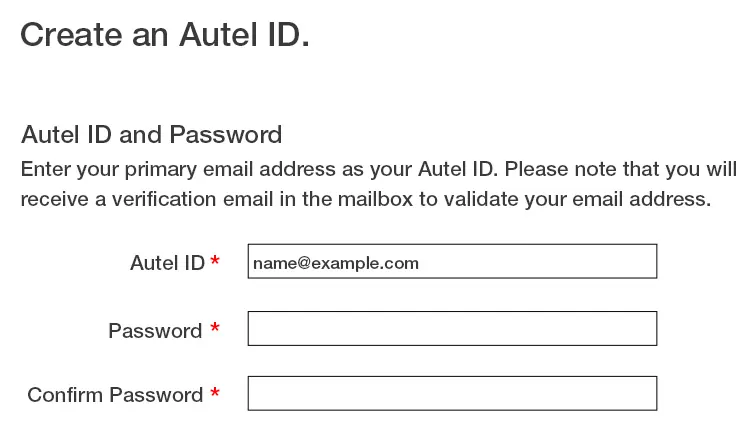 If you had used Autel scanners before and already had an account, move to step 2.
And if you haven't had an Autel account yet, go to its website at Autel.com. Fill in your information and click OK. Done, you got your ID.
Step 2: Log in with your account and password 
Sign in to your Autel account.
Then go to Product Registration page. Next, choose Autel MK808S as Product Model. Finally type in the serial number, Register Password, and Code. 
Click Submit to finish the registration.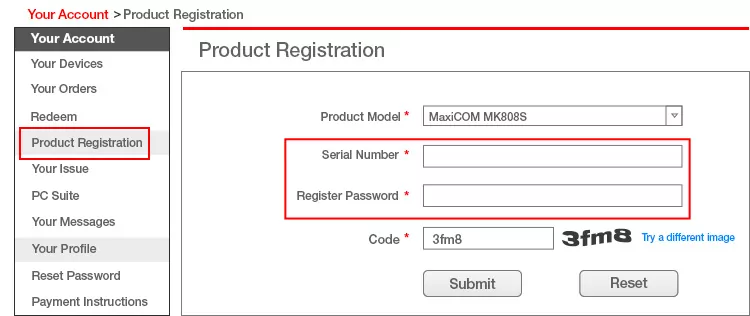 Note: You can find the Serial Number and Register Password in Settings/Setup → About menu on the device screen.
How to update?
It's easier than registering the scanner. First, turn on the Autel MK808S, then open the main screen. Choose "Update". There you go, download any software you want.
Key Takeaway
Autel MK808S is made with the mindset that any auto DIY guy can work alone effectively.
If you're a backyard mechanic, MK808S will let you detect and fix many car issues by yourself without someone's help.
Durable hardware, wide vehicle coverage, diverse functions, and bi-directional control make it a strong and reliable scan tool for any backyard mechanic.
Check Autel MK808S's latest price:
Autel MK808S's Alternatives
#1. Autel MK808BT: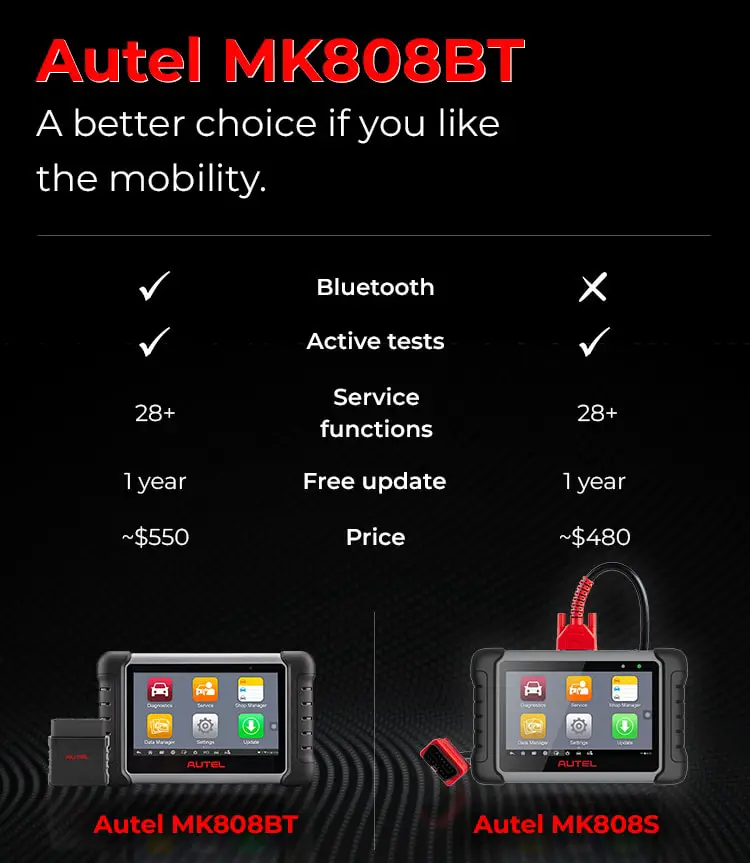 If you don't want to sit in your car all the time, Autel MK808BT is a better choice. 
Having the same functions, hardware, and design, MK808BT will benefit you with its VCI. With a diagnostic distance of 10m, you can carry the scanner around your garage. 
No longer limited by cable, right?
Check Autel MK808BT's latest price:
#2. XTOOL D7:
Compared to Autel MK808S, D7's performance is not as good as MK808S due to its limited vehicle coverage and functions. 
Stable performance and bigger memory (64 GB) are what make MK808S a better choice than D7. 
Yet, what XTOOL D7 will beat Autel MK808S is the excellent tech support. And XTOOL D7 offers up to 3-year free updates, which cost an estimated $300.
Check XTOOL D7's latest price:
What's next? 
AUTEL MK808S is a complex but user-friendly scan tool. You will not be disappointed if you purchase it. What could be better than repairing your family's cars yourself and saving money while improving your mechanic skills? 
Trust me, this MK808S scan tool will benefit you more than expected. 
And if you have any questions about Autel MK808S, let me know in the comment below.