You want to buy either Autel MaxiCom MK808 or MaxiDas DS808 and want to see the Autel MK808 vs. DS808 match? Then you've landed on the right page!
This review will go over the differences between these two models so you can choose the right one for yourself.
Also, in the FAQs at the end of this review, you will see the comparison of related Autel scanners: Autel MK808 vs. MX808 and Autel DS808 vs. MS906.
Autel MK808 Vs. DS808 Comparison Chart

Autel MaxiCOM MK808


Autel Maxidas DS808

Customer Rating

Price
Product Dimensions
14.7" x 11.7" x 4.8"
17.3" x 6.7" x 21.6"
Item Weight
2lbs
5.9lbs
Pros
All Systems and 19 Special Service Functions.
All Systems and Service Functions with Key Coding, Bidirectional Control;
Can Perform cylinder cutout test and list misfire codes.
Cons
Doesn't allow coding, adaptation, or actuation
Doesn't offer ECU Programming.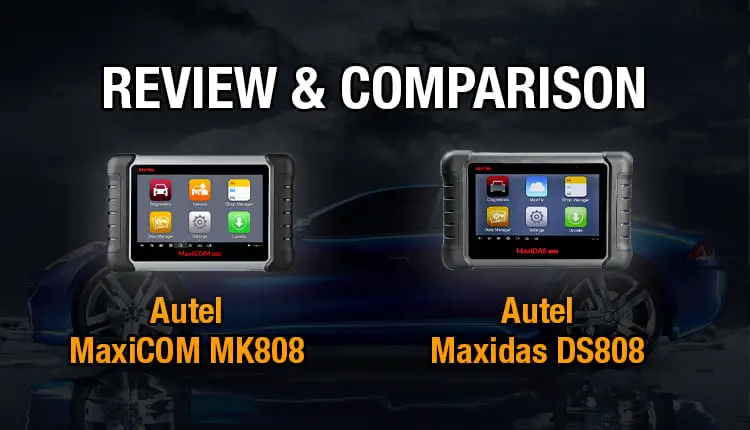 Autel MK808 Vs. DS808 Detailed Review
Autel MaxiCOM MK808: All Systems And Service Functions Scanner
Autel MaxiCOM MK808 OBD2 Scanner Diagnostic Scan Tool
The MK808 is for automotive professionals. It's definitely the tool of choice for people who need the deeper scans and advanced diagnostics it offers.
The best part about the MK808 is its wide compatibility. In other words, it'll work with every make and model of cars and read almost any manufacturer-specific code.
Features And Functionalities Of Autel MK808
To be clear, the MK808 doesn't just work with basic OBD2 codes. It also can read more advanced manufacturer specific codes from domestic, Asian, and European brands.
This means you can use it to perform an oil reset or read the DPF/TPMS/IMMO/EPB/SAS codes.
The MK808 is a fast, modern tablet scanner. It lets you work with a big, vivid touchscreen and lots of power processes.
Moreover, it is recharged faster than a typical OBD2 scanner. This means codes come up quicker, and the live data display is incredibly useful.
Pros
A big screen and easy to use interface
Fast processing power and memory
Virtually unmatched compatibility
Professional software and more extra features
Designed for light trucks, cars, SUVs, or Hybrids
Cons
You need to charge the tablet
Doesn't have the advanced engine functionality of the DS808
Who Should Take It?
The Autel MaxiCom MK808 is marketed towards experienced car enthusiasts and mechanics. The incredible compatibility and ease of use make it a top choice for anyone working with cars professionally.
Check Price at Amazon
Autel Maxidas DS808: Professional OBD2 Diagnostic Tool With Key Coding (Same Function As MS906)
The Maxidas DS808 is a slight difference. It focuses on working with engine and ECU diagnostics more extensively.
In other words, it's designed to diagnose engine problems instead of turning off the airbag light.
This is the best tool to see what's going on inside an engine.
Features And Functionalities Of Autel DS808
Like the MK808, this scan system comes with a tablet and an OBD2 cable. The tablet has a large, clear screen, 32 GB of onboard storage, and a powerful processor that can easily read and interpret scan data.
The DS808 has full support for all vehicle electronics. It'll work with fault codes, view live data, and even view manufacturer-specific engine sensor data. It can view what the ECU is doing and sensor output, too.
Furthermore, the software of DS808 has plenty of extra features for professionals. You can easily view old data and manage customer information.
Pros
Unrivaled OE-level diagnostics for ultimate engine analysis
Read and clear basic engine codes and perform deep diagnostic scans
View sensor data in real-time
The roomy touchscreen makes viewing data easy
Fast processor ensures scans execute quickly
The professional software works with virtually all makes and has advanced business features
Works well on light trucks, cars, SUVs, or Hybrids
Cons
Possible slow wifi connection
Have to charge the table
Who Should Take It?
The Autel MK808 is one of the Best Scan Tools for Mechanics. It is the superior choice if you find yourself diagnosing car engines often.
It's the tool of choice for people who need more in-depth scans and advanced diagnostics it offers.
Check Price at Amazon
Recommendation
The Autel Maxicom MK808 is compatible with every vehicle made after 1996 and can clear tricky manufacturer trouble codes. If you want a scanner that can solve the broadest range of problems on the broadest range of cars, it's the one to choose.
On the other hand, the Autel Maxidas DS808 offers in-depth diagnostics that make diagnosing engine problems a breeze. If you want to view live ECU data to quickly get to the heart of an engine issue, the DS808 is the right choice.
Bonus: Find your best scanner with the Quick Search Tool on https://www.obdadvisor.com/
FAQs: Autel MX808 Vs. MK808, Autel DS808 Vs. MS906
Question 1. What's the difference between Autel MaxiCOM MK808 and MX808?
Answer: Autel MaxiCOM MK808 and MaxiCheck MX808 have the same hardware and offer the same functions. However, I highly recommend Autel MaxiCOM MK808 for its stability and reliability.
Question 2. Can Autel MK808 and DS808 work on hybrids?
Yes. They work perfectly on any light trucks, cars, SUVs, or Hybrids made after 1996.
Question 3: How different is Autel MaxiDAS DS808 from Autel Maxisys MS906?
Answer: They are different in build and design. The hardware features are varied, too. Autel MS906 is much faster than DS808. However, they have the same functions. I would recommend Autel MaxiDAS DS808 because its price is much lower than Autel MS906.
Read more: Best Professional Automotive Diagnostic Scanner 2020/2021 [Review]