Autel MD806 vs. MD808 Pro vs. MD802 is an important comparison because these are three of the most popular scan tools from Autel.
They have many similarities, but they differ in terms of use, price, and some features. Hence, it is crucial to know the best one. We have reviewed and compared all three options to help you understand which one to go for. Let's start by looking at the comparison chart:
Autel MD806 Vs. MD808 Pro Vs. MD802: Complete Comparison Chart
Editor's Pick
Runner-up
Best affordable

Autel MD806


Autel MD808 Pro


DIY Version of MD802

Customer Rating

Price
Product Dimensions
8.3" x 3.6" x 1.4"
16" x 12" x 5.7"
7.8" x 4.1" x 1.5"
Item Weight
3.3lbs
4.55lbs
1.1lbs
Vehicle Compatibility
Most OBDII Vehicles
Most OBDII Vehicles
Most OBDII Vehicles
VIN
✔
✔
✔
Record/Playback Data
✔
✔
✔
Print Data
✔
✔
✔
Read and Clear Codes
✔
✔
✔
Freeze Frame
✔
✔
✔
DTC Library
✔
✔
✔
Engine, Transmission
✔
✔
✔
SRS, ABS
✔
✔
--
Battery Management
✔
✔
--
Throttle Services
✔
✔
--
Pros
Performs very quick tests
Highly reliable output
Offers more advanced features than the other two scanners
It is easy to use
Covers more system than the most advanced scanner
Faster than MD802
The screen is pretty decent
Covers more system than MD806
Cons
Heavier hence harder to use
A bit costly
Doesn't offer all the functions that MD806 does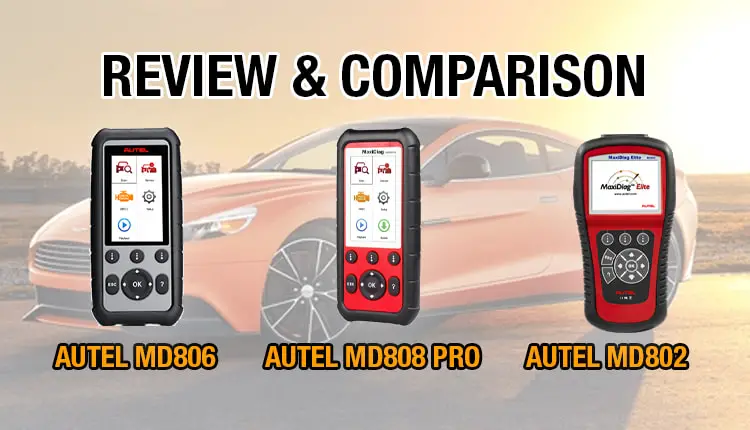 Recommendation: Which One To Go For?
Now, at the end of this Autel MD806 vs. MD802 vs. MD808 Pro review, it is important to tell which is the right option for each one of you:
Autel MD806: This is the most advanced of all three, with some functions that you will not find on the other options. However, they may not be suitable for users who do not know much about cars. Hence it is best for pros, semi-pros, or people who are serious about maintaining their vehicles.
Autel MD802: Ditch this one completely. It is older, heavier, slower, and less reliable than both options. Plus, you will not even get to save money since it is more expensive than the other two options.
Autel MD808 Pro: Technically speaking, it's the same as the MD806 unit in terms of use and features. But it gets some extra points since it is quicker to update, use, and more reliable. Get this one if you want to reduce trips to the mechanic and solve some small problems independently.
Key Things In Common Of Autel MD806 Vs. MD802 Vs. MD808 Pro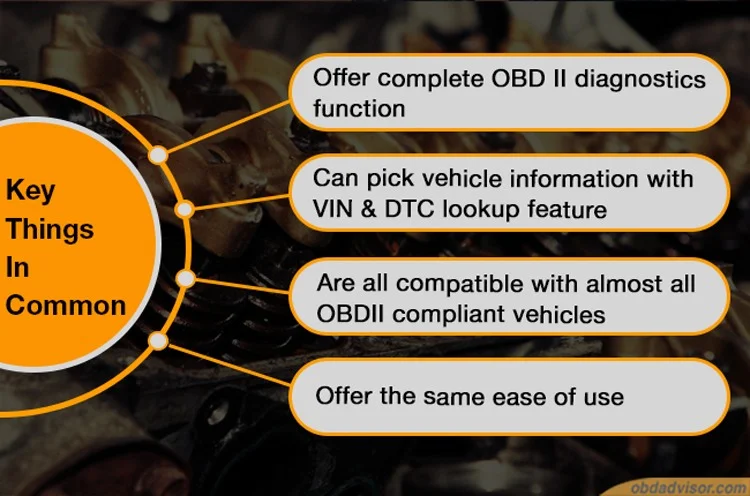 Since they come from the same company, all the products have a lot in common, especially MD802 and MD808 Pro. They have pretty much the same features. MD806 offers more, however, in terms of use and functionality.
Complete OBD II Diagnostics Function: All three scan tools offer full OBDII functions, including the ability to read and erase codes, record data to see later, even check live data to solve problems quickly, I/M readiness test, freeze frame, O2 monitor test, and onboard monitor test.
All three tools can pick vehicle information thanks to the VIN feature and even have a DTC lookup feature that makes it easy to know what a code means so that you can solve or understand problems on your own.
Vehicle Compatibility: All three scanners get equal marks for this factor since they are all compatible with almost all OBDII compliant vehicles, including Nissan, Acura, GM, Ford, Saab, Porsche, Volvo, Maserati, BMW, Land Rover, and Suzuki, among others.
Ease of Use: All three devices offer the same ease of use since they're corded and have a similar appearance and button set.
Autel MD806 vs. MD802 vs. MD808 Pro: Key Differences Explained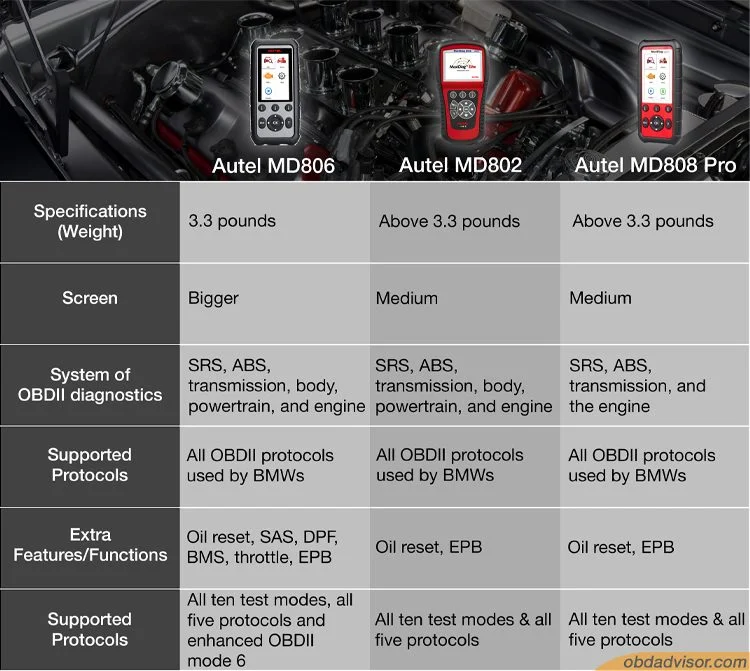 1.   Design And Specifications
Technically speaking, all three units look pretty similar and are easy to handle since they are not very large. But if we had to pick the one with the best design, we'd go with the MD806 due to its dimensions of 8.3 x 3.6 x 1.4 inches and weight of just 3.3 pounds. Other models weigh above 3.3 pounds and can be a little challenging to use for some individuals, especially if you have to hold one for longer.
Autel MD806 has a bigger screen; hence it is slightly easier to see what's being displayed.
MD806 has an auto-scan feature that can quickly scan your required system with just a single click making it easier to find problems. This feature isn't available on other scan tools.
2.   Overall Features And Functions
We already told you that all three could perform complete OBDII diagnostics, but they differ in systems.
MD802: It can read and clear trouble codes on SRS, ABS, transmission, body, powertrain, and engine. It offers an all-system option; hence you will be able to access all the systems on your car, but you may not be able to perform special functions since it is made to only read and clear codes with definitions.
MD808 Pro: It can read and clear codes from all the systems the MD802 can. In addition to basic reading and clearing codes, this one can also perform some advanced functions.
MD806: It can read and clear trouble codes on SRS, ABS, transmission, and the engine. However, unlike other options, it cannot read all systems. Since this unit combines two other Autel scan tools (MD808 Pro and MD802), it can offer some very advanced features that we have discussed below.
They can cover the same number of systems, but they differ in terms of functions or what you can do related to each system.
3.   Extra Features/Functions
Not all service functions are found on all three tools:
Oil Reset: You will find this function on all three units, including MD806, MD808 Pro, and MD802. The oil reset light is one of the most common problems drivers face, and it can be reset after changing the oil.
SAS: You will find this function on the most advanced of the three – MD806. The steering and suspension systems are essential to be safe and enjoy a nice ride.
DPF: You will find this function on the most advanced of the three – MD806. This feature will help you keep an eye on the diesel particulate filter and know when it needs a replacement or upgrades.
BMS: You will find this function on the most advanced of the three – MD806. Very few scanners can cover the battery management system. With this option, you will be able to know the health of your battery and maintain it accordingly.
Throttle: You will find this function on the most advanced of the three – MD806. It helps keep the engine in good health.
EPB: You will find this function on all three units, including MD806, MD808 Pro, and MD802, which is vital to ensure your car remains stationary on all kinds of surfaces. If this system fails, the vehicle may move, especially if the surface is not flat and leads to accidents.
4.   Supported Protocols
There is a lot in common between these models when it comes to supported protocols.
All three scanners support all ten test modes. MD806 also offers support for enhanced OBDII mode 6. The other two support all five protocols.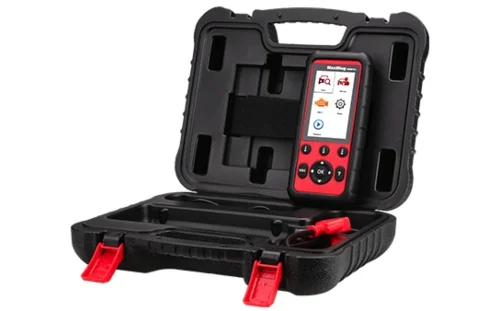 5.   Supported Vehicles Makes
Technically speaking, they all support the same makes and models since they work with all OBDII machines. However, there may be a slight difference in terms of certain models or some functionalities not being supported on all cars.
6.   Software And Updates
All three diagnostic tools come with free lifetime updates. The process is similar. You will have to download the latest version to your computer and then install it on your device with a USB connection.
Autel MD802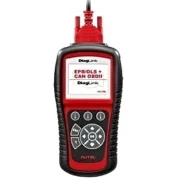 Autel MD808 Pro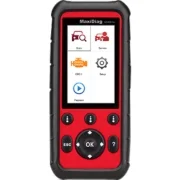 Autel MD806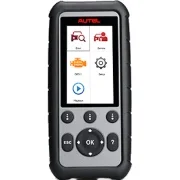 FAQs
#1. Can I turn any of these into a wireless unit?
No, that is not possible.
#2. What to do if my vehicle does not show?
Make sure your vehicle is supported, check the connection, and update the software.
#3. Do these cover European models?
Yes, they cover most 2000 or newer European models that are OBDII supported.
#4. Can I print data with these?
Yes, all three options will let you print data.
Read More: Autel DS808 Vs. Autel MS906 Vs. Autel MP808: Review And Comparison