At first sight, the Autel MS906TS looks a whole lot like an ordinary tablet. With an 8-inch LED display and dimensions of 10 x 6.9 x 1.4 inches, this OBD2 scanner fits in hand as comfortably as any tablet. It weighs just 2.42 pounds, so carrying it around shouldn't be a problem.
The portability of a diagnostic scanner is crucial, especially for auto technicians. Ideally, you want a device that you can walk around with, whether inside your shop or in the field. That's precisely the kind of convenience offered by the lightweight and compact size of the Autel MaxiSYS MS906TS.
More importantly, it's built with professional mechanics in mind. Pretty much every Autel MS906TS review will tell you that this device is packed with all the features needed for use in a professional auto shop. That includes a 6-core Samsung Exynos T5260 processor and 2GB of RAM for fast processing of diagnostic data.
Besides, the scanner features the popular Android™ 4.4.2, KitKat operating system. This OS is popular among mobile devices (smartphones and tablets) because it's very fast. The Autel MaxiSYS MS906TS is no different. In less than ten seconds, it will be fully powered up and raring to go.
Autel MS906TS vs. MS906BT vs. MS906 comparison chart
| | | | |
| --- | --- | --- | --- |
| | Autel MS906TS | Autel MS906BT | Autel MS906 |
| Customer Rating | | | |
| Price | | | |
| Product Dimensions | 27" x 19" x 17" | 30.1" x 18" x 7.2" | 10" x 1.4" x 6.9" |
| Item Weight | 19lbs | 19.15lbs | 18.75lbs |
| Wireless Connectivity | BT & Wi-Fi | BT & Wi-Fi | Wi-Fi |
| Full OBD2 Functions | Yes | Yes | Yes |
| Service Functions | Yes | Yes | Yes |
| ECU Coding | Yes | Yes | Yes (Limited) |
| TPMS antennae | Yes | No | No |
| Built-in Camera | Yes | Yes | No |
| | | | |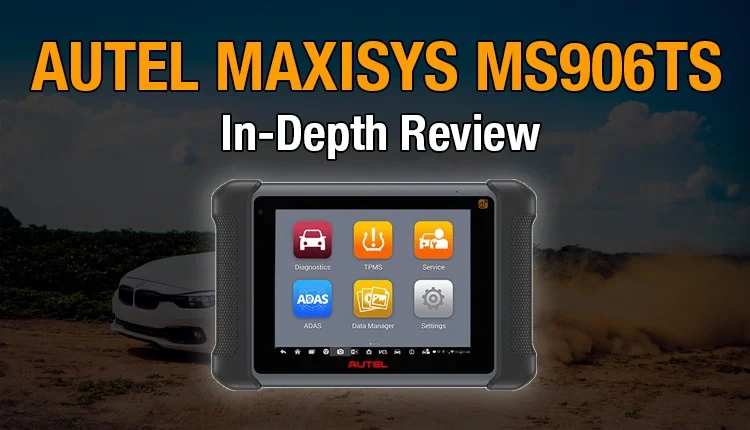 What's in the box?
Autel MaxiSYS MS906TS Professional Car Diagnostic Tool
Overall, the Autel MaxiSYS MS906TS is a great diagnostic tool for professionals. Its wide vehicle coverage, combined with support for basic and advanced diagnostics, means you can use it as the primary scan tool in an auto shop.
The Autel MS906TS is shipped as a complete package with all the connectors and accessories that you need. Alongside the scanner itself, you also get the main OBD2 connector and vehicle-specific adaptors for GM/Daewoo-12, BMW-20, Mitsubishi/Hyundai, Benz-14, PSA-2, Benz-38, Nissan-14, VW/AUDI-2+2, Chrysler-16, Fiat-3, Kia-20, and Honda-3.
Note that the MaxiVCI V100 is also included for wireless connections. Connectors and adapters are cables that link the tablet with the car's on-board computer when plugged into the OBD2 port. If you want to connect wirelessly, you can do so using either Wi-Fi or Bluetooth.
In that case, you plug the MaxiVCI V100 into the OBD2 port, activate its Wi-Fi or Bluetooth, and then pair it with the Autel MS906TS scanner. After pairing, the scanner will be able to communicate with the car's on-board computer wirelessly.
Also included in the package is a user manual, reference guide, light fuse, cigarette lighter, packing list, mini USB cable, compact disc (CD), AC/DC external power adapter, and a soft cloth for cleaning the parts. All the components are neatly organized in a black carrying case.
Why should you buy the Autel MS906TS?
So far, in this Autel MS906TS review, we have seen that this scanner is a well-built device that is super-fast. It also comes complete with all connectors and accessories. Well, those would pass as two motivations to buy the scanner. How about we look at more convincing reasons why it makes a good buy.
Professional-level diagnostics
The Autel MaxiSYS MS906TS does everything, from reading codes to ECU programming and everything in between. Once connected, it automatically pulls the VIN details of a car. You can then proceed to read and clear codes or check for other faults in any car system.
It supports a plethora of service functions like TPMS reset, oil service reset, EPB reset, DPF reset, camshaft gear learning, SAS calibration, injector coding, BMS service, etc. Additionally, the Autel MS906TS performs bi-directional tests for ABS, lamps, actuators, auto bleeding, idle up manual control, automated tests, function tests, and pretty much every other bi-directional test you can think of.
A little something about bi-directional tests
Essentially, Autel MS906TS is a professional bidirectional scan tool. The scanner can perform system tests as well as actuate injectors, relays, and coils. By doing so, the MaxiSYS MS906TS helps you determine the efficiency of that particular system. It does so by sending and receiving commands to and from the system.
As a user, you can observe how the system parameters change in real-time. That will tell you whether it is performing optimally. For example, a bi-directional ABS test will allow you to send commands to the ABS, in the same way the car's on-board computer would.
By observing how that system responds to the commands, you can determine whether it would respond to the ECU's commands as required. If not, then it means there's a problem that needs fixing. If so, then your ABS is clean as a whistle.
Back to professional diagnostics
As far as the actual professional functions, you can use the MaxiSYS MS906TS for adaptations, matching, coding, and relearns. Things like key coding, ECU coding, ECU programming, TPMS relearn, and any sensor relearn should be a breeze with this diagnostic tool. There's a built-in 8MP camera with a flashlight to help you illuminate dark parts during diagnostics.
The Autel MS906TS provides freeze frame data in addition to live data. If you are more comfortable with graphical data, you have the option to view PIDs as full-screen waveforms. Besides, it allows you to print and/or save the data. There's a built-in memory with a 32GB SSD storage capacity for holding the data.
Finally, the built-in 10000mAh lithium polymer battery keeps the scanner going even when it's not connected to a power source. You may need that kind of service when you are using Bluetooth or Wi-Fi to run diagnostics.
Built-in TPMS antennae
This feature sets this device apart from other Autel scanners like the MS906BT, MS906, and even the costlier MS908. Built with an integrated TPMS antenna module, the Autel MS906TS is capable of triggering OEM TPMS sensors and program TPMS sensors, and perform TPMS sensor relearns.
In other words, this device can transfer new TPMS sensor IDs directly to a vehicle's ECU. If you are an auto mechanic, you understand that most foreign cars usually require a comprehensive relearn procedure before being sold or used locally. When it comes to TPMS relearn, the MS906TS will automatically initiate the process and save you from the hassle of doing it manually.
Extensive connectivity
Although it comes with OBD2 adapters, the Autel MS906TS also supports Wi-Fi and Bluetooth connections. In other words, you can ditch the cable entirely and use a wireless connection to run diagnostics.
It uses Bluetooth 2.0+EDR and 802.11 b/g/n Wi-Fi. This type of Bluetooth is built for secure connections and supports Enhanced Data Rate (hence the EDR) for faster data transfer. The only problem is that it's only suitable for short-range data transfer.
Luckily the MS906TS offers a solution for that. The 802.11 b/g/n Wi-Fi module covers a fairly long distance. With speeds of up to 54Mbps, this connection lets you run diagnostics from outside the car.
Note that you will need an OBD2 dongle that supports Bluetooth, Wi-Fi, or both for you to use this scanner's wireless connections. That's a small cost to pay considering how enhanced your mobility will be.
While Bluetooth and Wi-Fi are the most important connections, at least as far as diagnostics, they are not the only ones supported by the Autel MS906TS. It also features USB 2.0, Mini USB 2.0, SD Card, HDMI 1.4a, and Class1 ports.
Wide vehicle coverage
The functions above make a case for the Autel MS906TS. But to top it all off, the scanner has an impressively comprehensive vehicle coverage. It works on over 80 brands of OBD2-compliant vehicles, domestic and foreign.
That means if a car was manufactured after 1996, then it should be compatible, provided it has the 16-pin OBD2 port. For a complete list of covered vehicles, please visit Autel's website. You can reach them for inquiries regarding the compatibility of your car.
Pros
Supports basic, advanced and professional diagnostic functions
Includes MaxiFix – a cloud-based community that provides diagnostic tips and tricks
Compatible with virtually all OBD2 vehicles
Automatic software updates to fix bugs, add new features and cover newer car models
It allows users to save, print, and playback diagnostic data.
It comes with a 1-year warranty.
Cons
Free software updates last for a year only, after which you have to pay.
It's a high-end scanner with a premium price.
It's not ideal for beginners and ordinary car owners.
There's only a handful of scanners that can compare to the Autel MS906TS both in price and in performance. Two of them are its predecessors, the Autel MS906BT and Autel MS906. These scanners cost more than $1,000, but how do they compare to the MS906TS in functionality?
The MS906BT is similar to the MS906TS, with the only difference being that the latter has a built-in TPMS antennae. Also, the MS906TS doesn't support J2534 flashing, a feature that some mechanics may need for emissions-related diagnostics.
On its part, the Autel MS906 lacks Bluetooth connectivity, the inspection camera, and the oscilloscope. Furthermore, it's not designed to work on premium vehicles like Bentley and Maserati, and it doesn't support coding for many systems. The MS906TS does all those, which makes it significantly superior.
The bottom line
Overall, Autel MaxiSYS MS906TS is an excellent diagnostic tool for professionals. Its comprehensive vehicle coverage, combined with support for basic and advanced diagnostics, means you can use it as the primary scan tool in an auto shop.
Check Price at Amazon