If you're looking to buy a reliable, intuitive and well-built scan tool then the Autel MaxiSYS MS906 should perhaps be on top of your shopping list.
In this comprehensive review, you'll find everything you need to know about the device.
Autel MaxiSYS MS906 is a perfect device for doing significant vehicle repair and maintenance works.
Autel MaxiSYS MS906 is a more improved version of the highly acclaimed MaxiDAS DS808 and DS708.
Compared to its predecessor, the MS906 has a broader range of features. They include diagnosis, service and repair functions, key coding, Wi-Fi connectivity, touch screen, sleek tablet-like design and so much more.
So let's get down to the main business, shall we?
In the box
The Autel MaxiSYS MS906 is neatly packed in a black carrying case. Apart from housing the scan tool, the heavy duty plastic case holds the OBD2 main cable, user manuals, and manufacturer-specific adapters.
In total there are 9 adapters nicely clipped in the case's lid. The 9 are for:
Chrysler
GM/Daewoo
BMW-20
Benz-38
Kia-20
Rolls-Royce
Mitsubishi/Hyundai-12+16
Nissan-14
Honda-3
VW/Audi-2+2
Optional adapters that you can include in the purchase are Benz-14, Fiat-3 and PSA-2.
The scanner itself is held in place using a Velcro strap. That protects it from damage, not only during shipping but also in your day to day use of the device.
Software
Based on an Android operating system, the Autel MaxiSYS MS906 uses a Samsung Exynos 5260 6-core processor. It's actually designed like a tablet, so it makes total sense that Autel decided to use Android OS. The OS and processor account for the scanner's super-fast diagnostic speeds.
Compatibility
First things first, the Autel MaxiSYS MS906 covers over 80 vehicle brands. The list includes all mainstream makes like Chrysler (US only), Benz, BMW, Audi, Ford, Chevrolet etc.
Although it's primarily an OBD2 scanner, the MS906 does support OBD1 diagnosis. That is why the package comes with full OBD1 adapters. Basically, it supports full OBD1 and OBD2 protocols. What that means is that you can use this scan tool on virtually any vehicle manufactured between 1982 and now.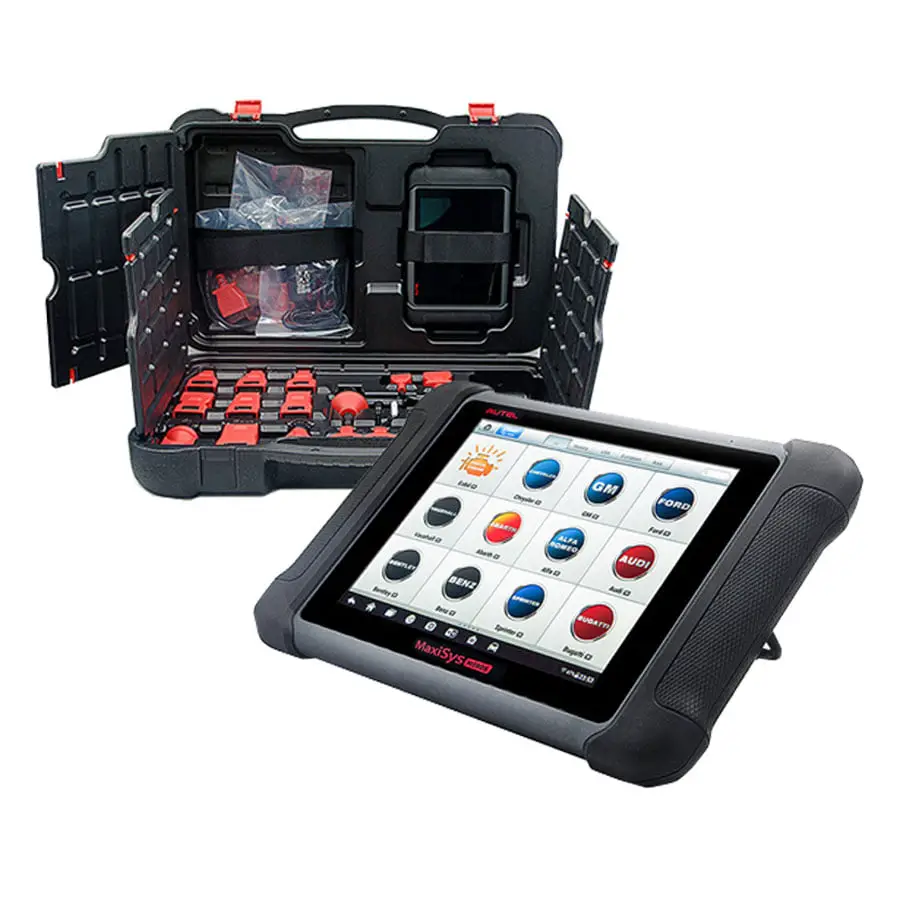 Still, on compatibility, the Autel MaxiSYS MS906 works with Windows computers. You can connect it to a PC via USB, download and analyze diagnostic reports. It's this kind of convenience that makes the scanner a favorite for many professionals and DIYers.
Connecting the scanner
Well, now you know the hardware and software parts of the Autel MaxiSYS MS906 and you also know the range of vehicles that it covers. But how do you go about using it?
Of course, the first thing is connecting the device to your vehicle's OBD port using an adapter cable. Contrary to beginner scan tools, the Autel MaxiSYS MS906 will not start automatically after the connection.
You have to power it up by pressing the power button. The display will come on and after a few seconds, you'll be able to see the home screen.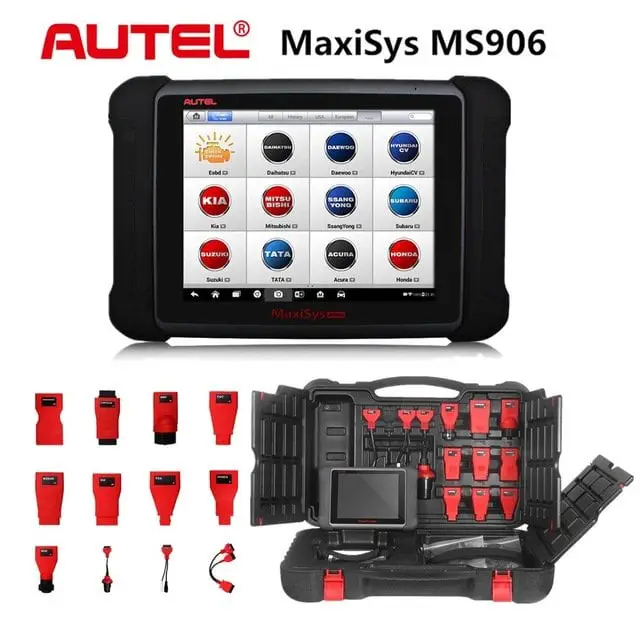 Display and Interface
Navigating the Autel MaxiSYS MS906 is pretty simple thanks to the 8-inch LED touch screen and an intuitive interface. With a resolution of 1024 x 768P, the display boasts of crisp clarity. It's definitely one of the clearest available in the market today.
More importantly, the scanner features a one-touch navigation menu that leads to all the supported functions. Once you choose a function, it will literally walk you through the whole process.
For example, if you want to diagnose the engine light simply select the "EOBD" option. It will take you through the steps of reading engine codes of the vehicle you're diagnosing.
Additionally, there's a MaxiFix tab whose function is to give repair recommendations. With this device, there's practically nothing you can't do. But you may want to go over the user manual just to get a hang of all the functions. Its 104 pages long but totally worth a read.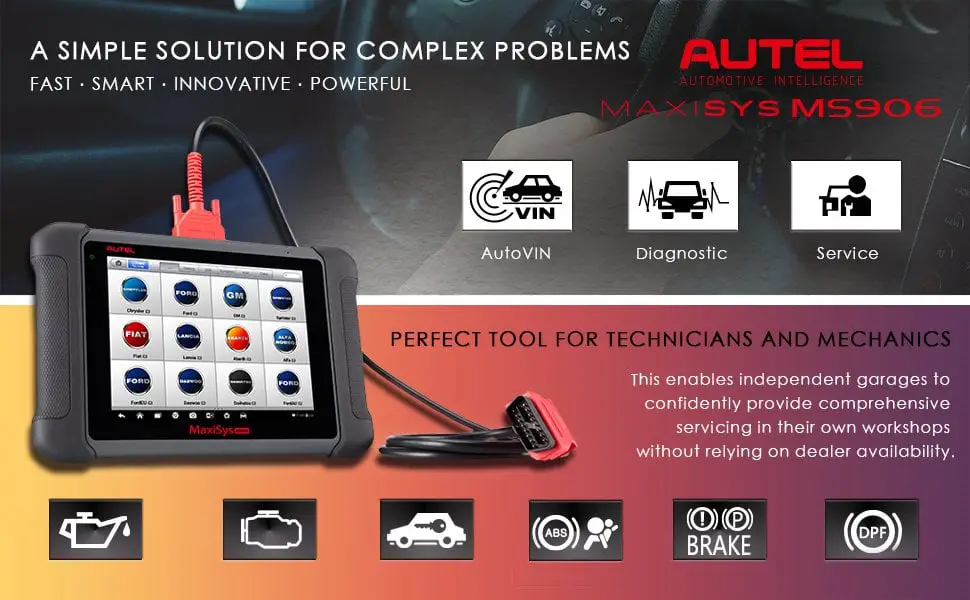 Functionality
This Autel scanner performs full OBD2 functions.
Read and clear OE-level codes for all the available vehicle systems. That includes engine, ABS, transmission, instrument panel, SRS and more.
Provides live data. Besides offering real-time diagnostic feedback, live data also helps when you need to turn off warning lights.
Supports actuation tests, adaptation, and matching. For instance, you can use it to program the ECU, tire pressure monitor and keys.
Reset oil service, EPB, SRS, ABS, SAS, and TPMS relearn.
Although the Autel MaxiSYS MS906 is primarily an OBD2 scan tool, it also supports full OBD1 diagnostics. But you will need the OBD1 adapter for the vehicle in question.
Smart AutoVIN
One of the best features of the Autel MaxiSYS MS906 is its ability to identify a vehicle with one touch. This AutoVIN function detects a vehicle's VIN number from the ECU then records and stores it. If the AutoVIN feature fails (which is almost never) you can still enter the vehicle's details manually.
Connectivity
The scanner has a built-in Wi-Fi module. Besides downloading software updates, the Wi-Fi also allows you to go online. While there you can access tons of helpful diagnostic and repair resources. In case you run into any issues you can also contact Autel through the online platform.
In addition to Wi-Fi, the Autel MaxiSYS MS906 also supports USB connection. You can connect it to a PC very simply using a USB cable.
Data management and presentation
As mentioned already, the Autel MaxiSYS MS906 is fitted with 8-inch LED touch display. You can view data directly from that screen. If you don't fancy that you can print it out on paper via a USB connection to PC.
All diagnostic data remains stored in the scanner's 32GB internal memory. You can retrieve it any time. But there's an option for manually deleting data that you don't need anymore. If you just want to delete data so as to create some storage space you could consider transferring it to a PC instead.
Camera
At the back of the Autel MaxiSYS MS906 is an 8MP camera that has a flashlight. It is meant to help you take pictures whenever you need to. Since the device is Wi-Fi enabled, you can share the pictures online with technicians and other experts or DIYers. They may help with whatever problem you are facing.
Construction and Design
The Autel MaxiSYS MS906 is not just made to get the job done, it is also designed to withstand rough and tough use. The outer surface features a heavy-duty plastic encasing. And while it can survive a heavy fall, you obviously need to treat it with care.
Inside the scanner is a 5000mAh lithium-polymer battery that provides up to 4.5 hours of continuous use. You don't need to have it plugged into the car's cigarette when using it. Consequently, you won't have to worry about the possibility of the Autel MaxiSYS MS906 draining your car battery.
The total size of the scanner is 10 x 1.4 x 6.9 inches. Its weight is 22 pounds. That's a perfect size for portability as well as storage.
Overall, it is a well-constructed device that looks like a tablet in so many ways.
Whether it is the sleek look, fast data processing or exceptional diagnostic performance, it's a guarantee that there's at least one thing that will pick your interest the moment you try out the Autel MaxiSYS MS906.
Pros
Updates software automatically via the internet.
Comes with 12-month warranty.
Uses Android OS which has a reputation for fast speed and excellent multitasking.
Camera makes it easy to capture parts and share them with the online community of technicians.
Easy to use for anyone who knows how to operate a smartphone or tablet.
Cons
The one thing that is undesirable about this scanner is the amount of time it takes to recharge the battery. It really needs a lot of time, and if you're in a rush that may be an inconvenience. On the upside, you can use it as it charges.
Comparision
One reason why the Autel MaxiSYS MS906 is a favorite for many technicians and DIYers is because it balances functionality and design almost perfectly.
But how does it compare to other Autel scanners of almost the same price range? Here's a comparison table:
#
Product Name
Vehicle coverage
Diagnosis
Functionality
Rating
Action
1
Autel MaxiCOM MK808
* 1996 to date US-made
* 2000 to date EU & Asian made cars
Full system
Oil, EPB, SAS, DPF, BMS, ABS bleeding, TPMS, and IMMO
4/5
See Details
2
Autel AutoLink AL319
1996 and newer models
Check Engine Light
I/M readiness, freeze frame data and live PCM
4.5/5
See Details
3
Autel AL519 AutoLink
1996 and newer models
Check Engine Light
I/M readiness, drive cycle verification, O2 sensor test and VIN retrieval
4.4/5
See Details
4
Autel MaxiSYS MS906
1996 and newer models
Full system
Oil, EPB, SAS, DPF, BMS, ABS bleeding, TPMS, IMMO and AutoVIN
4.3/5
See Details
5
Autel MaxiSYS Elite
OBD2 (1996 and newer) with optional OBD1 (1995 and older) adapters
Full system
ECU coding, anti-theft matching, SAS reset, tire pressure reset, injector programming, throttle matching, DPF reset etc.
4.5/5
See Details
6
Autel TS401 MaxiTPMS
TPMS-enabled vehicles
TPMS
TPMS reprogramming
4.2/5
See Details
7
Autel MaxiDiag MD808
1996 and newer models
Engine, ABS, SRS and transmission
Oil reset, SAS, BMS, EPB and DPF
4.2/5
See Details
8
Autel MaxiLink ML619
1996 and newer models
Engine, ABS, and SRS
I/M readiness test and live PCM data
4.5/5
See Details
9
Autel MD802 Maxidiag Elite
1996 and newer models
Full system
Tests O2 monitor, component, onboard monitor, oil reset and I/M readiness
4.4/5
See Details
10
Autel Maxysis MS908CV
OBD1 and OBD2 heavy duty vehicles
Full system
Oil reset, brake bleeding, EPB, DPF, IMMO key programming, injector throttle etc.
4.5/5
See Details
The MaxiSYS MS906 is the perfect compromise for the other two Autel scanners. It offers almost the same professional functions as the MaxiSYS MS906BT with the only exception of VCI connection and support for oscilloscope.
Even with that high-grade functionality, it is almost as affordable as the Maxidas DS808. The latter just falls short because it lacks OBD1 support and has no camera, Wi-Fi, and other extra features. That makes the MaxiSYS MS906 the most practical of the three, especially for a professional technician or DIY person.
Recommendation
So who is the Autel MaxiSYS MS906 built for? I've already hinted at that – it is perfect for professional and DIY auto mechanics. If you own or run a small to medium-sized shop you may want to add this device to your list of scanners.
There are several reasons for that. First, it is a great performer when it comes to diagnostics. Secondly, it covers a wide variety of vehicles, including OBD1 and OBD2 models.
Thirdly, it is tailored for professional work. The rugged construction, combined with the 32GB memory that stores vehicle data, makes it perfect for mechanical work. And while looks may not count for much, it is, in fact, an eye-catchy device.
Autel MaxiSYS MS906 is a perfect device for doing significant vehicle repair and maintenance works.
THE BOTTOM LINE
In sum, the
Autel MaxiSYS MS906
is a perfect device for doing significant vehicle repair and maintenance works. It has an outstanding ability to probe onboard systems. And the included camera makes the whole process more fun.
Equally important is the affordable price tag of the scanner despite the strong Autel brand behind it. So if you're looking for an OBD scanner you may want to consider this one.
Read more: Autel MaxiDas DS808K Review