Autel Maxidiag MD808 is a scanning device that gives your diagnostic experience a new face. This scan tool reads and clears error codes in both U.S. cars manufactured from 1996 to the present. It comes with a robust menu with several functions, including battery maintenance, steering angle sensor, parking brake, diesel particle filter regeneration, and oil light reset.
Autel MD808 vs Autel MD808 Pro vs MD802 Comparison Table
[table "621" not found /]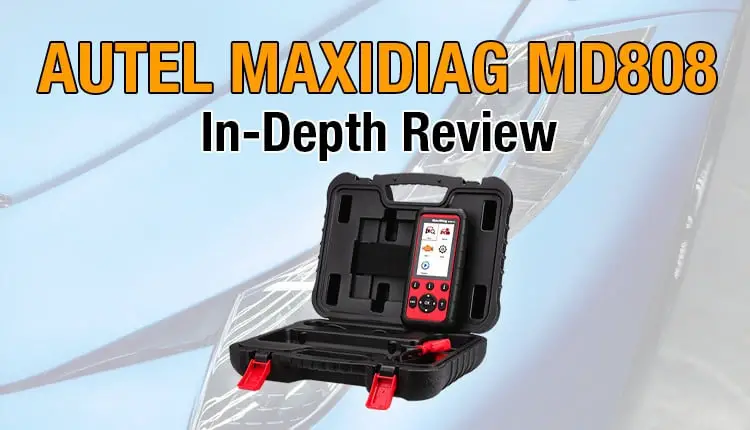 Autel Maxidiag MD808 Overview
Autel MaxiDiag MD808 Diagnostic Scanner
The ability to check and clear different errors does not only safeguard you from succumbing to injuries but saves you money. Autel Maxidiag MD808 is fit for every motorist that rides a car that is compatible with this device.
This tool offers car professionals advanced functions and features that help diagnose the basic systems of most cars on the road. The car engine, SRS, ABS, and transmission codes are displayed on its full-color screen. Therefore, it is the perfect tool for car dealers, brake facilities, auto repair stores, and shops that invest in transmission repair.
Autel MD808 Detailed Review
Compatibility
Autel Maxidiag MD808 efficiently with several vehicle models that include:
Audi

Acura

Land Rover

Skoda

Seat

Isuzu

Honda

Audi

Benz.
This device covers the Nissan, Mitsubishi, Porsche, Toyota, Volvo, Scion, Mazda, Jaguar, Fiat, Citroen, BMW, Jeep, KIA, Renault, Bugatti, and Sprinter cars. As such, it remains to be among the best diagnostic tools for car models manufactured in the U.S. domestic.
Motorists can print diagnostic data from Autel Maxidiag MD808 through a PC connection. After scanning your vehicle and obtaining the information, you plug in your cable in the computer and download the report. This feature's availability makes the device to be among the best, considering that you can present a hard copy of the diagnosis to your mechanic.
The device hardly supports the Macintosh PC. But it works well with Windows. Moreover, it is now compatible with IOS and Android from technological advancement. It has a slot for a memory card where obtained data is stored. You can update it by removing the Micro SD card and connecting it to a computer.
How Does The Autel Maxidiag MD808 Display Data?
Autel Maxidiag MD808 has a colorful screen that displays information using 800 x 480 pixels. Also, it can display data both in the day and night from the backlit. From the screen display, you can see various diagnostic setups. You will choose them by scrolling through them.
The screen size is 4″, big enough for anyone to read the data. Also, you can choose the language that you want because it is installed in several languages. So, this feature makes it more preferable for motorists from different regions. Data graphing is live on most of the available modules as well.
Features of Autel Maxidiag MD808
Supports the reset of oil service

Checks and resets battery registration

Resets steering angle sensor

Helps relearn the parking brakes after their replacement

Turns of your ECU brake light

Performs onboard monitor, I/M readiness, component settings, and O2 monitor

Supports service for oil reset

Ensures that trouble codes experienced in

BMS

, SRS,

DPF

/EPB, and oil reset systems are read and cleared

Prints the diagnostic reports through a PC connection

Covers

OBDII

Asian, U.S domestic, and European car models
Once you put your Autel Maxidiag MD808 on, you run each problem at a time when the car is on. All you need is to select what you want to check, and the device will give you a report on its display. After that, you can clear or reset the issues using the buttons on each device.
When you purchase, the scanning device comes with a user manual, Micro SD card, carry case, main cable, and a quick guide, which helps maintain its safety in use or storage, considering that moisture and dust can affect their performance. Moreover, the main cable allows you to upgrade or download data from the device to your computer.
Pros
Affordable
Has a spontaneous color display that allows you to read without straining
Easy to use and suitable for both the professional mechanics and newbies
Can scan most of the car module systems.
Cons
It does not function well with some vehicle models
Supports windows only
From the pros and cons above, you will notice that the advantages outdo the few disadvantages of Autel Maxidiag MD808. Motorists want something that will keep their cars safe, which is the best option for all vehicle owners.
Who should take Autel Maxidiag MD808?
The ability to check and clear different errors will help you from succumbing to injuries. Also, it saves you money. Autel Maxidiag MD808 is fit for every motorist that rides a car that is compatible with this device. Moreover, technicians and mechanics would benefit the most by using the gadget when diagnosing the vehicles.
Check Price at Amazon
The Bottom Line
In conclusion, Autel Maxidiag MD808 is the ideal device for a comprehensive diagnosis of your car system. It suits both amateurs and professionals for its easy usage. And it can save you money that you can lose in repair shops.
Therefore, let's invest in this gadget to experience the safe driving of error-free vehicles.
Read more: Autel MX808 Automotive Diagnostic Tool Review