Autel MK808TS is a 7" OBD2 scanner tablet that's known for its excellent performance.
It's a pretty great tool as well, but don't let that scare you. There's a collapsible stand behind the scanner that will help you keep it on the dashboard. This way, you do not have to look down at the scanner while driving.
Autel MaxiCOM MK808TS is an advanced OBD2 scanner capable of performing various functions such as read and clear codes, view live data, freeze frame, check I/m readiness status, component test, O2 monitor test, etc.
However, the scanner's highlight is its ability to perform advanced features such as advanced TPMS, oil service reset, ABS, SRS, SAS, battery reset, DPF, IMMO, etc.
Before you buy it, make sure that it's perfect for you.
Autel MK808TS vs. Autel MK808 vs. Autel MK808BT
| | | | |
| --- | --- | --- | --- |
| | Autel MaxiCOM MK808 | Autel MaxiCOM MK808TS | Autel MaxiCOM MK808BT |
| Customer Rating | | | |
| Price | | | |
| Product Dimensions | 14.7" x 11.7" x 4.8" | 10" x 1.4" x 6.9" | 15.1" x 11.8" x 4.7" |
| Item Weight | 2lbs | 5.7lbs | 5.65lbs |
| Memory | 32 GB | 32 GB | 32 GB |
| Screen Size | 7 inch | 7 inch | 7 inch |
| Professior | Cortex A9 processor (1.5 Ghz) | Cortex A9 processor (1.5 Ghz) | Cortex A9 processor (1.5 Ghz) |
| Full OBDII Functions | ✔ | ✔ | ✔ |
| All System Diagnosis | ✔ | ✔ | ✔ |
| BMS, SAS, | ✔ | ✔ | ✔ |
| DPF, Oil reset | ✔ | ✔ | ✔ |
| EPB, IMMO | ✔ | ✔ | ✔ |
| Bluetooth VCI | -- | ✔ | ✔ |
| Relearn Procedure (On-Screen) | -- | ✔ | -- |
| Comprehensive OBD Relearn Coverage | -- | ✔ | -- |
| Autel MX sensors programming | -- | ✔ | -- |
| Activates 98% of TPMS sensors | -- | ✔ | -- |
| Advanced TPMS | -- | ✔ | -- |
| | | | |
Let's find out more about Autel MK808TS!!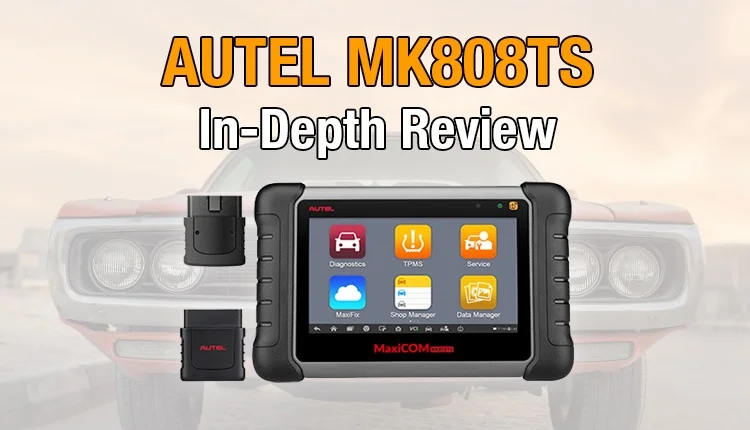 Why Should You Buy Autel MK808TS?
Autel MaxiCOM MK808TS Enhanced Diagnostic Scan Tool with Complete TPMS Functions & Full Systems Diagnoses
It's ideal for mechanics, professionals, and DIYers as well. It provides you with all the necessary functionalities that are required to diagnose a car and find problems.
There may be many OBD2 scanners on the market, but they do not provide all the features that this one does.
Special Features and Functions
TPMS Service
With Autel MaxiCOM MK808TS, you can resolve TPMS related problems such as deflation in the tires, wheels running at low speed than usual, fewer rotations being made by the wheels, etc.
There's a separate icon labeled MAXI TPMS. When you click on it, it takes you to the TPMS vehicle menu.
In this menu, you can perform a TPMS health check, activate 98% of all TPMS sensors, diagnose TPMS related issues, and even program TPMS sensors using one of these four methods: 
 -Auto Create 1-16 Sensors 
– Copy by Activation 
– Copy by Manual Input
– Copy by OBD
This scanner will diagnose TPMS sensors to look for problems. It passes error codes if it finds an issue. Thanks to the DTC feature, you will also get an explanation of the code, which will help you understand what the problem is.
Oil Reset
This feature will let you turn off oil light reset and service mileage as well. Thanks to this feature, you won't forget to change the oil when it's due.
This feature will remind you to reset the brake pad, mostly if you have replaced it. Moreover, it will also diagnose other electronic parking brake-related problems in your car.
This feature helps erase the old steering angle sensor's record and overwrite it with a new one. It will also read other SAS related issues.
BMS
It lets you reset a battery after you have replaced it.
IMMO (Anti-Theft Matching)
This tool will make you feel secure. With this feature, you can protect your car from being stolen. It offers the capability of resetting the data if the key is lost.
This tool will help ensure you meet standards and keep the environment clean. It will diagnose the exhaust system to find reasons that cause the exhaust system to malfunction.
Injector Service
Reads injector related problems and adjusts them.
Check Price at Amazon
Great Performance
You'll get to save on time since the Autel MaxiCOM MK808TS works very fast. It comes equipped with a Cortex A9 processor, which is popular for performing tasks quickly.
It comes with a 32GB memory card, eliminating the need to install any external hardware source to expand the memory.
The battery is also quite powerful and quickly runs for 5-7 hours of continuous use.
Wireless
If wires worry you, there's good news for you. Autel MaxiCOM MK808TS has a Bluetooth VCI system that allows it to connect wirelessly. Hence, you do not have to worry about any cords.
Software
The scanner operates on an Android 4.4.2 KitKat version. It works quite well, and you will face no lags.
Update
The software is free to update but only for a year. After that, you will have to pay annually. However, you don't need to update the scanner every year. It will work even if you do not update it, but you must update it for better features.
Compatibility
Autel MK808TS covers a wide array of vehicles. Most Asian, US, and European models manufactured in or after 1996 are compatible with this scanner.
Most of the vehicle brands are supported. These include GMC, Jeep, Hummer, Ford, Chrysler, Chevrolet, Dodge, Cadillac, Volvo, Porsche, VW, Peugeot, Mini, Maybach, Opel, Maserati, Landrover, Lancia, Lotus, Lamborghini, Benz, Jaguar, and many more.
It supports all the major OBD2 protocols; hence it's suitable for DIYers and mechanics as well. In fact, mechanics can store customer information and even use wireless internet on it for convenience.
Pros
Works very fast thanks to a good processor.
Can be used to watch movies, listen to music, and surf the internet.
Offers TPMS relearn functionality.
Resets TPMS IDs in only 10 seconds.
Works on many brands including BMW and Audi.
Perfect for all kinds of users.
Comes with a carry case and user guide as well making it easier to use.
Cons
A little heavy at 5.7 pounds.
IMMO doesn't work on European cars.
The Bottom line
Autel MaxiCOM MK808TS is one of the best OBD2 scanners due to the features it offers. You can perform a full system diagnosis in your car and even watch live data as you drive the vehicle.
It's ideal for mechanics, professionals, and DIYers as well. It provides you with all the necessary functionalities that are required to diagnose a car and find problems.
Check Price at Amazon
Read more: