Want to read the honest reviews of Autel Maxi Pro MP808TS All-System OBDII Scanner with TPMS? Then, you've landed on the right page. But first, let's see how different the Autel MP808TS is from the competitors.
Autel MP808TS vs. Autel MK808 vs. Autel MD808 pro comparison chart

Autel MP808TS


Autel MaxiCOM MK808


Autel MD808 Pro

Customer Rating

Price
Product Dimensions
14.6" x 11.6" x 4.7"
14.7" x 11.7" x 4.8"
12.9" x 10.2" x 4.2"
Item Weight
5.7lbs
2lbs
12oz
Pros
Full-system; Full OBDII; All service functions;
DPF regeneration;
Throttle relearn;
TPMS service Functions;
Wireless connectivity.
Full-system; Full OBDII; All service functions;
DPF regeneration;
TPMS service.
Full-system; Full OBDII;
Less service functions;
DPF regeneration;
TPMS service.
Cons
Not cover all cars.
No throttle relearn.
No throttle relearn;
No wireless connectivity.
Bottom Line
Autel MP808TS is an excellent diagnostic tool for professional technicians Only.
Autel MK808 suits any experienced enthusiasts and beginner mechanics.
Autel MD808 Pro is great for experienced enthusiasts and beginner mechanics.
Who is Autel MP808TS built for?
There's no doubt the Autel Maxi Pro MP808TS is a reliable scan tool with lots of diagnostic functions to offer. But who can it serve best?
In my opinion, it is one of the best professional diagnostic tools for automotive technicians today.
The comprehensive vehicle coverage, basic & advanced diagnostics, tons of data, and impressive connectivity make it an excellent buy for professionals.
Check Price at Amazon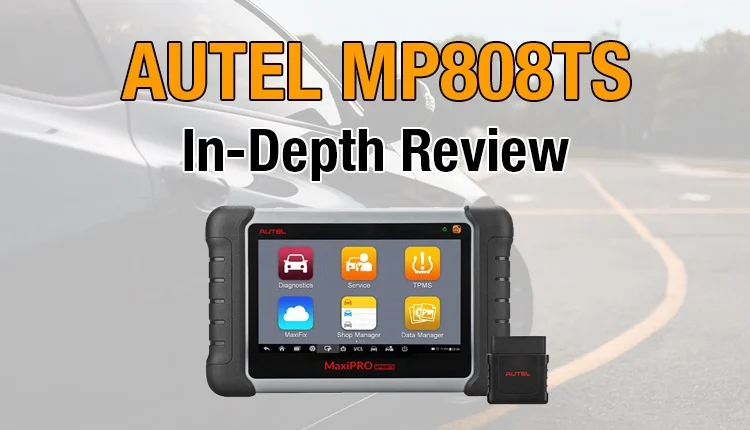 Autel Maxi Pro MP808TS overview
Autel makes some of the best diagnostic scan tools. I've used a number of them working as an auto repair shop manager.
However, one that I hadn't tried until recently is the Autel Maxi Pro MP808TS.
Well, it only became available on the market in 2017, so it's a relatively new OBD2 diagnostic scanner.
But I finally got my hands on one. Of course, the first thing I did was put it to the test to see if I can rely on it as a professional OBD2 scan tool.
Detailed review of Autel Maxi Pro MP808TS
Autel Automotive Diagnostic Tool OBD2 Scanner MaxiPRO MP808TS
I bought my Maxi Pro MP808TS directly from Autel on Amazon. In addition to getting a reliable warranty, buying directly saved me a few bucks over the listing price of most shops. And it arrived very quickly.
First of all, I bought my Maxi Pro MP808TS directly from Autel on Amazon.
In addition to getting a reliable warranty, buying directly from Autel on Amazon saved me a few bucks over most shops' listing price. And it arrived very quickly.
This device is a combo of the MaxiDas DS808 and MaxiTPMS TS601.
It actually looks and feels solid. Plus, it was delivered in a nice looking box that you can use as a carrying case.
Although you can use it straight out of the box, you need to update its software first.
Otherwise, you may run into compatibility and functional problems if you stick with the old firmware.
Just as a heads-up, the old software doesn't support USB connectivity.
If yours doesn't connect to a PC, it means it doesn't use the latest software update.
You will need to remove the microSD card, insert it into a card reader and then download the updates to the card.
That will allow you to install them on the scanner. The upgrade process is perhaps the most straightforward one you will get.
Go to Autel's website, set up an account, and then register your scanner by entering its serial number.
Make sure it (the scanner) is connected to Wi-Fi. It will automatically download the latest software update. You will also get free updates for the lifetime of the product.
The unit is made in a tablet-like design and runs on Android. Operating it is a breeze, especially if you have the slightest experience with smartphones and tablets.
Compatibility
The Autel Maxi Pro MP808TS is an OBD2 scanner. As such, it covers 1996 and newer vehicles.
It should work on your vehicle, provided the car has the universal OBD2 connector.
That goes for local and foreign makes and models. It doesn't matter if your vehicle was made in the USA, Europe, or Asia.
This scanner should work provided the vehicle is OBD2-compliant.
Check Price at Amazon
Not sure where the OBD2 connector is in your vehicle? For most vehicles, you will find it under the dashboard just beneath the steering wheel column.
Other vehicles have it located in different places, e.g., just under the gearbox. It's a 16-pin port where the main OBD2 cable of the Autel Maxi Pro MP808TS plugs into.
What I liked
It is a comprehensive scanner that works on just about every OBD2 vehicle.
I tested it on several makes and models covering different years and ranging from a 1998 Mercedes E320 to a 2001 Hyundai Tiburon, 2004 GMC Envoy, 2012 Ford Focus, 2013 Volvo V70, and 2018 BMW X6M.
In all cases, it was connected to the ECU. It did so very fast and worked like a charm.
Unfortunately, it didn't connect with every vehicle I tried it on, which leads me to my issue with the scanner's compatibility.
What I didn't like
The biggest concern is there's no way to know which specific vehicle models and years it will work on before buying it. And believe me, it doesn't work on every OBD2 vehicle.
For instance, it couldn't connect with a 1998 Dodge Caravan and a 2012 FIAT 500 Sport.
It's 2018, and Autel still doesn't have the database for such vehicles in this scanner. That's very unfortunate!
Features and functionalities
#1. Basic diagnostics
This scanner is a comprehensive diagnostic tool with the ability to read and clear codes on all the four main vehicle systems, i.e., engine, ABS, SRS, and transmission.
Another basic diagnostic function is the smog test. You can use it for I/M readiness and O2 sensor tests.
Codes and emission tests are what most vehicle owners are mót interested in, and the Autel Maxi Pro MP808TS offers both.
What I like
I like that this scan tool checks and clears SRS and ABS codes in addition to engine and transmission codes. It makes it so easy to reset the Check Engine Light and clear warning lights.
Codes come with their definitions thanks to a built-in lookup library. If you are entirely new to diagnostics, you will find it very easy to interpret codes and erase them.
And the emission tests mean you won't have to worry about the smog test. You won't even need to visit an auto shop or Autozone to do your emission checks.
What I didn't like
You can pull and clear transmission, ABS codes on most compatible vehicles, but not all.
I, for one, couldn't get the scanner to read them on a 1999 Ford F150. It did pull codes for the engine and SRS, though.
Bonus: SRS Light / Airbag Light on – What should I do?
#2. Advanced diagnostics
The functions of the Autel Maxi Pro MP808TS go way beyond basic diagnostics. It supports a ton of other special functions.
You can do various tests for BMS, oil reset, EPB, SRS, and DPF systems, for starters. You can also do multiple resets such as brake bleeding reset and AF ratio reset.
Other functions include electronic throttle relearn, transmission adaptation, and re-initialization of ABS.
All those abilities are impressive, but this scanner is excellent in TPMS functions and diesel particulate service.
Check Price at Amazon
For the latter, you can do DPF regeneration (injector rate adjustment, injection quantity, injection rate, particulate filter test, and particulate filter regeneration).
As for TPMS service, the scanner allows you to activate TPMS sensors' data and diagnose TPMS ECU.
The icing on the cake is that you can read TPMS sensors right at the wheel, not necessarily through the OBD2 connector.
What I like
If you are being bugged by one of those "service due" lights, know that you can reset it with the Autel Maxi Pro MP808TS. That alone makes a case for this scanner.
More importantly to a professional or DIY mechanic is that it offers a wide range of advanced functions.
What I didn't like
Again, my complaint here has more to do with compatibility. I couldn't get the scanner to perform any advanced functions on a Toyota Prius.
If you own a Prius (and I guess any other hybrid), you can only use basic diagnostic functions.
It also failed to perform any DPF functions on a 2015 Ford F-250s. It's even more disappointing when you consider that the car is now three years old.
Autel is a renowned brand, so you would expect them to update their database ASAP.
#3. Data
Another impressive feature of the Autel Maxi Pro MP808TS is the tons of data it provides.
In addition to trouble codes, you can view live data streams for the engine, SRS, ABS, and transmission.
And then, of course, there is TPMS data where you can view sensor ID, tire temperature, tire pressure, sensor position, etc.
It allows for data graphing, and you can view up to two graphs at the same time.
What I like
On the topic of viewing data, the scanner's full-color screen makes for excellent viewing. It is big – tablet size – and that makes data analysis kind of fun and easy.
The scanner did a very decent job of monitoring live misfires on a 2004 GMC Envoy's cylinders. I could clearly see the cylinders that were not firing.
What I didn't like
The refresh rate is disappointingly slow. You will have to wait for several seconds before the scanner displays data again after refreshing.
#4. Connectivity
The device excels in connectivity. I've already mentioned that it supports a USB connection and has a microSD card slot. In addition to those two, there's also a port for HDMI type A.
Even better, the Autel Maxi Pro MP808TS supports wireless connectivity, both Wi-Fi and Bluetooth.
Wi-Fi enables you to update the scanner's software and go online when you need to research diagnostic stuff. FYI there's a browser app for that.
Check Price at Amazon
On its part, Bluetooth is for connecting to Bluetooth-enabled VCIs.
As long as the vehicle's computer systems support Bluetooth connectivity, you can run your diagnostics wirelessly.
What I like
There's nothing special about microSD and USB, and many OBD2 scan tools have that capability.
It's not the case with Wi-Fi and Bluetooth. Those are typically available in high-end scanners and adapters only.
While Wi-Fi is undoubtedly valuable, for me, the Bluetooth functions are more critical. It enhances mobility as you work.
You can walk around the workstation without losing the Bluetooth connection.
What I didn't like
Unless your scanner is using the latest update, you won't be able to connect it to a PC via USB. That's why updating the firmware should be the first thing you do.
Pros
It's easy to use because of a simple interface.
It is fast and able to multitask thanks to the Android operating system.
It's reasonably affordable considering all the functions.
The scanner is well-built and features a tablet design.
It has comprehensive vehicle coverage.
It comes complete. You won't need to buy anything else.
It comes with 12-month free software updates.
Cons
It could use a better user manual.
It has compatibility issues, especially in advanced diagnostics.
This is not too affordable to the ordinary car owner.
The update fee after the warranty is a little bit high.
The bottom line
Despite its flaws, the Autel Maxi Pro MP808TS is a great pick for any auto mechanics scan tool.
Read more: