When professional mechanics need a new OBD2 scan tool, they often go to Autel. Autel OBDII scanners are reliable, accurate, and have all the functions a mechanic or car owner needs for quick diagnosis. But what is the difference comparing the Autel DS808K vs. Autel MS906 vs. Autel MP808?
This review sets out to answer that question. Let's look at each significant aspect of these three scan tools side by side. By the end, you'll have a much clearer picture of which car diagnostic tool is best for your garage.
Autel DS808K Vs. Autel MS906 Vs. Autel MP808 comparison chart
Editor's Pick

Autel MS906


Autel MP808


Autel DS808K

Customer Rating

Price range
OBD2 functions
Full OBD2 functions
Full OBD2 functions
Full OBD2 functions
System diagnostics
All systems
All systems
All systems
Advanced service functions
31+
30+
30+
ABS Bleeding
✔️
✔️
✔️
TPMS Reset
✔️
✔️
✔️
Oil Reset
✔️
✔️
✔️
Bi-directional controls
✔️
✔️
✔️
Coding/ Programming
ECU Coding,
Key programming
Injector Coding
ECU Coding
Key programming
Injector Coding
Key programming
Injector Coding
Vehicle Compatibility
80+ brands of Cars, SUVs, 12V trucks
80+ brands of Cars, SUVs, 12V trucks
80+ brands of Cars, SUVs, 12V trucks
*Notes: Excellent: 9-10; Good: 7-8; Fair: 5-6; Poor: 3-4; Very poor: 1-2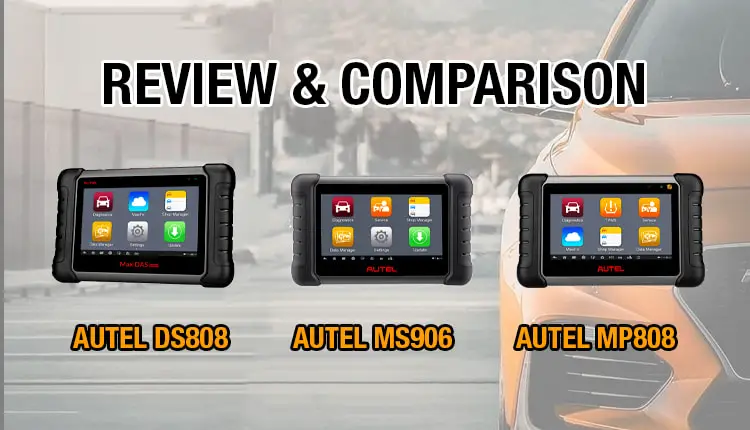 Autel DS808K Vs. Autel MS906 Vs. Autel MP808: Key Things In Common
At first glance, you may find it difficult to tell the differences between the Autel DS808K, Autel MS906, and Autel MP808. All three offer full-system diagnosis for a wide range of popular vehicle manufacturers.
You'll also find all three of these OBD2 scanners have impressive reset and service functions, including everything from resetting the oil light to testing components in the SRS or ABS systems. Other noteworthy shared features include key programming, ECU programming, and DPF regeneration.
When it comes to design, these three scanners even look the same in many respects. All of them are relatively compact and portable, using battery operation for easier transportation. In terms of the software, navigating them is similar, using a touch-screen interface and the same basic menu structure.
So what is the difference between them? It mostly comes down to the ease of navigation, the longevity and updatability of the OBDII scan tool, and the depth of the functionality. Let's get into the details.
KAutel DS808K Vs Autel MS906 Vs Autel MP808: Key Differences Explained
Design And Specifications
The interface on the Autel MS906 is the most modern of the three. It's also slightly larger, with an 8" touch screen compared to the 7" screen on the Autel DS808K and Autel MP808. We found it to be both the smoothest and the fastest at running diagnostics.
Features And Functions
As we mentioned above, all three of these scanners offer extensive diagnostic and repair functions. The big difference between the three is not necessarily which features they offer.
As an example, all three of these scan tools offer key programming. However, the DS808K has limited IMMO programming and reading capabilities compared to the MS906 or MP808. It's a similar story when it comes to battery maintenance. The MP906 has the most feature options across the board, the DS808K has the least, and the MP808 is somewhere in the middle. 
The Shop Manager and Data Manager feature on the Autel MP808, Autel MP906, and Autel DS808K are a very convenient touch for professional garages. They make it easy to organize, reference and print past data reports.
You can even create customer profiles that save vehicle information and contact information for the customer. This makes it quick and easy to diagnose recurring or chronic problems without the need to waste time sifting through records.
Autel DS808K
Supported Protocols
The Autel MP906, Autel DS808K, and Autel MP808 all offer compatibility for all OBDII protocols, including ISO9141, ISO14230, J1850 PWM, J1850 VPW, CAN network, and more.
Supported Vehicles Makes
Autel Maxidas DS808K Automotive Diagnostic Tool OBD2 Scanner
The Autel DS808K only supports vehicles from 1996-2017.
The compatibility differences between the Autel MP906, Autel DS808K, and Autel MP808 are less about manufacturers and more about the model years. All of them offer support for more than 80 different vehicle brands. However, the Autel DS808K only supported vehicles from 1996-2017. This is a problem if you need to diagnose newer vehicles.
Autel MaxiPRO MP808 OBD2 Diagnostic Scanner
With the Autel MP808, you can diagnose any vehicle made after 1996.
With the Autel MP808, you can diagnose any vehicle made after 1996.
Autel Maxisys MS906 OBDII Automotive Diagnostic Scanner
The Autel MP906 offers the widest compatibility, supporting even OBD1 vehicles made as far back as 1987.
The Autel MP906 offers the widest compatibility, supporting even OBD1 vehicles made as far back as 1987. However, there is a small caveat to this as not all brands are supported for all functions. EU coding, in particular, is not available for select manufacturers.
Software and Updates
All three of these devices offer updates directly through the device, with no need to connect to a computer, eliminating software compatibility concerns and making them more versatile. Unfortunately, updates aren't free for life with the Autel MP808 or Autel MP906. Purchase of the device comes with one year of updates. After that, you'll have to buy a costly subscription if you want to stay up to date.
Reliability
One important consideration with a battery-operated OBDII scan tool is that you're limited by how long the battery lasts. One recurring complaint against the Autel DS808K is that the battery dies quickly with regular use. Some users report it stopped holding a charge in as little as 4-5 months of daily use—something to keep in mind if you want battery operation freedom.
Both the Autel MS906 and the Autel MP808 have high marks for long-term reliability. The rubberized housing is rugged and unlikely to be damaged by regular wear and tear. Overall, it's a good investment for any repair shop.
Pros and Cons of DS808K, MS906, MP808
Pros And Cons Of The Autel DS808K
Pros
OE-level diagnostics of all vehicle systems
Performs oil reset and TPMS reset
Cloud-based MaxiFix and Shop Manager features are convenient
One year of upgrades comes included
Supports bi-directional testing of some vehicle components
The android-based system gives smooth navigation and quick response
Cons
It may not be compatible with the newest vehicles
More limited service and repair functions
The battery is low quality and known to die frequently
Autel DS808K
Pros And Cons Of The Autel MS906
Pros
Full system diagnosis with 22 service functions
Compatible with over 80 manufacturers
Full support for OBDI protocols for older vehicles
8" touch screen easy to read and navigate
Automatic system updates with real-time push notifications
Offers advanced functions like ECU coding
Cons
ECU coding not compatible with some brands (including BMW, Ford, and Toyota)
Most expensive option
Autel MS906
Pros And Cons Of The Autel MP808
Pros
Diagnose all systems, including powertrain, transmission, and more
Performs active component tests
Save, access, and print reports through Data Manager
7" touch-screen offers smooth, intuitive navigation
Service functions include ABS bleed and DPF regeneration
Compatible with all OBD2 protocols and 80 manufacturers
Cons
Reset and programming functions less extensive than with MS906
No compatibility with OBDII vehicles
Autel MP808
Who Should Buy Each?
The Autel DS808K, Autel MS906, and Autel MP808 are all designed for working professionals that need full support for a wide range of vehicles. With that in mind, the Autel MS906 is the best choice for professionals who can afford it. 
The Autel MP808 is an excellent choice if you need professional features at a better value. While it suffers slightly in both compatibility and performance than the MS906, it's still a perfect choice for working mechanics. The lack of support for newer vehicles makes the Autel DS808K a worse option for professionals, though advanced hobbyists may find the price and features appealing.
FAQs
Q: How can I tell if the Autel DS808K, Autel MS906, or Autel MP808 is compatible with my vehicle?
All three offer wide compatibility, so it's very likely they do. You can double-check through the company's website, however. Send them your vehicle's particular make and model year, and they'll let you know which services are supported for it by the device.
Q: Do I need to update my device before I use it?
Most of the time, Autel scanners come fully-updated and ready to go out of the box. You will, however, need to register your device when you receive it. Once it's turned on and registered, the device will check to see if it needs any updates.
Q: If I choose not to pay for updates after one year, will the Autel MS906 or Autel MP808 still work?
Yes. All functions currently active on the scan tool will continue to work even without the paid updates. However, you won't get any new functions, software, or vehicle updates that are released, which will limit its use more the longer it goes without updating. 
Q: Do these scanners read pending codes and permanent codes?
Yes. You can read all trouble codes with the DS808K, MS906, and MP808, including manufacturer-specific codes, hybrid codes, pending codes, and stored or permanent codes. 
Q: Will these scan tools let me customize things like the seat settings and climate control?
In most vehicles, yes. About resetting and reprogramming non-OBD II functions, there can be gaps in the DS808K's compatibility, and even in the MP808 and MS906. If you're concerned, check with the manufacturer for the specific manufacturer and model year in question.
Read more: