Your Check Engine Light doesn't stop flashing? With the simple use of Actron Cp9670 Autoscanner, you can promptly find the problem in your cars.
Actron CP9670 vs. CP9660 vs. CP9690 comparison chart

Actron CP9670


Actron CP9660


Actron CP9690

Customer Rating

Price
Product Dimensions
1.2" x 10" x 6"
9.4" x 5.7" x 1.1"
4" x 11" x 13.5"
Item Weight
12oz
8.8oz
3.63lbs
Pros
Read and clear ABS, SRS codes on most GM, Toyota, Honda, Nissan, Jeep, Hyundai, Ford, Chrysler vehicles, etc;
Available DTCs lookup library;
Battery system monitor;
Automatically retrieve VIN;
Live data.
Read and clear ABS codes, 4000 generic DTC definitions;
Offers I/M monitors for emissions.
Contains built-in library with code definitions;
Color LCD screen;
Can Perform ABS and Airbag Diagnosis;
Compatible with most OBDI and OBD2 (1984-2013) GM,Ford,Chrysler,Honda,Nissan,Toyota, Hyundai vehicles, etc.;
Offers live engine data.
Cons
No live data;
May not compatible with 2004 Dodge Sprinter 2500, 05 Dodge Grand Caravan.
Almost none.
Customer service is not really good.
Bottom Line
CP9670 is built for DIYers
Actron CP9660 suits any car owners or DIYers.
Actron CP9690 scanner is definitely one to consider if you want a tool that can diagnose the engine, ABS, and SRS.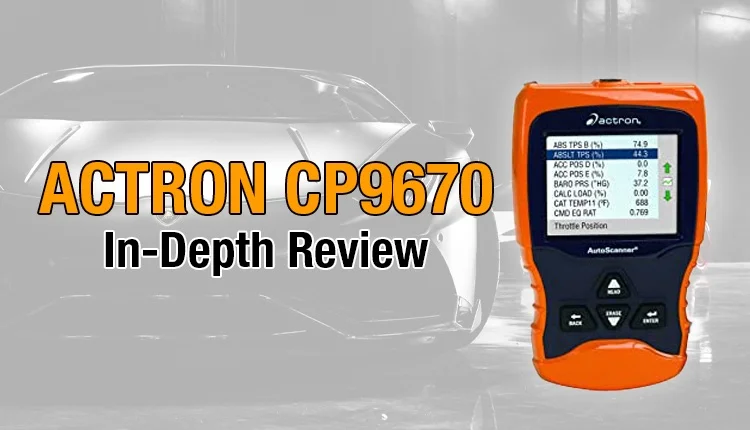 Actron CP9670 overview
Actron CP9670 AUTOSCANNER Trilingual OBD II and CAN Scan Tool with Color Screen
Actron CP9670 paid for itself after clearing 2 check engine light displays. Money well spent. Easy to use and gives small detail of fault.
Car diagnostics and repair are today some of the most straightforward processes. With the simple use of this Actron car scanner, you can promptly find the problem in your cars. Most cars only give the user a warning on car system malfunctions.
An auto scanner allows you to find what part has a problem, how to locate it, and potential solutions.
The Actron CP9670 makes car servicing an easy and quick process that you can do on your own
The market today offers a variety of car auto scanners. Most live up to their functionalities, but some have managed to stand out among their peers.
One such auto scanner is the Actron CP9670. It has received high praise from customers.
Based on the reviews, the product stands out with its functionalities and upgrades. The following is a detailed review of the product.
Detailed review of Actron CP9670
Features and functionality
Most professionals in the automotive industry for its features have commended the product. One of the most outstanding product features is the live data presentation.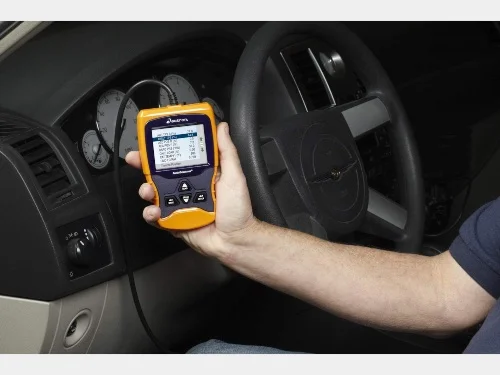 This gadget allows the user to view, relay, and switch inputs in real-time conveniently. Including the vehicle sensors, the user can get a detailed report while the engine runs.
To further improve your experience, the Actron CP9670 has a color LCD screen. The screen allows the user to use and understand the device's intuitive interface easier.
The colored screen allows emphasis on certain important analysis result findings that you may miss using non-colored screens.
Unlike other scanners, this piece gains its name from its unique ability to read and erase ABS codes, battery and alternator codes, as well as powertrain codes.
The code definitions also have more comprehensive vehicle coverage. The manufacturer assures that the device can effectively communicate with any OBDII compliant vehicle newer than 1996, covering all vehicles up to the year 2013.
Pros
Larger screen size;
Color display;
Updated code definitions list;
Quick analysis;
Record and review data;
Affordable;
Easy to use.
Cons
Possible compatibility issues on some models;
Sometimes fail to identify with the device.
Who is it for?
The device no doubt offers a significant number of features. It cannot, however, be considered an expert level device.
Actron CP9670 Scanner is recommended for the average car user needing it for their personal use. It is a handy tool to use when self-servicing your car in your home garage.
Actron offers other higher-level scanners for more experienced users, including the Actron CP9680, CP9690, and CP9600. These different models provide a broader range of features and give more detailed reports than the Actron CP9670.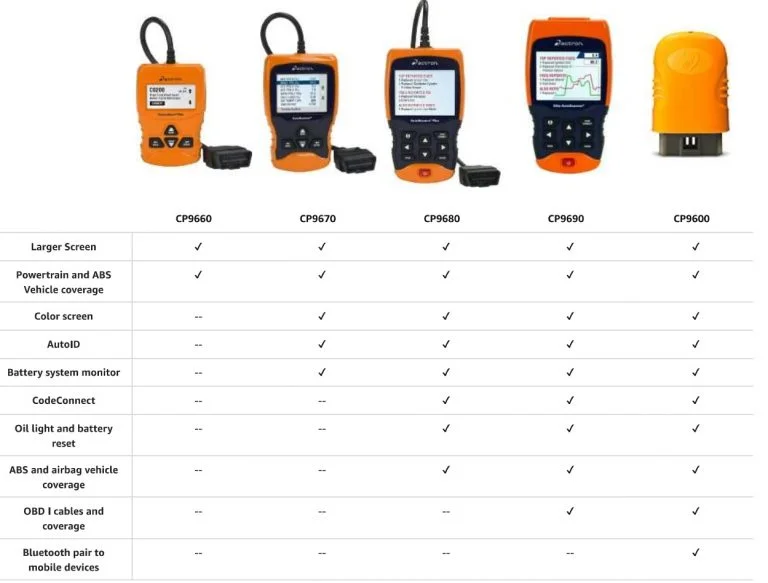 They are considered ideal for users with various cars to use on, including mechanics or auto repair shops.

However, they require a learning curve to use them efficiently hence the recommendation that you start with the Actron CP9670 first.
Actron CP9670 offers quick, reliable information on your car diagnostics, allowing you to service your car on the go quickly.
Check Price at Amazon
The bottom line
The Actron CP9670 is one of the most innovative products in the automotive industry today. It offers a detailed analysis of the state of your car, involving the proper analysis of malfunctioning systems and parts.
To properly repair your car with ease, the use of such a gadget may prove infinitely advantageous. It allows the user to save time and avoid the frustrating, manual analysis process. The gadget is a useful tool to have in your car.
Many times people are stranded by the roadside owing to engine failure. This gadget can save you the torture of being helpless, granting you the ability to obtain live results, assures accurate diagnostics on your car no matter the engine problem.
It is perfect for small-scale and personal use. Based on its features, a user familiar with their car can easily understand the diagnostics. For ambitious persons who wish to repair their vehicles by themselves at a budget-friendly rate, I highly recommend the Actron CP9670.
Read More:
Actron CP9690 Trilingual Professional-Grade OBD2 Scanner Review
Actron CP9695 ABS Code Reader Review.