Do you want to see the Launch CRP123 vs. CRP129 in detail? Then, you've landed on the right page!
This is a definite comparison between Launch CRP123 and Launch CRP129. Never buy any of them before studying the chart below.
Launch CRP123 Vs. CRP129 Comparison Chart
| | | |
| --- | --- | --- |
| | Launch CRP123 | Launch CRP129 |
| Customer Rating | | |
| Price range | | |
| OBD2 functions | 10/10* | 10/10 |
| System diagnostics | 5/10 | 7/10 |
| Advanced service functions | 1/10 | 5/10 |
| EPB, SAS, Oil Reset | -- | ✔ |
| Vehicle coverage | Cars, SUVs, 12V trucks | Cars, SUVs, 12V trucks |
| | | |
*Notes: Excellent: 9-10; Good: 7-8; Fair: 5-6; Poor: 3-4; Very poor: 1-2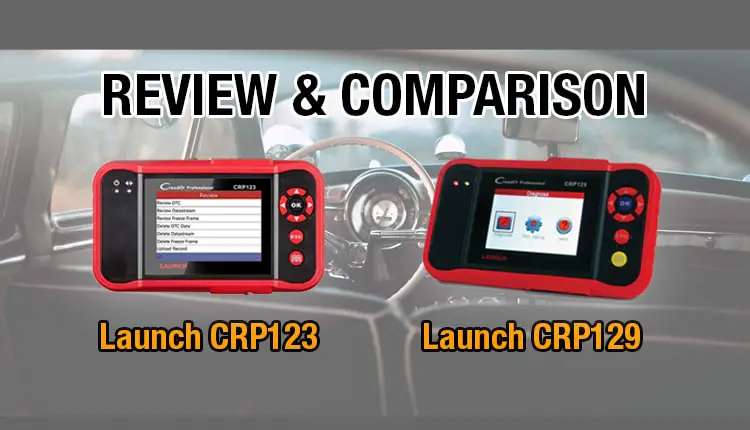 1. Launch CRP129: For Professional Mechanics & Experienced Enthusiasts
The Launch CRP129 Professional OBD2 code reader is fast and efficient in scanning, durable, and packed with invaluable diagnostic technology.
Launch CRP129 OBDII EPB SAS OIL Service Light Reset Code Reader
Launch CRP129 is a fast and efficient scanner designed for Beginner Mechanics and Experienced Enthusiasts. It is able to read and erase codes for all vehicles manufactured in 1996 or later.
Covers OBD2 Vehicles
The Launch CRP129 reads and erases codes for all vehicles manufactured in 1996 or later.
That includes:
American car models (GM, Chrysler, Ford)
Asian car models (Toyota, Hyundai, Subaru, Nissan)
European car models (BMW, Jaguar, Benz, Audi, Volkswagen)
Extensive Functionality
Launch CRP129 supports all the test modes of OBD2 (total of 10).
Simply put, this scan tool covers the full diagnostic function of OBD2 (and EOBD as well).
It also supports additional functions like SAS, EPB, oil service, lamp, ABS, and airbag system.
Intuitive Interface
With a 3.5-inch color display screen, the Launch CRP129 is quite simple to interact with. It relays data codes and related information. The Launch CRP129 is internet enabled.
Other than furnishing with online support, you can automatically update the software to match the latest technology.
Pros
Uses the latest technology
Very fast and efficient when reading/erasing codes and running tests
Covers all OBD2 test modes
Compatible with a wide variety of vehicles
Provides room for accessing online resources and updates
Cons
Could be a bit complex to navigate, especially if you are new to professional OBD scanners.
Who Is It Built For?
The Launch CRP129 is mostly designed for professional mechanics.
If you own an auto repair shop, you must have the Launch CRP129, as it covers all OBD2 test modes and various vehicle models.
Launch CRP129
2. Launch CRP123: For DIYers & Average Car Owners
The Launch CRP123 is yet another high-profile OBD2 scanner from Launch Tech. A cheaper alternative to the Launch CRP129, this device offers almost similar benefits and is just as compact.
Launch CRP123 ABS SRS Tranmission & Engine Code Reader
Launch CRP123 is a helpful tool for average car owners & DIYers. It is simple to use. Also, it supports three different languages, English, Spanish and French.
Wide Vehicle Coverage
The Launch CRP123 covers OBD2 vehicles manufactured from 2006 onwards. It supports all brands, including:
US-made cars (Ford, GM)
EU-made vehicles (Benz, BMW, Chevrolet, Volkswagen)
Asian brands (Toyota, Subaru, Lexus, Nissan, Mazda)
Full OBD2 functions
The Launch CRP123 supports all OBD2 diagnosis protocols (all of 10).
This means you can use it to read/erase codes, stream data, view freeze frame, and run several tests like an onboard monitor, EVAP system, and O2 sensor tests.
Additionally, the CRP123 can diagnose the four main components like ECU, ABS, airbag system, and automatic transmission.
You can also use it to retrieve vehicle information (VIN, CID, and CVN).
Simple To Use
One reason why the Launch CRP123 is a popular scan tool is that it is simple to use.
It is fitted with a 3.5-inch high definition LCD screen and rubber buttons for navigation.
Also, it supports three different languages, English, Spanish, and French.
Pros
Works very fast when reading/erasing codes
Comes with one year warranty and free lifetime software upgrades
Features a sleek and compact design
Can store data on the memory card
Internet-enabled
Covers all OBD2 test modes
Cons
Doesn't support OBD2 compliant vehicles made before 2006.
Who Is It Built For?
The Launch CRP123 is suitable for DIY and average car owners.
It can save you a lot of money; otherwise, spend getting your car diagnosed at the shop.
Launch CRP123
Recommendation 
All in all, the two scan tools are amazing. If you are an experienced enthusiast or a beginner mechanic, you could consider purchasing Launch CRP129.
But if you have to choose one, then there's a simple way of deciding which one it is.
Consider your budget and needs. In case you are cash strapped, you can go for the Launch CRP123; it is cheaper.
Launch CRP123 is an excellent pick for average car owners or DIYers.
But if you want a more comprehensive functionality and coverage, then the Launch CRP129 should be your priority.
The Bottom Line
Both scanners are good, and you will get real value for money regardless of the one you choose.
But remember, while the Launch CRP129 covers almost all OBD2 vehicles, the Launch CRP123 only supports those made in 2006 and later. Don't choose the latter mistakenly if your car isn't compatible.
In terms of functionality, you will get almost the same features. But the Launch CRP129 has a few more advantages than the Launch CRP123, which is cheaper.
Read more: Launch CRP123 vs. CRP123E vs. CRP123X: Honest Review and Comparison