When your check engine light is on or you're experiencing car problems, an appropriate OBD scan tool will let you talk to your car and help determine what the problem is.
But, you may ask yourselves:
– What type of OBD is my car? And,
– What kind of OBD scanner should I use, OBD1 or OBD2 Scanners?
In this article, we'll discuss in details the difference between OBD1 and OBD2 vehicles and the best OBD Scanner for them.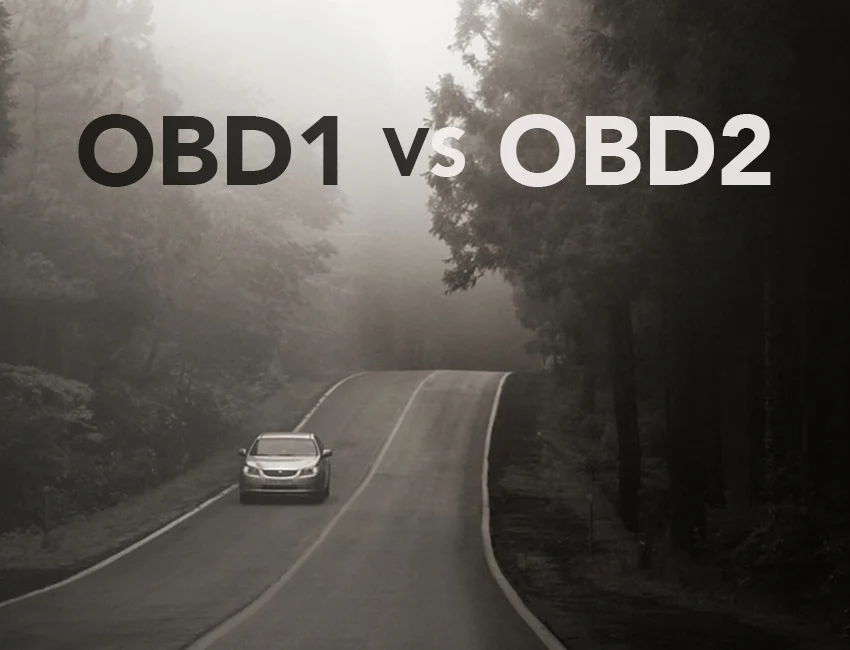 What's OBD, Anyway?
OBD stands for On-Board Diagnostics. Your car's onboard diagnostic system is a computer that's in charge of monitoring your engine through a series of sensors.
These sensors detect any abnormalities in your engine, including:
irregularities in the fuel/air mixture
any problems with your catalytic converter
and spark plug issues, etc.
There's a special plug that allows you to use a scan tool to communicate with this system directly so you can figure out what's going on with your car.
OBD1 vs OBD2 Comparison chart
| Criteria | OBD1 | OBD2 |
| --- | --- | --- |
| Nature | California Standard | Federal Standard |
| Years Used | 1991-1995 | 1996-present |
| Function | Retrieve diagnostic information and inform drivers of engine problems | Retrieve diagnostic information and inform drivers of engine problems |
| Interface | Manufacturer specific | Universal interface |
| Application | Was not able to gain much popularity | Was implemented from the beginning because of the options available |
| Benefit | Total energy and fuel consumed by the vehicle and then output which comes out | Takes into account different calculations and codes to solve the problems that are faced |
Improvements From OBD1 to OBD2
Nature
Despite OBD1 being a California state standard, it's found on many cars that were made during the early 1990s.
OBD2 has been required nationwide since 1996, so it's present in virtually every US car manufactured since then.
In other words, OBD2 is the tool you need in almost every situation.
Years used
OBD1 was phased out with the introduction of the newer OBD2 standard. This standard is still in use today, so you can use the same scan tool on a car made in 1996 and one made in 2016.
Again, OBD2 scan tools are the type of tool you'll want to use in every modern car.
Function
While OBD1 wasn't exactly the same as OBD2, it was fundamentally pretty similar. The point of the system was to allow your car to monitor itself and relay useful information to drivers and mechanics.
OBD2 is simply an updated, standardized version of the same system.
Interface
The biggest improvement from OBD1 to OBD2 is that all OBD2 cars have the same sort of ports that send the same sort of data the same way.
In other words, you can buy a single OBD2 scanner and get useful information from any car made by any manufacturer.
Is My Car OBD1 or OBD2?
OBD1: California Standard For Old Cars
In 1991, California introduced a standard called OBD 1 in order to curb vehicle emissions.
All cars had to be equipped with a system that could detect engine issues and report trouble codes. Unlike the later OBD2 standard, however, OBD-1 wasn't standardized across manufacturers.
This means that an OBD-1 scan tool will often work for only one make of car. In addition, the codes themselves aren't standardized, so a Ford with the same engine issue as a Toyota might give a totally different trouble code.
As you might imagine, this standard wasn't very useful.
OBD2: Universal Nationwide Standard
When Did OBD2 Start? OBD2 became a nationwide standard in 1996, and it's been used ever since then.
Unlike OBD1, OBD2 equipped cars all support the same type of scanner. The trouble codes themselves have also been standardized, although manufacturers sometimes allow the system to send additional specific information.
As car computers have got more and more sophisticated, car manufacturers have added more and more capabilities to the OBD2 systems in their cars.
As a result, you can use an OBD2 scanner to view real-time diagnostic data, interface with your car's computer, and more.
OBD1 vs OBD2 Scanners
The difference between OBD1 and OBD2 Scanners
OBD1 scanners only work on old cars. If a car was produced after 1996, it probably doesn't have an OBD1 port, so you can't use an OBD1 scanner with it.
Even if your car was produced before 1996, you'll still have to find an OBD1 scan tool that matches that car's specific manufacturer and find a way to translate that manufacturer's specific error codes into a format you understand.
Car makers understood that mechanics wouldn't want to buy five or six different scan tools in order to work with different types of cars. As a result, most OBD1 equipped cars can transmit error codes in a different way.
With a bit of work, you can configure these cars to flash out these error codes in code via the check engine light.
By contrast,
OBD2 scanners are necessary to retrieve error codes and diagnostic information from more modern cars.
If a car was made after 1996, you'll need an OBD2 scan tool in order to interface with the car's diagnostic system. Luckily, you don't have to worry about make or model.
OBD2 scan tools are totally universal as far as newer cars are concerned.
Should I Use OBD1 or OBD2 Scanner?
If the car you're trying to service was produced for use in the United States after 1996, you definitely want an OBD2 scan tool.
The only time you'd want an OBD1 scanner is when you're trying to service an older car (made before 1996) but you can't figure out how to put the car in "service mode". So, it flashes out error codes via dashboard lights.
Even then, the hassle of finding a manufacturer specific scan tool and figuring out how to read the proprietary error codes might not be worth it.
For cars made after 1996, however, OBD2 scan tools are invaluable. So, if you're a professional auto mechanic, you'll probably need to have both OBD1 and OBD2 scanners in your garage cabinet.
They allow you to smoothly connect with your car's internal systems and quickly figure out the cause of your engine problems. This can allow you to perform cheap DIY fixes yourself or simply make informed decisions about work you'll let your mechanic do.
Modern technology has made these scan tools affordable enough for any car owner. So, you can often save money by buying an OBD2 scanner and seeing what your car has to say before you take it to the shop.
To Summarize
OBD1 scan tools work with cars made by a specific manufacturer before 1996.
OBD2 scan tools are universal and work with all cars made for the US market by ANY manufacturer as long as these cars were made in 1996 or newer.
You do need to actually buy an OBD2 scan tool to access the car system.