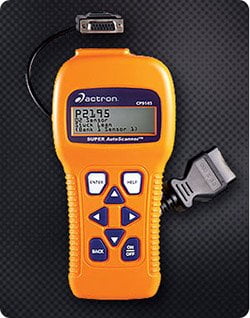 Hi, Tim again,
You probably already know that Actron manufactures some of the best OBD-II scanners on the market.
However….
With so many of them available, it can be difficult to distinguish the differences sometimes.
You've landed on my page because you want to buy a vehicle scanner, so I'm going to tell you why Actron is the best brand you should purchase.
Before I get into the nitty gritty details, check out a quick comparison chart to get you thinking about different features of some of the best OBD-II Actron scanners. Then you can check out the full reviews below.
Autel Scanner Comparison Chart
5 Best Actron Scanners Detailed Reviews
As I said, there are many different models of Actron scanners available on the Internet. But in my experience, 5 products below are the best that you should consider:
1. Actron CP9670 Trilingual OBD II and CAN Scan Tool
Actron Auto scanner CP9670 is a fairly new product to Amazon.com since it was first available on July 15, 2015, but it has received a lot of praise from customers.
One of the main things of this product is the live data feature. It gives you the ability to view switch and relay inputs, as well as the vehicle sensor, in real time while the car is running. And you'll enjoy reading the data on a color LCD screen!
Besides, many customers like this scanner because it can read and erase ABS codes, powertrain codes, battery and alternator codes. These are the essential codes that will prevent you from being stranded on the side of the road and customers have reported that the device pays for itself after just one or two uses.
While the unit claims to be able to read all OBD-II vehicles newer than 1996, sometimes it doesn't recognize them. However, the unit allows you to manually set up the vehicle if you need to. It requires a little more manual work, but it still gets the job done.
If you're an individual who wants to diagnose and fix your own car, then this is a great product for you since it is somewhat budget friendly and displays basic information.
However, I wouldn't recommend it for mechanics or people who work on a variety of cars, since it doesn't display as much information as more expensive models.
2. Actron CP9185 Elite AutoScanner Diagnostic Code Scanner
In this list we cannot ignore the Actron CP9185 Elite Autoscanner which is very highly rated by customers on Amazon.com.
Customers really appreciate that they can update this scanner when newer vehicles come available. Of course, it is only able to scan vehicles made in 1996 and later, but the technology allows you to update it through the Internet to ensure it's always up-to-date with the latest vehicle models.
And for the people who like to know exactly what the scanner is reading, you will enjoy a large screen that displays live graphing data for you. This is why both the average vehicle owner and mechanics absolutely love this device. And even though it gives you a lot of information, the simplicity of use is something that attracts people to buying it.
One of the best things about this scanner is also a downfall. Updating it can be easy for some people, but difficult for others if you don't have the proper computer system. Just be sure to research to ensure you have the system requirements before you make the purchase. Other than that, the unit displays basic data that you need to identify problems in your vehicle, but you'll need to spend a little more money if you want specific technical information to be displayed.
Even though mechanics could use this device for their shop, it's mostly designed for people who buy and sell vehicles frequently, or for people who just like to work on vehicles. It's a basic unit at a reasonable price, so it's well worth the investment for just about anyone.
3. Actron CP9690 Trilingual OBD I/OBD II Elite Autoscanner
The Actron CP9690 Trilingual Autoscanner is also a new product to Amazon.com but have had positive reviews.
The Actron CP9690 works with both OBD-II and OBD-I vehicles, so it's perfect for the advanced DIY'er and mechanics. The best feature is the CodeConnect, which is a database of millions of fixes that will give you the most probable solution to the problem the scanner detects.
In addition, you will have the ability to record, play back and print information through your computer so you can review a physical copy of the diagnosis. This is perfect for providing to customers if you are in business to fix cars!
Since this is a highly technical device, it has a learning curve associated with it. Many customers have complained that it doesn't have enough documentation on how to use it, so they think it doesn't work with their vehicles. The functionality of it is fine, but it just takes a little practice to master it.
If you spend a lot of time working on vehicles, then this device is worth the time and money investment. It gives you just about all the information you would ever need about the vehicle, so it's a mechanic's dream. The average DIY'er may not need to invest this much in a scanner, so keep your skill level in mind when considering this scanner.
4. Actron CP9125 Pocketscan Code Reader
One more good product I want to share with you is the Actron CP9125 Pocketscan Code Reader.
If you're looking for a quick and easy way to scan for trouble codes to turn off your check engine light, then this is the unit for you. The design is so compact that it will fit in the palm of your hand, so most people love it for that fact.
Even though it's a simple device that displays basic information, it's updateable so it will work on future vehicles as well. However, it can only be used on OBD-II vehicles made in 1996 and later. And since it's designed for a beginner, customers rave about how easy it is to use.
Really the only downfall that this unit has is the limited amount of information it displays. It's definitely not designed for mechanics or advanced users, so as long as you know that beforehand, you won't waste your money. Other than that, be aware that the cord is very short, so you will have to sit in the driver's seat while it's plugged in.
This device is designed for the novice who wants to understand why their check engine light is on. Any mechanic or advanced user will be disappointed with the functionality because it's so basic. If you want an autoscanner just to check for codes and clear your check engine light, and save a little money versus taking it to a mechanic, then it's worth the minimal investment.
5. Actron CP9680 AUTOSCANNER Plus OBD II/ABS/Airbag Scan Tool with Color Screen
The last product I should recommend is the Actron CP9680 Autoscanner which has amassed several high ratings.
The CP9680 Actron OBD2 scanner has all the features of the CP9690, with the exception of the ability to work on older OBD-I vehicles. So again, the best thing about this unit is the CodeConnect feature which gives you all the information you need to diagnose and fix any problems in newer vehicles.
Like the CP9690, it can be difficult to use since it has so much information it displays, but most customers get used to it. Other than that, the only downfall is it won't work on older OBD-I vehicles.
If you only work with newer vehicles, then you'll be saving a decent amount of money by buying this scanner rather than the CP9690. Most mechanics probably require the model that can read OBD-I vehicles, but the average user would probably appreciate saving the money and just purchasing the CP9680.
Recommendation
Once you understand what you need your OBD scanner for, it's a lot easier to make a decision.
For people who want to diagnose and fix their own cars when the check engine light comes on, I recommend the Actron CP9670 Autoscanner. It gives you just enough information and is priced very well compared to other models.
However, if you're a mechanic or if you work on cars frequently, then you can't go wrong with the Actron CP9690 Trilingual Autoscanner. It allows you to work on more vehicles and displays much more information than the other models on this list.
You owe it to yourself to make your life easier with either one of these scanners, so don't delay and get the perfect one for you today!
What to consider when buying an Actron Scanner? 
So in a nutshell, there are a few important features you need to keep in mind when shopping for a scanner. These features include:
Reads codes
Erases codes
Clear display screen
ABS coverage
Emissions status
Not only will a scanner with this information turn off your check engine light, but it could also prevent you from failing a state vehicle inspection.
Some of the luxuries included in OBD scanners include the ability to graph and chart live data, update through a computer for newer vehicles in the future, freeze frame data and the ability to read OBD-I vehicles.
Before you buy a vehicle scanner, you have to determine which of these features are important to you. If you just want to save some money and work on your own vehicle, then you won't need many features. But if you plan on working on other cars, or if you have a business or shop, then you'll need a lot more features to diagnose and fix problems.
Conclusion
Now you should have all the information about Actron scanner to make an educated decision.
An OBD scanner will save you a lot of time and money in the long run.
Buy one today and enjoy it every time you use it.
And when you do, be sure to leave a comment below to let me know how you liked it!