Got Diagnostic Trouble Codes (DTC / OBD2 Codes) and want to know what they mean? Check it out now.
This post includes the most popular OBD2 Codes that belong to 4 groups:
Powertrain (P) Codes
Network (U) Codes
Body (B) Codes
Chassis (C) Codes
But first,
Let's start with the basics.
What Are OBD2 Codes?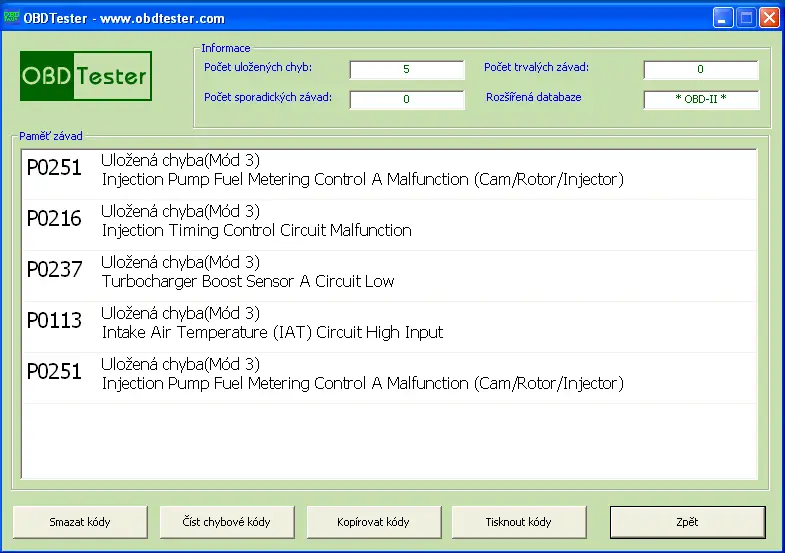 OBD is short for onboard diagnostics. It refers to a vehicle's electronic system that performs self-diagnosis and reporting. Whenever a problem is detected the system records it as a unique code.
That code is known as a diagnostic trouble code (DTC). As a vehicle owner or mechanic, you can pull that code and interpret it to understand the nature of the problem.
For example, if the car gives you the P0201 code, it means that there's a malfunction in cylinder 1 of the injector circuit. Your job is to pinpoint the issue and fix it.
Now, with that in mind, OBD2 codes are trouble codes specific to OBD2-compliant vehicles. These are generally cars, SUVs, light trucks, etc. that are made and/or sold in the US since 1996.
In other words, if a car is a 1996 or newer model, it is OBD2-compliant. And that also means that it uses OBD2 codes to do self-diagnosis and reporting.
I'll be using all three interchangeably all through the post, be sure not to get confused.
Interpreting the Digits in OBD2 Codes
OBD provides monitoring for various systems. They include the engine control module, body, chassis, etc. When you look at the code, you can immediately tell which system has a fault-based on how it appears.
Here's a breakdown.
The First Character (Letter)
All OBDII codes start with a letter that denotes the part of the vehicle that has a fault. Let's look at each letter, shall we?
P – Powertrain. It includes the engine, transmission and all the associated accessories.
U – Network & Vehicle Integration. These are functions that are managed and shared by onboard computer systems.
B – Body. These are parts mainly found in the passenger compartment area.
C – Chassis. It covers mechanical systems and functions like steering, suspension, and braking.
The Second Character (Number)
The first letter is usually followed by a number. This number can only be '0' or '1'.
0 – If it's a '0' then the code is a standardized (SAE) code; also known as generic code
1 – If it's a '1' then you're looking at a manufacturer-specific code
The Third Character (Number)
This number denotes the particular vehicle system that has a fault. There are eight systems in total:
0 – Fuel and air metering and auxiliary emission controls
1 – Fuel and air metering
2 – Fuel and air metering (injector circuit)
3 – Ignition systems or misfires
4 – Auxiliary emission controls
5 – Vehicle speed control and idle control systems
6 – Computer and output circuit
7 – Transmission
The Fourth And Fifth Characters (Number)
The final piece of a DTC is a two-digit number. This number defines the exact problem that you're dealing with. It can be any number between 0 and 99.
As you can see a typical DTC has five characters in total, and each one of those characters gives it a description. For example, if you get the code P0219, it means that the car has an engine over-speed condition.
The 'P' means that the problem is in the powertrain. The '0' means that it's a generic code while the '2' refers to the fuel and air metering (injector circuit) system. The last two digits (19) define the problem; i.e., an over-speed condition.
Want to know more about codes and their meanings? Here's a more comprehensive OBD codes list.
Top Popular OBD2 Codes Full List with Fix Guide
As mentioned already, DTC codes that start with 'P' relate to the powertrain. Those that start with 'U' are for the network and vehicle integration system. Codes whose first character is 'B' relate to the vehicle's body while 'C' codes are for the chassis.
We'll divide this section into those four categories for a better understanding of all these OBDII codes.
Popular Powertrain (P) OBD2 Codes
OBD2 Codes
Meaning & Fix Guide
P0008
1. Description:
Engine Position System Performance - Bank 1

2. Meaning:
Bank 1 camshaft and the crankshaft have a variation in mechanical timing. Basically the engine control module (ECM) is experiencing timing issues.

3. Main Symptoms:
• Check Engine Light comes on
• Decreased power
• Rough acceleration
• Lower fuel economy

4. Possible Causes:
• Timing chain is experiencing tension
• Timing chain is stretched
• Crankshaft reluctor wheel is not referenced to TDC (top dead center)
• Wiring damage
• Worn out timing components
• Internal damage to ECM

5. Diagnostic Steps:
• Use an advanced diagnostic tool to pull engine codes
• Visually inspect the VCT/VVT circuit for open/damaged wires.
P0010
1. Description:
Intake Camshaft Position Actuator Circuit / Open (Bank 1)

2. Meaning:
Bank 1 camshaft and the crankshaft have a variation in mechanical timing. The problem occurs when the engine experiences high RPM. The ECM doesn't properly adjust valve lift at high RPM.

3. Main Symptoms:
• Check Engine Light comes on
• Engine performs poorly at high RPM
• Car runs roughly
• Lower fuel economy
• Car fails emission test

4. Possible Causes:
• Sludge in engine oil
• Faulty OVC (oil control valve)
• Internal damage to ECM
• ECM timing is out of sync
• Wiring damage
• Malfunction of crankshaft or camshaft sensor
• A short in VCT/VVT circuit, or the circuit is open

5. Diagnostic Steps:
• Use an advanced diagnostic tool to pull engine codes
• Inspect the VVT/VCT solenoid system for dirty oil
• Inspect the circuit for wiring problems
P0011
1. Description:
Intake Camshaft Position Timing - Over-Advanced (Bank 1)

2. Meaning:
• The camshaft timing for bank 1 is above and beyond the limit set by the ECM. This causes an over-advanced condition that occurs either during retarding or advancing of the camshaft timing

3. Main Symptoms:
• Check Engine Light comes on
• Hard starting
• Poor idle
• Car may run rough or stall
• Poor fuel economy
• Car may fail emission test

4. Possible Causes:
• Camshaft remains advanced despite ECM commanding it to retard
• Bank 1 oil control solenoid may be clogged or stuck
• Oil may be too thick and is thus blocking passages in bank 1
• Wiring problems in VCT/VVT
• Oil continuously flows to VCT piston chamber

5. Diagnostic Steps:
• Check that engine oil is clean and has the recommended viscosity
• Visually inspect wiring in the CVT system
• Pull engine codes and live data using advanced diagnostic tool

P0012
1. Description:
Intake Camshaft Position Timing - Over-Retarded (Bank 1)

2. Meaning:
• Bank 1 is having an over-retarded timing condition that occurs either during retarding or advancing

3. Main Symptoms:
• Check Engine Light comes on
• Hard starting
• Poor fuel economy
• Car may run rough or stall
• Car may fail emission test

4. Possible Causes:
• Camshaft timing is incorrect
• Wiring problems in VCT/VVT
• Oil continuously flows to VCT piston chamber
• Timing valve solenoid control has failed and is stuck in open position
• Oil may be too thick and is thus blocking passages in bank 1

5. Diagnostic Steps:
• Check that engine oil is clean
• Visually inspect wiring in the CVT system
• Pull engine codes and live data using advanced diagnostic tool
• Using bidirectional scanner, command the timing valve solenoid control valve to open and close then see if camshaft timings change. If they change it means the valve is not the problem

P0013
P0013 – "B" Camshaft Position Actuator Circuit (Bank 1)
P0014
1. Description:
Exhaust Camshaft Position Timing - Over-Advanced (Bank 1)

2. Meaning:
• Bank 1 camshaft is having an over-advanced timing condition that occurs either during retarding or advancing

3. Main Symptoms:
• Check Engine Light comes on
• Hard starting
• Poor fuel economy
• Car may run rough or stall
• Car may fail emission test


4. Possible Causes:
• Camshaft timing is incorrect
• Wiring problems in VCT/VVT
• Oil continuously flows to VCT piston chamber
• Timing valve solenoid control has failed and is stuck in open position
• Oil may be too thick and is thus blocking passages in bank 1


5. Diagnostic Steps:
• Check that engine oil is clean and full in the tank
• Visually inspect wiring in the CVT system
• Pull engine codes and live data using advanced diagnostic tool
• Using bidirectional scanner, command the timing valve solenoid control valve to open and close then see if camshaft timings change. If they change it means the valve is not the problem

P0016
1. Description:
Crankshaft Position Camshaft Position Correlation Bank 1 Sensor A

2. Meaning:
• The crankshaft and camshaft signals are out of time. Meaning the ECM can detect that the timing of the crankshaft and that of the camshaft do not correlate

3. Main Symptoms:
• Check Engine Light comes on
• Engine may crank but fail to start
• Engine may continue to run but will record poor performance
• Rattling sound in the harmonic balancer
• Poor fuel economy


4. Possible Causes:
• Timing chain is overstretched
• Tone ring on camshaft and/or crankshaft is has slipped or broken
• Timing chain has jumped teeth and put camshaft timing out of position
• Problems with camshaft phaser and putting the phaser out of position
• Wiring to crank/cam sensor is damaged


5. Diagnostic Steps:
• Inspect oil control valve (OCV) for connection or wiring problems
• Check that engine oil is clean, full and has correct viscosity
• Pull engine codes and live data using advanced diagnostic tool
• Using bidirectional scanner, command the OVC on and off then see if camshaft timings change. If they change it means the valve is not the problem

P0021
1. Description:
Intake Camshaft Position Timing - Over-Advanced (Bank 2)

2. Meaning:
• The camshaft timing for bank 2 is above and beyond the limit set by the ECM. This causes an over-advanced condition that occurs either during retarding or advancing of the camshaft timing

3. Main Symptoms:
• Check Engine Light comes on
• Hard starting
• Poor idle
• Car may run rough or stall
• Poor fuel economy
• Car may fail emission test


4. Possible Causes:
• Camshaft remains advanced despite ECM commanding it to retard
• Bank 2 oil control solenoid may be clogged or stuck
• Oil may be too thick and is thus blocking passages in bank 2
• Wiring problems in VCT/VVT
• Oil continuously flows to VCT piston chamber


5. Diagnostic Steps:
• Check that engine oil is clean and has the recommended viscosity
• Visually inspect wiring in the CVT system
• Pull engine codes and live data using advanced diagnostic tool

P0022
1. Description:
"A" camshaft position – timing over-retarded (Bank 2)

2. Meaning:
• The camshaft timing for bank 2 is over-retarded

3. Main Symptoms:
• Check Engine Light comes on
• Car stalls
• Car hard starts


4. Possible Causes:
• Camshaft remains retarded despite ECM commanding it to advance
• Wiring problems in VCT/VVT
• Oil continuously flows to VCT piston chamber
• Timing valve controlled solenoid has failed and remains open


5. Diagnostic Steps:
• Visually inspect wiring in the CVT system
• Pull engine codes and live data using advanced diagnostic tool
• Reset the codes. If P0022 returns use a bidirectional tool to check whether VCT solenoid is working

P0030
1. Description:
Heated Oxygen Sensor (H02S) Heater Control Circuit Bank 1 Sensor 1

2. Meaning:
• Bank 1, sensor 1 of the O2 sensor heater circuit is faulty. As such, the engine isn't achieving closed loop and therefore the car has increased emissions

3. Main Symptoms:
• Check Engine Light comes on
• Longer time needed to achieve closed loop
• Decreased fuel economy
• Engine may go into fixed fuel mix


4. Possible Causes:
• H02S sensor in bank 1, circuit 1 is not sending the correct signal to ECM
• Damaged or failed element in heater circuit
• Open in O2 sensor heater's circuit
• Open/short in O2 sensor heater's battery
• Defective ECM (this is the least likely cause)


5. Diagnostic Steps:
• Inspect wiring and power to the O2 sensor and ensure there's no damage/open/short
• Use code reader to pull engine codes
• Check voltage of O2 sensor and ensure it matches manufacturer's specs
• Replace O2 sensor if necessary

P0031
1. Description:
Heated Oxygen Sensor (HO2S) Heater Circuit Low Voltage Bank 1 Sensor 1

2. Meaning:
• The resistance of the heater circuit in bank 1 is too low to heat fuel until it achieves air to fuel ratio of 14:7. The problem is coming from the 1st sensor of bank 1. This code is usually triggered when resistance level is below 0.8A

3. Main Symptoms:
• Check Engine Light comes on
• Although not always, ECM may enter failsafe mode


4. Possible Causes:
• Short or open in the O2 heater circuit
• Defective O2 sensor heater
• There's a wiring problem in the circuit leading to the heater. It may be broken or frayed
• Defective ECM (this is the least likely cause)


5. Diagnostic Steps:
• Inspect wiring and power to the O2 sensor and ensure there's no damage/open/short
• Use code reader to pull engine codes

P0037
1. Description:
Heated Oxygen Sensor (H02S) Heater Control Circuit Bank 1 Sensor 2

2. Meaning:
• Bank 1, sensor 2 of the O2 sensor heater circuit is faulty. As such, the engine isn't achieving closed loop and therefore the car has increased emissions

3. Main Symptoms:
• Check Engine Light comes on
• Longer time needed to achieve closed loop
• Decreased fuel economy
• Engine may go into fixed fuel mix


4. Possible Causes:
• H02S sensor in bank 1, circuit 2 is not sending the correct signal to ECM
• Damaged or failed element in heater circuit
• Open in O2 sensor heater's circuit
• Open/short in O2 sensor heater's battery
• Defective ECM (this is the least likely cause)


5. Diagnostic Steps:
• Inspect wiring and power to the O2 sensor and ensure there's no damage/open/short
• Use code reader to pull engine codes
• Check voltage of O2 sensor and ensure it matches manufacturer's specs
• Replace O2 sensor if necessary

P0037
1. Description:
Heated Oxygen Sensor (HO2S) Heater Circuit Low Voltage Bank 1 Sensor 2

2. Meaning:
• The resistance of the heater circuit in bank 1 is too low to heat fuel until it achieves air to fuel ratio of 14:7. The problem is coming from the 2nd sensor of bank 1. This code is usually triggered when resistance level is below 0.8A

3. Main Symptoms:
• Check Engine Light comes on
• Although not always, ECM may enter failsafe mode

4. Possible Causes:
• Short or open in the O2 heater circuit
• Defective O2 sensor heater
• There's a wiring problem in the circuit leading to the heater. It may be broken or frayed
• Defective ECM (this is the least likely cause)


5. Diagnostic Steps:
• Inspect wiring and power to the O2 sensor and ensure there's no damage/open/short
• Use code reader to pull engine codes


P0087
1. Description:
Fuel Rail/System Pressure - Too Low

2. Meaning:
• The ECM has determined that the pressure of fuel going to the fuel pump module is below the pressure that was commanded by the ECM

3. Main Symptoms:
• Check Engine Light comes on
• Vehicle may have a rich fuel condition
• It may also misfire
• Vehicle may run poorly


4. Possible Causes:
• Clogged fuel filter or fuel screen
• Defective fuel pressure sensor
• Defective fuel pump
• Fault in fuel line that's causing a restriction


5. Diagnostic Steps:
• Use code reader to pull engine codes
• Visually inspect fuel tank, fuel filter and fuel lines
• Take manual readings of fuel pressure and compare with specifications
• Run a fuel pump test

P0101
P0101 - Mass air flow (MAF) Circuit Range/Performance
P0102
1. Description:
Mass or Volume Air Flow Circuit low Input

2. Meaning:
• The mass airflow (MAF) sensor is not performing within the normal expectation and is therefore sending a lower signal than normal (due to low voltage)

3. Main Symptoms:
• Check Engine Light comes on
• Extremely low fuel consumption and thus internal engine problems
• Engine runs roughly
• Car idles and stalls frequently


4. Possible Causes:
• Defective MAF sensor
• Presence of dirt and debris in MAF (restricts airflow)
• Leaks in air intake system
• Improper wiring of the circuit to MAF sensor


5. Diagnostic Steps:
• Use code reader to pull engine codes
• Visually inspect MAF sensor wiring and circuit
• Check for air leaks in air intake system
• Inspect MAF to see if there's dirt and debris

P0106
1. Description:
Manifold Absolute Pressure/Barometric Pressure Circuit Range/Performance Problem

2. Meaning:
• The Powertrain Control Module (PCM) has not detected a change in engine speed, throttle angle and/or exhaust gas recirculation (EGR) despite an increase in manifold absolute pressure (MAP). Increase in MAP indicates increase in engine load

3. Main Symptoms:
• Check Engine Light comes on
• Poor fuel economy
• Engine fails to idle
• Engine produces black smoke (visible at tailpipe)
• Erratic acceleration


4. Possible Causes:
• Faulty MAP sensor
• Air intake component is loose, cracked or doesn't have its plastic fitting
• Water or dirt affecting connector to MAP sensor
• Corrosion may be causing poor signal to and from MAP sensor
• PCM is defective (least likely but not unlikely)


5. Diagnostic Steps:
• Use an advanced scanner to pull engine codes
• With that scanner, take the reading of MAP sensor when engine is off but key is on. It should be similar or close to barometric pressure (BARO) reading
• Start the engine and see if MAP sensor readings drop significantly. If they do the sensor is working properly

P0107
1. Description:
Manifold Absolute Pressure/Barometric Pressure Circuit Low Input

2. Meaning:
• PCM has detected that the voltage in the MAP sensor is less than .25 volts, which is too low to send a reliable signal

3. Main Symptoms:
• Check Engine Light comes on
• Vehicle is hard to start
• Poor fuel economy
• Engine fails to idle
• Engine produces black smoke (visible at tailpipe)
• Engine cranks for long
• Erratic acceleration


4. Possible Causes:
• Faulty MAP sensor
• Open or short in signal circuit, 5volt reference circuit or ground circuit
• PCM is defective (least likely but not unlikely)


5. Diagnostic Steps:
• Use an advanced scanner to pull engine codes
• With that scanner, take the voltage of MAP sensor when engine is on and key is on. If it's less than .5V turn the engine off, remove the MAP sensor and use a volt/ohm meter to check for 5 volts on the 5 volt reference circuit

P0108
1. Description:
Manifold Absolute Pressure/Barometric Pressure Circuit High Input

2. Meaning:
• PCM has detected that the voltage in the MAP sensor is more than 5 volts or generally more than commanded under the prevailing circumstance

3. Main Symptoms:
• Check Engine Light comes on
• Poor fuel economy
• Engine fails to idle and may not start completely
• Engine produces black smoke (visible at tailpipe)
• Engine cranks for long
• Erratic acceleration


4. Possible Causes:
• Faulty MAP sensor
• Open or short in signal circuit, 5volt reference circuit or ground circuit
• Leak in vacuum system, especially in the engine or supply line to MAP sensor
• PCM is defective (least likely but not unlikely)


5. Diagnostic Steps:
• Use an advanced scanner to pull engine codes
• With that scanner, take the reading of MAP sensor when engine is off but key is on. It should be similar or close to barometric pressure (BARO) reading
• If the difference between the two readings is more than .5 then you're looking at a faulty MAP sensor

P0113
1. Description:
Intake Air Temperature Circuit High Input

2. Meaning:
• The PCM has detected that the signal voltage from the intake air temperature (IAT) is above 5V, which is more than the expected range

3. Main Symptoms:
• Check Engine Light comes on
• Engine may run extra lean


4. Possible Causes:
• Defective IAT sensor
• Loose or faulty wiring at IAT sensor
• Open or short in IAT ground circuit, signal circuit or reference circuit
• PCM is defective (least likely but not unlikely)


5. Diagnostic Steps:
• Use an advanced scanner to pull engine codes.
• View live data from the IAT sensor. If the reading is less than -30 degrees then the sensor is likely to be faulty. If otherwise then it's probably an intermittent problem
• Check the wiring for opens and loose connections

P0116
1. Description:
Engine Coolant Temperature Circuit Range/Performance Problem

2. Meaning:
• The PCM has seen a sudden and quick change in engine coolant temperature (ECT) at a time when there shouldn't be such a change

3. Main Symptoms:
• Check Engine Light comes on
• Poor fuel economy
• Engine fails to idle and may not start completely
• Engine produces black smoke (visible at tailpipe)


4. Possible Causes:
• Thermostat is either missing or open
• Defective ECT sensor
• Open or short in ECT signal or ground circuit


5. Diagnostic Steps:
• Using an OBD2 scanner, start by diagnosing and resetting any other ECT codes
• Now, check the ECT reading. When the engine is cold the reading should match ambient temperature reading. If it doesn't then there's a problem with the ECT sensor

P0118
1. Description:
Engine Coolant Temperature Circuit High Input

2. Meaning:
• The PCM has determined that ECT is less than freezing temp yet the engine has been running for several minutes, which shouldn't happen

3. Main Symptoms:
• Check Engine Light comes on
• Poor fuel economy
• Engine fails to idle and may not start completely
• Engine produces black smoke (visible at tailpipe)


4. Possible Causes:
• Defective ECT sensor
• Open or short in ECT signal or ground circuit
• PCM is defective (least likely but not unlikely)


5. Diagnostic Steps:
• Using an OBD2 scanner, check the reading of ECT. If it's a logical reading then the problem is intermittent
• Perform a wiggle test while looking out for drop-outs. If there are any then there's a bad connection to or from the ECT sensor

P0121
1. Description:
Throttle/Pedal Position Sensor/Switch A Circuit Range/Performance Problem

2. Meaning:
• The PCM has detected that the throttle position sensor (TPS) voltage is more or less than it should be for the current RPM

3. Main Symptoms:
• Check Engine Light comes on
• Car produces black smoke (visible at tailpipe)
• Car stumbles when you accelerate or decelerate
• Engine may fail to start completely


4. Possible Causes:
• Defective TPS
• Open or short in TPS circuit
• Loose or bad connection to TPS
• PCM is defective (least likely but not unlikely)


5. Diagnostic Steps:
• Visually inspect all wiring to TPS for loose, open or short connections
• Using an OBD2 scanner, check for live and freeze frame data from TPS. If it doesn't read .5 at idle and 4.5 at full throttle the TPS is faulty

P0122
1. Description:
Throttle/Pedal Position Sensor/Switch A Circuit Low Input

2. Meaning:
• PCM is reporting that the TPS has recorded a voltage that is lower than the normal minimum limit. The value varies from one car to another but the code may come when the voltage hits .20V or less

3. Main Symptoms:
• Check Engine Light comes on
• Extremely high idle
• Rough or low idle
• Car stalls
• Acceleration is low or completely lacking


4. Possible Causes:
• Defective TPS
• Open or short in TPS circuit
• Improper mounting of TPS after replacement
• TPS has loosened
• PCM is defective (least likely but not unlikely)


5. Diagnostic Steps:
• Visually inspect all wiring to TPS for loose, open or short connections
• Check that TPS is tightly in position, especially if you recently replaced it

P0123
1. Description:
Throttle/Pedal Position Sensor/Switch A Circuit High Input

2. Meaning:
• PCM is reporting that the TPS has recorded a voltage that is higher than the normal maximum limit, usually around 5 volts

3. Main Symptoms:
• Check Engine Light comes on
• Extremely high idle
• Rough or low idle
• Frequent surges


4. Possible Causes:
• Defective TPS
• Open or short in TPS circuit
• Improper mounting of TPS after replacement
• PCM is defective (least likely but not unlikely)


5. Diagnostic Steps:
• Visually inspect all wiring to TPS for loose, open or short connections
• Check that TPS is tightly in position, especially if you recently replaced it

P0128
1. Description:
Coolant Thermostat (Coolant Temp Below Thermostat Regulating Temperature)

2. Meaning:
• PCM has detected that the engine has not attained the required temperature despite being on for enough time to attain that temperature

3. Main Symptoms:
• Check Engine Light MAY come on
• Engine temp drops when the vehicle is in high speed
• Engine takes abnormally long to warm


4. Possible Causes:
• Most likely cause is that thermostat is leaking or stuck in open position
• Engine coolant level is too low
• Defective IAT sensor
• Defective ECT sensor
• Defective cooling fan


5. Diagnostic Steps:
• Check whether coolant strength and level are in the recommended range
• Check whether IAT sensor, ECT sensor and coolant fan are working
• If all the above are okay then the thermostat is the problem

P0130
1. Description:
O2 Sensor Circuit Malfunction (Bank 1 Sensor 1)

2. Meaning:
• ECM has determined that the O2 sensor voltage remained lower than normal (below .4v) for too long (20 seconds or more)

3. Main Symptoms:
• Check Engine Light comes on
• Car produces black smoke (visible at tailpipe)
• Poor fuel economy
• Engine may fail to start completely
• If it starts it may run rough and/or stumble


4. Possible Causes:
• Mostly a problem related to corrosion, loose terminal or burnt wire in the O2 sensor connector
• Defective O2 sensor
• Open or short in wiring to O2 sensor
• Unmetered oxygen is getting back into exhaust system, most likely from holes in the system


5. Diagnostic Steps:
• Visually inspect all wiring to O2 sensor for loose, open or short connections
• Use a wiggle test to determine where the voltage drops out
• Using an OBD2 scanner, check whether sensor 1 of bank 1 is switching properly. Normally it should switch evenly between rich and lean in rapid successions

P0131
1. Description:
O2 Sensor Circuit Low Voltage (Bank 1 Sensor 1)

2. Meaning:
• ECM has determined that there's a low voltage condition in bank 1 sensor 1; i.e. O2 sensor voltage remained too low for longer than 2 minutes

3. Main Symptoms:
• Check Engine Light comes on
• Car produces black smoke (visible at tailpipe)
• Poor fuel economy
• Engine may fail to start completely
• If it starts it may run rough and/or stumble


4. Possible Causes:
• Mostly a problem related to corrosion, loose terminal or burnt wire in the O2 sensor 1 connector
• Defective O2 sensor
• Open or short in wiring to O2 sensor
• O2 circuit is experiencing high resistance


5. Diagnostic Steps:
• Visually inspect all wiring to O2 sensor 1 for loose, open or short connections
• Use a wiggle test to determine where the voltage drops out
• Using an OBD2 scanner, check whether sensor 1 of bank 1 is switching properly.

P0132
1. Description:
O2 Sensor Circuit High Voltage (Bank 1 Sensor 1)

2. Meaning:
• The heated O2 sensor in bank 1 sensor 1 is giving a higher voltage reading than it should. For most vehicles the code comes when voltage exceeds 1.5V

3. Main Symptoms:
• Generally doesn't come with symptoms. However, in some cases the Check Engine Light may come on and fuel economy may reduce

4. Possible Causes:
• Fuel temp is excessively high
• Short, open or broken wire in O2 sensor circuit


5. Diagnostic Steps:
• Visually inspect all wiring to O2 sensor for loose, open or short connections
• Use a wiggle test to determine where the voltage drops out
• Using an OBD2 scanner, check whether sensor 1 of bank 1 is switching properly.

P0133
1. Description:
O2 Sensor Circuit Slow Response (Bank 1 Sensor 1)

2. Meaning:
• O2 sensor or ECM can't adjust air to fuel ratio as it's supposed to even when the engine is running

3. Main Symptoms:
• Generally doesn't come with symptoms. However, in some cases the Check Engine Light may come on and fuel economy may reduce

4. Possible Causes:
• First O2 sensor in bank 1 is faulty
• Short, open or broken wire in O2 sensor circuit
• Exhaust leak


5. Diagnostic Steps:
• Visually inspect all wiring to first O2 sensor for loose, open or short connections
• Use a wiggle test to determine where the voltage drops out
• Visually check for exhaust leaks or air inlet leaks
• Using an OBD2 scanner, check whether sensor 1 of bank 1 is switching properly.

P0134
1. Description:
O2 Sensor Circuit No Activity Detected (Bank 1 Sensor 1)

2. Meaning:
• PCM has perceived that first O2 sensor in bank 1 is inactive or open because it has not warmed up after more than 1 minute of the engine running

3. Main Symptoms:
• Check Engine Light comes on
• Car produces black smoke (visible at tailpipe)
• Poor fuel economy
• Engine may run rough and/or stumble


4. Possible Causes:
• Faulty O2 sensor
• Short, open or broken wire in O2 sensor circuit
• Exhaust leak
• Defective heater circuit in O2 sensor
• Heater circuit has blown fuse
• PCM is defective (least likely but not unlikely)


5. Diagnostic Steps:
• Visually inspect all wiring to first O2 sensor (bank 1) for loose, open or short connections
• Use a wiggle test to determine where the voltage drops out
• Visually check for exhaust leaks or air inlet leaks

P0135
1. Description:
O2 Sensor Heater Circuit Malfunction (Bank 1 Sensor 1)

2. Meaning:
• Usually, when O2 heater attains operating temperature, O2 sensor switches based on ambient temp. If ECM determines that the O2 sensor took too long to switch this code is set. It applies to the first sensor of bank 1

3. Main Symptoms:
• Check Engine Light comes on
• Poor fuel economy


4. Possible Causes:
• Short, open or broken wire in O2 heating system
• High resistance in O2 heater element or circuit


5. Diagnostic Steps:
• Visually inspect all wiring to first O2 sensor (bank 1) for loose, open or short connections
• Use a wiggle test to determine where the voltage drops out
• If the code is persistent replace O2 sensor


P0136
1. Description:
O2 Sensor Circuit Malfunction (Bank 1 Sensor 2)

2. Meaning:
• ECM has determined that the there's a low voltage condition in bank 1 sensor 2; i.e. O2 sensor voltage remained too low for longer than 2 minutes

3. Main Symptoms:
• Check Engine Light comes on
• Car produces black smoke (visible at tailpipe)
• Poor fuel economy
• Engine may fail to start completely
• If it starts it may run rough and/or stumble


4. Possible Causes:
• Mostly a problem related to corrosion, loose terminal or burnt wire in the O2 sensor 2 connector
• Defective O2 sensor
• Open or short in wiring to O2 sensor
• O2 circuit is experiencing high resistance


5. Diagnostic Steps:
• Visually inspect all wiring to O2 sensor 2 for loose, open or short connections
• Use a wiggle test to determine where the voltage drops out
• Using an OBD2 scanner, check whether sensor 2 of bank 1 is switching properly.

P0137
1. Description:
O2 Sensor Circuit Low Voltage (Bank 1 Sensor 2)

2. Meaning:
• Basically same as P0136. The PCM has detected that the O2 sensor may be inactive

3. Main Symptoms:
• Generally doesn't come with symptoms. However, in some cases the Check Engine Light may come on and fuel economy may reduce

4. Possible Causes:
• Faulty O2 sensor
• Short, open or broken wire in O2 sensor circuit
• Defective heater circuit in O2 sensor
• High resistance in O2 heater element or circuit
• Faulty fuel pump regulator resulting in very high or very low fuel pressure
• Exhaust leak


5. Diagnostic Steps:
• Visually inspect all wiring to O2 sensor for loose, open or short connections
• Use a wiggle test to determine where the voltage drops out
• Visually check for exhaust leaks or air inlet leaks
• If the code is persistent replace O2 sensor

P0138
1. Description:
O2 Sensor Circuit High Voltage (Bank 1 Sensor 2)

2. Meaning:
• The heated O2 sensor in bank 1 sensor 2 is giving a higher voltage reading than it should. For most vehicles the code comes when voltage exceeds 1.5V

3. Main Symptoms:
• Generally doesn't come with symptoms. However, in some cases the Check Engine Light may come on and fuel economy may reduce

4. Possible Causes:
• Fuel temp is excessively high
• Short, open or broken wire in O2 sensor circuit


5. Diagnostic Steps:
• Visually inspect all wiring to O2 sensor for loose, open or short connections
• Use a wiggle test to determine where the voltage drops out
• Using an OBD2 scanner, check whether sensor 1 of bank 2 is switching properly.

P0139
1. Description:
O2 Sensor Circuit Slow Response (Bank 1 Sensor 2)

2. Meaning:
• O2 sensor or ECM can't adjust air to fuel ratio as it's supposed to even when the engine is running

3. Main Symptoms:
• Generally doesn't come with symptoms. However, in some cases the Check Engine Light may come on and fuel economy may reduce

4. Possible Causes:
• Second O2 sensor in bank 1 is faulty
• Short, open or broken wire in O2 sensor circuit
• Exhaust leak


5. Diagnostic Steps:
• Visually inspect all wiring to second O2 sensor for loose, open or short connections
• Use a wiggle test to determine where the voltage drops out
• Visually check for exhaust leaks or air inlet leaks
• Using an OBD2 scanner, check whether sensor 2 of bank 1 is switching properly.

P0140
1. Description:
O2 Sensor Circuit No Activity Detected (Bank 2 Sensor 2)

2. Meaning:
• PCM has perceived that second O2 sensor in bank 2 is inactive or open because it has not warmed up after more than 1 minute of the engine running

3. Main Symptoms:
• Check Engine Light comes on
• Car produces black smoke (visible at tailpipe)
• Poor fuel economy
• Engine may run rough and/or stumble


4. Possible Causes:
• Faulty O2 sensor
• Short, open or broken wire in O2 sensor circuit
• Exhaust leak
• Defective heater circuit in O2 sensor
• Heater circuit has blown fuse
• PCM is defective (least likely but not unlikely)


5. Diagnostic Steps:
• Visually inspect all wiring to second O2 sensor (in bank 2) for loose, open or short connections
• Use a wiggle test to determine where the voltage drops out
• Visually check for exhaust leaks or air inlet leaks

P0141
1. Description:
O2 Sensor Heater Circuit Malfunction (Bank 1 Sensor 2)

2. Meaning:
• When O2 heater attains operating temperature, O2 sensor switches based on ambient temp. If ECM determines that the O2 sensor took too long to switch this code is set. It applies to the second sensor of bank 1

3. Main Symptoms:
• Check Engine Light comes on
• Poor fuel economy


4. Possible Causes:
• Short, open or broken wire in O2 heating system
• High resistance in O2 heater element or circuit


5. Diagnostic Steps:
• Visually inspect all wiring to second O2 sensor (bank 1) for loose, open or short connections
• Use a wiggle test to determine where the voltage drops out
• If the code is persistent replace O2 sensor

P0151
1. Description:
O2 Sensor Circuit Low Voltage (Bank 2 Sensor 1)

2. Meaning:
• ECM has determined that there's a low voltage condition in bank 2 sensor 1; i.e. O2 sensor voltage remained too low for longer than 2 minutes

3. Main Symptoms:
• Check Engine Light comes on
• Car produces black smoke (visible at tailpipe)
• Poor fuel economy
• Engine may fail to start completely
• If it starts it may run rough and/or stumble


4. Possible Causes:
• Mostly a problem related to corrosion, loose terminal or burnt wire in the O2 sensor 2 connector
• Defective O2 sensor
• Open or short in wiring to O2 sensor
• O2 circuit is experiencing high resistance


5. Diagnostic Steps:
• Visually inspect all wiring to O2 sensor 1 for loose, open or short connections
• Use a wiggle test to determine where the voltage drops out
• Using an OBD2 scanner, check whether sensor 1 of bank 2 is switching properly.

P0153
1. Description:
O2 Sensor Circuit Slow Response (Bank 2 Sensor 1)

2. Meaning:
• O2 sensor or ECM can't adjust air to fuel ratio as it's supposed to even when the engine is runningc

3. Main Symptoms:
• Generally doesn't come with symptoms. However, in some cases the Check Engine Light may come on and fuel economy may reduce

4. Possible Causes:
• First O2 sensor in bank 2 is faulty
• Short, open or broken wire in O2 sensor circuit
• Exhaust leak


5. Diagnostic Steps:
• Visually inspect all wiring to second O2 sensor for loose, open or short connections
• Use a wiggle test to determine where the voltage drops out
• Visually check for exhaust leaks or air inlet leaks
• Using an OBD2 scanner, check whether sensor 1 of bank 2 is switching properly.

P0154
1. Description:
O2 Sensor Circuit No Activity Detected (Bank 2 Sensor 1)

2. Meaning:
• PCM has perceived that first O2 sensor in bank 2 is inactive or open because it has not warmed up after more than 1 minute of the engine running

3. Main Symptoms:
• Check Engine Light comes on
• Car produces black smoke (visible at tailpipe)
• Poor fuel economy
• Engine may run rough and/or stumble


4. Possible Causes:
• Faulty O2 sensor
• Short, open or broken wire in O2 sensor circuit
• Exhaust leak
• Defective heater circuit in O2 sensor
• Heater circuit has blown fuse
• PCM is defective (least likely but not unlikely)


5. Diagnostic Steps:
• Visually inspect all wiring to first O2 sensor (bank 2) for loose, open or short connections
• Use a wiggle test to determine where the voltage drops out
• Visually check for exhaust leaks or air inlet leaks

P0157
1. Description:
O2 Sensor Circuit Low Voltage (Bank 2 Sensor 2)

2. Meaning:
• ECM has determined that there's a low voltage condition in bank 2 sensor 2; i.e. O2 sensor voltage remained too low for longer than 2 minutes

3. Main Symptoms:
• Check Engine Light comes on
• Car produces black smoke (visible at tailpipe)
• Poor fuel economy
• Engine may fail to start completely
• If it starts it may run rough and/or stumble


4. Possible Causes:
• Mostly a problem related to corrosion, loose terminal or burnt wire in the O2 sensor 2 connector
• Defective O2 sensor
• Open or short in wiring to O2 sensor
• O2 circuit is experiencing high resistance


5. Diagnostic Steps:
• Visually inspect all wiring to O2 sensor 2 for loose, open or short connections
• Use a wiggle test to determine where the voltage drops out
• Using an OBD2 scanner, check whether sensor 2 of bank 2 is switching properly.

P0161
1. Description:
O2 Sensor Heater Circuit Malfunction (Bank 2 Sensor 2)

2. Meaning:
• When O2 heater attains operating temperature, O2 sensor switches based on ambient temp. If ECM determines that the O2 sensor took too long to switch this code is set. It applies to the second sensor of bank 2

3. Main Symptoms:
• Check Engine Light comes on
• Poor fuel economy


4. Possible Causes:
• Short, open or broken wire in O2 heating system
• High resistance in O2 heater element or circuit


5. Diagnostic Steps:
• Visually inspect all wiring to second O2 sensor (bank 2) for loose, open or short connections
• Use a wiggle test to determine where the voltage drops out
• If the code is persistent replace O2 sensor

P0169
P0169 - Wrong Fuel Composition Diagnostic Trouble Code Explained
P0171
1. Description:
System Too Lean (Bank 1)

2. Meaning:
• There's a lean condition in bank 1; i.e. there's excess oxygen in the exhaust

3. Main Symptoms:
• Significant decrease in engine power
• Car hesitates then surges upon acceleration
• Rough idle


4. Possible Causes:
• Dirty or defective MAF sensor
• MAF sensor has a vacuum leak
• Positive Crankcase Ventilation (PCV) valve is stuck in open position
• Leak either in PCV or vacuum system


5. Diagnostic Steps:
• Inspect MAF sensor in bank 1 for dirt and debris
• Check whether fuel pressure is correct
• Check vacuum and PCV for leaks
• Run a smog test using OBD2 scanner

P0172
1. Description:
System Too Rich (Bank 1)

2. Meaning:
• There's a rich condition in bank 1; i.e. there's too little oxygen in the exhaust

3. Main Symptoms:
• Generally doesn't come with symptoms but the Check Engine Light may come on and engine may misfire

4. Possible Causes:
• Dirty or defective MAF sensor
• MAF sensor has a vacuum leak
• Problem relating to fuel pressure or delivery


5. Diagnostic Steps:
• Inspect MAF sensor in bank 1 for dirt and debris
• Check whether fuel pressure is correct
• Inspect fuel lines and injectors for any leaks/openings and dirt
• Check vacuum, PCV and exhaust for leaks
• Run a smog test using OBD2 scanner

P0174
1. Description:
System Too Lean (Bank 2)

2. Meaning:
• There's a lean condition in bank 2; i.e. there's excess oxygen in the exhaust

3. Main Symptoms:
• Significant decrease in engine power
• Car hesitates then surges upon acceleration
• Rough idle


4. Possible Causes:
• Dirty or defective MAF sensor
• MAF sensor has a vacuum leak
• Positive Crankcase Ventilation (PCV) valve is stuck in open position
• Leak either in PCV or vacuum system


5. Diagnostic Steps:
• Inspect MAF sensor in bank 2 for dirt and debris
• Check whether fuel pressure is correct
• Check vacuum and PCV for leaks
• Run a smog test using OBD2 scanner

P0175
1. Description:
System Too Rich (Bank 2)

2. Meaning:
• There's a rich condition in bank 2; i.e. there's too little oxygen in the exhaust

3. Main Symptoms:
• Generally doesn't come with symptoms but the Check Engine Light may come on and engine may misfire

4. Possible Causes:
• Dirty or defective MAF sensor
• MAF sensor has a vacuum leak
• Problem relating to fuel pressure or delivery


5. Diagnostic Steps:
• Inspect MAF sensor in bank 2 for dirt and debris
• Check whether fuel pressure is correct
• Inspect fuel lines and injectors for any leaks/openings and dirt
• Check vacuum, PCV and exhaust for leaks
• Run a smog test using OBD2 scanner

P0193
1. Description:
Fuel Rail Pressure Sensor Circuit High Input

2. Meaning:
• The PCM has detected that the pressure of fuel is not within the range that's predetermined by the car manufacturer

3. Main Symptoms:
• Check Engine Light comes on
• Engine cranks but doesn't start
• Car hesitates upon acceleration


4. Possible Causes:
• Defective fuel rail pressure (FRP) sensor
• Defective fuel pump
• Open or short in FRP circuit
• Low or no fuel in tank


5. Diagnostic Steps:
• Inspect all wiring and connections in FRP circuit and check for shorts, opens, broken and melted wires
• Check for corroded or burnt terminals in connectors
• Use a scan tool to pull codes and freeze frame data

P0300
1. Description:
Random/Multiple Cylinder Misfire Detected

2. Meaning:
• PCM has detected that there's an engine cylinder that's not firing properly. It could be one or more cylinders. PCM hasn't specified the exact cylinder

3. Main Symptoms:
• Check Engine Light comes on
• Check Engine Light may flash
• Engine lacks power
• Engine may be hard to start
• Engine may stumble and hesitate frequently


4. Possible Causes:
• Defective or worn out spark plugs
• Low fuel pressure
• Vacuum leak
• Defective catalytic converter
• Defective fuel injector
• Defective coil
• Defective camshaft position sensor
• Defective crankshaft sensor
• Problem with distributor


5. Diagnostic Steps:
• Using a scan tool, pull codes and see if there are any other besides P0300. Address the others first
• Inspect whether there are loose, open or short wires in ignition coils
• Inspect whether spark plugs and their wires are in good condition
• Check that fuel pressure is within the recommended range
• Inspect fuel injectors to see whether they are in good condition

P0301
1. Description:
Cylinder 1 Misfire Detected

2. Meaning:
• PCM has detected that cylinder #1 is not firing properly

3. Main Symptoms:
• Check Engine Light comes on
• Check Engine Light may flash
• Engine lacks power
• Engine may be hard to start
• Engine may stumble and hesitate frequently


4. Possible Causes:
• Defective or worn out spark plugs in cylinder 1
• Low fuel pressure
• Vacuum leak
• Defective catalytic converter
• Defective fuel injector
• Defective coil
• Defective camshaft position sensor
• Defective crankshaft sensor
• Problem with distributor


5. Diagnostic Steps:
• Using a scan tool, pull codes and see if there are any other besides P0301. Address the others first
• Inspect whether there are loose, open or short wires in ignition coils in cylinder 1
• Inspect whether cylinder 1 spark plugs and their wires are in good condition
• Check that fuel pressure is within the recommended range
• Inspect fuel injectors to see whether they are in good condition

P0302
1. Description:
Cylinder 2 Misfire Detected

2. Meaning:
• PCM has detected that cylinder #2 is not firing properly

3. Main Symptoms:
• Check Engine Light comes on
• Check Engine Light may flash
• Engine lacks power
• Engine may be hard to start
• Engine may stumble and hesitate frequently


4. Possible Causes:
• Defective or worn out spark plugs in cylinder 2
• Low fuel pressure
• Vacuum leak
• Defective catalytic converter
• Defective fuel injector
• Defective coil
• Defective camshaft position sensor
• Defective crankshaft sensor
• Problem with distributor


5. Diagnostic Steps:
• Using a scan tool, pull codes and see if there are any other besides P0302. Address the others first
• Inspect whether there are loose, open or short wires in ignition coils in cylinder 2
• Inspect whether cylinder 2 spark plugs and their wires are in good condition
• Check that fuel pressure is within the recommended range
• Inspect fuel injectors to see whether they are in good condition

P0303
1. Description:
Cylinder 3 Misfire Detected

2. Meaning:
• PCM has detected that cylinder #3 is not firing properly

3. Main Symptoms:
• Check Engine Light comes on
• Check Engine Light may flash
• Engine lacks power
• Engine may be hard to start
• Engine may stumble and hesitate frequently


4. Possible Causes:
• Defective or worn out spark plugs in cylinder 3
• Low fuel pressure
• Vacuum leak
• Defective catalytic converter
• Defective fuel injector
• Defective coil
• Defective camshaft position sensor
• Defective crankshaft sensor
• Problem with distributor


5. Diagnostic Steps:
• Using a scan tool, pull codes and see if there are any other besides P0303. Address the others first
• Inspect whether there are loose, open or short wires in ignition coils in cylinder 3
• Inspect whether cylinder 3 spark plugs and their wires are in good condition
• Check that fuel pressure is within the recommended range
• Inspect fuel injectors to see whether they are in good condition

P0304
1. Description:
Cylinder 4 Misfire Detected

2. Meaning:
• PCM has detected that cylinder #4 is not firing properly

3. Main Symptoms:
• Check Engine Light comes on
• Check Engine Light may flash
• Engine lacks power
• Engine may be hard to start
• Engine may stumble and hesitate frequently


4. Possible Causes:
• Defective or worn out spark plugs in cylinder 4
• Low fuel pressure
• Vacuum leak
• Defective catalytic converter
• Defective fuel injector
• Defective coil
• Defective camshaft position sensor
• Defective crankshaft sensor
• Problem with distributor


5. Diagnostic Steps:
• Using a scan tool, pull codes and see if there are any other besides P0304. Address the others first
• Inspect whether there are loose, open or short wires in ignition coils in cylinder 4
• Inspect whether cylinder 4 spark plugs and their wires are in good condition
• Check that fuel pressure is within the recommended range
• Inspect fuel injectors to see whether they are in good condition

P0305
1. Description:
Cylinder 5 Misfire Detected

2. Meaning:
• PCM has detected that cylinder #5 is not firing properly

3. Main Symptoms:
• Check Engine Light comes on
• Check Engine Light may flash
• Engine lacks power
• Engine may be hard to start
• Engine may stumble and hesitate frequently


4. Possible Causes:
• Defective or worn out spark plugs in cylinder 5
• Low fuel pressure
• Vacuum leak
• Defective catalytic converter
• Defective fuel injector
• Defective coil
• Defective camshaft position sensor
• Defective crankshaft sensor
• Problem with distributor


5. Diagnostic Steps:
• Using a scan tool, pull codes and see if there are any other besides P0305. Address the others first
• Inspect whether there are loose, open or short wires in ignition coils in cylinder 5
• Inspect whether cylinder 5 spark plugs and their wires are in good condition
• Check that fuel pressure is within the recommended range
• Inspect fuel injectors to see whether they are in good condition

P0306
1. Description:
Cylinder 6 Misfire Detected

2. Meaning:
• PCM has detected that cylinder #6 is not firing properly

3. Main Symptoms:
• Check Engine Light comes on
• Check Engine Light may flash
• Engine lacks power
• Engine may be hard to start
• Engine may stumble and hesitate frequently


4. Possible Causes:
• Defective or worn out spark plugs in cylinder 6
• Low fuel pressure
• Vacuum leak
• Defective catalytic converter
• Defective fuel injector
• Defective coil
• Defective camshaft position sensor
• Defective crankshaft sensor
• Problem with distributor


5. Diagnostic Steps:
• Using a scan tool, pull codes and see if there are any other besides P0306. Address the others first
• Inspect whether there are loose, open or short wires in ignition coils in cylinder 6
• Inspect whether cylinder 6 spark plugs and their wires are in good condition
• Check that fuel pressure is within the recommended range
• Inspect fuel injectors to see whether they are in good condition

P0316
1. Description:
Misfire Detected On Startup (First 1000 Revolutions)

2. Meaning:
• PCM has detected a misfire less than 1,000 revolutions after startup

3. Main Symptoms:
• Check Engine Light comes on
• Engine lacks power
• Rough idle


4. Possible Causes:
• Defective or worn out spark plugs
• No fuel
• Low fuel pressure
• Vacuum leak
• Defective catalytic converter
• Defective fuel injector
• Defective coil
• Defective crankshaft sensor
• Wiring fault in crankshaft position sensor
• Problem with PCM


5. Diagnostic Steps:
• Pull all codes then address other misfire codes first
• Check all wiring and connectors in crankshaft and camshaft position sensors
• Review freeze frame data to narrow down the problem further

P0320
1. Description:
Ignition/Distributor Engine Speed Input Circuit Malfunction

2. Meaning:
• There's an electrical circuit fault in either the crankshaft position (CKP) sensor or camshaft position (CMP) sensor

3. Main Symptoms:
• Check Engine Light comes on
• Engine cranks but doesn't start
• Engine lacks power
• Engine misfires, hesitates and stumbles


4. Possible Causes:
• Open or short in power supply circuit and/or control circuit between PCM and ignition/distributor/engine speed sensor
• Defective ignition/distributor/engine speed sensor


5. Diagnostic Steps:
• Check that all the connectors and wiring to ignition/distributor/engine speed sensors are in good condition
• Remove connectors and see if their terminals are burnt/corroded
• Pull and reset P0320 code, drive the car for several minutes and see if the code returns. If it does then probably a sensor needs replacing

P0325
1. Description:
Knock Sensor 1 Circuit Malfunction (Bank 1 or Single Sensor)

2. Meaning:
• PCM has detected that the engine's knock sensor 1 in circuit bank 1 is not working properly

3. Main Symptoms:
• Generally doesn't come with symptoms but Check Engine Light may come on.
• Engine may also lose power


4. Possible Causes:
• First sensor in circuit bank 1 may be faulty
• Open or short in wiring to the sensor
• Problem with engine coolant
• Engine is excessively lean
• PCM has failed (least likely)


5. Diagnostic Steps:
• Visually inspect all wiring to knock sensor 1 in circuit bank 1. Ensure there are no shorts or open wires
• View coolant temp data to check for issues
• If there are none, clear the code and test drive the car. If it comes back the sensor is defective

P0327
1. Description:
Knock Sensor 1 Circuit low Input (Bank 1 or Single Sensor)

2. Meaning:
• Knock sensor on bank 1 is has low output voltage than normal; usually .5V or less

3. Main Symptoms:
• Generally doesn't come with symptoms but Check Engine Light may come on
• You may also notice fluctuating RPM and loss of engine power


4. Possible Causes:
• Sensor in circuit bank 1 may be faulty
• Open or short in wiring to the sensor
• PCM has failed (least likely)


5. Diagnostic Steps:
• Check the resistance of the knock sensor and ensure it matches manufacturer's specifications
• Visually inspect all wiring to knock sensor 1 in circuit bank 1. Ensure there are no shorts or open wires
• If the above don't work replace knock sensor

P0328
1. Description:
Knock Sensor 1 Circuit high Input (Bank 1 or Single Sensor)

2. Meaning:
• Knock sensor on bank 1 is has high output voltage than normal; usually .5V or less

3. Main Symptoms:
• Check Engine Light comes on
• Loss of power
• Irregular RPM
• Engine pings when accelerating
• Knocking sound coming from engine compartment


4. Possible Causes:
• Knock sensor 1 in circuit 1 may be faulty
• Open or short in wiring to the sensor
• Low fuel pressure
• Loose knock sensor
• Using incorrect type of fuel
• PCM has failed (least likely)


5. Diagnostic Steps:
• Ensure the correct fuel was used
• Visually inspect all wiring to knock sensor 1 in circuit bank 1. Ensure there are no shorts or open wires
• Measure resistance of the sensor. If it doesn't match manufacturer specs replace the sensor

P0332
1. Description:
Knock Sensor 2 Circuit Low Input (Bank 2)

2. Meaning:
• Knock sensor on bank 2 is has low output voltage than normal; usually .5V or less

3. Main Symptoms:
• Generally doesn't come with symptoms but Check Engine Light may come on
• You may also notice fluctuating RPM and loss of engine power


4. Possible Causes:
• Sensor in circuit bank 2 may be faulty
• Open or short in wiring to the sensor
• PCM has failed (least likely)


5. Diagnostic Steps:
• Check the resistance of the knock sensor and ensure it matches manufacturer's specifications
• Visually inspect all wiring to knock sensor 2 in circuit bank 2. Ensure there are no shorts or open wires
• If the above don't work replace knock sensor

P0335
1. Description:
Crankshaft Position Sensor A Circuit Malfunction

2. Meaning:
• PCM has detected that crankshaft position (CKP) sensor is not producing pulses or the pulses are not normal. It uses these pulses to determine the position of the crankshaft

3. Main Symptoms:
• Check Engine Light comes on
• Engine may fail to start
• Vehicle may run rough


4. Possible Causes:
• Defective CKP sensor
• Open or short in CKP sensor wiring
• Timing belt is broken
• PCM has failed (least likely)


5. Diagnostic Steps:
• Start by checking if there's an RPM signal (using a scanner)
• If it's not there check all the wires and connectors to the sensor. Repair as necessary
• Check the sensor's resistance and compare with manufacturer's recommendation. If they don't match replace sensor

P0336
1. Description:
Crankshaft Position Sensor A Circuit Range/Performance

2. Meaning:
• PCM has not received proper information from CKP sensor and therefore cannot adjust ignition timing and fuel injection accordingly

3. Main Symptoms:
• Check Engine Light comes on
• Engine may fail to start
• Intermittent stalling
• Intermittent misfire


4. Possible Causes:
• Defective CKP sensor
• Problem with CKP sensor wiring
• Reluctor ring is dislodged from its stationary location
• Reluctor ring is broken
• PCM has failed (least likely)


5. Diagnostic Steps:
• Visually inspect CKP sensor for wiring issues
• Inspect reluctor ring if it has broken/damaged teeth or dirt lodged in the teeth
• Check sensor resistance and compare with manufacturer specs. If they don't match replace sensor

P0340
1. Description:
Camshaft Position Sensor Circuit Malfunction

2. Meaning:
• There's a problem in the camshaft position sensor (CPS) circuit. As such, PCM can't perform ignition spark and fuel injector timing properly

3. Main Symptoms:
• Check Engine Light comes on
• Engine may fail to start
• Vehicle may run rough
• Rough idle
• Misfire


4. Possible Causes:
• Defective CPS
• Open or short in CPS wiring
• Defective CKP sensor
• PCM has failed (least likely)


5. Diagnostic Steps:
• Inspect wiring to CPS and ensure there are no open or broken wires
• Check CPS voltage if it's within the manufacturer's specs. If it's not replace sensor
• Check CKP sensor as well to determine whether it's the source of the problem

P0341
1. Description:
Camshaft Position Sensor Circuit Range/Performance

2. Meaning:
• The signal that the PCM is receiving from the camshaft position sensor (CPS ) is inconsistent with what it should be

3. Main Symptoms:
• Generally doesn't come with symptoms but Check Engine Light may come on
• Possible poor fuel economy


4. Possible Causes:
• Defective CPS
• Open or short in CPS wiring
• Defective reluctor wheel
• Interference in CPS wiring (from spark plug)


5. Diagnostic Steps:
• Inspect wiring to CPS and ensure there are no open or broken wires
• Inspect reluctor wheel and check for damage or missing teeth
• Replace the CPS

P0345
1. Description:
Camshaft Position Sensor A Circuit Malfunction (Bank 2)

2. Meaning:
• PCM has detected a problem in the CPS circuit of bank 2. The problem could be anywhere in the circuit; sensor, wring or PC

3. Main Symptoms:
• Check Engine Light comes on
• Low engine power
• Hard starting or no starting completely
• Vehicle runs rough and/or misfires


4. Possible Causes:
• Open, grounded or short wiring in CPS circuit of bank 2
• Defective CPS
• Defective CKP sensor


5. Diagnostic Steps:
• Inspect wiring to CPS in bank 2 and ensure there are no open or broken wires
• Check CPS voltage to ensure it's within the range specified by manufacturer
• Check circuit connectors for corrosion and burns
• Check that CKP sensor is operating as it should
• Replace CPS if all the above check out

P0351
1. Description:
Ignition Coil A Primary/Secondary Circuit Malfunction

2. Meaning:
• There's a short in the driver circuit for the engine's coil #1 (the coil for cylinder #1)

3. Main Symptoms:
• Check Engine Light comes on
• Engine misfire


4. Possible Causes:
• Short or open in the coil on plug (COP) driver circuit
• Loose or broken connection at coil
• Defective COP
• Defective PCM (least likely)


5. Diagnostic Steps:
• If the engine is not currently misfiring then it's an intermittent problem. Start by checking coil #1 wires visually as well as using wiggle test
• Check for loose connections and broken connector locks
• If all the above check out replace coil #1

P0354
1. Description:
Ignition Coil D Primary/Secondary Circuit Malfunction

2. Meaning:
• There's a short in the driver circuit for the engine's coil #4 (the coil for cylinder #4)

3. Main Symptoms:
• Check Engine Light comes on
• Engine misfire


4. Possible Causes:
• Short or open in the coil on plug (COP) driver circuit
• Loose or broken connection at coil
• Defective COP
• Defective PCM (least likely)


5. Diagnostic Steps:
• If the engine is not currently misfiring then it's an intermittent problem. Start by checking coil #4 wires visually as well as using wiggle test
• Check for loose connections and broken connector locks
• If all the above check out replace coil #4

P0400
1. Description:
Exhaust Gas Recirculation Flow Malfunction

2. Meaning:
• There's either an insufficient or non-existent amount of exhaust gases entering the cylinders

3. Main Symptoms:
• Increased NOx emissions
• Increased combustion temperatures


4. Possible Causes:
• Exhaust gas recirculation (EGR) passage is plugged
• EGR solenoid is faulty
• Wiring or harness to EGR solenoid is faulty
• EGR valve is faulty
• Either vacuum lines are damaged or disconnected from EGR valve or EGR valve solenoid


5. Diagnostic Steps:
• With a bidirectional scan tool, open and close EGR valve while the engine is running. If the engine stumbles then there's a wiring problem
• If the engine doesn't stumble but it dies then the ports are plugged
• After the above visually inspect all hoses, vacuum lines, solenoid and solenoid harnesses for damage
• Using the scanner, check solenoid voltage to ensure its within normal range
• If all the above check out replace EGR valve

P0401
1. Description:
Exhaust Gas Recirculation Flow Insufficient Detected

2. Meaning:
• PCM has detected an insufficient amount of EGR

3. Main Symptoms:
• Most notable symptom is engine pinging when the vehicle is in high speed or under load

4. Possible Causes:
• Defective differential pressure feedback EGR (DPFE) sensor
• Defective EGR valve
• EGR valve can't open because of lack of vacuum
• Blockage in EGR tube


5. Diagnostic Steps:
• Check EGR valve and its tubing for deposits
• Check DPFE sensor voltage to ensure its within specified range
• If not replace the sensor. If it is replace the EGR valve

P0402
1. Description:
Exhaust Gas Recirculation Flow Excessive Detected

2. Meaning:
• PCM has detected an excessive amount of EGR

3. Main Symptoms:
• Most notable symptom is engine surging off idle

4. Possible Causes:
• Defective differential pressure feedback EGR (DPFE) sensor
• Defective EGR valve
• EGR valve can't open because of lack of vacuum
• Blockage in EGR tube


5. Diagnostic Steps:
• Check DPFE sensor voltage to ensure its within specified range
• If not replace the sensor.

P0403
1. Description:
Exhaust Gas Recirculation Circuit Malfunction

2. Meaning:
• PCM has detected that the EGR circuit has malfunctioned and isn't sending the proper voltage at the proper time

3. Main Symptoms:
• Check Engine Light comes on
• Engine may misfire under acceleration
• Rough idle


4. Possible Causes:
• Short or open in circuit leading to EGR solenoid
• Pins connecting EGR solenoid are worn out or loose
• Presence of water in EGR solenoid harness
• EGR solenoid isn't getting voltage supply


5. Diagnostic Steps:
• Pull codes and freeze frame data to confirm P0403 code
• Check all wiring and connections to EGR solenoid
• Disconnect and check EGR valve circuit for a short or open
• Clear code and do test drive. If it comes back replace solenoid

P0404
1. Description:
Exhaust Gas Recirculation Circuit Range/Performance

2. Meaning:
• PCM has determined that EGR valve is open when it should be closed or its closed when it should be open

3. Main Symptoms:
• Check Engine Light comes on
• Engine may idle rough
• Engine may fail to idle
• Vehicle may fail emissions


4. Possible Causes:
• Open or short in reference, ground or PCM controlled circuit
• Defective PCM (least likely)


5. Diagnostic Steps:
• Visually inspect all wiring to EGR to ensure there are no shorts or opens
• Using a bidirectional scanner, open and close EGR valve as you watch the EGR position. If it's not close to the "desired" position then it's likely a bad valve

P0405
1. Description:
Exhaust Gas Recirculation Sensor A Circuit Low

2. Meaning:
• EGR valve pintle is not moving as it should either because of unusually low voltage or its position is lower than the PCM has commanded

3. Main Symptoms:
• Check Engine Light comes on

4. Possible Causes:
• Open or short in reference or ground circuit
• Defective EGR valve
• Defective PCM (least likely)


5. Diagnostic Steps:
• Visually inspect all wiring to EGR to ensure there are no shorts or opens
• Using a bidirectional scanner, open and close EGR valve and watch how it responds. If its moving properly then it's an intermittent problem

P0406
1. Description:
Exhaust Gas Recirculation Sensor A Circuit High

2. Meaning:
• EGR sensor has had abnormally high voltage reading for too long

3. Main Symptoms:
• Check Engine Light comes on
• May surge when you drive
• May stall intermittently
• Vehicle may fail emissions


4. Possible Causes:
• Defective EGR valve
• Short or open in EGR wiring circuit
• Debris build up in EGR valve and is holding it open


5. Diagnostic Steps:
• Pull codes and freeze frame data
• Visually inspect all wiring to EGR to ensure there are no shorts or opens
• Using a scan tool, view EGR position during startup and while running to ensure its correct
• Clear code and do test drive

P0411
1. Description:
Secondary Air Injection System Incorrect Flow Detected

2. Meaning:
• The flow coming from the secondary air injection system is out of the range specified by PCM

3. Main Symptoms:
• Check Engine Light comes on
• Engine may hesitate when you accelerate


4. Possible Causes:
• Defective air injection pump
• Check valve is damaged or missing
• Damage or leak in exhaust component


5. Diagnostic Steps:
• Visually inspect air injection system and check for broken components, damaged hoses and excess carbon
• Reset the code and do a test drive

P0420
1. Description:
Catalyst System Efficiency Below Threshold (Bank 1)

2. Meaning:
• Catalytic converter is not working as efficiently as it should and the vehicle is therefore emitting more harmful substances

3. Main Symptoms:
• Check Engine Light comes on
• Engine lacks power
• Reduced fuel economy


4. Possible Causes:
• Defective O2 sensor
• Defective engine coolant temp
• Wiring to downstream O2 sensor is damaged or improperly done
• Leaking fuel injector
• Oil is contaminated
• Using leaded fuel where unleaded fuel was required
• Defective catalytic converter, exhaust pipe, muffler or exhaust manifold


5. Diagnostic Steps:
• Inspect exhaust system for damage and leaks.
• Check voltage of downstream O2 sensor while the engine is running. If its not steady (jumpy between .1 and .9 V) then the catalytic converter needs replacing

P0421
1. Description:
Warm Up Catalyst Efficiency Below Threshold (Bank 1)

2. Meaning:
• Downstream O2 sensor on bank 1 has detected that the converter is not working according to specification

3. Main Symptoms:
• Check Engine Light comes on
• Engine may lack power
• Engine may hesitate when accelerating



4. Possible Causes:
• Defective catalytic converter
• Defective O2 sensor, particularly downstream O2 sensor
• Fouled up spark plug


5. Diagnostic Steps:
• Measure voltage of O2 sensor (both) and ensure they match the specs. If not replace as necessary
• Visually inspect catalytic converters and check for red fumes (when car is running)
• Smell fumes and try to find traces of excessive fuel
• If the latter two are present replace catalytic converter

P0430
1. Description:
Catalyst System Efficiency Below Threshold (Bank 2)

2. Meaning:
• Catalytic converter is not working as efficiently as it should. Its therefore releasing more harmful pollutants

3. Main Symptoms:
• Check Engine Light comes on
• Engine may lack power
• Reduced fuel economy


4. Possible Causes:
• Defective O2 sensor
• Leak in exhaust system
• Defective catalytic converter


5. Diagnostic Steps:
• Check exhaust system for any damages and leaks
• With the car running, check the voltage of downstream O2 sensor. If it's not steady then the catalytic converter is at fault

P0440
1. Description:
Evaporative Emission Control System Malfunction

2. Meaning:
• A component in the EVAP system is not working properly

3. Main Symptoms:
• Check Engine Light may come on

4. Possible Causes:
• Gas cap is not working or has not been installed properly
• Canister is plugged and defective
• Purge solenoid has failed


5. Diagnostic Steps:
• Inspect gas cap to see if its installed tightly
• Check for disconnected or cracked EVAP hoses
• Inspect charcoal canister and fuel tank for leaks and damages
• Check that purge valve (solenoid) has no leaks

P0441
1. Description:
Evaporative Emission Control System Incorrect Purge flow

2. Meaning:
• PCM has detected that there's no purge flow (i.e. purge control valve is still closed) despite commanding a purge

3. Main Symptoms:
• Check Engine Light may come on
• Rough or erratic idle


4. Possible Causes:
• Loose or damaged EVAP hoses
• Defective purge valve
• Gas cap is loose, missing or damaged
• Charcoal canister is damaged or defective


5. Diagnostic Steps:
• Inspect gas cap to see if its installed tightly
• Check for disconnected or cracked EVAP hoses
• Inspect charcoal canister and fuel tank for leaks and damages
• Check that purge valve (solenoid) has no leaks

P0442
1. Description:
Evaporative Emission Control System leak Detected (small leak)

2. Meaning:
• PCM has detected a very small vapor leak somewhere in the EVAP control system

3. Main Symptoms:
• Check Engine Light may come on
• Reduced fuel economy


4. Possible Causes:
• Loose or damaged EVAP hoses
• Defective purge valve
• Gas cap is loose, missing or damaged
• Charcoal canister is leaking
• Fuel tank is leaking


5. Diagnostic Steps:
• Inspect gas cap to see if its installed tightly
• Check for disconnected or cracked EVAP hoses
• Inspect charcoal canister and fuel tank for leaks and damages
• Check that purge valve (solenoid) has no leaks
• If the above don't narrow down the problem perform a smoke test

P0443
1. Description:
Evaporative Emission Control System Purge Control Valve circuit Malfunction

2. Meaning:
• Either there's an open in the purge control valve circuit or the circuit has abnormal voltage (too high or too low)

3. Main Symptoms:
• Check Engine Light may come on
• Car may have lean condition


4. Possible Causes:
• Purge solenoid has short or open
• Short or open somewhere in the wiring harness to purge valve
• Driver circuit in PCM has an open or short
• Water intrusion has caused connector to break or wear out


5. Diagnostic Steps:
• Using a scan tool, command purge valve to open. Listen for a clicking sound (one or many times)
• If it doesn't click examine solenoid and connectors for breakages and signs of extreme wearing out
• Check all the circuits for wiring problems

P0446
1. Description:
Evaporative Emission Control System Vent Control Circuit Malfunction

2. Meaning:
• PCM has detected an open or short in EVAP control circuit or a short to ground circuit

3. Main Symptoms:
• Check Engine Light comes on

4. Possible Causes:
• Defective EVAP vent valve
• Blockage in vent valve
• Vent valve control circuit has an open or short


5. Diagnostic Steps:
• Examine all wiring to vent valve
• If the above checks out replace vent valve

P0449
1. Description:
Evaporative Emission Control System Vent Valve/Solenoid Circuit Malfunction

2. Meaning:
• PCM has detected a problem in the circuit that controls the EVAP system vent

3. Main Symptoms:
• Check Engine Light comes on

4. Possible Causes:
• Defective EVAP vent valve
• Wiring issue in the EVAP vent valve
• Circuit issue in the EVAP vent valve


5. Diagnostic Steps:
• Check all wires leading to the vent valve for shorts and opens
• Check fuses that power the vent solenoid (in case there are any)
• Examine if vent valve has cracks or openings
• Using a bidirectional scanner, actuate the valve to see if its working

P0452
1. Description:
Evaporative Emission System Pressure Sensor/Switch Low

2. Meaning:
• PCM has detected that the fuel tank pressure is abnormally low

3. Main Symptoms:
• Check Engine Light comes on

4. Possible Causes:
• Defective fuel tank pressure (FTP) sensor
• Wiring problem in the circuits that lead to FTP sensor
• Broken or cracked vapor line (either to the tank or vacuum canister)
• Loose gas cap leading to loss of vacuum
• Leaking gasket in fuel pump module


5. Diagnostic Steps:
• Check vapor hoses for any breakages and opens
• Since diagnosing this problem is extremely hard (due to the location of the FTP sensor), its recommended that you get a professional to do the job

P0455
1. Description:
Evaporative Emission Control System Leak Detected (large leak)

2. Meaning:
• PCM has detected a large vapor leak somewhere in the EVAP control system

3. Main Symptoms:
• Check Engine Light may come on
• Reduced fuel economy


4. Possible Causes:
• Loose or damaged EVAP hoses
• Gas cap is loose, missing or damaged
• Non-compatible gas cap


5. Diagnostic Steps:
• Inspect gas cap to see if its installed tightly
• Check for disconnected or cracked EVAP hoses
• Inspect charcoal canister and fuel tank for leaks and damages
• If the above don't work replace the gas cap

P0456
1. Description:
Evaporative Emissions System - Small leak detected

2. Meaning:
• FTP sensor has indicated a small leak in EVAP system

3. Main Symptoms:
• Check Engine Light comes on

4. Possible Causes:
• Faulty gas cap
• Leak in fuel tank hoses or EVAP hoses
• Leak in vent valve or purge valve
• Leak in EVAP canister


5. Diagnostic Steps:
• Use a bidirectional tool to activate vent solenoid as you monitor FTP sensor. It will tell you if the system is sealing properly or not
• If it is then use a smoke test to determine the leak

P0457
1. Description:
Evaporative Emission Control System (EVAP) Leak Detected

2. Meaning:
• There's a vacuum leak and the EVAP system can't draw fuel vapors into the system for efficient burning

3. Main Symptoms:
• Check Engine Light comes on
• Smell of fuel in exhaust
• Reduced fuel economy


4. Possible Causes:
• Gas cap is either loose, cracked or missing
• Loose, disconnected or cracked hose in EVAP system
• Cracked vacuum canister


5. Diagnostic Steps:
• Inspect gas cap and check if its loose or has debris that's preventing it from fitting tightly
• Inspect vacuum hoses for cracks and breaks
• Inspect charcoal canister for leaks

P0463
1. Description:
Evaporative Emission Control System Pressure Sensor High Input

2. Meaning:
• The signal from the fuel level sensor is above 5 volts for a prolonged period of time

3. Main Symptoms:
• Check Engine Light comes on
• Fuel light may come on and sound alarm
• Fluctuating fuel level gauge
• Fuel level gauge may erroneously read empty or full


4. Possible Causes:
• Defective fuel level sensor
• Problem with fuel level sensor circuit
• Defective instrument cluster
• Damaged fuel tank


5. Diagnostic Steps:
• Visually inspect fuel tank for damage or leaks
• Inspect wiring harness
• Do voltage test on fuel level sensor circuit
• If all those check out you may have to replace fuel tank

P0500
1. Description:
Vehicle Speed Sensor Malfunction

2. Meaning:
• The vehicle speed, as given by the vehicle speed sensor (VSS) is not within the expected range

3. Main Symptoms:
• Check Engine Light comes on
• Speedometer may fail to work
• Loss of ABS (anti-lock brakes)
• ABS light may come on
• Transmission may not work properly


4. Possible Causes:
• Defective VSS
• Wiring problem in VSS circuit
• PCM is not configured properly for the tire size of the vehicle


5. Diagnostic Steps:
• Visually inspect all wiring to VSS and check for open, short, broken and chaffed wires
• Check the voltage of the speed sensor

P0505
P0505 – IAC (Idle Air Control) System Malfunction
P0506
1. Description:
Idle Control System RPM lower Than Expected

2. Meaning:
• PCM has detected that the engine idle speed is lower than the pre-programmed RPM

3. Main Symptoms:
• Check Engine Light comes on
• Rough idle due to lower idle speed


4. Possible Causes:
• Vacuum leak
• Air is restricted in the exhaust or intake air path
• Defective positive crankcase ventilation valve
• Problem with throttle body
• Failed PCM


5. Diagnostic Steps:
• Check for vacuum leaks, damages and restriction
• Note that this code is informational more than anything, so look out for other codes that it comes with and address them first

P0507
1. Description:
Idle Control System RPM higher Than Expected

2. Meaning:
• PCM has detected that the engine idle speed is higher than the pre-programmed RPM (typically over 200 RPM)

3. Main Symptoms:
• Check Engine Light comes on

4. Possible Causes:
• Vacuum leak
• Defective positive crankcase ventilation valve
• Leaking air intake
• Problem with throttle body
• Defective EVAP system
• Defective idle air controller (IAC) or a problem with IAC circuit
• Failed PCM


5. Diagnostic Steps:
• Check for vacuum leaks, damages and restriction
• Note that this code is informational more than anything, so look out for other codes that it comes with and address those first

P0521
1. Description:
Engine Oil Pressure Sensor/Switch Range/Performance

2. Meaning:
• PCM has seen an unexpected value in engine oil pressure sensor. The value could be fixed when it should fluctuate or simply out of the normal range

3. Main Symptoms:
• Check Engine Light comes on
• Oil pressure gauge may read too low or too high
• Oil pressure light may come on


4. Possible Causes:
• Oil level in the engine is too low
• Oil pressure is too low
• Dirty oil
• Faulty wiring to oil pressure sensor


5. Diagnostic Steps:
• Check that oil level is not too low
• Check that the right oil was used
• Visually inspect all wiring to oil pressure sensor and check for open, short or broken wires
• If you can, take the oil pressure reading and compare with the reading shown by the vehicle's PCM. That should tell you if the problem is with oil pressure

P0522
1. Description:
Engine Oil Pressure Sensor/Switch Low Voltage

2. Meaning:
• PCM has detected a very low value in engine oil pressure sensor

3. Main Symptoms:
• Check Engine Light comes on
• Oil pressure light comes on
• Oil pressure gauge reads zero or low value
• Engine may fail to start
• Engine may stall when you're driving


4. Possible Causes:
• Wiring problem in oil pressure sensor circuit
• Defective oil pressure sensor
• Low oil level or blockage in oil passage
• Using wrong type of oil


5. Diagnostic Steps:
• Check oil level and condition
• Visually inspect all wiring to oil pressure sensor
• Check the sensor's voltage to ensure it meets manufacturer's specs
• If you can, take the oil pressure reading and compare with the reading shown by the vehicle's PCM. That should tell you if the problem is with oil pressure

P0562
1. Description:
System Voltage Low

2. Meaning:
• PCM has detected that the ignition feed circuit has very low voltage. Meaning the charging system might not be working

3. Main Symptoms:
• Check Engine Light comes on
• Red battery light on
• Reduced fuel economy
• Transmission may fail
• Engine may fail to start
• Engine may start then stall and die


4. Possible Causes:
• Defective alternator
• High resistance either in alternator-battery circuit, alternator-PCM circuit or both
• Defective PCM


5. Diagnostic Steps:
• Check whether battery voltage is sufficient
• Ensure battery is properly connected then check alternator belt
• Using a digital volt ohm meter (DVOM), check whether the charging system is working
• Reset the code then do a test drive. If the code returns check PCM voltage

P0606
1. Description:
ECM/PCM Processor Fault

2. Meaning:
• PCM has detected an integrity fault in its own system

3. Main Symptoms:
• Check Engine Light comes on

4. Possible Causes:
• Failed PCM

5. Diagnostic Steps:
• Re-flash PCM with updated software. If that doesn't work replace the PCM
P0700
1. Description:
Transmission Control System Malfunction

2. Meaning:
• If the transmission control module (TCM) detects a fault in the transmission system and sets a code, this code is also stored in the PCM

3. Main Symptoms:
• Check Engine Light comes on
• Transmission may exhibit problems


4. Possible Causes:
• Any transmission-related problem can trigger this code

5. Diagnostic Steps:
• This is only an informational code, so pull all transmission codes, address them and do a test drive to fix this code
P0705
1. Description:
Transmission Range Sensor Circuit Malfunction (PRNDL Input)

2. Meaning:
• PCM has detected a malfunction in the transmission range sensor (TRS)

3. Main Symptoms:
• Check Engine Light comes on
• Actuating starter may be impossible
• Back up lights may fail
• Engine may only start at neutral
• Irregular shift RPMs
• Delayed transmission engagement
• Reduced fuel economy


4. Possible Causes:
• Defective TRS
• Loose TRS
• Shorted wire in TRS circuit
• Loose or corroded connector at the external TRS. Pins may also be bent


5. Diagnostic Steps:
• More often than not this code means replacing the TRS
P0715
1. Description:
Input/Turbine Speed Sensor Circuit Malfunction

2. Meaning:
• The actual transmission input speed does not match the desired input speed

3. Main Symptoms:
• Check Engine Light comes on
• Transmission shifts erratically
• Transmission may fail to shift
• Failure in speedometer
• Lower fuel economy


4. Possible Causes:
• Defective input speed sensor
• Defective output speed sensor
• A wiring problem in input/output speed sensor circuit
• Loose or burnt connector in transmission circuit
• Defective or improperly programmed PCM


5. Diagnostic Steps:
• Visually inspect all wiring and connectors for loose, burnt, open or broken connections
• Using a scanner, pull all codes and freeze frame data to see which sensor is malfunctioning (input/output)
• Replace sensor if necessary

P0720
1. Description:
Output Speed Sensor Circuit Malfunction

2. Meaning:
• PCM has determined that there's a malfunction in the Output Shaft Speed Sensor (OSS) of the transmission system

3. Main Symptoms:
• Check Engine Light comes on
• Delayed shifts
• Failed speedometer


4. Possible Causes:
• Defective OSS
• Defective transmission fluid temperature sensor
• Wiring problem in the OSS circuit


5. Diagnostic Steps:
• Check that all wiring to OSS is properly done and there are no open, broken or shorted wires
• Measure OSS voltage and compare with manufacturer's specs. If they don't match replace OSS
• Measure transmission fluid temperature sensor voltage and compare with manufacturer's specs. If they don't match replace the sensor

P0741
1. Description:
Torque Converter Clutch Circuit Performance or Stuck Off

2. Meaning:
• TCM has detected a problem within the circuit that controls the torque converter clutch (TCC) solenoid

3. Main Symptoms:
• Check Engine Light comes on
• Slightly reduced fuel economy


4. Possible Causes:
• Shorted wire in transmission's ground circuit
• Internal short in TCC solenoid
• Defective TCM


5. Diagnostic Steps:
• Check that all wiring in the transmission circuit is properly done and there are no open, broken or shorted wires
• Check the resistance of the TCC solenoid and compare with manufacturer's specs
• Monitor TCM using an advanced scan tool and see if its performance parameters are within normal range

P1101
1. Description:
MAF Sensor Out Of Self-Test Range./KOER Not Able To Complete KOER Aborted

2. Meaning:
• The PCM has detected an irregular (or abnormal) voltage from the Mass Air Flow (MAF) sensor

3. Main Symptoms:
• Check Engine Light comes on
• Engine performs erratically upon startup
• Reduced vehicle power
• Rough idling


4. Possible Causes:
• Defective MAF sensor
• Wiring problem in MAF sensor circuit
• Faulty connector(s) in MAF system


5. Diagnostic Steps:
• Check that all wiring in the MAF sensor circuit is properly done and there are no open, broken or shorted wires
• Check air filters for dirt and debris that might be obstructing air flow
• Perform smoke test in vacuum system to check for leaks before and after MAF sensor
• Check the voltage in MAF sensor and compare with manufacturer's specs. If they don't match replace the sensor
• Check continuity between PCM and MAF sensor

P1133
1. Description:
HO2S Insufficient Switching Sensor 1

2. Meaning:
• PCM has determined that the front heated O2 sensor (HO2S) is not functioning properly

3. Main Symptoms:
• Check Engine Light comes on
• Hard starting
• Reduced fuel economy
• Rough or erratic idling


4. Possible Causes:
• Defective O2 sensor
• Damaged, broken, shorted or corroded wires/connectors in front HO2S
• EGR valve is stuck open
• Misfires on at least one cylinder


5. Diagnostic Steps:
• Check that all O2 sensor wires and connectors are not damaged, open, broken, shorted or burnt
• Using a scanner, determine whether oxygen sensors are switching enough times
• If not, measure their voltage to determine which sensor is faulty. Replace as necessary

P1135
1. Description:
Air/Fuel Ratio Sensor Heater Circuit Malfunction Bank 1 Sensor 1

2. Meaning:
• This Toyota code means the PCM has detected an oxygen sensor heater circuit malfunction

3. Main Symptoms:
• Check Engine Light comes on
• Longer time needed to achieve closed loop
• Decreased fuel economy
• Engine may go into fixed fuel mix


4. Possible Causes:
• H02S sensor in bank 1, circuit 1 is not sending the correct signal to ECM
• Damaged or failed element in heater circuit
• Open in O2 sensor heater's circuit
• Open/short in O2 sensor heater's battery
• Defective ECM (this is the least likely cause)


5. Diagnostic Steps:
• Inspect wiring and power to the O2 sensor and ensure there's no damage/open/short
• Use code reader to pull engine codes
• Check voltage of O2 sensor and ensure it matches manufacturer's specs
• Replace O2 sensor if necessary

P1399
1. Description:
Random Cylinder Misfire Detected

2. Meaning:
• This Honda code means the PCM has detected that there's an engine cylinder that's not firing properly. It could be one or more cylinders. PCM hasn't specified the exact cylinder

3. Main Symptoms:
• Check Engine Light comes on
• Check Engine Light may flash
• Engine lacks power
• Engine may be hard to start
• Engine may stumble and hesitate frequently


4. Possible Causes:
• Defective or worn out spark plugs
• Low fuel pressure
• Vacuum leak
• Defective catalytic converter
• Defective fuel injector
• Defective coil
• Defective camshaft position sensor
• Defective crankshaft sensor
• Problem with distributor


5. Diagnostic Steps:
• Using a scan tool, pull codes and see if there are any other besides P0300. Address the others first
• Inspect whether there are loose, open or short wires in ignition coils
• Inspect whether spark plugs and their wires are in good condition
• Check that fuel pressure is within the recommended range
• Inspect fuel injectors to see whether they are in good condition

P1440
1. Description:
• This is a manufacturer-specific code. For most vehicles it's the same as P0442. However, in Volkswagen it's similar to P0443 while in Nissan and Jaguar it's similar to P0455. Please refer to those specific codes above
P1443
1. Description:
Evaporative Emission Control System Control Valve

2. Meaning:
• This is a predominantly Ford, Nissan and Range Rover code that means the same thing as P0443. Please refer to that code (#79 on this list)
P1450
1. Description:
Unable To Bleed Up Fuel Tank Vacuum

2. Meaning:
• This is a Ford, Jaguar, Lincoln, Mercedes, Mercury and Oldsmobile code that means that the Evaporative Emission Control System has failed to bleed up the fuel tank

3. Main Symptoms:
• Check Engine Light comes on
• Engine may fail to start


4. Possible Causes:
• Defective vent valve
• Blockage in vacuum lines
• Damaged charcoal canister
• Overfilling fuel tank


5. Diagnostic Steps:
• Check that all vent valve wires and connectors are not damaged, open, broken, shorted or burnt
• Remove any blockage in vacuum lines. Refer to your application manual for this procedure
• Visually inspect charcoal canister for any damages
• Check that the fuel amount is within the recommended range

P1456
1. Description:
Fuel Tank Temperature Sensor Circuit Malfunction

2. Meaning:
• This Honda code means the same thing as P0442. Please refer to that code (#78 on this list)
P1457
1. Description:
This is a manufacturer-specific code that means different things in different cars
• In Honda it means Evaporative emission (EVAP) canister purge system (canister system) - leak detected
• In Acura it means Evaporative emission (EVAP) canister purge system (canister system) - leak detected
• In Audi it means Exhaust gas recirculation temperature (EGRT) sensor 2/Bank 2 - open circuit/short to positive
• In Isuzu it means Evaporative emission (EVAP) canister purge system (canister system) - leak detected
• In Kia it means Evaporative emission (EVAP) canister purge valve (low)
• In Volkswagen it means Exhaust gas recirculation temperature (EGRT) open circuit/short to positive

P1491
1. Description:
This is a manufacturer-specific code that means different things in different cars
• In Acura it means Exhaust gas recirculation (EGR) system - valve lift insufficient
• In Chrysler it means Radiator Fan Relay Circuit Conditions
• In Honda it means Exhaust gas recirculation (EGR) system - valve lift insufficient
• In Infiniti it means Evaporative emission (EVAP) canister purge control system – malfunction
• In Isuzu it means Exhaust gas recirculation (EGR) system - valve lift insufficient
• In Mercedes it means AC system - pressure too high
• In Nissan it means Evaporative emission (EVAP) canister purge system - bypass vacuum valve malfunction

P1494
1. Description:
EVAP Leak Detection Pump Pressure Switch Condition

2. Meaning:
• A Chrysler code, this code means the same as P0442, i.e. PCM has detected a very small vapor leak somewhere in the EVAP control system

3. Main Symptoms:
• Check Engine Light may come on
• Reduced fuel economy


4. Possible Causes:
• Loose or damaged EVAP hoses
• Defective purge valve
• Gas cap is loose, missing or damaged
• Charcoal canister is leaking
• Fuel tank is leaking


5. Diagnostic Steps:
• Inspect gas cap to see if its installed tightly
• Check for disconnected or cracked EVAP hoses
• Inspect charcoal canister and fuel tank for leaks and damages
• Check that purge valve (solenoid) has no leaks
• If the above don't narrow down the problem perform a smoke test

P1516
1. Description:
Throttle actuator control module / throttle actuator position performance

2. Meaning:
• A GM code, this DTC means that the voltage being sent by the throttle actuator position sensor (TAPS) doesn't match the voltage being received by the actual throttle position sensor

3. Main Symptoms:
• Check Engine Light comes on
• Vehicle may fail to accelerate
• Intermittent surging
• Reduced fuel economy


4. Possible Causes:
• Defective pedal position sensor
• Open or short in circuit supplying power to pedal position sensor
• Defective PCM


5. Diagnostic Steps:
• Visually inspect all wiring to pedal position sensor and ensure there are no open, broken or shorted wires
• Run a resistance test on sensor. If it fails replace it
• Do a test drive, if the code returns run a test on PCM

P1684
1. Description:
Battery Power to Module Disconnected

2. Meaning:
• This code appears on Dodge and Chrysler vehicles. It means the transmission control module (TCM) is disconnected from the battery's power B+ or ground

3. Main Symptoms:
• Check Engine Light comes on

4. Possible Causes:
• Recently disconnected battery
• TCM was either replaced or disconnected
• Short in TCM harness
• Defective TCM


5. Diagnostic Steps:
• Check all wiring to TCM and ensure there are no shorted, broken or open wires
• Use a scan tool to reset the code
• Do a voltage test on TCM to determine if its defective

P2096
1. Description:
Post Catalyst Fuel Trim System Too Lean Bank 1

2. Meaning:
• There's a lean condition (i.e. too much air and too little fuel) in cylinder #1 on a V6 or V8 engine.

3. Main Symptoms:
• Check Engine Light comes on
• Reduced fuel economy
• Erratic acceleration
• Engine misfires
• Rough idle
• May produce spark knock


4. Possible Causes:
• Large vacuum leak
• Large air leak somewhere around the 1st cylinder
• Low fuel pressure
• Misfiring plugs that cause the engine to run rough
• Defective O2 sensor
• Defective exhaust system


5. Diagnostic Steps:
• Using a scan tool, pull all the codes and address all the others first
• Visually inspect exhaust system for any damaged or worn out components
• Check for vacuum leaks in the engine, particularly between the intake manifold and MAF sensor
• Check that plug wires are not burning
• If the vehicle has very little acceleration power, check for clogged converter
• If none of the above work replace MAF sensor then downstream O2 sensor (in that order)

P2097
1. Description:
Post Catalyst Fuel Trim System Too Rich Bank 1

2. Meaning:
• There's a rich condition (i.e. too little oxygen content) in cylinder #1

3. Main Symptoms:
• Check Engine Light comes on
• Engine lacks power
• Reduced fuel economy


4. Possible Causes:
• Defective catalytic converter
• Defective O2 sensor(s)
• Defective MAF sensor or manifold air pressure sensor
• Leak in exhaust system
• Wiring problem e.g. burnt, open, broken or disconnected wire


5. Diagnostic Steps:
• Visually inspect wiring harnesses for broken, open, burnt or disconnected wires
• Check the exhaust for leaks and damages
• Pull all codes and freeze frame data. Reset the codes and do a test drive
• If code P2097 returns check resistance of MAF sensor and O2 sensors. Replace as necessary

P2101
1. Description:
Throttle Actuator "A" Control Motor Circuit Range/Performance

2. Meaning:
• This code is set when there's an electrical or mechanical problem in the throttle actuator A (TA-A)

3. Main Symptoms:
• Check Engine Light comes on
• Engine fails to accelerate
• Fixed idle speed


4. Possible Causes:
• Defective TA-A
• Open or short in TA-A circuit
• Defective PCM (least likely)


5. Diagnostic Steps:
• Locate TA-A and check all its wiring harnesses. Ensure there are no open, broken, disconnected, shorted or burnt wires and connectors
• Reset the code and do a test drive. If it returns test the actuator

P2138
1. Description:
Throttle/Pedal Pos Sensor/Switch D / E Voltage Correlation

2. Meaning:
• PCM has detected a fault in either the D or E (or both) circuit of the throttle position sensor

3. Main Symptoms:
• Check Engine Light comes on
• Vehicle may fail to start
• Vehicle may stall
• Poor acceleration


4. Possible Causes:
• Defective throttle position sensor
• Defective throttle body motor
• Wiring or connector problem in throttle body motor circuit


5. Diagnostic Steps:
• Visually inspect throttle body motor circuit for loose, broken, burnt or open wires and connectors
• Test resistance of throttle motor and throttle position sensor. Replace as necessary

P2181
1. Description:
Cooling System Performance

2. Meaning:
• A vague OBD2 code, the P2181 suggests that there's somewhere in the engine where the temperature is out of range (either too hot or too cold)

3. Main Symptoms:
• Check Engine Light comes on
• Temperature gauge indicates too high or too low temp
• If the temp is too cold the engine will have a rich condition


4. Possible Causes:
• Defective engine coolant temperature (ECT) sensor
• Wiring or connector problem in ECT circuit
• Thermostat is stuck open or closed
• Presence of air in cooling system
• Low engine coolant level


5. Diagnostic Steps:
• If the engine is running too cold replace thermostat
• Check to ensure there are no open, broken, disconnected, shorted or burnt wires and connectors in ECT circuit
• Check whether fan is working. If it's wobbling or has a leak tighten or replace the fan. Remember to check its fuse as well
• Test the resistance of ECT sensor. If it's off the recommended reading replace the sensor

P2195
1. Description:
O2 Sensor Signal Stuck Lean Bank 1 Sensor 1

2. Meaning:
• O2 sensor 1 on cylinder 1 (bank 1) is reading an air/fuel ratio that has strayed so far from the normal 14.7:1 that the PCM is no longer able to correct the ratio

3. Main Symptoms:
• Check Engine Light comes on

4. Possible Causes:
• Defective O2 sensor or A/F (air/fuel) ratio sensor
• Open or short in O2 sensor circuit
• Defective fuel pressure system leading to too high or too low fuel pressure
• Fuel leak
• Leak in engine vacuum or intake air
• Leak in PCV system
• Leak in fuel system (tank or hoses)
• Defective MAF sensor
• Defective PCM


5. Diagnostic Steps:
• Visually inspect all wiring harnesses to O2 sensor circuits, especially sensor 1
• Check vacuum, fuel tank and PCV systems for leaks
• Using a scan tool, monitor short and long term fuel trim values and compare with manufacturer specs
• Also take readings for MAF and O2 sensor 1 and compare with specs
• Check the resistance of those sensors to ensure they work properly. Replace as necessary

P2196
1. Description:
O2 Sensor Signal Stuck Rich Bank 1 Sensor 1

2. Meaning:
• This code is similar to P2195; i.e. O2 sensor 1 on cylinder 1 (bank 1) is reading an air/fuel ratio that has strayed so far from the normal 14.7:1 that the PCM is no longer able to correct the ratio

3. Main Symptoms:
• Check Engine Light comes on

4. Possible Causes:
• Defective O2 sensor or A/F (air/fuel) ratio sensor
• Open or short in O2 sensor circuit
• Defective fuel pressure system leading to too high or too low fuel pressure
• Fuel leak
• Leak in engine vacuum or intake air
• Leak in PCV system
• Leak in fuel system (tank or hoses)
• Defective MAF sensor
• Defective PCM


5. Diagnostic Steps:
• Visually inspect all wiring harnesses to O2 sensor circuits, especially sensor 1
• Check vacuum, fuel tank and PCV systems for leaks
• Using a scan tool, monitor short and long term fuel trim values and compare with manufacturer specs
• Also take readings for MAF and O2 sensor 1 and compare with specs
• Check the resistance of those sensors to ensure they work properly. Replace as necessary

P2270
1. Description:
O2 Sensor Signal Biased/Stuck Lean Bank 1 Sensor 2

2. Meaning:
• The signal being put out by sensor 2 on bank 1 is stuck lean (the sensor has detected too much air)

3. Main Symptoms:
• Check Engine Light comes on
• Engine may run rough


4. Possible Causes:
• Problem with fuel injector
• Exhaust leak near sensor 2 of bank 1
• Defective sensor 2 of bank 1
• Incorrect fuel pressure
• Leak in engine coolant
• Defective purge solenoid valve
• Defective PCM (least likely)


5. Diagnostic Steps:
• Visually inspect all wiring harnesses to O2 sensor circuits, especially sensor 1 of bank 1
• Check for exhaust leaks
• Using a scan tool, monitor sensor readings and compare with manufacturer specs
• Proceed to test resistance of sensors and replace as necessary

P2646
1. Description:
"A" Rocker Arm Actuator System Performance/Stuck Off Bank 1

2. Meaning:
• The "A" rocker arm actuator control circuit is either stuck in the off position or not working as it should

3. Main Symptoms:
• Check Engine Light comes on
• Engine may lack power
• Engine valve train may be excessively noisy


4. Possible Causes:
• Low oil pressure
• Clogged oil passages
• Rocker arm actuator has built-up slug
• Oil used is too thick


5. Diagnostic Steps:
• Verify that the oil used is of the right viscosity
• Check A" rocker arm actuator hoses and passages for blockage
• Clear code and do test drive. If it returns perform manufacturer pinpoint test for A" rocker arm actuator

P2A00
1. Description:
O2 Sensor Circuit Range/Performance Bank 1 Sensor 1

2. Meaning:
• The upstream O2 sensor circuit has failed to cycle as expected by the PCM over a period of time predetermined by the PCM

3. Main Symptoms:
• Check Engine Light comes on
• Reduced fuel economy
• Poor engine performance
• Engine misfires


4. Possible Causes:
• Defective O2 sensor 1 in bank 1
• Burnt, open, broken, shorted or disconnected wire/connector in the sensor circuit
• Vacuum leak
• Defective MAF sensor
• Leak in engine exhaust


5. Diagnostic Steps:
• Visually inspect all wiring harnesses to O2 sensor circuits, especially sensor 1 of bank 1
• Check for leaks in engine and vacuum system
• Address other codes, reset all codes and do test drive. If the code returns check resistance of MAF sensor and O2 sensor. Replace as necessary

Bonus: Honest Review and Comparison of the Best OBD2 Scanners in 2020
Popular Network (U) OBD2 Codes
OBD2 Codes
Meaning & Fix Guide
U0001
1. Description:
Controller Area Network (CAN) Data Bus: High Speed Bus/Communication Control Module

2. Meaning:
• The high speed bus is a communication line between the totally integrated power module (TIPM) and other vehicle modules. When this code sets it means there's a module (especially ABS module) that has failed to communicate with TIPM

3. Main Symptoms:
• Check Engine Light comes on
• Vehicle may fail to start on one or few attempts
• Key alarm may activate intermittently


4. Possible Causes:
• Open in either positive or negative CAN bus circuit
• Open in power or ground supply circuit to the module that set the code
• Short to ground on CAN bus circuit
• Low voltage
• Problem with TIPM


5. Diagnostic Steps:
• Using a bidirectional scan tool, operate each module independently to find out which one is not working
• Once you've pinpointed the module check that its circuits have no loose, open, broken or disconnected wires and connectors
• Do the same for TIPM
• Use an ohmmeter to check continuity on wire terminals in the module and TIPM
• If all the above don't work replace the TIPM

U0073
1. Description:
Control Module Communication Bus "A" Off

2. Meaning:
• Problem with CAN bus making it hard for modules to exchange information and to communicate with scan tool

3. Main Symptoms:
• Check Engine Light comes on
• Instrument cluster indicator "light" on
• Reduced fuel economy
• Engine lacks power


4. Possible Causes:
• Open in the "A" CAN bus + or – circuit
• Short to power or ground in "A" CAN bus circuit


5. Diagnostic Steps:
• Pull all communication codes and address them first then this one last
• Visually inspect all bus communication connections (connectors and wires) for breaks, shorts, opens, chafing, burns and melted spots
• Reset all codes and do a test drive. If this code returns disconnect one control module at a time and see if the scanner can finally communicate with PCM

U0101
1. Description:
Lost Communication With Transmission Control Module

2. Meaning:
• There's no communication between the transmission control module (TCM) and other control modules

3. Main Symptoms:
• Check Engine Light comes on
• Car doesn't shift gears
• Stays in one gear, usually 2nd or 3rd gear


4. Possible Causes:
• Open in CAN bus + or – circuit
• Short to power or ground in either + or – CAN bus circuit
• Defective TCM (least likely)


5. Diagnostic Steps:
• Using a bidirectional scan tool, control TCM and see if it responds. If it doesn't probe it further
• If it responds then check all the wires, connectors and fuses that make the circuit
• With key on engine off, check the voltage of CAN C+ and C-. If the readings don't match manufacturer's specs then the communication circuits are bad

U0107
1. Description:
Lost Communication With Throttle Actuator Control Module

2. Meaning:
• There's no communication between the throttle actuator control (TAC) module and other control modules

3. Main Symptoms:
• Check Engine Light comes on
• Electronic throttle control light comes on or flashes
• No throttle response


4. Possible Causes:
• Open in CAN bus + or – circuit
• Short to power or ground in either + or – CAN bus circuit
• Defective TAC module (least likely)


5. Diagnostic Steps:
• Using a bidirectional scan tool, control TAC module and see if it responds. If it doesn't probe it further
• If it responds then check all the wires, connectors and fuses that make the circuit
• With key on engine off, check the voltage of CAN C+ and C-. If the readings don't match manufacturer's specs then the communication circuits are bad

U0121
1. Description:
Lost Communication With Anti-Lock Brake System Control Module

2. Meaning:
• There's no communication between the anti-lock brake system (ABS) control module and other control modules

3. Main Symptoms:
• Check Engine Light comes on
• ABS warning light comes on
• TRAC or ESP/ESC (or both) warning light comes on


4. Possible Causes:
• Open in CAN bus + or – circuit
• Short to power or ground in either + or – CAN bus circuit
• Defective ABS control module (least likely)


5. Diagnostic Steps:
• Using a bidirectional scan tool, control ABS control module and see if it responds. If it doesn't probe it further
• If it responds then check all the wires, connectors and fuses that make the circuit
• With key on engine off, check the voltage of CAN C+ and C-. If the readings don't match manufacturer's specs then the communication circuits are bad

U0155
1. Description:
Lost Communication With Instrument Panel Control Module

2. Meaning:
• There's no communication between the instrument panel control (IPC) module and other control modules

3. Main Symptoms:
• Check Engine Light comes on
• All indicator lights in instrument panel/cluster come on, or
• No indicator lights in instrument panel/cluster come on


4. Possible Causes:

• Open in CAN bus + or – circuit
• Short to power or ground in either + or – CAN bus circuit
• Defective IPC module (least likely)

5. Diagnostic Steps:
• Using a bidirectional scan tool, control IPC module and see if it responds. If it doesn't probe it further
• If it responds then check all the wires, connectors and fuses that make the circuit
• With key on engine off, check the voltage of CAN C+ and C-. If the readings don't match manufacturer's specs then the communication circuits are bad

U1000
1. Description:
This Is A Manufacturer-Specific Code That Means Different Things In Different Cars
• In GM It Means Class 2 Communication Malfunction Conditions
• In Infiniti It Means CAN Communication Line - Signal Malfunction
• In Isuzu It Means Class 2 Communication ID Not Learned
• In Nissan It Means CAN Communication Circuit

2. Diagnostic Steps:
• This is generally an informational code that comes with other network codes. Fixing all the codes that it comes with will fix/reset this as well
U1120
1. Description:
Lost Wheel Distance

2. Meaning:
• Primarily a Chrysler code, the U1120 means the ABS module is not able to communicate with speed sensors

3. Main Symptoms:
• Check Engine Light comes on
• ABS warning light may come on


4. Possible Causes:
• Open in CAN bus + or – circuit
• Short to power or ground in either + or – CAN bus circuit
• Defective ABS control module (least likely)


5. Diagnostic Steps:
• Using a bidirectional scan tool, control ABS control module and see if it responds. If it doesn't probe it further
• If it responds then check all the wires, connectors and fuses that make the circuit
• With key on engine off, check the voltage of CAN C+ and C-. If the readings don't match manufacturer's specs then the communication circuits are bad

U1900
1. Description:
CAN Communication Bus Fault

2. Meaning:
• Primarily a Ford code, the U1900 means the same as U0001

3. Main Symptoms:
• Check Engine Light comes on
• Vehicle may fail to start on one or few attempts
• Key alarm may activate intermittently


4. Possible Causes:
• Open in either positive or negative CAN bus circuit
• Open in power or ground supply circuit to the module that set the code
• Short to ground on CAN bus circuit
• Low voltage
• Problem with TIPM


5. Diagnostic Steps:
• Using a bidirectional scan tool, operate each module independently to find out which one is not working
• Once you've pinpointed the module check that its circuits have no loose, open, broken or disconnected wires and connectors
• Do the same for TIPM
• Use an ohmmeter to check continuity on wire terminals in the module and TIPM
• If all the above don't work replace the TIPM

Popular Body (B) OBD2 Codes
OBD2 Codes
Meaning & Fix Guide
B0092
1. Description:
Left Side Restraints Sensor 2

2. Meaning:
• A Ford code, the B0092 means that the left side airbag sensor has detected a problem with the airbag system

3. Main Symptoms:
• Airbag warning lights may come on
• Abnormal illumination of airbag warning lights


4. Possible Causes:
• Open, short or broken wire in left side restraint sensor 2 harness
• Defective left side restraint sensor 2


5. Diagnostic Steps:
• Visually inspect all wiring to left side restraint sensor 2 for loose, open or short connections
• Check resistance of left side restraint sensor 2 and compare with specs. If they don't match replace sensor

B1015
1. Description:
This Is A Manufacturer-Specific Code That Means Different Things In Different Cars
• In GM It Means Passenger Deploy. Loop Resistance High
• In Chrysler It Means Rear Defrost Switch Request Input Circuit/Performance
• In Ford It Means Electronic Instrument Cluster Unconfigured
• In Mazda It Means Electronic Instrument Cluster Unconfigured
• In Mitsubishi It Means Heater Water Temperature Sensor Performance

B1047
1. Description:
Driver-Side Side Air Bag Module And Other Air Bag Module Circuits Short

2. Meaning:
• There's a short in the side airbag on the driver's side

3. Main Symptoms:
• Airbag warning lights may come on
• Abnormal illumination of airbag warning lights


4. Possible Causes:
• Open or short in the circuit leading to driver-side side air bag module
• Defective driver-side side air bag module
• Defective SRS (airbag) module


5. Diagnostic Steps:
• Visually inspect all wiring to the driver-side side air bag module for loose, open or short connections
• Perform resistance test on driver-side side air bag module
• Perform resistance test on airbag control module

B1057
1. Description:
Driver Airbag Module Short

2. Meaning:
• The airbag diagnosis sensor on the driver's side has detected a short in the circuit

3. Main Symptoms:
• Airbag warning light comes on

4. Possible Causes:
• Short in driver airbag's harness
• Problem with spiral cable
• Defective driver airbag
• Problem with electrical connection in driver airbag


5. Diagnostic Steps:
• Visually inspect the wiring harness to driver's airbag
• Perform resistance test on driver's airbag module
• Check resistance of spiral cable and airbag diagnosis sensor and replace as necessary

B1318
1. Description:
Battery Voltage Low

2. Meaning:
• This is a Ford and Jaguar code that is set when the PCM detects that battery voltage has fallen below a predetermined level

3. Main Symptoms:
• Check Engine Light comes on
• Red battery light on
• Reduced fuel economy
• Transmission may fail
• Engine may fail to start
• Engine may start then stall and die


4. Possible Causes:
• Defective alternator
• Using an incorrect battery
• Unmaintained battery
• High resistance either in alternator-battery circuit, alternator-PCM circuit or both
• Defective PCM


5. Diagnostic Steps:
• Check whether battery voltage is sufficient
• Ensure battery is properly connected then check alternator belt
• Using a digital volt ohm meter (DVOM), check whether the charging system is working
• Reset the code then do a test drive. If the code returns check PCM voltage

B1342
1. Description:
ECU Is Defective

2. Meaning:
• The Electronic Control Unit (ECU) has failed

3. Main Symptoms:
• Check Engine Light comes on
• Other warning lights may come on depending on which module is affected


4. Possible Causes:
• Defective ECU
• Damaged controller(s) due to abnormal system voltages


5. Diagnostic Steps:
• Diagnose and address all other codes first before replacing ECU
• Check whether system voltage is within manufacturer's recommendation
• Inspect wiring to ECU and ensure that there are no open, shorted or broken wires
• Reset all codes and do test drive. If the code returns you may have to replace ECU

B1650
1. Description:
Occupant Classification System Fault

2. Meaning:
• PCM or airbag control module has detected a malfunction in the occupant classification system

3. Main Symptoms:
• Airbag warning light comes on
• Check Engine Light may come on


4. Possible Causes:
• Problem in the occupant classification system
• Wiring problem in the right front seat
• Problem with airbag sensor assembly center


5. Diagnostic Steps:
• Visually inspect all wiring in the occupant classification system for loose, open or short connections
• Perform resistance test on occupant classification system and airbag sensor assembly center and replace as necessary
• Perform resistance test on airbag control module. If it doesn't pass the test replace the module

B1676
1. Description:
Battery Pack Voltage Out Of Range

2. Meaning:
• This anti-lock brake system (ABS) code is set when the ABS module detects a voltage signal that's less than 9v or more than 19v for more than 8 seconds

3. Main Symptoms:
• ABS warning light comes on
• Check Engine Light may come on


4. Possible Causes:
• Blown fuse in ABS
• Problem in the charging system
• Wiring problem in ABS module connector
• Defective ABS module


5. Diagnostic Steps:
• Visually inspect all wiring and connectors in ABS module as well as charging system for loose, open or short connections
• Check that all fuses in ABS are not blown. If any is blown replace
• Test resistance of ABS module and compare with manufacturer's specs
• Reset code and do test drive. If it returns consider replacing the module

Popular Chassis (C) OBD2 Codes
OBD2 Codes
Meaning & Fix Guide
C0265
1. Description:
EBCM Motor Relay Circuit Low When On

2. Meaning:
• The Electronic Brake Control Module (EBCM) is sending an abnormally low voltage signal

3. Main Symptoms:
• ABS warning light comes on
• Check Engine Light may come on


4. Possible Causes:
• Shorted or open wire in EBCM harness
• Poor electrical connection in EBCM circuit
• Defective EBCM


5. Diagnostic Steps:
• Visually inspect all wiring and connectors in EBCM for loose, open or shorted connections
• Test EBCM for resistance and compare readings with manufacturer's specs. If they are out of range consider replacing

C1130
1. Description:
Engine Signal 1

2. Meaning:
• The ABS control module has detected that there's a problem with the engine control unit (ECU) or PCM

3. Main Symptoms:
• ABS warning light comes on
• Check Engine Light comes on


4. Possible Causes:
• Defective ECU
• Defective ABS actuator and/or ABS control module
• Problem with CAN communication line
• Damaged controller(s) due to abnormal system voltages


5. Diagnostic Steps:
• Diagnose and address all other codes first before replacing ECU
• Check whether system voltage is within manufacturer's recommendation
• Inspect wiring to ECU and ensure that there are no open, shorted or broken wires
• Check all fuses and replace as necessary
• Run tests on ABS module
• Run tests on CAN line
• Reset all codes and do test drive. If the code returns you may have to replace ECU

C1145
1. Description:
Right Front Wheel Speed Sensor Input Circuit Failure

2. Meaning:
• The right front wheel speed, as given by the wheel's speed sensor is not within the expected range

3. Main Symptoms:
• ABS warning light comes on
• Check Engine Light comes on


4. Possible Causes:
• Defective right front wheel speed sensor
• Wiring problem in that speed sensor's circuit
• PCM is not configured properly for the size of the right front wheel


5. Diagnostic Steps:
• Visually inspect all wiring to the right front wheel speed sensor and check for open, short, broken and chaffed wires
• Check the voltage of the speed sensor and match with manufacturer specs. If they don't match replace the sensor

C1201
1. Description:
Engine Control System Malfunction

2. Meaning:
• The Electronic Control Unit (ECU) has failed

3. Main Symptoms:
• Check Engine Light comes on
• Other warning lights may come on depending on which module is affected


4. Possible Causes:
• Defective ECU
• Damaged controller(s) due to abnormal system voltages


5. Diagnostic Steps:
• Diagnose and address all other codes first before replacing ECU
• Check whether system voltage is within manufacturer's recommendation
• Inspect wiring to ECU and ensure that there are no open, shorted or broken wires
• Reset all codes and do test drive. If the code returns you may have to replace ECU

C121C
1. Description:
Torque Request Signal Denied

2. Meaning:
• This camshaft-related code is an informational. It comes with codes P0344, P0345 or P0365. Addressing those codes will get rid of this one
C1223
1. Description:
ABS Control System Malfunction

2. Meaning:
• This code is set when the car's vehicle stability control (VSC) system detects any malfunction in the ABS

3. Main Symptoms:
• ABS warning light comes on
• Check Engine Light comes on


4. Possible Causes:
• Open or short in the ABS circuit
• Defective ABS sensor
• Defective ABS control module


5. Diagnostic Steps:
• Visually inspect all wiring in the ABS circuit for loose, open or short connections
• Perform resistance test on ABS sensors and module. Replace as necessary
• Reset code and do drive cycle, if it returns probe other systems, including PCM

C1233
1. Description:
Left Front Wheel Speed Sensor Input Signal Missing

2. Meaning:
• PCM or vehicle speed sensor (VSS) has failed to receive signals from the Left Front Wheel Speed Sensor

3. Main Symptoms:
• ABS warning light comes on
• Check Engine Light comes on


4. Possible Causes:
• Poor connection in Left Front Wheel Speed Sensor
• Open, shorted or broken wire in Left Front Wheel Speed Sensor harness
• Defective Left Front Wheel Speed Sensor


5. Diagnostic Steps:
• Visually inspect all wiring in the Left Front Wheel Speed Sensor circuit for loose, open or short connections
• Perform resistance test on Left Front Wheel Speed Sensor. Replace if necessary
• Reset code and do drive cycle, if it returns probe ABS system entirely

C1234
1. Description:
Right Front Wheel Speed Sensor Input Signal Missing

2. Meaning:
• PCM or vehicle speed sensor (VSS) has failed to receive signals from the Right Front Wheel Speed Sensor

3. Main Symptoms:
• ABS warning light comes on
• Check Engine Light comes on


4. Possible Causes:
• Poor connection in Right Front Wheel Speed Sensor
• Open, shorted or broken wire in Right Front Wheel Speed Sensor harness
• Defective Right Front Wheel Speed Sensor


5. Diagnostic Steps:
• Visually inspect all wiring in the Right Front Wheel Speed Sensor circuit for loose, open or short connections
• Perform resistance test on Right Front Wheel Speed Sensor. Replace if necessary
• Reset code and do drive cycle, if it returns probe ABS system entirely

C1241
1. Description:
Low Battery Positive Voltage

2. Meaning:
• This code is set when there's a problem with the skid control ECU (master cylinder solenoid)

3. Main Symptoms:
• ABS warning light comes on
• Check Engine Light comes on


4. Possible Causes:
• Low battery voltage
• Using an incorrect battery
• Unmaintained battery
• High resistance either in alternator-battery circuit, alternator-PCM circuit or both
• Defective charging system


5. Diagnostic Steps:
• Check whether battery voltage is sufficient
• Ensure battery is properly connected then check alternator belt
• Using a digital volt ohm meter (DVOM), check whether the charging system is working
• Reset the code then do a test drive. If the code returns check PCM voltage

C1713
1. Description:
Right Rear Height Control Sensor
Circuit


2. Meaning:
• PCM has detected that after switching ignition ON, a voltage of .3V or less, or 4.7V or more was achieved for more than 1 second at each height control sensor sub−assy rear

3. Main Symptoms:
• Check Engine Light comes on
• Height control indicator lamp (N) comes on or blinks
• Vehicle won't be able to perform height control function


4. Possible Causes:
• Defective Right Rear Height Control Sensor
• Wiring issue in Right Rear Height Control Sensor
• Worn out suspension and ride control parts
• Problem with shocks and/or struts


5. Diagnostic Steps:
• Visually inspect all wiring in the RIGHT Rear Height Control Sensor circuit for loose, open or short connections
• Perform resistance test on Right Rear Height Control Sensor. Replace if necessary
• Ensure that all parts, including ball joints, springs (for ride height), shocks and struts are well maintained