Are you looking to save money on repairs with a DIY-level scanner?
Take a look at the Innova 5610 vs 5160RS vs Zurich ZR15 scan tools.
You may have heard about these scanners, but how do they differ?
This post puts these diagnostic devices side by side for better identification of their features so you can choose wisely.
I'll tell you all about their similarities and differences to stop you from running in circles when the Check Engine Light comes up.
Let's take it to the last paragraph, guys!
Innova 5610 vs 5160RS vs Zurich ZR15 Comparison Table

Innova 5610


Innova 5160RS Pro


Zurich ZR15

Customer Rating

Price
OBD2 Functions
10/10
10/10
10/10*
System Diagnostics
10/10
10/10
10/10
Advanced Service Functions
10+
10+
5+
Bi-directional Controls
✔
✔
✔
RAM
2GB
2GB
2GB
Storage
32GB
32GB
64GB
Battery Capacity
5,000mAH
11,000mAh
10,000mAh
Specialties
Hot keys.
RepairSolutions 2 app.
Bluetooth and Wi-Fi connectivity.
All-in-one patented display and hot keys.
RepairSolutions 2 app.
Bluetooth and Wi-Fi connectivity.
OBD2 Locator
Supported Protocols
ISO 9141, J1850 PWM, Keyword 2000, CAN, and VPW.
ISO 9141, J1850 PWM, Keyword 2000, CAN, and VPW.
ISO 9141, J1850 PWM, Keyword 2000, CAN, and VPW.
Vehicle Coverage
1996 – 2021 12V passenger cars, SUVs, light trucks, and hybrid vehicles Some pre-1996 vehicles.
1996 – 2020 12V passenger cars, SUVs, light trucks, and hybrid vehicles Some pre-1996 vehicles.
1996+ 12V passenger cars, SUVs, and light trucks.
*Notes: Excellent: 9-10; Good: 7-8; Fair: 5-6; Poor: 3-4; Very poor: 1-2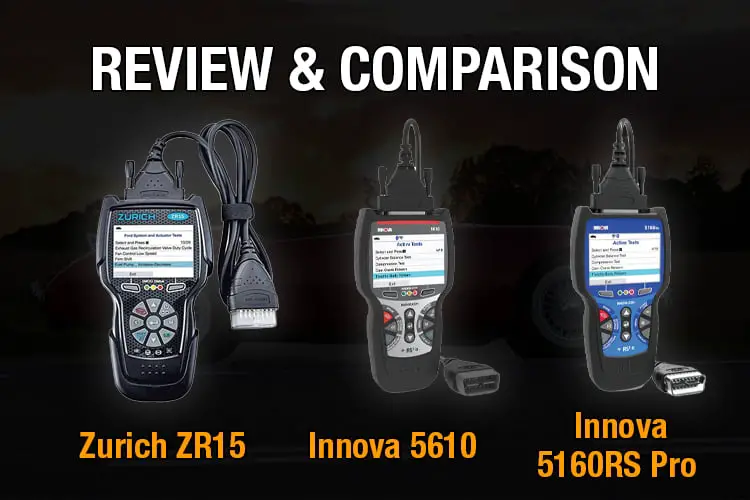 Innova 5610 vs 5160RS vs Zurich ZR15: The Similarities
OBD2 Functions
Zurich ZR15, Innova 5610, and Innova 5160RS are full OBD2 scanners. They can perform all ten OBD2 functions and clear trouble codes. You don't have to guess what's wrong with your vehicle when the CEL comes up.
All three scanners allow you to see real-time data on various performance indicators. It's a nice feature since you can see errors that only occur when driving. In addition, you can record and playback the live data for better scrutiny.
Other OBD2 functions on these devices include auto-VIN recognition, freeze frame data, and smog checks.
When you only want a model that can form ten OBD2 modes, you're better off with the cheapest model, the Zurich ZR15, which is around $100 more affordable than the Innova scanners.
Advanced System Diagnostics
Another similarity among these scanners is that they can access all the modules in your vehicle for advanced diagnostics. Apart from the engine, transmission, ABS, and airbag, these devices can get into all available systems.
The scanners have options for finding the right solution for the trouble code. The Innova models have the FixAssist feature, while the Zurich ZR15 has a manufacturer's real-time database. Nevertheless, the Innova models can pair with the RepairSolutions 2 app (Google Play and Apple Store), which is more detailed than the database on the Zurich ZR15.
For this reason, I recommend getting the Innova 5610 if you do most of your repairs at home. This way, you'll always get the likely fix for most problems with your car.
Innova 5610
Compact but sophisticated are the best words to describe the Innova 5610. It's an all-new and improved 5610 showcasing features found in high-end scanners. You can conduct enthusiast-level diagnostics while getting every penny's worth with this model.
Bidirectional Controls
Zurich ZR15, Innova 5610, and 5160RS are bidirectional tools that can actuate various components on a vehicle. You can give specific commands to sensors when you want to check the functionality of things like retracting the electronic parking brake, the A/C clutch on/off, and the fuel pump on/off.
Supported Protocols
These scanners support five communication protocols; ISO 9141, J1850 PWM, Keyword 2000, CAN, and VPW. The gadgets will identify the protocol type of the vehicle automatically to establish a direct communication link with the car's computer.
Innova 5610 vs 5160RS vs Zurich ZR15: The Differences
Advanced Service Functions
These scanners are feature-rich in that they can also perform various service resets. The Zurich ZR15 can perform oil resets, SAS calibration, SRS light reset, EPB reset, battery initialization, and steering angle reset.
The Innova 5610 and 5160RS are capable of much more. Apart from what the Zurich ZR15 can do, the Innova devices can perform ABS bleeding, read TPMS, battery reset, DPF regeneration, and read hybrid battery voltage, among others. Nonetheless, these features are not supported in all vehicles. You'll have to check with Innova before buying the tool for a particular service function.
To this end, the Innova 5610 is my choice for advanced service functions since it costs a few dollars less than the 5160RS.
Specialties
One of the unique features of the Zurich ZR15 is that it has an OBD2 port locator. This attribute allows you to identify the exact location of the OBD2 port when you can't find it. Nonetheless, all three scanners have an LED on the OBD2 connector to help you see under the OBD2 port. It's beneficial for vehicles like Jaguars, which have the OBD2 port directly under the dash.
All three scanners have a 3.5-inch screen that showcases all relevant information. However, the Innova 5610 and 5160RS have hotkeys to make quick selections. The 5160RS has an all-in-one display that showcases up to 20 pieces of information. It means you can see the DTC codes alongside definitions without jumping through screens.
The Innova 5610 and 5160RS can connect to your phone via Bluetooth or Wi-Fi. When paired with the RepairSolutions 2 app, you can access your vehicle's health records, find the right parts for a fix, and keep track of scheduled maintenance.
Zurich does not have Bluetooth or Wi-Fi connectivity. It will not give you maintenance reminders or take you through a repair procedure.
Innova 5160RS
This scanner is an appealing option for enthusiasts. With support for up to 2020 vehicles, you'll find it excellent if you have a home garage.
Vehicle Coverage
Zurich ZR15, Innova 5610, and 5160RS are compatible with 1996 and newer vehicles that are OBD2-compliant. Innova models have OBD1 functionality such that they can scan pre-1996 vehicles using an OBD1 cable. Yet, you'll need to indicate that you need the OBD1 connector, or you'll have to source it after receiving the unit.
Innova 5610 vs 5160RS vs Zurich ZR15: Pros and Cons
Innova 5610
Pros
Pairs with RepairSolutions 2 app
Dealership relearn procedures
Hybrid battery tester
Reads cell voltage
Actively tests actuators
Cons
Actuation tests are not available in all vehicles
Plastic exterior could be better quality
Innova 5610
Innova 5160RS
Pros
All-in-one display
Lots of special reset functions
Diagnoses hybrid battery and charging system issues
Supports Bluetooth and Wi-Fi
Cons
Cannot pair with some iPhones
A bit pricey
Innova 5160RS
Zurich ZR15
Pros
Compact design
Graphs 4 PIDs at once
EPB and SAS reset
Built-in repair database
Cons
Limited service functions for the price
Lacks Wi-Fi or Bluetooth connectivity
Final Thoughts
Are you ready to place an order for one of these tools? I hope this Zurich ZR15 vs. Innova 5610 vs. 5160RS feature has answered any questions you have about these products. Go forth and select with confidence.
Frequently Asked Questions (FAQs)
1.   Can the Innova 5610 do a brake pedal position sensor relearn?
No. The Innova 5610 and the other two scanners listed here do not support this function. You will need a much more advanced scanner for that feature.
2.   Can you program vehicle keys with the Innova 5610?
No. This function is not supported on the 5610. All three scanners do not have any coding or programming capabilities. The tools cannot change any ECM features or customize the vehicle. They are more diagnostic and service tools than fine-tuning devices.
3.   Will the Innova 5160RSo clear TPMS low tire pressure warning light?
Yes, the Innova 5160RS can read and clear codes that trigger a TPMS low tire pressure warning light in an indirect TPMS system. As for a direct TPMS system, the warning light resets automatically after tire inflation or rotation.
4.   Can Innova 5160RS read codes from 2022 vehicles?
Scanners usually have two to three years lag when supporting vehicles in the current year. Nonetheless, the Innova 5160RS supports most 2021 vehicles after performing a device update. The 5610 model is compatible with some 2022 models like the Audi A6 Allroad and the 2022 Ford Explorer.
5.   Does the Zurich ZR15 work outside the US?
This tool and the Innova scanners do not work outside the US. You'll have to purchase models that have universal geo support.
6.   Will you get a diagnostic report on these scanners?
Currently, none of these scanners have this feature. However, the Innova devices have an alternative report on the RepairSolutions 2 app that gives information about predicted repairs, part recommendations, recalls, etc.
Read more: Innova 5410 vs. 5510 vs. 5610: Why many home mechanics bought them?