Don't choose any of the FX2000, FX3000, and FX4000 scan tools without reading this. 
All three diagnostic devices have a similar naming system and a common design since they are in the same series. However, there are many subtle differences and some unexpected benefits with each scanner when it comes to actual real-life usage. 
Choosing one of these similar scanners usually poses a challenge, but not anymore. I'll discuss all the differences between Ancel FX2000, Ancel FX3000, Ancel FX4000. This way, you can make the right choice for yourself. 
Let's go!!
Ancel FX2000 vs. FX3000 Vs. FX4000: Complete Comparison Table
| | | | |
| --- | --- | --- | --- |
| | ANCEL FX2000 | ANCEL FX3000 | ANCEL FX4000 |
| Customer Rating | | | |
| Price | | | |
| DTC Library | ✔ | ✔ | ✔ |
| OBD2 Functions | Full | Full | Full |
| I/M Readiness Status | ✔ | ✔ | ✔ |
| Live Data | ✔ | ✔ | ✔ |
| Freeze Frame Data | ✔ | ✔ | ✔ |
| O2 Sensor Test | ✔ | ✔ | ✔ |
| System Diagnostics | 4 systems | 6 systems | All systems |
| Engine | ✔ | ✔ | ✔ |
| Transmission | ✔ | ✔ | ✔ |
| SRS | ✔ | ✔ | ✔ |
| ABS | ✔ | ✔ | ✔ |
| Suspension and Steering Systems | ✘ | ✔ | ✔ |
| Electronic Parking Brake (EPB) System | ✘ | ✔ | ✔ |
| Exhaust System | ✘ | ✘ | ✔ |
| Fuel System | ✘ | ✘ | ✔ |
| Electrical Systems | ✘ | ✘ | ✔ |
| Brake System | ✘ | ✘ | ✔ |
| Ignition System | ✘ | ✘ | ✔ |
| Special Functions | -- | 5 functions | 3 functions |
| Oil Reset | ✘ | ✔ | ✔ |
| EPB Reset | ✘ | ✔ | ✔ |
| SAS Calibration | ✘ | ✔ | ✘ |
| ABS Bleeding | ✘ | ✔ | ✔ |
| Battery Maintenance (BMS) | ✘ | ✔ | ✘ |
| Supported Vehicles | OBD2 cars, SUVs, 12V trucks | OBD2 cars, SUVs, 12V trucks | OBD2 cars, SUVs, 12V trucks |
| | | | |
Ancel FX2000 vs. FX3000 Vs. FX4000: Key Similarities And Differences Explained
Design, Display, and Specifications
Anyone that knows about Ancel products can tell you how high-grade they all are. On the software end, you'll surely get all the promised features. On the outside, Ancel products are built to last because they usually come with a protective rubberized casing. 
The rubber case on the FX2000 and FX3000 has two cutouts that prevent them from slipping. In general, they all have a handheld gaming design that offers a unique diagnostic experience. 
Another noteworthy mention is how easy they are to use. Ancel understands that many drivers and DIYers will need this device, so it's designed them to be as straightforward as possible. The intuitive user interface is displayed on a 3.5-inch backlit TFT color screen on the FX2000 and FX3000, while the FX4000 has a larger 5.6 inches screen with 480 x 272 dpi for crisp display. 
Both FX2000 and FX3000 weigh less than 0.9 lbs. (400g), while FX4000 weighs way more at about 3.3 lbs. or 1.5kg. 
FX2000 and FX3000 measure 7.7" x 4.17"x 1.25" while FX4000 measures 10.6" x 9.84" x 2.95" externally. 
All three systems use a 12-18V power supply provided by either your vehicle battery or a power adapter.
FX2000 and FX3000 also share the same accessories, including the diagnostic cable, user manual, memory card, memory card reader, USB cable, and a Quick Start Guide. On the other hand, FX4000 comes with a user manual, the main connector cable, an OBD2 connector, and a USB cable.
ANCEL FX2000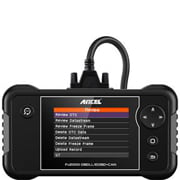 ANCEL FX3000
ANCEL FX4000
System Diagnostic Functions
If you're not a mechanic, you might not want to spend a large budget on a scan tool that checks every single system or subsystem in your car – just the main ones may suffice for you. If that's true for you, then you should buy either the FX2000 or FX3000. Otherwise, buy FX4000. 
Unlike other cheap scanners that only check the engine system, FX2000 can scan up to 4 main systems in your vehicle, including your engine system, transmission system, SRS, and ABS. 
FX3000 takes system diagnosis a notch higher since it can get enhanced codes from 6 systems. They include the aforementioned engine, transmission, SRS and ABS and two additional systems: Suspension and Steering system and Electronic Parking Brake (EPB) system.  
FX4000 isn't limited to any number of systems — it's a full-system diagnostic device that will scan all available systems in your car. It is CAN-compatible and works on both gasoline and diesel vehicles.
If you only need the main systems, buy Ancel FX2000, but if you want to scan all systems, buy Ancel FX4000. 
ANCEL FX2000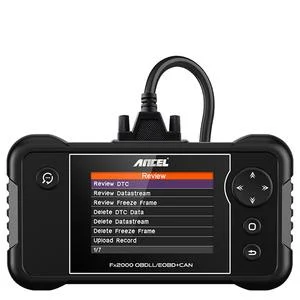 ANCEL FX4000
Advanced Service Functions
Reset functions help you complete your repair by clearing dashboard lights and recalibrating some modules. 
While FX2000 doesn't have any reset functions, FX3000 has 5 reset functions, and FX4000 supports 3 of the most in-demand reset functions. 
With FX3000, you can conduct oil lamp reset, EPB release, SAS calibration, BMS reset, and ABS Bleeding. These features are only available on vehicles made in 2005 and newer. 
FX4000 is a generation above FX3000, but it offers a leaner selection of maintenance functions. You can only perform oil reset, ABS bleeding, battery check, and EPB reset. These services alone will pay for the cost of the scan tools in no time. Plus, you'll be in the comfort of your garage rather than paying exorbitant fees at a mechanic shop or auto dealer.
Buy Ancel FX3000 to get the best selection of reset functions.
ANCEL FX3000
Supported Vehicles Makes
FX2000, FX3000, FX4000 are generally compatible with most OBD2 US vehicles made in 1996 and later. FX2000 has a wide coverage of up to 46 vehicle manufacturers and offers full OBD2 test modes for only vehicles made after 2005. 
Its updated version, FX3000, works on 57 car brands, including European vehicles made after 2002 and Asian vehicles after 2005. However, you should keep in mind that some features like ABS, SRS, and transmission diagnostics on the FX3000 only work for vehicles 2005 and newer. 
FX4000 continues the trend of global vehicle coverage and includes coverage for US vehicles, EU-based vehicles since 2001, and Asian vehicles since 2003. It is also backward-compatible with some non-OBD2 vehicles, although you'll need special adapters for this.
The three scanners can be used in English, Italian, Spanish, French, Russian, German, Portuguese, and Polish. FX4000 is the only one of the three that extends support for the Dutch language. 
You can find out if your exact model is supported by messaging Ancel customer support. They usually respond within 24 hours and will tell you which features are available for your vehicle. 
For the most car coverage, choose FX4000. 
ANCEL FX4000
Supported Protocols
All three scanners support the 5 OBD2 protocols, including J1850PWM, J1850 VPW, KWP2000, ISO9141-2, and CAN (Control Area Network). This way, you can diagnose a wide range of cars without issues. 
ANCEL FX2000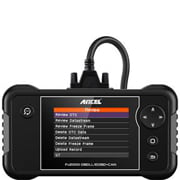 ANCEL FX3000
ANCEL FX4000
Warranty
In addition to its 24/7 lifetime customer support, Ancel offers a solid 30-day money-back guarantee. 
If you experience any issues with your purchase or the product itself after it has been delivered, Ancel is always available to help. 
You can contact their customer support on the official website (anceltech.com).
User Manual Download
Downloading the User Manual is easy for these products. You can find the User Manuals right on the Amazon product page, so you don't have to hunt it down online. The products are also packaged with the appropriate User Manual when you buy any of them. Lastly, you can download the User Manuals on the official Ancel website. 
Apart from the User Manual, you can also get the Specification Sheet and User Guide for these products on the official website and Amazon page. The Specification sheet includes some information about the vehicles it works with, while the User Guide helps you get started with the device and shows you how to update it over a PC connection.  
Weaknesses
Firstly, you can't update the FX2000 over a macOS computer; you can only use Windows PCs. FX2000 also doesn't include any special features or reset functions, so you might still have to spend extra at the mechanic if, for example, your oil light comes on. Some of its functions, like enhanced codes for ABS, SRS, and transmission systems, only work for 2005 and newer cars. 
FX3000 also doesn't update over MAC computers; it works solely with Windows. It covers enhanced diagnostics of 6 systems, but it doesn't check all systems in your vehicle. That feature is reserved for FX4000. Also, its system diagnostics isn't supported on all vehicles. It only works on vehicles made after 2005. 
You have to update FX4000 right after buying it, but you can only do that on a Windows computer. You might also experience some linking errors, although the pop-ups disappear once you reset the device. 
ANCEL FX2000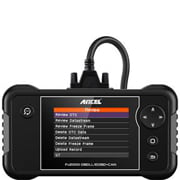 ANCEL FX3000
ANCEL FX4000
Which Should I Go For?
If you only have a basic knowledge of car diagnostics, buy FX2000. It offers the standard functions you need. 
If you perform repairs on your cars often and could use some reset functions, buy FX3000. 
Buy FX4000 if you have a good knowledge of car repairs and car systems to take advantage of its all-system diagnostics.  
Read more: ANCEL FX4000 Vs. ANCEL FX6000 Vs. FX9000: Which Best Suits A Home Mechanic?