Are you looking for the best Foxwell scanner? The Foxwell NT604 Elite, NT614 Elite, and NT644E represent three functionality levels at three different price points, from the budget-friendly NT604 to the professional-level NT644E. 
The depth of diagnostics and repairs you plan to perform is the main thing to consider when you're deciding which of these Foxwell scan tools belongs in your garage. In this review, we'll compare them side-by-side so you can see exactly what each one can do. 
Foxwell NT604 Elite vs. NT614 Elite vs. NT644E: Complete Comparison Table

FOXWELL NT604 Elite


FOXWELL NT614 Elite


FOXWELL NT664E

Customer Rating

Price

Weight
2.99 pounds
3.05 pounds

3.01 pounds
4-System Diagnostics (Engine, Transmission, ABS, SRS)
✔
✔
✔
All-System Diagnosis
--
--
✔
Oil Reset
--
✔
✔
EPB Reset
--
✔
✔
ABS Bleeding
--
--
✔
Gear Learning
--
--
✔
TPMS Reset
--
--
✔
Battery Replacement
--
--
✔
Battery Tester
✔
--
--
Supported Protocols
OBD2
OBD1, OBD2
OBD2, EOBD
Pros
- 4-system diagnosis
- Includes a tester for both 12-volt and 24-volt batteries
- Rugged housing and had protective case
- The color screen shows live data in graph form
- Works with all OBD2-compliant vehicles
- Most affordable option
- Diagnose 4 major systems (engine, AT, ABS, SRS)
- Easy operation with function hotkeys and help button
- Includes oil reset and EPB reset
- Supports OBD1 protocols for older vehicles
- Free updates for life
- All-system diagnostics
- Record and print data through PC
- 19 repair functions, including advanced coding and adaptation
- Free lifetime updates with 1-year warranty coverage
- Wide vehicle coverage, including both EOBD and OBD2 protocols
Cons
- No reset or repair functions
- Won't read codes and data from all monitors
- Can't diagnose all vehicle systems
- Limited reset functions
- Highest cost
- Requires Windows device for updates
Supported Vehicles
OBD2 cars, SUVs, 12V trucks
OBD2 cars, SUVs, 12V trucks
OBD2 cars, SUVs, 12V trucks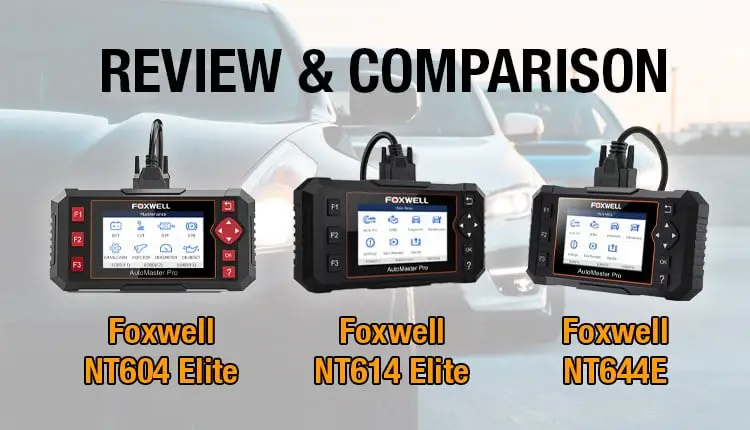 Key Things in Common of Foxwell NT604 Elite, Foxwell NT614 Elite, and NT644E
The Foxwell NT604 Elite, Foxwell NT614 Elite, and NT644E look very similar on the outside. All are hand-held diagnostic scanners with rugged housing that's built to be easy to grip and hold while you're working. 
The controls of these scanners are similar, as well. Along with directional navigation buttons, three assignable function keys give users quick access to their most-used features. All three also have a "help" button that brings up the built-in trouble code library.
Functionally, all of these scanners have full OBDII functionality. They can read and clear trouble codes, including permanent and stored codes, retrieving freeze frame and live data, running EVAP system tests, and preparing for state emission tests. 
Foxwell NT604 Elite vs. NT614 Elite vs. NT644E: Key Differences Explained
Design and Specifications
The Foxwell NT604 Elite and NT614 Elite share the exact core specifications. Both use a 4.3" color screen and have 16GB of memory to save repair logs and data that you read. They also come with a protective carrying case included, so it's ready to take with you on the road as soon as you get it out of the box. 
The Foxwell NT644E has similar dimensions to the NT604 and NT614, including the 4.3" color TFT display. It also comes with a memory card for saving data and repair logs, as well as the USB cable you need for upgrading and a hard-sided carrying case. 
Features and Functions
FOXWELL Car Scanner NT604 Elite OBD2 Scanner
The affordable price and broad vehicle support off the Foxwell NT604 Elite make it an ideal choice for everyday drivers.
The Foxwell NT604 Elite can read codes and data from 4 vehicle systems: engine, transmission, airbags (SRS), and anti-lock brakes (ABS). Live data can be viewed as text or in graph form. This gives users a complete picture of their vehicle's health than what you'd get from a basic OBD2 code reader and also lets you turn off the associated dash warning lights. 
Another useful function of the Foxwell NT604 Elite is its AutoVIN feature, which quickly imports your vehicle's data, saving you the hassle of typing it in manually. You'll also get a 12V/24V battery tester free with your purchase of the NT604 Elite, further adding to its value. 
FOXWELL NT614E Diagnostic Tool
We recommend the Foxwell NT614 Elite for beginning DIYers.
The Foxwell NT614 Elite has the same 4-system diagnostics as the NT604. All live data can be graphed, with the option to merge two PID graphs for more in-depth analysis. It also includes two reset functions, oil reset and electronic parking brake (EPB) service, both helpful repair features for DIY mechanics.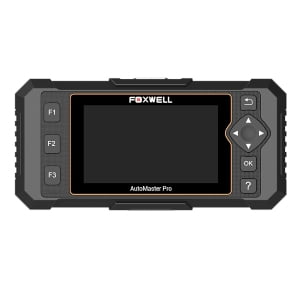 FOXWELL All System Scanner NT644E Diagnostic Scan Tool
The broad diagnostic power and repair functions of the Foxwell NT644E make it the best option for professionals and advanced DIYers.
Of the three tools, the Foxwell NT644E has the most functions and features. It can diagnose all electronic vehicle systems, including the 4 supported by the NT604 and NT614 and the headlights, HVAC system, chassis, TPMS, and other modules. 
There are more reset and maintenance functions on the Foxwell NT644E, as well. It supports 19 total reset functions, including ABS bleeding, DPF regeneration, and advanced features like Injector coding, gear learning, and clutch adaptation. 
Like with the other tools, all data read by the Foxwell NT644E can be graphed, with options to view multiple graphs side-by-side or merge graphs from multiple PIDs into one. You can also save data, played back, and printed through a connected PC. 
Supported Protocols
The Foxwell NT604 Elite supports all 5 OBD2 protocols, including J1850 PWM, J1850 VPW, ISO9141-2, KWP2000 (also known as ISO14230-4), and CAN networks. 
You'll get this same complete OBD2 protocol support from the Foxwell NT614 Elite and Foxwell NT644E. For older vehicles, the Foxwell NT614 Elite also supports OBD1 diagnostic protocols used on cars and trucks made in 1995 and earlier. 
Conversely, international users will find the protocol support of the Foxwell NT644E more suited to their needs. It supports EOBD protocols, used in vehicles made and sold in Europe, in addition to its OBD2 coverage. 
Foxwell NT644E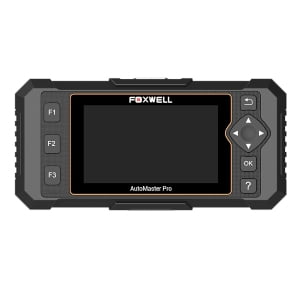 Supported Vehicle Makes
You can use any of these Foxwell scanners as an OBD2 diagnostic tool with any vehicle that supports OBD2 protocols. You'll see some limitations in the compatibility for non-OBD2 diagnostics and features, like reading ABS/SRS codes and data or using the oil reset and EPB reset features. 
The Foxwell NT604 Elite supports full 4-system diagnosis for more than 60 vehicle makes from around the world, including popular brands like Ford, GM, BMW, Mazda, Toyota, and many others. 
Foxwell NT604 Elite
You'll get similar 4-system diagnostic support from the Foxwell NT614 Elite. Its reset functions have relatively broad compatibility, as well, with support for more than 40 manufacturers. Keep in mind that it will only support these functions for vehicles made after 1996. It can diagnose older cars and trucks using OBD1 protocols but can't perform reset functions on them. 
Similarly, the specific vehicle compatibility of the Foxwell NT644E's 19 reset functions varies between manufacturers. If you want to double-check which of them will work on your vehicle, you can email [email protected] with your make, model, and year. They'll be able to tell you exactly what the NT644E can do for your vehicle. 
Warranty, Software, and Updates
Updates to Foxwell tools can be made through either FoxAssist or FoxScanner. You can identify and download the correct app on the Foxwell support page. All tool updates are free for life.
Keep in mind all of these update programs are designed for Windows operating systems and aren't supported on Apple or Android devices. You don't need to update the tools before use, so if you don't have the correct operating system, you can still use these scan tools.
The Foxwell NT644E is covered by a 12-month manufacturer's warranty from the date of initial purchase. Similarly, you'll get a 1-year limited warranty with the purchase of the Foxwell NT614 Elite or Foxwell NT604 Elite. More information on what it covers and how to use it for repairs can be found both in the user manual and on Foxwell's website. 
For those who need multi-language support, the Foxwell NT644E and Foxwell NT614 Elite have the software you need. Each tool supports 13 languages total, including Asian languages like Japanese and Korean and European languages like French, Spanish, Russian, and German.
User Manual Download
The user manual of Foxwell NT604 Elite and NT614 Elite can download HERE
Click HERE to find the user manual of Foxwell NT644E
Recommendation
The affordable price and broad vehicle support off the Foxwell NT604 Elite make it an ideal choice for everyday drivers. Its intuitive menu layout and straightforward button interface mean it's easy to learn and use, even for those with limited automotive experience.
We recommend the Foxwell NT614 Elite for beginning DIYers. Its two reset functions are the ones you're most likely to use as a home mechanic, allowing you to change the vehicle's oil or brake pads without a professional's help. 
The broad diagnostic power and repair functions of the Foxwell NT644E make it the best option for professionals and advanced DIYers. Features like battery replacement, brake bleeding, and injector coding facilitate a broader range of repairs, with equally wide vehicle compatibility. 
Foxwell NT604 Elite
Foxwell NT614 Elite
Foxwell NT644E
FAQs
Will the Foxwell NT604 Elite work with the newest 2020 and 2021 vehicle models?
Yes, as long as they use OBD2 protocols. If the tool doesn't seem to support your new 2021 vehicle, check to see if there are any recent updates that need to be installed. Tool updates often expand the vehicle coverage, so you'll likely be able to use this tool with your vehicle after the software is fully up to date. 
What kind of live data does the Foxwell NT604 Elite stream?
The NT604 can show live data from all modules in the supported systems. This includes engine, transmission, ABS, and SRS data, including transmission temperature, engine RPMs, ignition timing, misfire counts, and more. 
Do these tools come with the cables I need for diagnosis and updates?
Yes. All of these tools include both a diagnostic cable and a USB cable to connect them to a device for updates. 
Will the Foxwell NT604 Elite work with a vehicle made in 1995?
No. Vehicles made in that year still used the OBD1 diagnostic protocol, as opposed to the OBD2 protocol supported by the Foxwell NT604. If you need to diagnose a vehicle from 1995 or earlier, you can do so with the Foxwell NT614 Elite.
Can I print diagnostic data using the Foxwell NT614 Elite?
Yes, although you'll need to do so through the FoxAssist app. Start by downloading the app onto your computer. You can then use the built-in data manager to organized and store your data, or print it through any connected devices. 
Will the Foxwell NT614 Elite calibrate a steering angle sensor?
Unfortunately, no. Steering angle adjustment (SAS) is not one of the repair functions included on this tool. You can do this using the Foxwell NT644E, however, so that's the tool you're looking for if you need this feature. 
Does the Foxwell NT644E work with diesel engines?
Yes, it supports diagnostics for many diesel engines and repair functions like DPF regeneration. The only caveat here is that it will only diagnose diesel engines that use OBD2 or EOBD diagnostic protocols. Some heavy trucks with diesel engines aren't required to use these protocols and may require a different scanner to effectively diagnose and repair. You can find out what diagnostic protocol your vehicle uses in your repair manual if you're not sure. 
Can the Foxwell NT644E program TPMS?
Unfortunately, no. You can read TPMS data or reset the TPMS system using the Foxwell NT644E, but it doesn't support programming TPMS. This means you can use it to reset the system after replacing the tires, but won't be able to adjust the parameters or customize the sensors in the TPMS system. 
Read more: