"Can a OBD2 scanner reset TPMS?" 
Sure, there are numerous scanners that can quickly reset TPMS sensors after any changes or repairs.
Using a scanner can save you much time and money compared to manual methods or visiting a repair shop.
If you're looking for a reliable OBD2 scanner that can reset TPMS, you've come to the right place.
In this post, I will quickly provide a review and comparison of my top 6 scanners that are suitable for all skill levels, from home mechanics to professionals.
6 Best OBD2 Scanners with TPMS Reset: Comparison Chart
[Mobile users: Swipe left for full table]
Click HERE to see full comparison chart (PDF, Free Download)
6 Best OBD2 Scanners with TPMS Reset: Detailed Reviews
#1. Bluedriver: Best Bluetooth scanner with TPMS reset for the price
BlueDriver
Pros
Very user-friendly
Easy process
Live data in 3 ways
Convenient
Bluedriver is the most popular Bluetooth scanner in the market. And let me tell you, it's all for good reason. I highly recommend it for home mechanics and DIYers looking for convenience and ease.
Now, let me explain the TPMS reset process. It's really easy!
To find the "TPMS Reset" option, simply go to the "Service" icon in the menu. 
Bluedriver makes it simple by providing clear descriptions and instructions 
All you need to do is drive your vehicle, and Bluedriver will automatically handle the TPMS reset for you. 
But that's not all! Bluedriver offers a range of other diagnostic functions, such as full-system scans, live data, oil reset, and complete OBD2 functionality. It covers all your diagnostic needs in one device.
And the best thing about Bluedriver that I have to mention again and again is its "RepairReport" function, which provides you with much extra technical information (possible causes, reported fixes, etc.)
Bluedriver is a fantastic investment if you're looking for an easy way to handle TPMS directly from your phone. It also offers comprehensive vehicle diagnostics to make your vehicle maintenance easier.
Today's best BlueDriver price:
Read more: Never Buy BlueDriver Before Reading This Review [Updated 2023]
#2. Autel MK808S-TS: Most professional TPMS scanner and reset tool 
Autel MK808S-TS
Pros
Complete TPMS functions
TPMS Relearn
TPMS Programming
OE-level TPMS retrofit
Cons
Quite slow sometimes
Complex menu layout
The Autel MK808S-TS is a popular scanner that is designed to focus on the tire pressure monitoring system (TPMS). It is an all-in-one solution that can perform various TPMS services.
The scanner has a separate menu for TPMS functions within the main menu layout. Just a little side note – the TPMS reset option can actually be found in the "Service" menu, not the "TPMS" menu. (the menu layout is different on different vehicles, though)
The TPMS reset function is the most basic function that a TPMS tool can perform, and the Autel MK808S-TS can successfully perform this function on all vehicles I have tested.
The Autel MK808S-TS is not only able to reset TPMS, but it also offers advanced TPMS diagnostics that are not commonly found in other OBD2 scanners. 
Thus, it gives you three different ways to relearn your TPMS – Stationary Relearn, Automatic Relearn, and OBD Relearn – ensuring that any replaced TPMS sensors work perfectly.
One thing to note is that while the Autel MK808S-TS can program TPMS, it's only compatible with Autel-MX sensors. So keep that in mind before making a purchase.
Overall, Autel MK808S-TS is a great option for both DIYers and professionals who want to dive deeper into their vehicle's TPMS system.
Today's best Autel MK808S-TS price:
#3. XTOOL IP508S: Most affordable 4-system scan tool with TPMS reset
XTOOL IP508S
Pros
Reliable TPMS reset
Fast
User-friendly
You can find the TPMS Reset function in the "Special functions" on the main menu. It may take you through a few menus to select your car make but don't worry, it's easy to navigate. In the TPMS function, you have three options:
Diagnostics
Relearn
Information
Each option requires some steps, but no need to fret because the XTOOL IP508S provides clear instructions for each step.
The great thing about the XTOOL IP508S is that it covers TPMS reset for a variety of vehicle makes. 
Alongside the TPMS Reset function, you'll get
reliable four-system diagnostics,
an 8-in-1 live data graph,
and 9 commonly used service functions like ABS Bleeding, DPF regen, and BMS reset.
All in all, XTOOL IP508S is a versatile tool that will definitely come in handy for your car maintenance needs. 
Today's best XTOOL IP508S price:
#4. Autel MaxiAP AP200: Cheapest OBD2 scan tool to reset TPMS
Autel MaxiAP AP200
Pros
Affordable and portable

Full-system diagnostic

19+ advanced service functions



Cons
Can't cover 2019+ vehicles

Fee required for new car makes
If you want to get more involved in car repairs, you should consider investing in the Autel MaxiAP AP200. This little guy uses Bluetooth to connect straight to your phone (whether it's iOS or Android) using the MaxiAP200 app.
You need to register to use the app, the first model you register (i.e. GM) is free. And if you want to use this scanner for another model, you have to pay $21.99 per model.
In my experience, the Autel AP200 only supports TPMS Reset on a few models like Ford, Mazda, Tesla, and GM. So before purchasing, I recommend checking with the seller to see if this scanner can support TPMS reset on your particular vehicle.
The process for this function is not as easy as with the Bluedriver. You'll need to confirm your VIN, vehicle profile, and follow some additional steps. Unfortunately, the Autel AP200 doesn't provide clear instructions, which is a drawback.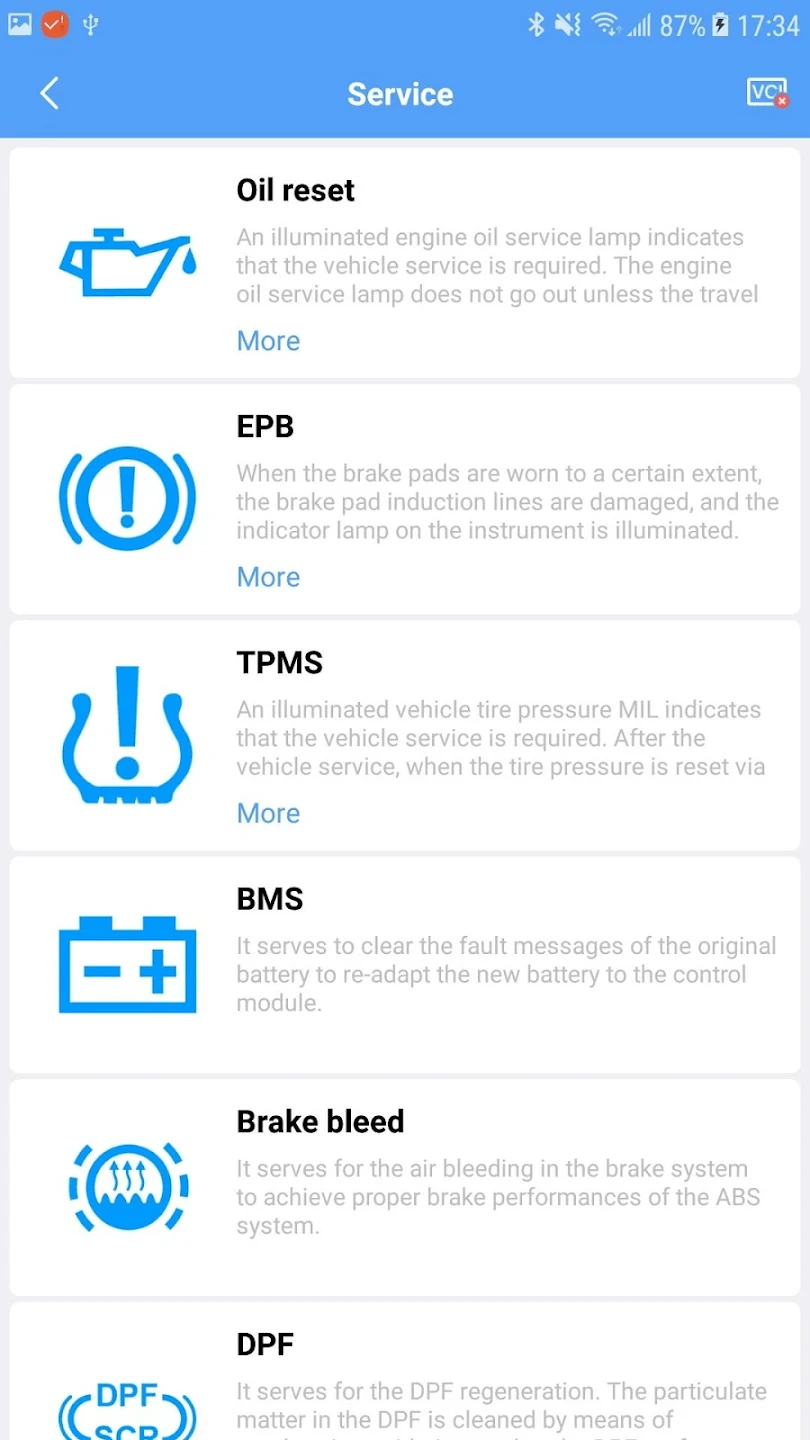 However, the Autel AP200 is a full-system scanner that offers live data and 19 service functions. This means you can perform comprehensive diagnostics and basic maintenance as well.
Overall, while the Autel AP200 isn't the ultimate TPMS reset tool for all car brands, it is still the cheapest option that offers reliability.
Today's best Autel MaxiAP AP200 price:
#5. Thinkdiag2: Cheapest bi-directional scan tool with TPMS reset/ relearn
Thinkdiag2
Pros
TPMS Relearn
Bidirectional control
Use on phone
Cons
No TPMS programming
May be laggy sometimes
Thinkdiag2 is a really affordable bi-directional tool that also has a TPMS reset function. I've tested it on various vehicles and it works great, especially for the price.
One impressive aspect of this scanner is its ability to perform TPMS relearn on certain vehicles. I recently used it on a 2008 Lexus RX350, and it did the job flawlessly. However, do keep in mind that the Thinkdiag2 doesn't support TPMS sensor programming, so if your sensor information is missing, this might be a limitation.
Going to the bi-directional control, you can perform active tests on things like the powertrain and EGR system. It may not have the widest range of tests, but it still gives you control of some essential modules.
Now, there is one downside to be aware of. The app can be a bit glitchy at times, but that's a common issue with Bluetooth adapters.
However, overall, the Thinkdiag2 is a steal if you want to up your vehicle maintenance and performance without spending a fortune.
Today's best Thinkdiag2 price:
#6. Launch CRP909X: Best full-system diagnostic scanner with TPMS reset
Launch CRP909X
Pros
Wide vehicle coverage
28+ reset functions
Cons
Auto-VIN may not work
Short battery life
Launch CRP909X is an all-in-one solution for all home mechanics and middle-level DIYers. 
Talking about the main thing first, the TPMS function of Launch CRP909X is reliable and available on many car brands. Launch is always famous for its wide vehicle and functional coverage. 
In addition to TPMS Reset, Launch CRP909X provides 28+ other service functions that enhance your vehicle maintenance experience.
Thus, This scanner is a full-system scanner, allowing you to access and examine every system in your vehicle, ensuring no potential issues are missed that could cause problems in the future.
However, there are a couple of drawbacks to consider. Launch products often struggle with auto VIN identification, although manual VIN input is still simple. Additionally, the battery life of this scanner can drain quickly when not charging, especially during busy days with multiple tasks, but I think it's only a problem if you have to do numerous tasks a day.
And if you are a GM owner, then you are in luck, because this Launch CRP909X will come with a free TPMS tool gift (for GM) while purchasing on Amazon. 
Today's best Launch CRP909X price:
---
6 Best OBD2 Scanners with TPMS Reset: Full Comparison Chart
| | Bluedriver | Autel MK808S-TS | XTOOL IP508S | Autel AP200 | Thinkdiag2 | Launch CRP909X |
| --- | --- | --- | --- | --- | --- | --- |
| TPMS FUNCTIONS | | | | | | |
| TPMS Reset | ✅ | ✅ | ✅ | ✅ | ✅ | ✅ |
| TPMS Diagnostics | ✅ | ✅ | ✅ | ✅ | ✅ | ✅ |
| TPMS Relearn | – | ✅ | – | – | ✅ | – |
| TPMS Programming | – | ✅ | – | – | – | – |
| TPMS Retrofit | – | ✅ | – | – | – | – |
| VEHICLE DIAGNOSTICS | | | | | | |
| Four-system diagnosis | ✅ | ✅ | ✅ | ✅ | ✅ | ✅ |
| All-system diagnosis | ✅ | ✅ | – | ✅ | ✅ | ✅ |
| Live data | ✅ | ✅ | ✅ | ✅ | ✅ | ✅ |
| OTHER FUNCTIONS | | | | | | |
| Number of service functions | 3 | 28 | 9 | 19 | 15+ | 28+ |
| Oil Reset | ✅ | ✅ | ✅ | ✅ | ✅ | ✅ |
| ABS Bleeding | – | ✅ | ✅ | ✅ | ✅ | ✅ |
| Active tests | – | ✅ | – | – | ✅ | – |
| VEHICLE COVERAGE | All car brands | All car brands | All car brands | All car brands | All car brands | All car brands |
| HARDWARE/ DESIGN | | | | | | |
| Connection type | Bluetooth | Wired | Wired | Bluetooth | Bluetooth | Wired |
| Screen size | – | 7″ | 5″ | – | – | 7″ |
| Touch screen | ✅ | ✅ | ✅ | ✅ | ✅ | ✅ |
| AFTER- SALES SERVICE | | | | | | |
| Free update | Lifetime | 1 year | Lifetime | Lifetime | 1 year | 2 years |
| Update fee | $0 | $295/ year | $0 | $0 | $99.95/year | $110 |
| Warranty | 1 year | 1 year | 2 years | 1 year | 1 year | 5 years |
| Customer support | 9.0/10 | 9.0/10 | 10/10 | 8.5/10 | 9.0/10 | 8.0/10 |
| | | | | | | |
| | | | | | | |
What's Next? 
That wraps up my reviews of the top OBD2 scanners with TPMS reset function. I hope you were able to find the perfect option for your needs.
If you have any questions, please feel free to leave a comment below, and I will respond as quickly as possible.