Looking for the right OBD2 scanner can be overwhelming if you're unfamiliar with scanners and need one that supports your specific car make.
But don't worry! This post provides a list of top-rated OBDII scan tools and code readers, along with information on each.
I also list the best choices for popular car makes (Audi, Mercedes, etc.), making compatibility concerns a thing of the past.
In this post, I will only cover the top scanner for home mechanics who want to perform diagnostics and maintenance tasks at home. If you are looking for a more advanced and professional tool, check out my "Best professional car diagnostic tool" post instead.
---
Table of contents:
---
Best OBD2 Scanner for All/ Specific Car Brand
[Mobile users: Swipe left for full table]
---
Best OBD2 Scanners for All Car Brands (Universal Scanners)
#1. Bluedriver: Editor's Pick.
Bluedriver is actually the most popular yet best-budget Bluetooth OBD2 scanner in the market at the moment. And I can confirm that Bluedriver is worth that fame. 
Beware that this scanner only works with its own "Bluedriver" app on Google Play and App Store.
Don't worry, because the 'Bluedriver" app is great to work with. Here's why…
Easy menu layout: Bluedriver is among the easiest OBD2 apps I have used. All functions and features are put in great order and are simple to find. 
Full-system diagnosis to make sure that no problem is left behind.
Live data in 3 ways (gauge, graph, and digital). 
Extra technical information: Bluedriver gives you extra information like how common the codes are and suggested repairs or replacement parts. So, you don't even need to bring the codes to a mechanic and ask them what to do next.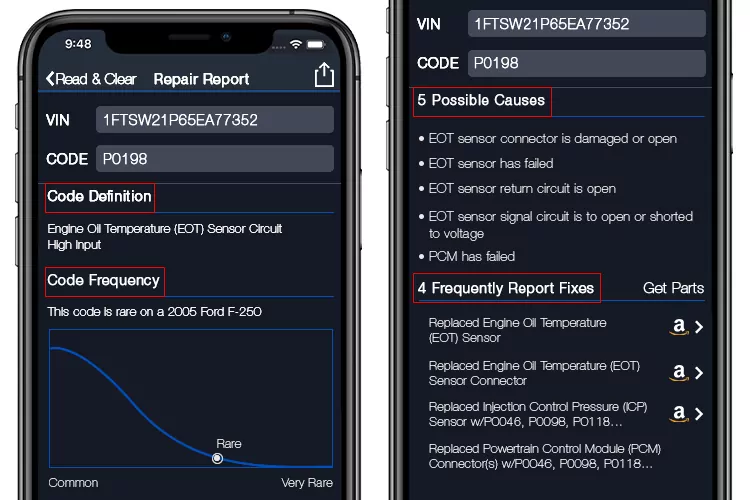 Thus, Bluedriver can go beyond car diagnostics. This can also do things like oil reset and TPMS reset, and even register vehicle battery (if you have a BMW). BUT, again and again, these functions may not work perfectly on all vehicles.
But, like anything, it's not perfect. The Bluetooth connection can be annoying sometimes, that's a common issue of Bluetooth tools, though. 
In general, that weak connection won't stop me from saying Bluedriver is the best scanning tool for those who value convenience and extra technical information. 
Today's best Bluedriver price:
Read more: Bluedriver Detailed Review
#2. ANCEL FX5000: Best full-system OBD2 scanner
If you want to get into your vehicle's all systems and find any fault codes, then the ANCEL FX5000 is definitely the best choice. Trust me, with this tool, nothing will be left behind.
Although it doesn't offer many service functions, it does offer an essential feature: ABS Bleeding (the other 2 are oil and EPB reset. What's impressive is that all of these features are available for under $200, whereas other scanners with similar capabilities usually cost over $250.
Thus, you can monitor your vehicle's performance in real time. This is extremely helpful as it allows you to catch any potential problems early on. 
I have to mention that the screen size is a bit small, not really ideal for me. 
And you won't find the ANCEL FX5000 on Amazon (which may sound like a drawback), but you can find it at a great price on Ancel.com.
All in all, ANCEL FX5000 is a tool that empowers you to tackle any potential problems head-on.
Today's best ANCEL FX5000 price:
#3. INNOVA 5210: Best budget OBD2 scanner with battery check.
The INNOVA 5210 is a good scanner to consider because it has standard features like
vehicle system diagnosis (engine, transmission, ABS), 
full OBD2 modes, 
and live data
However, its live data values are not as advanced as some other options out there.
So, what sets INNOVA 5210 apart?
INNOVA's FREE RepairSolution2 App. This app connects to your phone via Bluetooth and provides verified fixes, recommendations for parts, and much more valuable information. It's like having an expert in your pocket to help you repair your vehicle.  
The battery test. INNOVA 5210 allows you to quickly and easily check the health of your battery and alternator on the spot, giving you peace of mind and helping you avoid unexpected breakdowns. 
Overall, if you want a reliable scanner that does more than the basics and comes with a helpful app, the INNOVA 5210 is worth considering.
Today's best INNOVA 5210 price:
#4. MOTOPOWER MP69033: Best cheap code reader for cars.  
MOTOPOWER MP69033 is the one I will recommend to those who just find a simple and accurate code reader for their vehicles (and super cheap, for sure).
This tool is extremely simple. All you need to do is plug in the MOTOPOWER MP69033, turn it on, and it will show you all the important information you need to know about your engine and transmission system.  
You don't have to be a tech expert because it's designed to be user-friendly. It even displays code descriptions on the screen so you know what's happening under the hood.
Talking about performance, MOTOPOWER MP69033 is fast and accurate. I've used it myself and am confident to say that you can rely on this small gadget. I haven't seen any bugs or wrong codes during use. 
Not to mention that MOTOPOWER MP69033 can read live data! Sure, it cannot give many live data PIDs. But for the price, some engine live data is the best thing I can ask for.
Overall, MOTOPOWER MP69033 is a basic scanner that can do the tasks well, nothing special, but nothing wrong. So, this scanner is a cheap investment to easily get an overview of your vehicle's engine and transmission systems.
Today's best MOTOPOWER MP69033 price:
---
Best OBD2 Scanners for Specific Car Brand
Choose your car brand:
---
BMW Scanners:
#1. FOXWELL NT510 Elite
FOXWELL NT510 is an excellent choice for BMW owners. 
This scanner is incredibly versatile and can handle all your vehicle diagnostic needs.
One of the great features of this scanner is its ability to communicate with your BMW and run active tests. This means you can pinpoint the exact source of any issues you may be experiencing. 
Additionally, it offers a wide range of over 18 common service functions to help you keep your vehicle in top shape, including the ability to register a new battery.
FOXWELL NT510 is a scanner specifically designed for Mercedes vehicles, so it surely works on any Mercedes that comes to my garage.
However, please note that it can be slow to connect and load at times. This slowness occurs occasionally. If you're a home mechanic or a DIYer who doesn't need to handle a heavy workload, the processing speed is still acceptable.
Today's best FOXWELL NT510 Elite price:
#2. OBDLink CX + Bimmercode App
OBDLink CX + Bimmercode is an excellent self-coding tool for BMW owners. With this combo, I can make various changes to a BMW F82, like disabling auto start/stop, setting up mirror folding when parked, and turning off startup warning messages.
For just $120, I can get the OBDLink CX adapter for around $80 and a lifetime BimmerCode subscription for $40. Unlike other options, BimmerCode requires only a one-time payment, saving on yearly fees.
While BimmerCode is great for advanced coding, it lacks features like code reading, clearing, battery registration, and basic OBD2 functions. For those tasks, BimmerLink or OBDLink apps are needed.
Note: Adding BimmerLink will cost an additional $35-$40, so keep that expense in mind when purchasing.
So, if you need an affordable yet reliable option for BMW coding, OBDLink CX + Bimmercode is the best combination I can think of.
Today's best OBDLink CX price:
---
Ford Scanners:
#1. AUTOPHIX 7150
The AUTOPHIX 7150 is specifically designed for Ford vehicles, which is an important aspect. 
The standout feature of the AUTOPHIX 7150 is its "For Ford" function. This function is similar to standard OBD-II functions, such as reading and clearing codes, but it goes even further.
With the AUTOPHIX 7150, I can easily read more comprehensive diagnostics for Ford vehicles.
If you're looking for more advanced capabilities, the AUTOPHIX 7150 can still meet your needs. It has a DPF regen function, which is particularly useful for addressing blocked DPF issues commonly found in Ford diesel vehicles.
It can also perform tasks like ABS Bleeding, TPMS reset, battery registration, etc. 
On the downside, the AUTOPHIX 7150 has a short cable and a small screen, which some users may find uncomfortable.
Today's best AUTOPHIX 7150 price:
#2. OBDLink EX (+ FORscan software):
The OBDLink EX is an adapter that needs software to work. I highly recommend using it with FORScan, the top diagnostic software for Ford vehicles.
With the OBDLink EX + FORScan combination, I can do amazing things. I can customize my vehicles by disabling annoying features. I can also activate different comfort module functions to personalize driving experience.
Moreover, this adapter helps with important tasks like
diagnosing the entire vehicle system, 
displaying live data in various formats (dashboard, graph, and table)
performing reset functions like BCM Reset and ABS Reset.
Performing active tests
The only downside is that the interface can be a bit complex. Just keep in mind that OBDLink EX works best when used with FORScan, which might require some time to learn and get used to. However, considering the many benefits it offers, I assure you that the effort is well worth it.
Today's best OBDLink EX price:
---
GM Scanners:
#1. LAUNCH X431 GM
The Launch X431 GM is a comprehensive tool designed specifically for GM vehicles.
It's impressive because it can handle a wide range of tasks, similar to the expensive tools I often use in the garage.
Firstly, it excels at diagnostics by 
accessing all the systems in your vehicle, providing a complete overview of its condition
allowing you to send commands to perform tests and further investigate issues (bidirectional control)
Here's the exciting part: this device offers 31+ special functions, which is quite impressive for its price range. Some of my favorite functions include key programming, ABS bleeding, etc. 
And guess what? This little gadget is the best scan tool for GM relearning functions with crankshaft relearn, throttle relearn, etc.
If you're someone who loves exploring hidden features in vehicles, the Launch X431 GM can meet your needs. It has ECU coding capabilities on certain vehicles, enabling you to unlock hidden functions like auto-folding windows.
One downside to consider is that the device is free for only one year, after which you may need to pay for some features. Aside from that, it's a must-have tool for GM owners and mechanics.
Today's best Launch X431 GM price:
#2. Autel MaxiAP AP200
If the Launch X431 GM above is the best handheld choice for GM vehicles, then this Autel AP200 is the best Bluetooth choice for those who seeking convenience. 
This little guy uses Bluetooth to connect straight to your phone (whether it's iOS or Android) using the MaxiAP200 app.
You need to register to use the app; the first model you register (i.e. GM) is free. And if you want to use this scanner for other models, you have to pay some ($21.99 per model)
This Autel is still a full-system scanner with full OBD2 functions and live data, so you can handle thorough diagnostics too. But beware that it does not offer the ability to perform bidirectional control.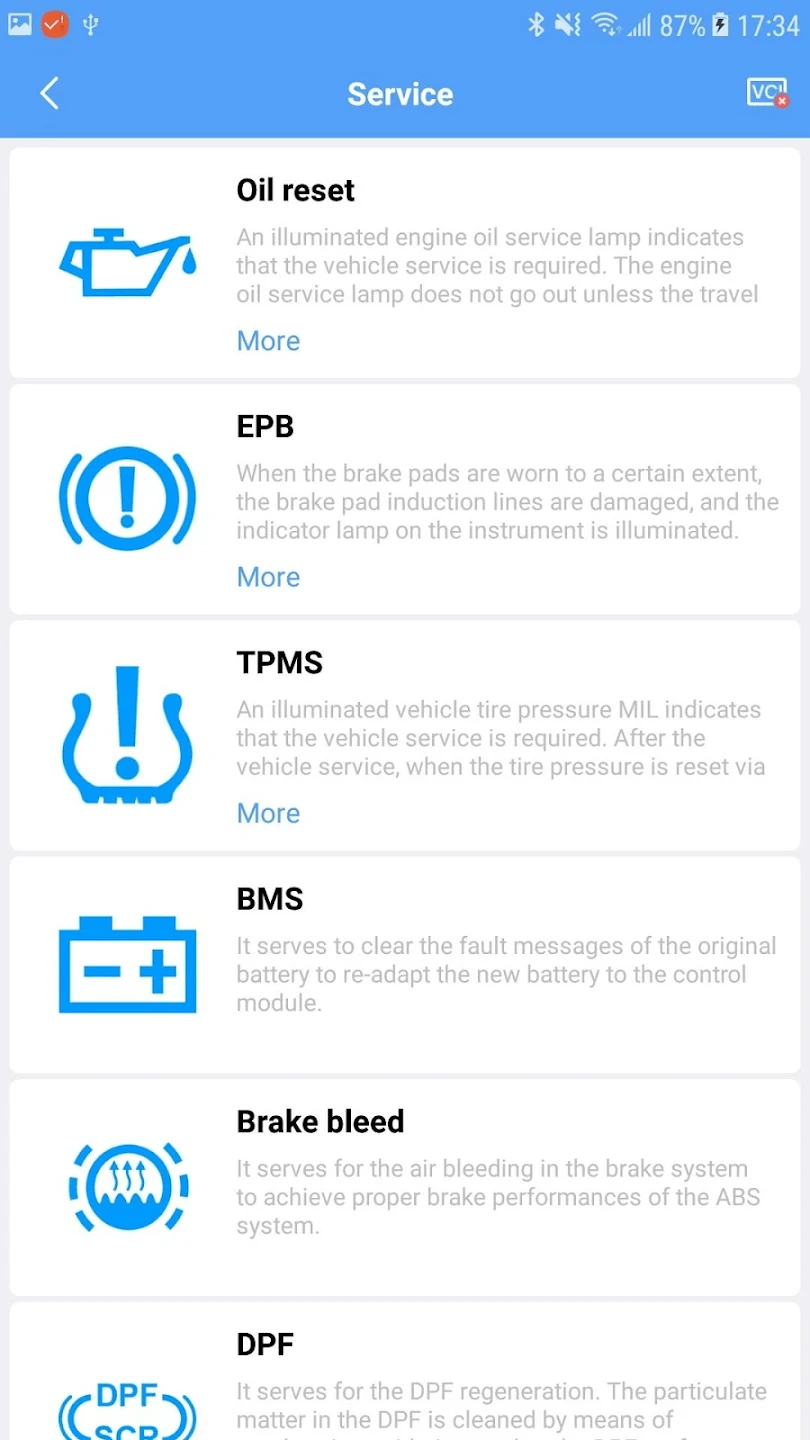 And yes, this tool also goes way beyond just reading codes. It has 19 reset functions, you can handle everything from the basics (like oil resets and BMS resets) to more advanced problems (like key programming and even bleeding brakes for GM vehicles). 
Today's best Autel MaxiAP AP200 price:
---
VAG Vehicles (Audi/ VW/ etc.)
#1. OBDeleven
When it comes to VAG vehicles, OBDeleven is always my top choice because it allows me to access the most advanced features available.
OBDeleven is a highly professional tool for VAG vehicles, offering advanced functions, including diagnostics, car feature customization, and coding/adaptations.
Even if you're not a professional or an enthusiast in need of those powerful features, OBDeleven still has essential functions for home diagnostics and maintenance. This includes
full-system diagnostics
live data readings
15 service functions
OBDeleven has four main options to cater to different user needs. You can choose between the OBDeleven device (FirstGen), NextGen device, PRO Pack, and ULTIMATE Pack, depending on your budget and requirements.
With OBDeleven, you can confidently run diagnostics, personalize your driving experience with One-Click Apps, and manually code your car. It's like having a professional mechanic's expertise at your fingertips for more control and customization options.
Today's best OBDeleven NextGen Device price:
#2. AUTOPHIX 7610
If you're looking for a reliable and efficient vehicle diagnostics and maintenance tool, the AUTOPHIX 7610 is the way to go. 
AUTOPHIX 7610 will cover:
A full scan through all systems of your vehicle so there's nothing left behind
Battery registration & maintenance to make sure that your battery is in good condition
10 common service functions to enhance your at-home vehicle maintenance (oil reset, throttle learn, etc.)
Plus, this scanner is perfect for home mechanics like us. With its speedy performance, it can scan a vehicle in just about 20 seconds. That's pretty impressive, right?
All in all, I highly recommend the AUTOPHIX 7610 for tackling a range of low-to-mid-level tasks at home. It's the best VAG OBD2 scanner out there that will meet all your needs with ease.
Today's best AUTOPHIX 7610 price:
---
Mercedes Scanners
#1. FOXWELL NT510 Elite
The Foxwell NT510 scanner is a great choice for Mercedes owners. It's specifically designed for diagnosing Mercedes vehicles and offers impressive features considering its price range.
What sets the NT510 apart is its ability to do more than just pull codes. It includes active tests, which are very useful. Although this feature is supported only for models up to 2019, it's still worth it, especially since it costs under $200 and offers bi-directional functionality. There are no annual fees to worry about either.
Thus, this FOXWELL NT510 Elite offers numerous functions to enhance your at-home vehicle maintenance, such as ABS Bleeding, Oil reset, DPF Regen, SAS Calibration, etc. 
The best part is the battery registration feature. Instead of paying high prices at a Mercedes dealer for battery replacements, the NT510 allows you to replace the battery yourself at home for less than $200. 
However, the only downside is the old-fashioned interface. The screen feels outdated, not something called "user-friendly". But once you get used to it, it is worth the effort.
Considering the impressive features it offers at its price point, the Foxwell NT510 is definitely worth the investment. It will save you a significant amount of money on dealership visits.
Today's best FOXWELL NT510 Elite price:
#2. iCarsoft MB V2.0
The iCarsoft MB V2.0 is a specialized scanner designed for Mercedes cars. 
This scanner offers full-system diagnostics for Mercedes vehicles. The scanning process is fast and accurate during my tests.
What sets the iCarsoft MB V2.0 apart is its impressive range of service functions, which can save you a substantial amount of money on car maintenance:
ABS bleeding
EPB system maintenance,
DPF regeneration
Etc.
In terms of drawbacks, I haven't encountered any noticeable issues with this scanner, indicating its reliability and performance.
Overall, the iCarsoft MB V2.0 is a dependable and budget-friendly scanner for Mercedes cars. With a budget under $150, this scanner is an excellent choice if you need various functions for your vehicle.
Today's best iCarsoft MB V2.0 price:
---
Toyota Scanners
#1. FOXWELL NT510 Elite
The Foxwell NT510 Elite is an excellent scanner for Toyota and Lexus vehicles. It allows you to scan for trouble codes in all systems and provides detailed descriptions of the issues.
The standout feature is the active test function, which makes exploring Toyota systems a breeze. With this feature, you can easily activate solenoids and accurately identify the specific issues you're facing.
While it's important to note that bi-directional tests are available for some systems, not all, considering the price range, it's still a great offering.
Another noteworthy capability of the NT510 Elite is its ability to read the transmission fluid temperature accurately. With Toyota no longer using dipsticks for checking transmission fluid, this scanner becomes invaluable in ensuring you perform the procedure correctly.
For DIYers, the Foxwell NT510 Elite is a game-changer with its advanced functions. It's definitely worth every penny invested.
Today's best FOXWELL NT510 Elite price:
#2. ANCEL TD700
If you're looking for a more affordable yet still reliable scanner, the Ancel TD700 is the perfect choice. Here are some of what it offers:
Full vehicle scan
Live transmission fluid temperature reading
ABS brake bleed
Battery testing
Although switching between functions may be slightly slow, it's a minor inconvenience considering the scanner's affordable price. Additionally, the user-friendly interface ensures that you can easily find the features you need without wasting time.
Overall, the Ancel TD700 is an excellent addition for Toyota owners who prefer to handle their own repairs. It strikes the right balance between capabilities and affordability.
Today's best ANCEL TD700 price:
---
Get To Know About OBD2 Scanners
What to Consider Before Purchasing Your Best OBD2 Scanner?
Your need and budget: You don't need to buy an expensive scanner if you only need basic diagnostic information. Just get a cheap and affordable scanner that does what you need.
Vehicle coverage: Even if the scanner is very good, it won't help you if it can't connect to your car. In this post, I only cover the top scanners that work with many different car brands. But if you're still unsure about compatibility, take a look at our reviews for scanners designed specifically for certain makes like BMW scanners, Audi scanners, Toyota scanners, etc.
Ease of use: Not all scanners are plug-and-go tools. Some are quite complicated and you have to take time to learn. So if you are just in need of a basic scanner to diagnose your vehicle, I recommend buying a straightforward and easy-to-use scanner. 
Accuracy: A scanner is only useful if it provides accurate information. Make sure the scanner you choose is reliable.
Read more at my "How To Choose An OBD2 Scanner In 5 Steps" post.
What Can a Common OBD2 Scanner Do?
Read and clear codes: The most essential part of a scanner is reading and clearing codes. But not all scanners are the same when it comes to the range of OBD2 codes they can read. 

Some scanners can only read the engine code (also known as "engine light check").
Some scanners can dive deeper into the 4 main systems: engine, transmission, ABS, airbag.
Some scanners can get the most thorough to read all the systems in the vehicle. 

Live data (generic, graph): Live data is a helpful feature for diagnosing vehicle problems. It allows you to see how the different systems are working in real-time, which helps you understand what's going on. Not all scanners can display live data, and more advanced scanners can display more PIDs of live data.
I/M readiness (smog test): This is one important function that most scan tools have. The scanner will run engine and emissions tests to see if you'll pass your state's inspection.
Freeze frame data: This function will show some essential values of the vehicle like the DTCs, engine coolant temperature, etc. 
6 Main Types of OBD2 Scanners
*This post only covers the OBD2 scanning tools for basic to medium levels of diagnosis.
What's Next
This is the end of my best car scan tools review. 
Narrowing down the choices from numerous to just six options was a tough task, so I hope this post has been helpful to you. 
If you have any questions or need further information on this topic, feel free to leave a comment below. I'll do my best to answer your questions as soon as possible.