An appropriate OBD2 scanning tool can save you many trips to the mechanic for common vehicle problems you can fix yourself.
If you own a Honda vehicle brand, the best Honda scan tool is what you need.
These reviews and comparisons will help you make an appropriate decision.
The scanners reviewed in this article have advanced Honda diagnostic software and Honda ECU programming software.
With them, you can be in charge of your vehicle all the time.
The scanner and diagnostic tools give you the power to customize your car.
Keep reading for the best product recommendations.
---
7 Best Scan Tools for Honda: Comparison Chart
[Mobile users: Swipe left for full table]
---
Best Handheld OBD2 Scanners for Honda/Acura
#1. FOXWELL NT510 Elite: Best OBD2 Scanner for Honda with Active Tests
Foxwell NT510 Elite
Pros
Designed for Honda & Acura

Full-system scan

Active tests

25+ service functions
FOXWELL NT510 Elite was specially designed for Honda and Acura vehicles. 
Despite the low cost of this scanner, it can perform system diagnosis and many other special service functions. 
The bi-directional capability of this tool puts it on another level. It allows you to temporarily activate or control vehicle systems and/or components to check the status. 
You can check electronic components, including switches, sensors, relays, and actuators. 
Additionally, you can recalibrate, adapt or configure some vehicle components after making repairs or replacements.
With FOXWELL NT510 Elite, you can perform the following functions:
Disable lost keys and add new keys
Oil Light Reset
Electronic Parking Brake (EPB) reset
ABS/SRS reset
TPMS Reset/Programming
Throttle position relearn
Steering Angle Sensor (SAS) Calibration
DPF Regeneration
FOXWELL NT510 Elite is considered a complete Honda scan tool in this category.
This is a must-have if you own a Honda or Acura and pay for itself because of not having to pay a dealer to do the same simple task.
Today's best Foxwell NT510 Elite price:
#2. CGSULIT SC530: Best Scan Tool with Relearn Function
CGSULIT SC530 for Honda
Pros
30+ service functions

Active tests

Full-system diagnostics

Good customer support
Cons
Connector doesn't fully plug into the OBD2 port
CGSULIT SC530 is another remarkable bi-directional scanner designed for Honda and Acura vehicles.
This powerful scanner goes beyond basic diagnostics and allows you to perform complex tasks, including:
relearn the crankshaft position sensor in a Honda Odyssey after changing the timing belt
do a scan of all modules for pulling out all errors
perform other active tests function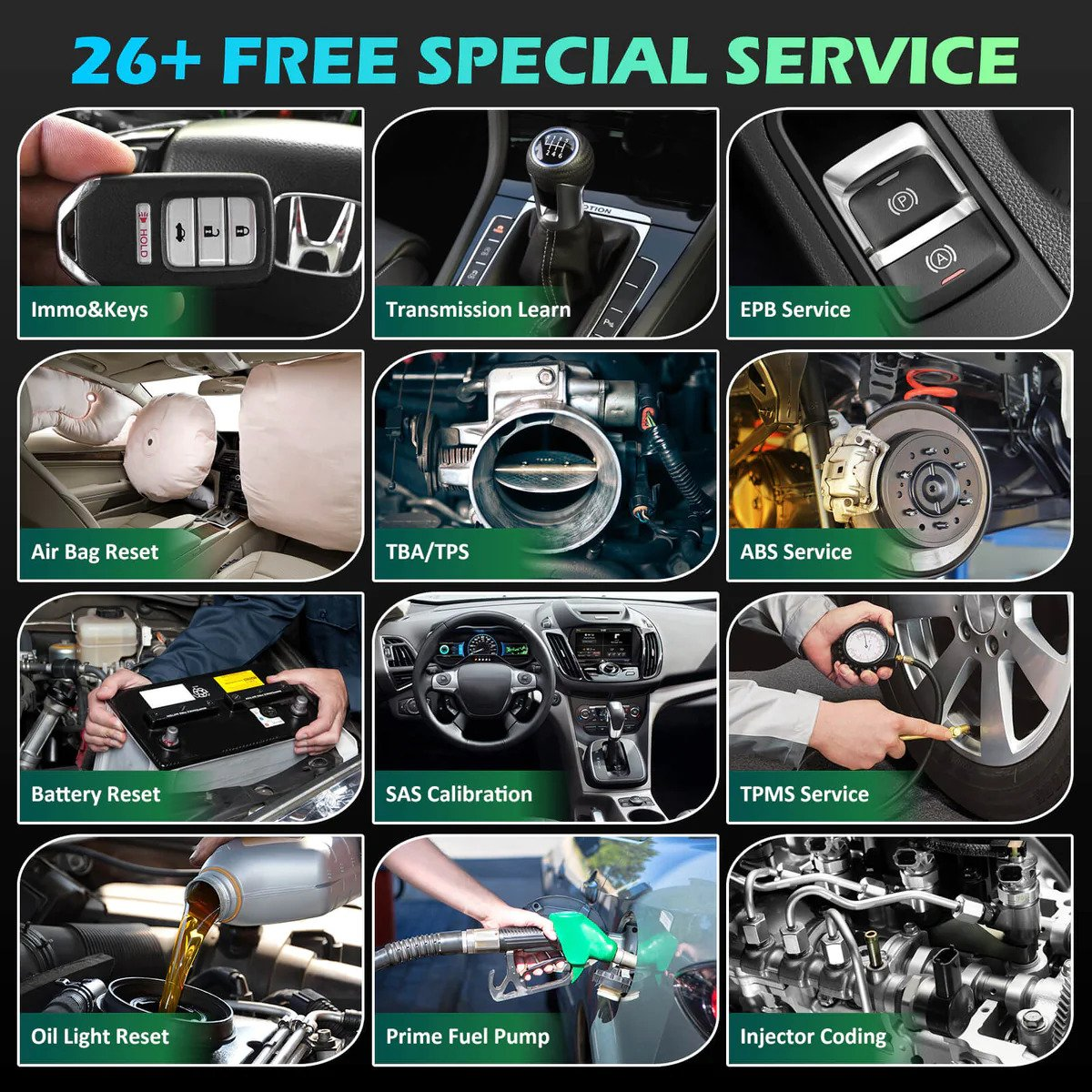 One aspect that truly impressed me is the excellent customer support provided by CSSULIT. 
After encountering an issue with the scanner post-purchase, I reached out to their support team via email. I was pleasantly surprised to receive detailed instructions within 24 hours, far surpassing the response times of any other company I've dealt with before. 
Their proactive approach in ensuring that I completely resolved the problem left a lasting positive impression.
The supportive tech support from CSSULIT has become a significant factor in my decision to consider purchasing products from this brand in the future. 
While the scanner has one downside—the connector doesn't fully plug into the OBD2 port, stopping halfway—it's a major problem.  The scanner still receives power and maintains reliable communication.
Considering its price range, the CGSULIT HONDA scanner proves to be an excellent choice, offering all the necessary functions to effectively repair and maintain Honda vehicles. 
It provides exceptional value and convenience, making it an ideal tool for DIY enthusiasts.
Today's best CGSULIT SC530 price:
#3. ANCEL AD310: Cheapest Code Reader for Honda/ Acura
ANCEL AD310
Pros
Cheap

Fast results displayed

Can read digit live data
ANCEL AD310 is an easy-to-use scanner for scanning and erasing trouble codes and error codes to find the root cause of system faults. 
It can read and erase diagnostic trouble codes, both generic and Honda manufacturer-specific.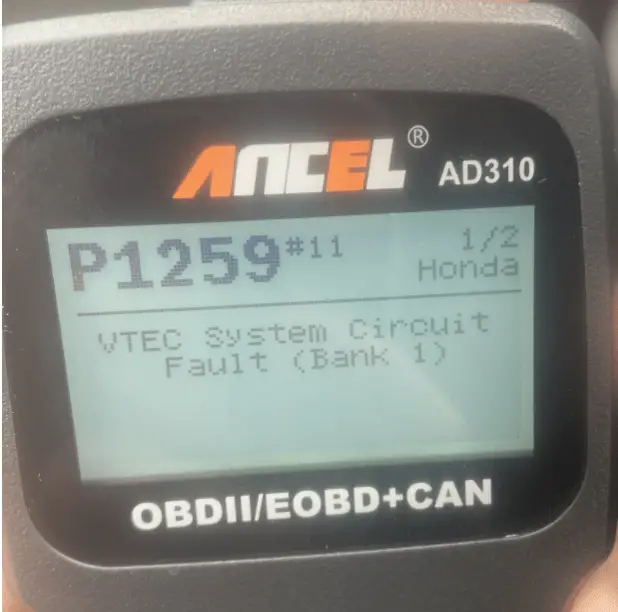 Besides the very basic function – code reading, this tool also has the following features and functions:
Built-in OBD-II DTC lookup library
Read live data stream
View freeze frame data
Prepare for emission test
EVAP leak test
Retrieve vehicle information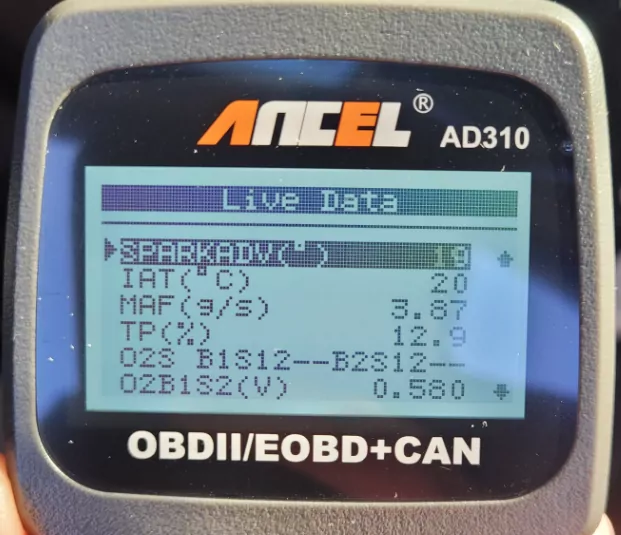 While these functions may not be considered advanced, they are highly suitable for performing everyday tasks. 
This makes Ancel AD310 an ideal choice for newbies and DIYers to avoid diagnostic fees charged by mechanics.
One drawback of the ANCEL AD310 is its lack of a graphing live data function. If this feature is essential to you, you may want to consider purchasing the Ancel AD410 instead.
Today's best Ancel AD310 Elite price:
#4. TOPDON ArtiDiag Pro: Best Affordable OBD2 Scanner for ECU Coding
TOPDON Artidiag Pro
Pros
ECU coding
Bi-directional control
31 service functions

Can program new key

One-touch update
If you're in search of a reliable scanner with lightning-fast response speed, the Topdon Artidiag Pro is the ideal choice.
As someone with experience using various professional diagnostics tools, I can confidently say that the speed of the Topdon Artidiag Pro is truly remarkable. 
You'll be pleasantly surprised by how quickly it performs. With just one click, this scanner automatically identifies the car you're working on, eliminating any boring waiting time.
Even a full system scan is completed in about a minute, allowing you to promptly access the codes and diagnose any issues.
One notable advantage is that this scanner is not limited to Honda and Acura vehicles. It has broad compatibility with a wide range of car brands. 
It also shines when offering impressive ECU coding functions that allow you to customize your car according to your preferences.
While the Topdon Artidiag Pro is not wireless, I don't consider this a major drawback. 
In fact, its wired connection enhances its speed compared to units that rely on Bluetooth dongles. Additionally, this wired design likely contributes to a more affordable price point.
Overall, the Topdon Artidiag Pro is an exceptional tool, particularly suited for advanced DIYers who own multiple cars from different manufacturers. 
With its outstanding performance and versatility, it's an investment that can quickly pay for itself in just one or two repairs.
Today's best TOPDON ArtiDiag Pro price:
Best Bluetooth Scanners for Honda/ Accord
#1. Autel AP200: Cheapest Scanner for Honda with Key Programming
Autel AP200
Pros
19 service functions

Powerful key programming

Good price
Cons
Can't work with third-party apps

Only perfect for single-car brand
The next scanner I would like to recommend is Autel AP200, which only costs $60 but has an incredible key programming feature.
I recently programmed keys for 2 different Hondas— 2000 Honda Accord and 2008 Honda Civic—and I couldn't be happier with the results. This scanner performed exactly as advertised, saving me a fortune. 
This function will save you a significant amount of money compared to what the dealership would have charged—$175 for a spare key!
Instead, you can program both keys within a mere 5 minutes using "chipped" keys that I purchased from Amazon for just $13.
Key programming is definitely the standout feature for me, but the Autel AP200 has a lot more to offer:
read enhanced Honda-specific diagnostics (all systems)
live data
perform EPB (Electric Parking Brake) reset
relearn throttle body
adjust the air temp intake
One thing to keep in mind is that when you purchase the Autel AP200 scanner, you activate it for one specific car brand (full advanced functions free for a lifetime). 
This means you can use the scanner not only on Honda vehicles but also on other car brands. However, if you want to expand its compatibility to additional car brands, there is a yearly fee of more than $21.99 per brand.
Overall, I highly recommend Autel AP200 to any DIYer in need of a portable tool for performing various reset service functions at home. It's affordable, efficient, and offers incredible value for the money.
Today's best Autel AP200 price:
#2. Bluedriver: Best Scanner with Wide Vehicle Coverage
Bluedriver
Pros
Repair suggestions

Full-system diagnostics

Cover multiple car brands
Cons
Can't work with third-party apps

Only 3 reset functions
BlueDriver is an adapter that allows car owners to use their smartphones (both Android and iOS) to read and clear codes. 
This adapter is plugged into the vehicle's OBD2 port and pairs with the Bluedriver mobile app through Bluetooth. 
Bluedriver not only helps you determine the cause of the check engine light on your dashboard.
In addition to basic engine codes, it reads Honda's enhanced codes such as the electronic steering, electronic brakes, SRS, ABS, and transmission. Then it also suggests professional fixes. 
Below is the long list of trouble codes pulled out from a 09 Honda CR-V using Bluedriver: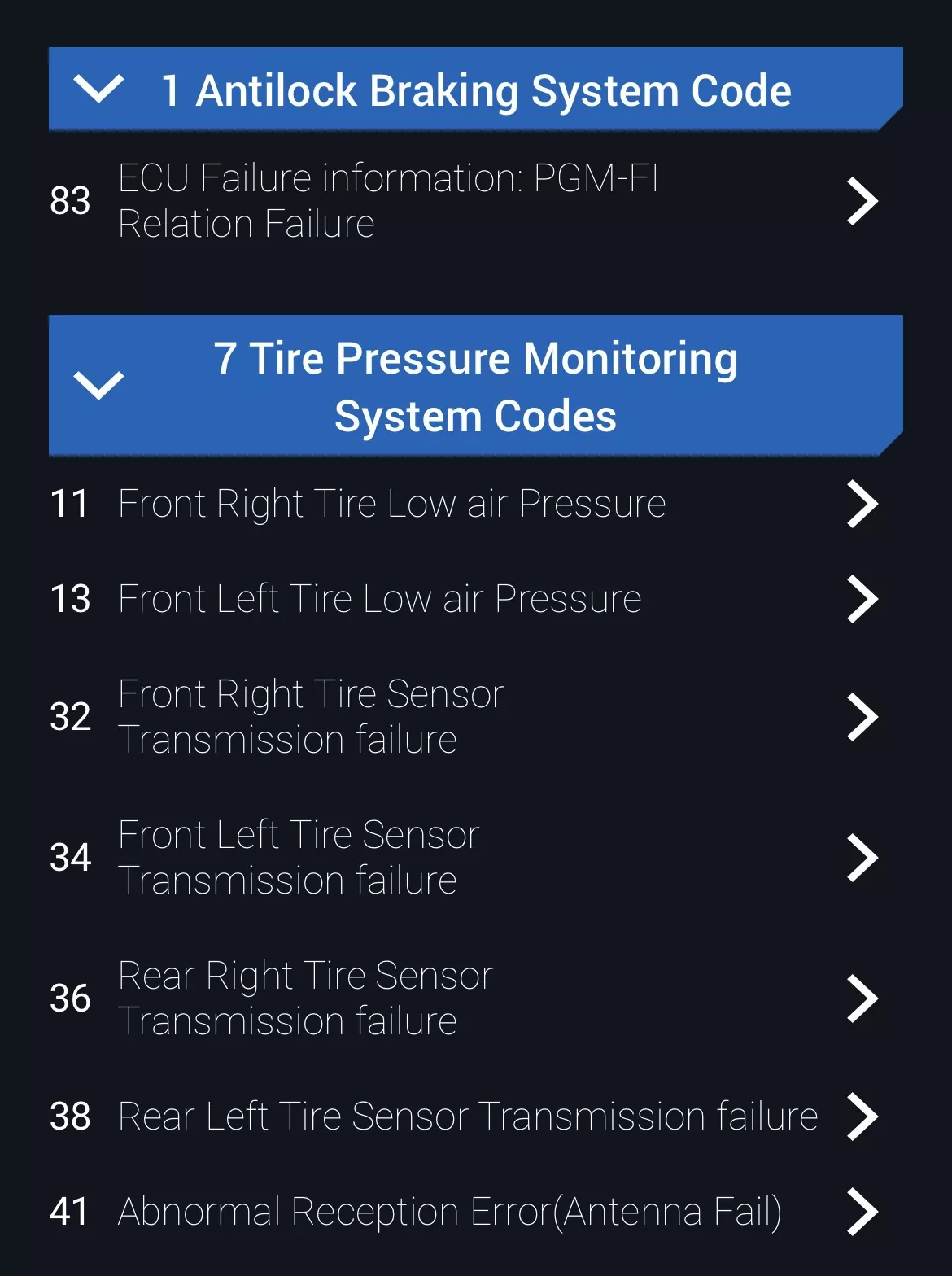 Besides that, BlueDriver can help you to:
Give advanced results such as misfire counts for onboard diagnostic system monitors
Check if the vehicle is ready for smog or emission test
Generate a report for the diagnosed problem and suggest possible fixes
View freeze frame data
View live data stream
Capture and share live data
Reset oil light and TPMS light
However, BlueDriver can only reset oil and TPMS lights, meaning it lacks some service functions that a Honda scan tool should have. But it's okay for me because reset functions are not what I ask from a scanner under $100 like Bluedriver. 
Overall,  Bluedriver will do more than many scanners that cost double it.
Today's best Bluedriver price:
#3. Veepeak BLE: Cheapest Bluetooth Scanner for Honda
Veepeak BLE
Pros
Cheap
Compatible with FREE OBD2 apps
Stable Bluetooth connectivity
Looking for an affordable scanner for your Honda? Look no further than the Veepeal BLE. 
This scanner's true power lies in its ability to pair with numerous OBD2 scanners, creating a powerful diagnostic combo.
For a great user experience, I recommend using the Car Scanner (free) with the Veepeak BLE. 
It's straightforward to use, providing instant code scanning and convenient browser linking to search for problems and possible solutions (available in the free version).
By investing just $5 in the full version of the Car Scanner app, you'll unlock more advanced features. 
Not only can you check and clear codes, but you can also access graphing live data, view raw sensor data and statistics, and check monitor status. There's an abundance of information available to cater to your needs.
If you're interested in more detailed engine temperature readings and tracking average gas consumption, the OBD Fusion app is worth considering. 
It's particularly useful during cold winter mornings when you need to ensure your oil has reached acceptable levels for safe driving. 
OBD Fusion can also display the total average gas consumption over the lifespan of your vehicle (e.g., 32.3 mpg over 150K miles).
All in all, if you're seeking an affordable scanner for your Honda, the Veepeak BLE is the optimal choice.
Today's best Veepeak BLE price:
---
7 Best Scan Tools for Honda: FULL Comparison Chart
[Note: Swipe left for full table]
| | Foxwell NT510 | CGSULIT SC530 | Autel AP200 | Bluedriver | Ancel AD310 | Veepeak BLE | ArtiDiag Pro |
| --- | --- | --- | --- | --- | --- | --- | --- |
| | | | | | | | |
| READ CODES | | | | | | | |
| Engine codes | ✅ | ✅ | ✅ | ✅ | ✅ | ✅ | ✅ |
| All-system codes | ✅ | ✅ | ✅ | ✅ | - | - | ✅ |
| Honda-specific codes | ✅ | ✅ | ✅ | ✅ | ✅ | - | ✅ |
| OTHER FUNCTIONS | | | | | | | |
| Smog check | ✅ | ✅ | ✅ | ✅ | ✅ | ✅ | ✅ |
| Live data | ✅ | ✅ | ✅ | ✅ | ✅ | ✅ | ✅ |
| Oil reset | ✅ | ✅ | ✅ | ✅ | - | - | ✅ |
| TPMS reset | ✅ | ✅ | ✅ | ✅ | - | - | ✅ |
| EPB reset | ✅ | ✅ | ✅ | - | - | - | ✅ |
| Key programming | ✅ | ✅ | ✅ | - | - | - | ✅ |
| Throttle relearn | ✅ | - | ✅ | - | - | - | ✅ |
| ECU coding | - | - | - | - | - | - | ✅ |
| Repair suggestions | - | - | - | ✅ | - | ✅ | - |
| VEHICLE COVERAGE | Honda & Acura | Honda & Acura | All car brands | All car brands | All car brands | All car brands | All car brands |
| DESIGN & HARDWARE | | | | | | | |
| Connection type | Wired | Wired | Bluetooth | Bluetooth | Wired | Bluetooth | Wired |
| Screen size | 3.0" | 3.0" | - | - | 2.5" | - | 7.0" |
| Carrying case | ✅ | ✅ | ✅ | - | - | ✅ | ✅ |
| Touch screen | - | - | ✅ | ✅ | - | ✅ | ✅ |
| AFTER- SALES SERVICE | | | | | | | |
| Free update | Lifetime | Lifetime | Lifetime | Lifetime | Lifetime | Lifetime | 2 years |
| Update fee | $0 | $0 | $0 | $0 | $0 | $0 | $249 |
| Warranty | 2 years | 1 year | 1 year | 1 year | 3 years | 1 year | 2 years |
| Customer support | 7.5/10 | 10/10 | 7.5/10 | 8.5/10 | 7.5/10 | 9.5/10 | 8.5/10 |
| | Check Price | Check Price | Check Price | Check Price | Check Price | Check Price | Check Price |
| | | | | | | | |
---
Final Thoughts
Our review of the best Honda OBD OBD2 scanners was to guide you on choosing the most appropriate tool according to your budget and the intended use.
From the insights, you can now make a knowledge-based busing decision.
Get the best product on the market and reduce the number of trips you make to the mechanic.
Read more: