Autel TS408 is designed to take care of your car's TPMS and ensure that it works perfectly. It comes from Autel which enjoys quite a bit of popularity due to its high quality of products and Autel TS408 is no different.
Promoted as an "intelligent" tool, it notifies users by showing TPMS related information such as temperature/pressure, sensor ID, battery life, etc.
Autel TS408 vs. Autel TS508 vs. Autel TS608 comparison chart
| | | | |
| --- | --- | --- | --- |
| | Autel TS408 | Autel TS508 | Autel TS608 |
| Customer Rating | | | |
| Price | | | |
| Product Dimensions | 8.5" x 4.1" x 1.5" | 12.9" x 10.1" x 4" | 12" x 4.5" x 15" |
| Item Weight | 2lbs | 4lbs | 5.95lbs |
| Scan TPMS Sensor ID | ✔ | ✔ | ✔ |
| Read and clear TPMS DTS | | ✔ | ✔ |
| Activate TPMS sensors | ✔ | ✔ | ✔ |
| Reprogram TPMS | ✔ | ✔ | ✔ |
| Clone TPMS Sensors | ✔ | ✔ | ✔ |
| Relearn TPMS ECU | ✔ | ✔ | ✔ |
| Read TPMS Codes | ✔ | ✔ | ✔ |
| | | | |
Read more: Autel TS608 TPMS Tool Detailed Review
Let's dive into the details now: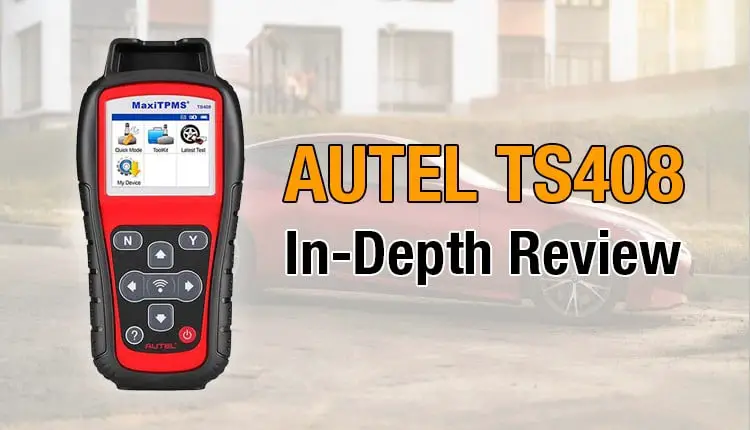 Autel TS408 in-depth review
Autel TS408 TPMS Tool
Autel TS408 is for technicians, DIYers, enthusiasts, and professionals who want to diagnose and keep the TPMS system of their vehicles in good shape. It is easy to use and can help you save money.
Autel TS408 special features
Program MX-sensors to replace OE sensors: Autel TS408 allows you to program and replace the sensors in three ways and.
Auto create 1-16: This method requires the user to select the vehicle make, model, and year. When input correctly, further instructions to program the sensor will be displayed on the screen.
Copy by activation: This method works by copying existing sensor details to a newly installed sensor.
Copy by manual input: It involves inputting the ID manually into the sensor. You can find the ID printed on the original sensor. It may sound like a bit of work but only takes a few minutes to complete.
These three methods will allow you to program new sensors quite easily.
Activate TPMS sensors: TPMS sensors are important. Removing them is illegal in most states. A lot of people go to a mechanic to activate TPMS sensors when they can do it by themselves if they have a TPMS tool such as Autel TS408.
This tool can activate 98% of all known sensors. This way you will be able to save a lot of time and money.
Monitor battery life: It works on a lithium-ion battery that is said to last between 5-10 years. However, it is important to keep an eye on it so that it doesn't drain completely.
Autel TS408 will help monitor the health of the battery so that you can replace it when it gets weak.
Read sensor ID: It is important for a tool to read sensor ID so that one can know which particular tire out of the four is causing issues. Figuring out the faulty tire on your own can be quite a bit of trouble.
Thankfully, Autel TS408 can read sensor IDs and help you identify the problematic tire.
Tire pressure: You can keep tabs on tire pressure with this tool. It will allow you if the tires are:
Properly inflated
Underinflated
Overinflated
On-tool relearn procedure: With the Autel TS408 tool, you will not have to hover on the internet to look for guidelines. The tool shows steps on the screen, making it easier to perform relearn on Asian, US, or European vehicles.
However, it won't perform a relearn procedure itself, you will have to do it on your own by reading the instructions displayed. The good thing is that the steps are neatly explained.
Easy to use: TPMS tools can be a bit complex to use for beginners but not this one. It has a rich graphical interface that is super easy to navigate. The menus are categorized for sensor programming, relearn procedures, activate sensors, and so on.
Even a beginner won't face confusion when using MaxiTPMS TS408 for the very first time.
Warranty: Autel TS408 TPMS tool comes with a one-year warranty against faults and malfunctions. However, Autel keeps the door open for customers who want to get technical assistance regarding the product.
You can communicate with technicians over the phone, email or live chat to solve problems. They are quite professional and understanding.
Updates
Autel offers free lifetime updates on almost all of its products including this one. All you need to do is visit the official website, select your tool, and download the latest updates on PC.
Now, connect the device using the USB cable that comes with it and install the downloaded updates.
Vehicle coverage
Autel MaxiTPMS TS408 supports almost all TPMS-supported vehicles. These include:
Acura
Alfa
Romeo
Aston
Martin
Audi
Bentley
BMW
Bugatti
Buick
Cadillac
Chevrolet Chrysler
CMC
DFM
Dodge
FAW
And many more.
Pros
Keeps 5 TPMS sensor records in the memory for future reviewing.
Receives both 315MHz and 433MHz signals.
Activates all kinds of sensors (magnetic, frequency, tire deflated, etc.)
The ergonomic design makes it easier to hold.
Shuts off automatically to save power.
Comes with one lithium polymer battery.
Cons
It can't read or erase TPMS codes.
It doesn't connect to the OBD2 port.
No support for Subaru cars.
Who should take this tool?
Autel TS408 is for technicians, DIYers, enthusiasts, and professionals who want to diagnose and keep the TPMS system of their vehicles in good shape. It is easy to use and can help you save money.
Check Price at Amazon
FAQS
Can I program a blank sensor with this tool?
You can only program Autel sensors with this tool. It won't program aftermarket sensors.
Which Tool is better: TS408, TS508 or TS608?
Each tool is priced differently on the basis of the features and quality. Autel TS408 is the most affordable of all but lacks some features the other tools have to offer. However, overall, it is a good pick as it lets you perform almost every TPMS related task such as programming sensors, reading sensor ID, checking pressure/temperature, etc.
At the end of the day, pick one that suits you the best.
Can I update MaxiTPMS TS408 directly from the internet?
Unfortunately, no. You will need to connect it to a computer or laptop via USB to download and install updates.