Are you trying to find a scanner that won't break the bank but can still read ABS & SRS codes? I've got some insider knowledge for you!
Now, let me tell you, the market is full of scanners with different price tags. But don't worry; there's no need to rob a bank for a scanner with all the bells and whistles. You can get the best OBD2 scanner with ABS and SRS for less than $200.
Now, follow me and check my comparison table if you are in hurry.
5 Best OBD2 Scanners with ABS and SRS Comparison Chart
[Note: Swipe left for full table]
Click HERE to see full comparison chart (PDF, Free Download)
---
Table of contents:
---
Best ABS and SRS scan tools (hand-held)
#1. Foxwell NT630 Plus: Best OBD2 scanner with ABS auto bleed
The first product I put on this list is the Foxwell NT630 Plus.
For under $200, it's got some fancy features that only expensive scanners usually have. I'm talking about the bi-directional capability for ABS systems.
When I first read about it, I was so surprised that I had to order and test it out for myself.
I could do ABS bleeding on a lot of my client's cars! I used it to bleed the ABS unit after a complete line change, and the automatic bleed program worked like a charm. It got the air out of the ABS module so that I could bleed the lines like normal from front to back. 
Yet, there is one minor issue like the lack of instructions for this function. But that's perfectly acceptable, considering you won't have to spend over $1,000 on a "professional" scanner. So, I suggest you follow some tutorial videos on Youtube.
One note for you, you'll need to update the scanner via Windows OS (mandatory) before using it. But fear not, the process is easy as long as you follow the instructions. Just a heads up, the downloads might take a while (2 hours to complete all the downloads), so make sure you only select the manufacturers you use to save time. 
Once it's updated and ready to go, Foxwell NT630 Plus won't disappoint. It can scan ABS & SRS codes like a champ! In fact, it helped me diagnose some trouble codes from those systems in just 30 seconds! And it's not just limited to regular codes, it even pulls out some "special" codes for an aging Porsche or VSA codes on Honda.
This is the real kicker. 
Overall, if you're finding the best OBD2 scanner that can bleed ABS, Foxwell NT630 Plus is the way to go. It's really a bang for your buck!
Today's best Foxwell NT630 Plus deal:
Read more: FOXWELL NT630 Plus: Full OBD2 scanner with ABS SRS review
#2. LAUNCH CRP123X Elite: Best ABS SRS scanner coming with a touchscreen display
LAUNCH CRP123X Elite is another great hand-held scanner for ABS & SRS.
One of the things that immediately stood out to me was the 5″ touch screen, which is a rare find at this price point. It's so much easier to navigate than fiddling with buttons and knobs like an old-school scanner.
Speaking of updates, the CRP123X Elite wins over the Foxwell NT630 Plus. Updating the scanner is a piece of cake with just one click. You don't need to find a laptop with Windows OS and connect it to the scanner to download the update. With Foxwell NT630 Plus, it only takes me 1-2 minutes to do that. This is quite helpful for impatient people like me.
One downside to note is the short cable (~3.9 ft) which made it a little bit difficult to place the scanner on the passenger seat while trying to capture live data. I definitely recommend buying an extension cable for more convenience during use.
As for its code-reading abilities, the CRP123X Elite is pretty spot-on. It can read codes from the four main systems in a vehicle: engine, transmission, ABS, and SRS. Most cars that I tested gave accurate codes. 
Besides, while it doesn't have the ABS bleeding function like NT630 Plus, CRP123X Elite makes up for it with other helpful service functions, such as oil reset, throttle adaptation, and SAS calibration. So if you don't need ABS bleeding, give this scanner a shot.
Overall, with its touchscreen display and quick updates, LAUNCH CRP123X Elite will definitely speed up your ABS & SRS diagnostic process.
Today's best LAUNCH CRP123X Elite deal:
Read more: Launch CRP123 Vs. CRP123E Vs. CRP123X: Should I get upgraded?
#3. INNOVA 6100P: Best ABS SRS code reader with RepairSolutions2 app
INNOVA 6100P is a four-system scan tool, which means you can read and clear ABS & SRS codes.
During testing, I found this scanner to be incredibly convenient with two scanning options. You can choose to scan all systems, which takes more time, or selectively scan each system like ABS or SRS to save valuable time.
But here's where it gets even better: the INNOVA 6100P features the RepairSolutions2 app. Not only does it provide code descriptions, but it also offers likely causes and possible fixes. 
RepairSolutions2 app is kind of similar to Bluedriver's Repair report. If you want to save time finding the culprit, this feature will help you out.
However, this app doesn't support watching live data. The only option you have is to monitor it on the scanner. The screen is kind of small, but it's fine enough to view the data.
Another standout feature of the Innova 6100P is its long cable. With approximately 6 feet of length, you have the flexibility to sit comfortably in either the driver's seat or the passenger's seat during scans. No more limitations or contortions with a short cord.
Yet, INNOVA 6100P doesn't come with a protective case. All I have is a box that includes the scan tool and the cable only.
If you can ignore some minor drawbacks, INNOVA 6100P is a reliable OBD2 ABS & SRS scanner, all for under $150.
Today's best INNOVA 6100P deal:
---
Best OBD2 scanners with ABS and SRS reset (Bluetooth)
#1. BlueDriver: Best Bluetooth OBD2 scanner with ABS and SRS
Speaking of BlueDriver, this is a very famous scanner, suitable for newbies to home mechanics. It's not just limited to ABS & SRS systems, it can pull codes from all available systems in your car.
And if you're in the market for a used car, BlueDriver is the way to go. It's compact, lightweight, and can be carried around in your pocket when necessary.
Since it's a Bluetooth scanner, I often pay attention to whether the connection is stable or not. When connecting BlueDriver to the car, the connection is quite fast. Just don't go too far from your car, or else the connection might get a little shaky. 
The app interface is really user-friendly too. It's easy to navigate to any function you need, and it even offers various tips as you go through the menus. 
One feature I really like is that it tells you about frequently reported fixes that others have used to address the same code you're seeing. This way, you'll know exactly what to do next to get rid of those pesky codes.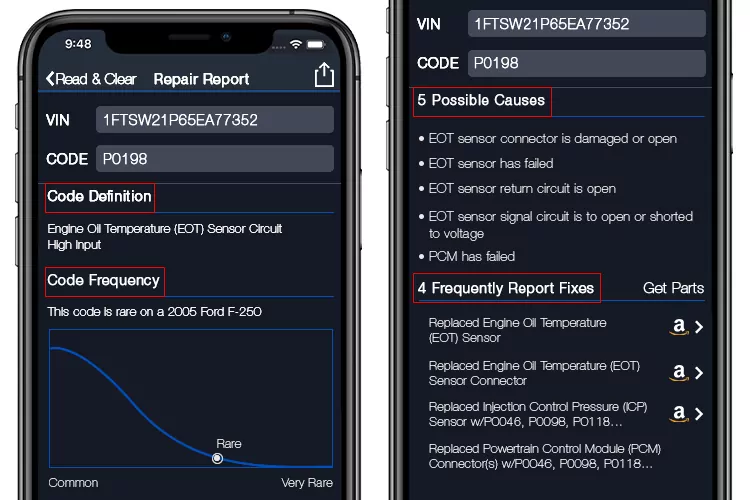 BlueDriver also offers basic service functions like TPMS light and oil light reset, as well as battery registration (BMW and Mini only). This can save you a ton of money on shop fees or dealer visits, especially if you need to reset your TPMS or oil light frequently.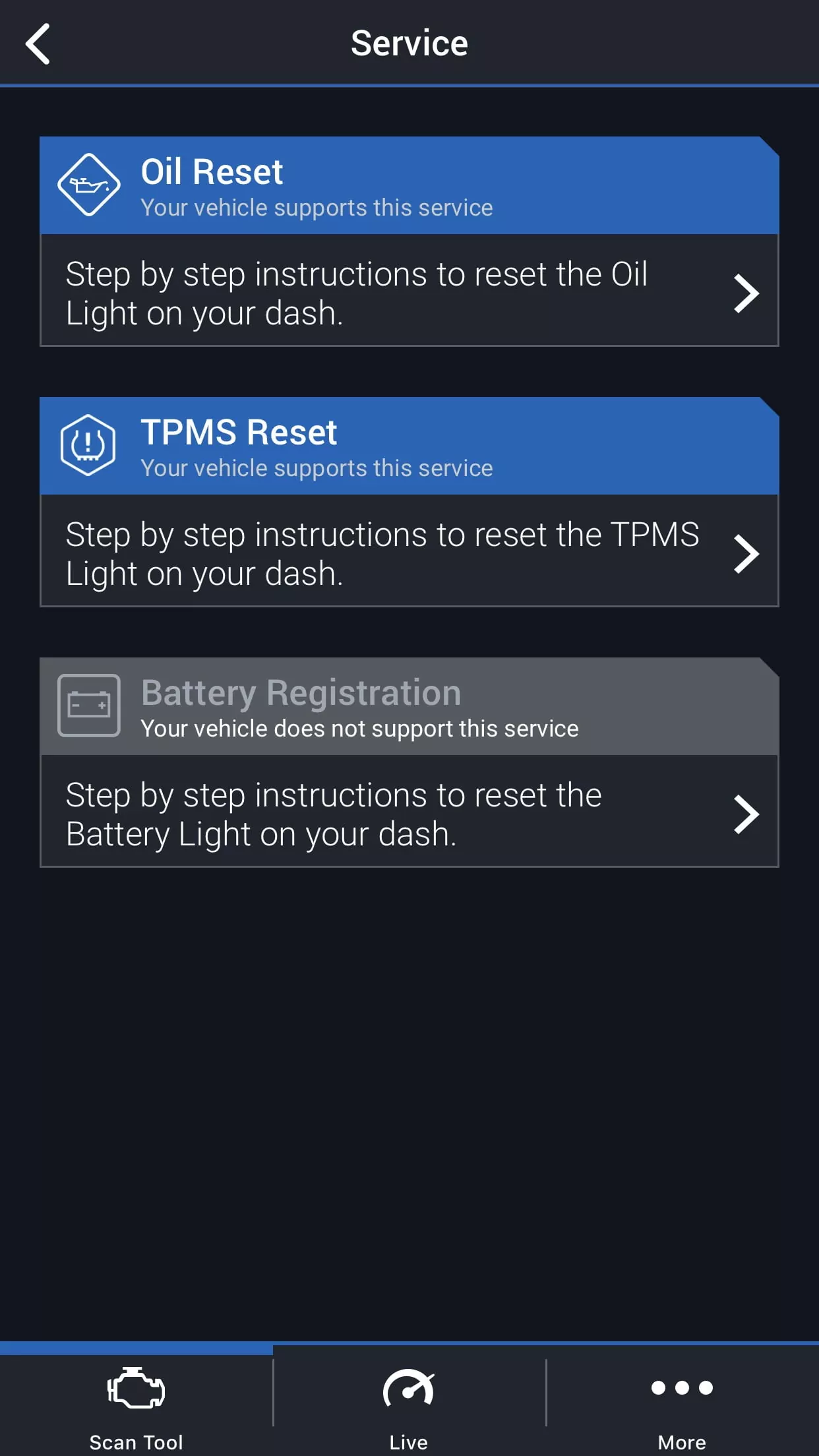 The only downside is that the live data refresh rate will be a few seconds behind the real-time numbers. And one thing to keep in mind is that BlueDriver only works on its default app, not on third-party apps. But honestly, the default app is more than enough for me.
So, I highly recommend BlueDriver to anyone who loves:
Convenience (easy to carry, Bluetooth connection)
Perform mid-level tasks like full system diagnostics and basic maintenance.
Today's best BlueDriver deal:
Read more: Never Buy BlueDriver Before Reading This Review [Updated 2023]
#2. OBDLink MX+: Best OBD2 scanner with ABS SRS reset for fast live data
OBDLink MX+ is the second Bluetooth scanner that I'm totally crushing on right now. It's one of my top picks under $150, and let me tell you why.
This scanner has got some seriously impressive live data. Unlike Bluedriver, which can be a bit sluggish, OBDLink MX+ offers the most responsive live data I've ever seen. The refresh rate is lightning-fast, which means there's no difference between the live data and the real-time parameters. It's like having a front-row seat to all the action happening under your hood!
And here's where things get really interesting: you can use the OBDLink MX+ with a whole bunch of different apps! It comes with its own app, which has a ton of functions, but if you're like me and like to play around with third-party apps, this scanner has got you covered. (I'm talking Carista for Audi, AlfaOBD for FCA vehicles, Bimmercode for BMW, and more.)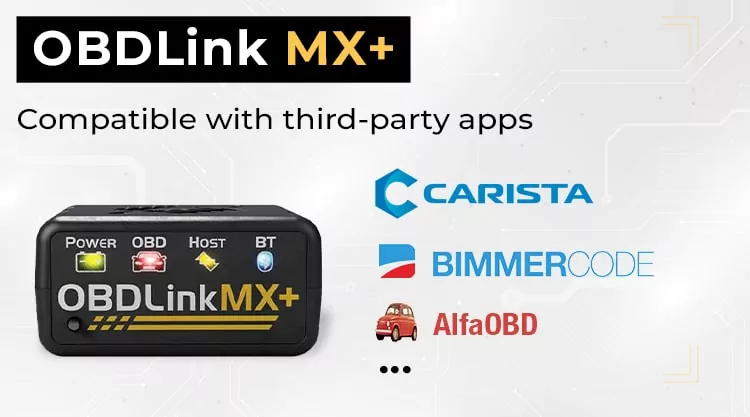 Just like the Bluedriver, OBDLink MX+ can read codes from not only the ABS and SRS systems but also a whole bunch of other systems (as long as they're available in your car). And it's fast and accurate, which makes my job so much easier.
Now, I do have to warn you, don't stray too far from your vehicle while you're using it. It uses Bluetooth 3.0, which means the connection can be a bit finicky if you get too far away.
But here's the real kicker: OBDLink updates their software pretty frequently, which means you don't have to worry about encountering any bugs or being unable to work on the latest car models. It's always up-to-date and ready to roll.
So if you demand lightning-fast live data and the ability to use your favorite third-party apps, OBDLink MX+ is the best ABS SRS scanner for you.
Today's best OBDLink MX+ deal:
Read more: OBDLink MX+: OBD2 Bluetooth ABS SRS Scanner Review
---
5 Best OBD2 Scanners with ABS and SRS: Full Comparison Chart
[For mobile users: Rotate your phone and swipe left for full table]
| | FOXWELL NT630 Plus | LAUNCH CRP123X Elite | OBDLink MX+ | BlueDriver | INNOVA 6100P |
| --- | --- | --- | --- | --- | --- |
| | | | | | |
| DIAGNOSTICS | | | | | |
| ABS, SRS diagnosis | ✅ | ✅ | ✅ | ✅ | ✅ |
| Full-system diagnosis | - | - | ✅ | ✅ | - |
| Live data | Number, Graph | Number, Graph | Number, Graph, Gauge | Number, Graph, Gauge | Number, Graph |
| Active tests for ABS, SRS | ✅ | - | - | - | - |
| SERVICE FUNCTIONS | | | | | |
| Number of functions | 2 | 3 | Depends | 3 | 1 |
| Oil reset | ✅ | ✅ | Depends | ✅ | ✅ |
| TPMS reset | - | - | Depends | ✅ | - |
| EPB reset | ✅ | - | Depends | - | - |
| SAS calibaration | ✅ | ✅ | Depends | - | - |
| Throttle relearn | ✅ | - | Depends | - | - |
| Battery test | - | - | Depends | - | ✅ |
| VEHICLE COVERAGE | Car & light trucks | Car & light trucks | Car & light trucks | Car & light trucks | Car & light trucks |
| DESIGN & HARDWARE | | | | | |
| Connection type | Wired | Wired | Bluetooth | Bluetooth | Wired |
| Cable length | 4 ft | 4 ft | - | - | 6 ft |
| Screen size | 3" | 5" | Depends | Depends | 2.8" |
| Touchscreen | - | ✅ | ✅ | ✅ | - |
| AFTER-SALES SERVICE | | | | | |
| Free update | Lifetime | Lifetime | Lifetime | Lifetime | Lifetime |
| Waranty | 1 year | 3 years | Lifetime | 6 years | 1 year |
| Customer service | 8.5/10 | 8.5/10 | 9.0/10 | 8.5/10 | 8.0/10 |
| | Check Price | Check Price | Check Price | Check Price | Check Price |
| | | | | | |
*Service functions: Vary by vehicle models.
---
Conclusion
Thanks for reading this far.
I wonder with the products I recommend, have you chosen your ABS & SRS scan tool yet?
If yes, please let me know the scanner you have selected.
If not, let me know your specific needs in the comments section, I'd be happy to help.
Share with me your thoughts.
And if you want to support me, be sure to use the link provided in this post when you make your purchase. I don't get any commissions from brands, so your support is what keeps this website up and running.